Wheat Berry Salad with Brussels Sprouts & Sweet Potatoes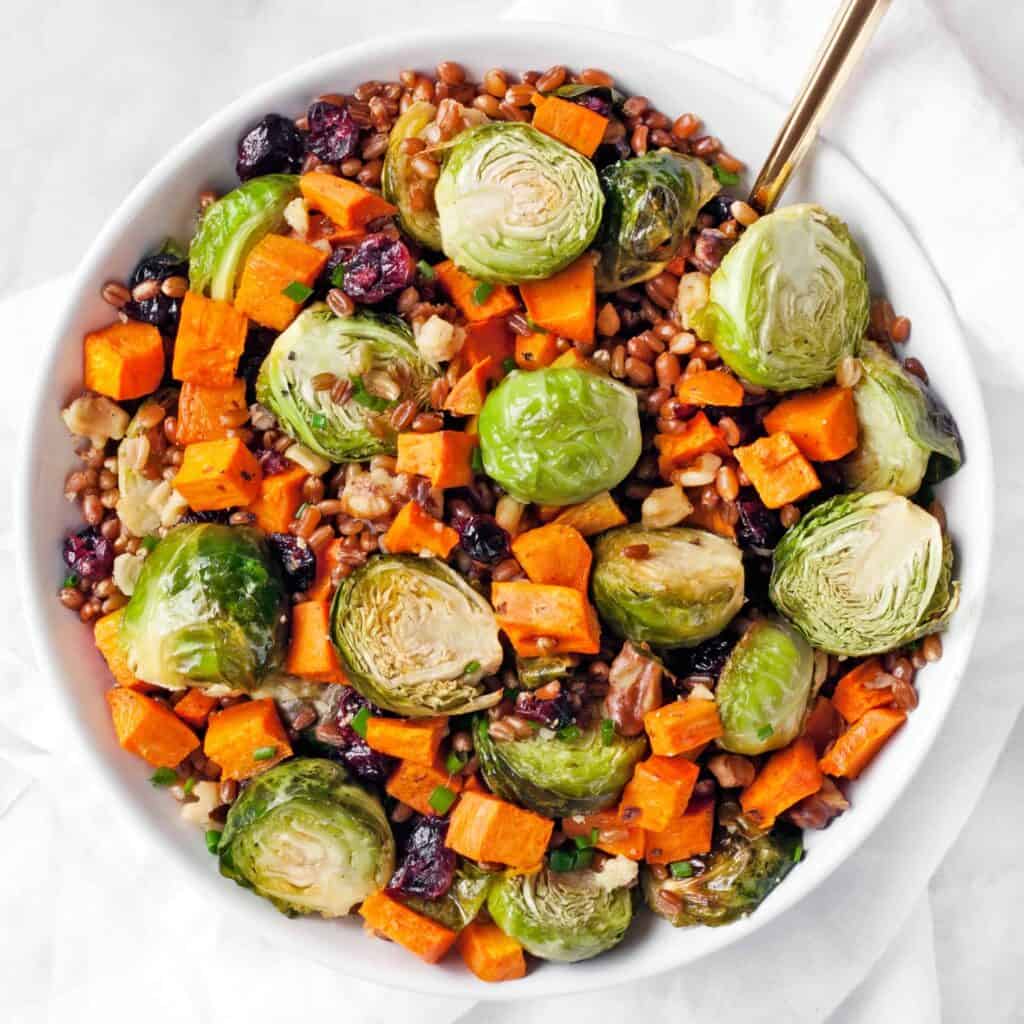 I'm not hosting Thanksgiving, but I am bringing a side and dessert to our family dinner.
Even though the meal isn't at my house, I still make a big deal about what I will be contributing to the holiday spread.
Hands down, Thanksgiving is my favorite food holiday. It's a special meal that is celebrated by everyone in the country.

I love how different regions and cultures put their own spin on it to personalize the dinner.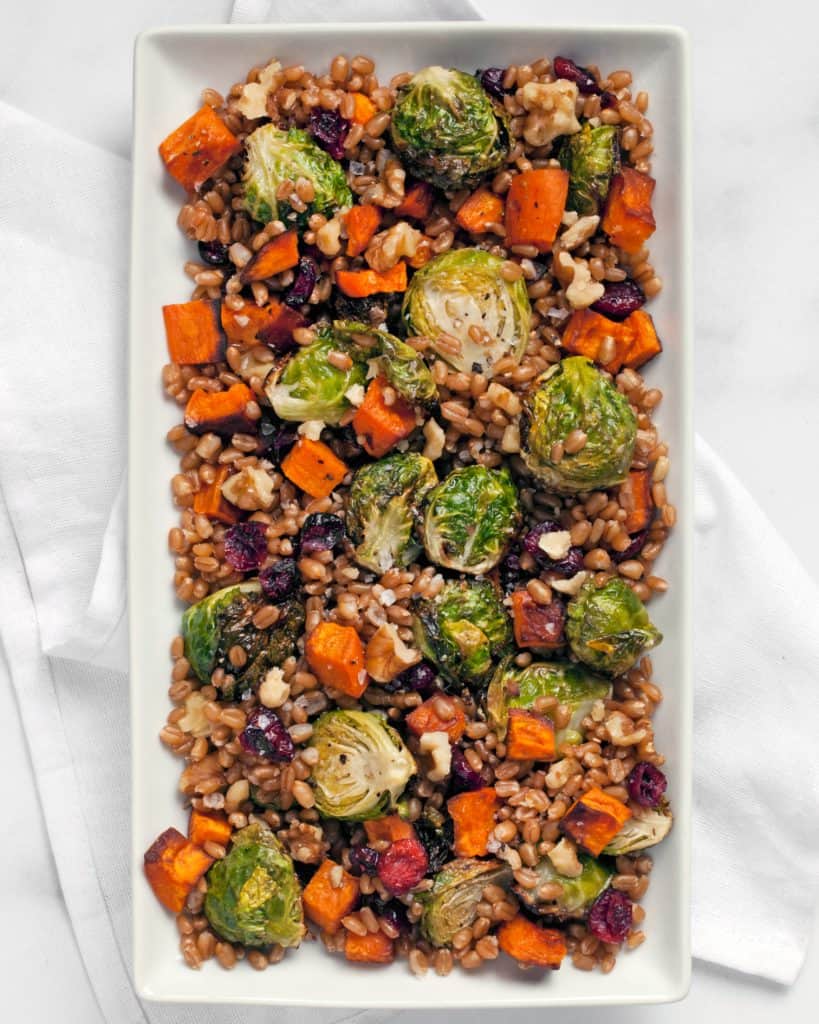 Yesterday I was trying to come up with ideas for sides. There was a lot of Googling and list making involved in this effort.
Even though there won't be a bird hogging my oven space, I wanted something that didn't require much roasting time and could be served at room temperature.
Orchestrating such an elaborate meal and serving everything warm or hot would be nothing short of a miracle.
I don't recommend even attempting it. You're bound to be disappointed. That shouldn't be the focus of your efforts.
Grain salads are great at room temperature. I ended up making a wheat berry salad with brussels sprouts & sweet potatoes.
How To Make Wheat Berry Salad with Brussels Sprouts & Sweet Potatoes
The first step was to make the wheat berries on the stovetop. I roasted the brussels sprouts and sweet potatoes on the same sheet pan tossed with olive oil, salt and pepper.
To Thanksgiving-ify this grain bowl, I folded in walnuts and dried cranberries.
The veggies added a lot of flavor, but the wheat berries needed something else. I whisked together lemon maple vinaigrette.
For all the planners out there, you can make the chewy wheat berries and vinaigrette up to 2 days in advance.

It's better to roast the veggies the day you plan to serve them. Then all you have to do is stir everything in a big bowl before serving.
This side could not be easier!
Print
Wheat Berry Salad with Brussels Sprouts & Sweet Potatoes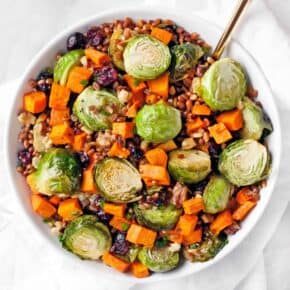 Prep Time:

10 minutes

Cook Time:

35-45 minutes

Total Time:

45-55 minutes

Yield:

Serves 4-6
Ingredients
For salad
1 cup wheat berries
1 pound Brussels sprouts, trimmed and halved
1 large sweet potato (about 1 pound), peeled and diced
1 tablespoon olive oil
1 teaspoon kosher salt
1/2 teaspoon black pepper
1/2 cup walnuts, roughly chopped
1/2 cup dried cranberries
For vinaigrette
Juice of 1 lemon
1 teaspoon maple syrup
1/4 cup olive oil
1/2 teaspoon salt
1/2 teaspoon black pepper
Instructions
In a small saucepan, bring the wheat berries and 3 cups water to a boil. Reduce the heat to a simmer, cover and cook until the grains are tender, about 40-55 minutes. Drain the wheat berries and transfer them to a large bowl.
While the wheat berries are cooking, preheat the oven to 400 degrees F. Toss the brussels sprouts and sweet potatoes with the olive oil salt and pepper. Roast for 25 minutes until the sprouts are browned at the edges and the sweet potatoes are tender. Add the brussels sprouts, sweet potatoes, walnuts and cranberries to the wheat berries.
For the vinaigrette, whisk together the lemon juice, maple syrup, olive oil, salt and pepper. Stir the vinaigrette into the salad to combine.
Notes
The wheat berries and vinaigrette can be made up to 2 days in advance. Store in the refrigerator and bring to room temperature before combining with the other ingredients.
SHARE THIS