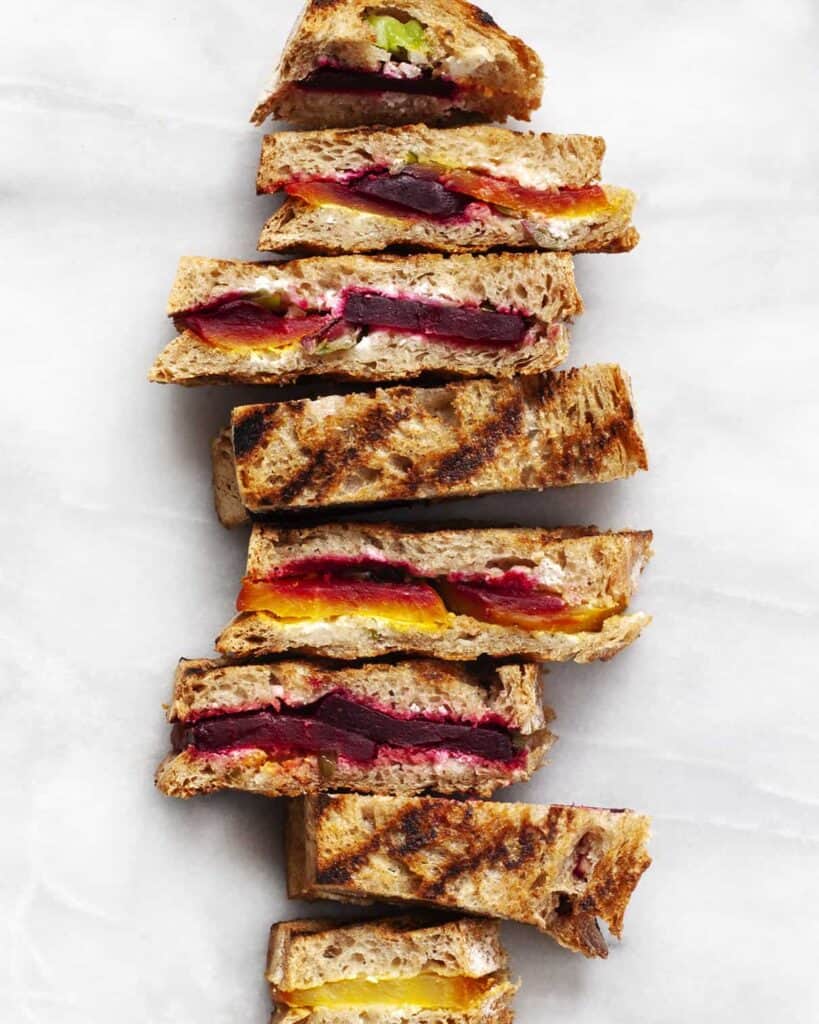 From kindergarten through the beginning of my adult working life, Monday through Friday, lunch was always a peanut butter and jelly sandwich with carrot sticks.
The repetition never bothered me.
There are few combinations as perfect as the PBJ. That simplicity is comforting and just hits the spot.
Often my creativity happens more with dinner. If all goes as planned, I have time to cook and savor a meal that's a bit more involved.
Also, I make sure to have enough dinner leftovers to get at least one lunch out of it.
That strategy has helped me with more grown-up vegetable-filled lunch choices. Now I'm a kale salad or grain bowl kind of person.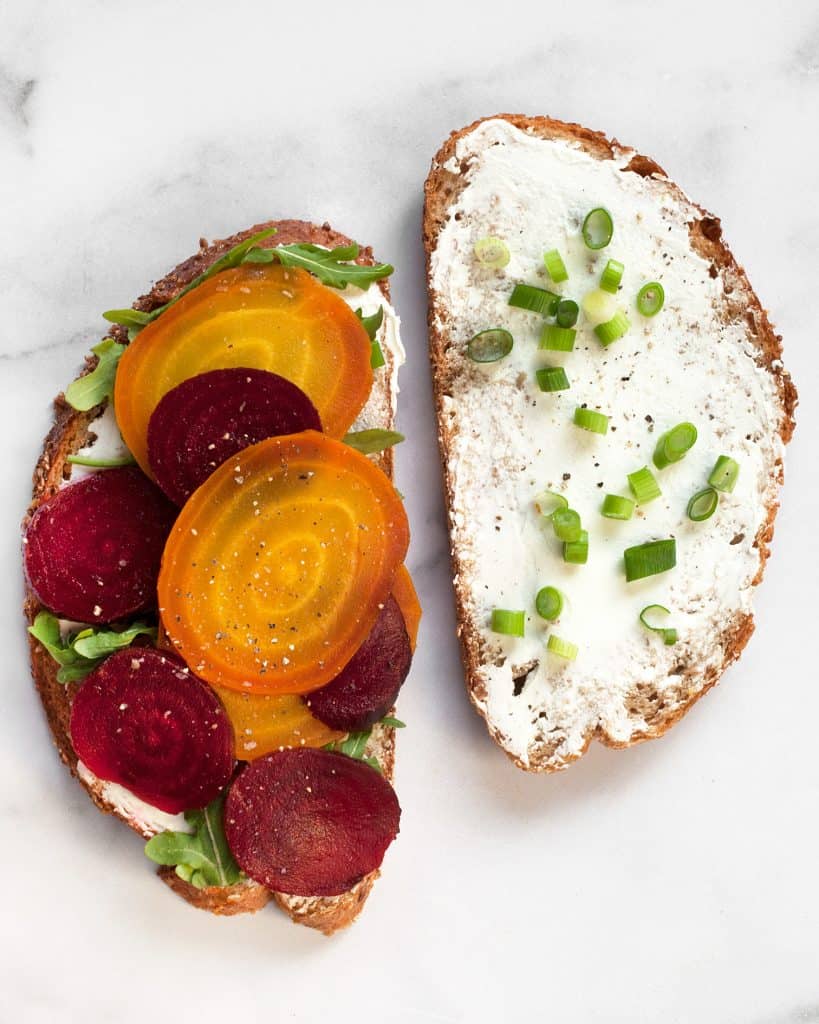 Lunch on the weekends is an entirely different story.

I will scour the pantry and fridge to come up with something using ingredients that I already have at home.

Roasting vegetables is one of my go-tos since I always keep an assortment of veggies from sweet potatoes to squash in a bowl on my kitchen counter.

Last weekend I roasted a couple of bunches of beets and a made a beet grilled cheese sandwich.

I don't love overly gooey grilled cheese sandwiches that you slice in half and the cheese just stretches.

This sandwich is more about the beets and the goat cheese that pairs with them.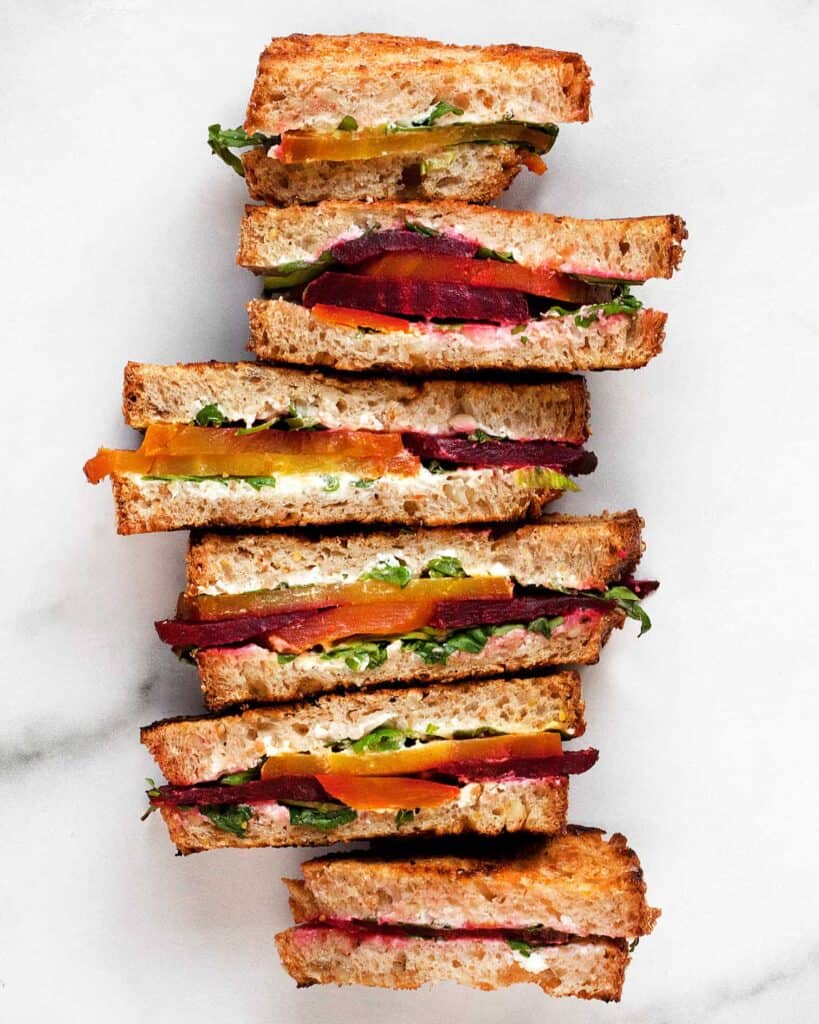 How To Make A Beet Grilled Cheese Sandwich
To start, I roast beets, minus their greens, drizzled in olive oil and tucked inside foil packets in the oven.

This can be done in advance so the beet grilled cheese sandwiches are faster to assemble.
I spread slices of crusty bread with goat cheese and top them with sliced scallions and arugula before layering on sliced roasted beets.

The point of heating up the sandwiches is to get them golden and toasty not to melt the cheese. Goat cheese is basically a spread compared to cheddar or another more traditional cheese for grilled cheese.
I love this more mature version of a grilled cheese not that there is anything wrong with the original.
Print
Beet Grilled Cheese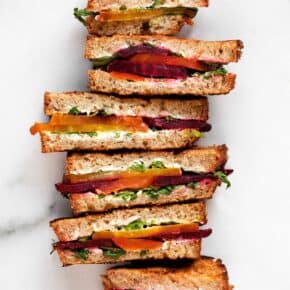 Prep Time:

50-60 minutes

Cook Time:

6-8 minutes

Total Time:

56-68 minutes

Yield:

2

sandwiches

1

x
Scale
Ingredients
5–6 medium red and yellow beets, greens removed and reserved for another use
2 tablespoons olive oil
1/2 teaspoon kosher salt
1/2 teaspoon black pepper
4 slices crusty bread
3 ounces goat cheese, room temperature
1 scallion, thinly sliced
1 handful arugula
Instructions
Preheat the oven to 400 degrees F.
Wash the beets and place them on individual sheets of aluminum foil. Drizzle the beets with 1 tablespoon olive oil and season with salt and pepper. Fold into loose packets and transfer to a sheet pan. Roast the beets for 50-60 minutes until they are easily pierced with a knife.
Let the beets cool slightly before using a paper towel to rub off their skins. Cut them into thin slices.
To assemble the sandwiches, drizzle the remaining olive oil on both sides of the bread. Spread the goat cheese and sprinkle the scallions on one side of each of the bread slices. Arrange the beets and arugula and top with the remaining bread.
Place the sandwiches on a skillet or griddle over medium heat. Cook until both sides are browned and toasted, about 3-4 minutes per side.
Notes
Beets can be roasted in advance.
SHARE THIS