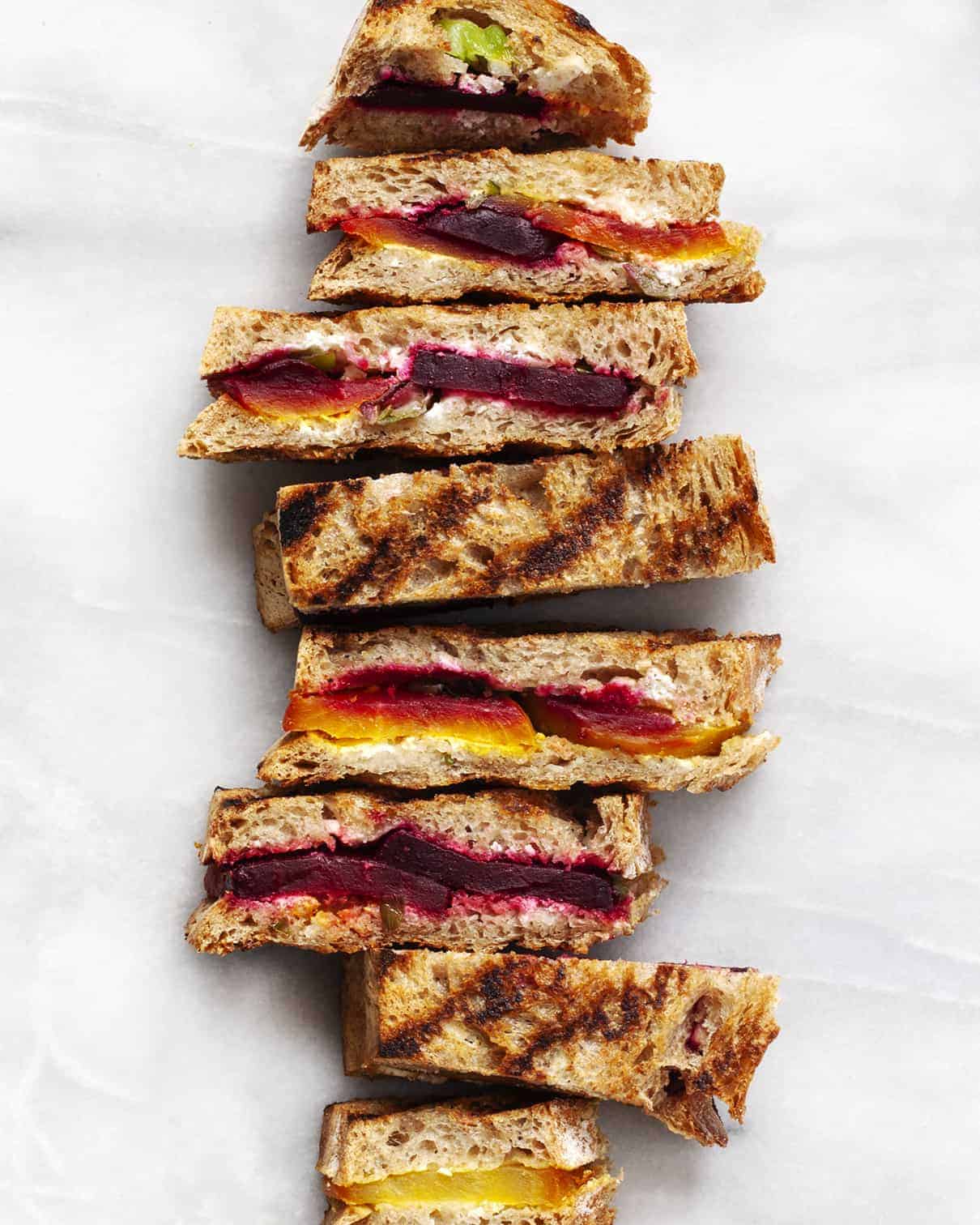 Monday through Friday, lunch is always a peanut butter and jelly sandwich with carrot sticks. I don't mind the repetition. When I barely have a moment to eat, I find that routine simplicity just hits the spot. Anyway, I would rather get more creative with dinner, when if all goes as planned, I have time to cook and savor a meal that's a bit more involved.
Lunch on the weekends is an entirely different story. I scour the pantry and fridge to come up with something from what I already have at home. Last weekend I roasted a couple of bunches of beets. Along with goat cheese, scallions and arugula, I made a beet grilled cheese sandwich. Every toasty, olive oil-drizzled bite celebrated the perfect pairing of beets and goat cheese.
Beet Grilled Cheese
Makes 2 sandwiches
5-6 medium red and yellow beets, greens removed and reserved for another use
2 tablespoons olive oil
1/2 teaspoon kosher salt
1/2 teaspoon black pepper
4 slices crusty bread
3 ounces goat cheese, room temperature
1 scallion, thinly sliced
1 handful arugula
Preheat the oven to 400 degrees F.
Wash the beets and place them on individual sheets of aluminum foil. Drizzle the beets with 1 tablespoon olive oil and season with salt and pepper. Fold into loose packets and transfer to a sheet pan. Roast the beets for 50-60 minutes until they are easily pierced with a knife.
Let the beets cool slightly before using a paper towel to rub off their skins. Cut them into thin slices.
To assemble the sandwiches, drizzle the remaining olive oil on both sides of the bread. Spread the goat cheese and sprinkle the scallions on one side of each of the bread slices. Arrange the beets and arugula and top with the remaining bread.
Place the sandwiches on a skillet or griddle over medium heat. Cook until both sides are browned and toasted, about 3-4 minutes per side. Serve immediately.
SaveSave
SHARE THIS