Stone Fruit Caprese Salad

The past few summers I've absolutely loved the container garden on our back deck.
There is such a sense of satisfaction growing fruits and veggies yourself.
Nothing beat picking tomatoes, basil and greens for a spontaneous salad or pasta.
Unfortunately, this year we didn't get our act together in time to plant anything.
I am full of excuses from work to travel to our busy toddler, but those don't do anything for my disappointment.
This isn't the first time that we have missed growing season. Even though I hate feeling like we are missing out, I embrace the season in other ways.
Since we are without our own garden, I have been even more obsessed than usual with shopping multiple farmers markets each week.
A positive is that I am making lots of effort to buy a variety of produce and not just my usuals.
Most of them include fruit that I never would be able to grow in a container on our urban deck space.
These grow on trees and bushes that need to be rooted into the ground.
I had a glut of peaches, plums, nectarines and cherries. Letting them go bad was not an option.


Chia jam crossed my mind, but I was more in the mood for something fresh and savory.
To my farmers market shopping list, I added fresh mozzarella for this stone fruit caprese salad, a twist on a summer classic.
I am a huge fan of stone fruit especially when it takes a savory turn. From watermelon peach salad to grilled apricot and corn harissa couscous, balancing out the sweet with the savory is a can't go wrong pairing.
You can use a mix of types in a stone caprese salad. That includes peaches, nectarines, cherries and plums.
I like to stay true to the original and add torn basil into the stone fruit caprese salad. For dressing, it's a mix of white balsamic vinegar and olive oil.
The salad is finished with flaky sea salt and black pepper.
Print
Stone Fruit Caprese Salad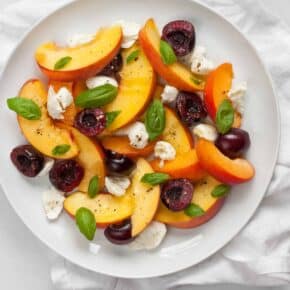 Prep Time:

10 minutes

Total Time:

10 minutes

Yield: Serves

4

1

x
Scale
Ingredients
2 pounds assorted stone fruit (plums, peaches, nectarines & cherries)
1 tablespoon white balsamic vinegar
3 tablespoons olive oil
1/4 cup basil leaves, torn if large
8 ounces fresh mozzarella, torn into pieces
1 teaspoon sea salt
1/2 teaspoon black pepper
Instructions
Halve the plums, peaches and nectarines, Pit the fruit and cut into slices. Halve the cherries and discard the pits. Place the fruit, basil and mozzarella in a large bowl.
In a small bowl, whisk together the vinegar and olive oil and then pour over the fruit tossing to combine. Season with salt and pepper.
SHARE THIS