Of course salads are summer staples, but nothing celebrates the season more than this peach caprese salad. With tomatoes and stone fruit at their peak, this recipe is a twist on the Italian classic. It's dressed in an herby pesto vinaigrette. This salad delivers on looks and taste. It's lovely arranged on a big platter for sharing.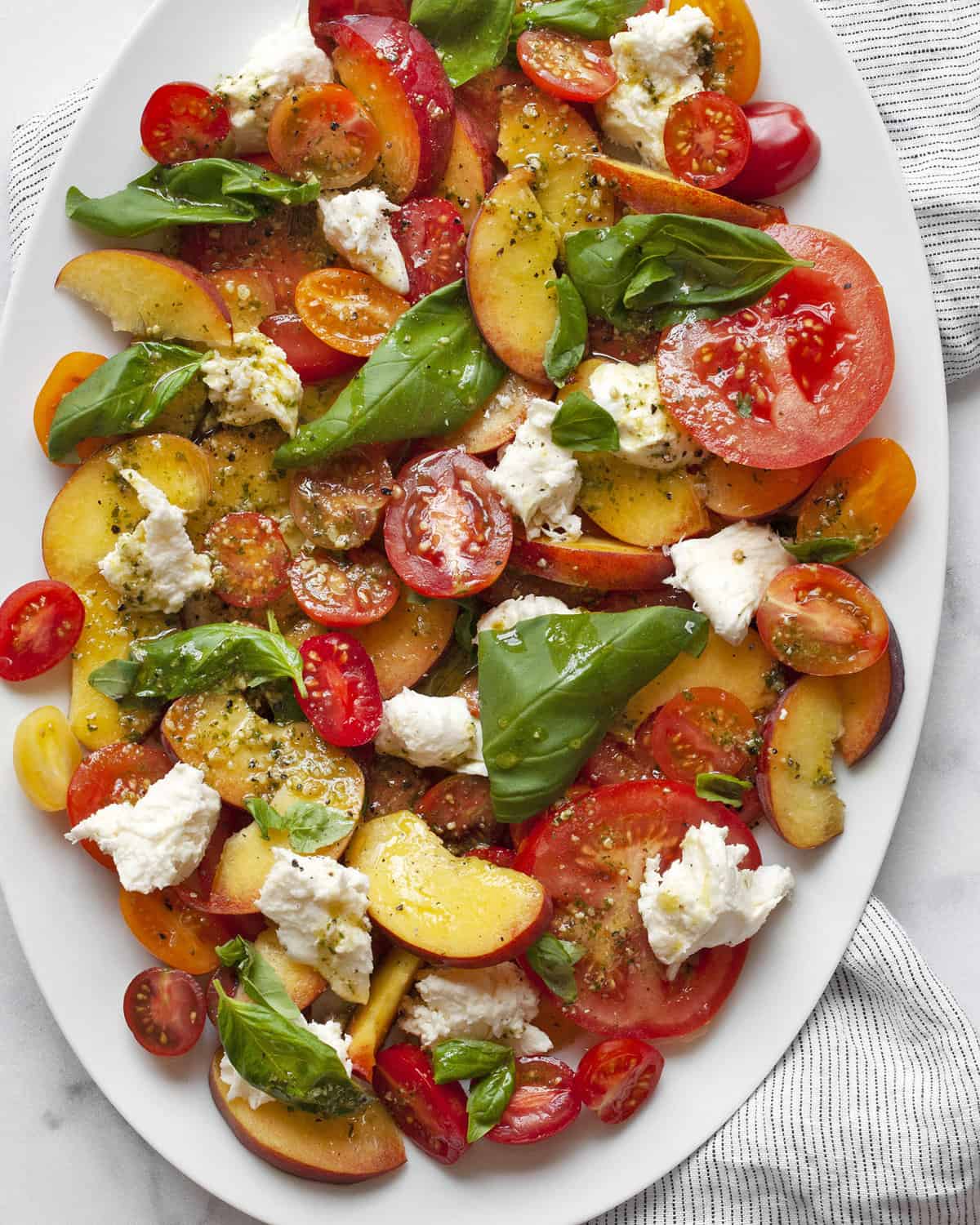 Why You'll Love This Recipe
Peaches and tomatoes are wonderful together. Trust me. This might not be the first combination you think of, but the sweetness of the peaches is so good with the acidity of juicy tomatoes and milky fresh mozzarella.
This is a more casual version of a classic caprese salad. You often see these salads put together in perfect stacks of alternating tomatoes, basil and mozzarella. That's way too much pressure on presentation. Besides the effort that goes into that, I think it makes it harder to serve and eat. I tear the cheese instead of slicing it and quickly put everything onto a big plate.
Pesto vinaigrette does more than just basil leaves. You get that fresh basil flavor all over the salad instead of only in select bites that happen to have a leaf in them.
What is a Traditional Caprese Salad?
Named after Capri, an island in Gulf of Naples where it is believed to have been created, this Italian salad (insalata caprese) has fresh mozzarella and tomatoes that are sliced with basil, olive oil and salt. It is a composed salad, which just means it's arranged on a plate and not tossed in a bowl.
The Ingredients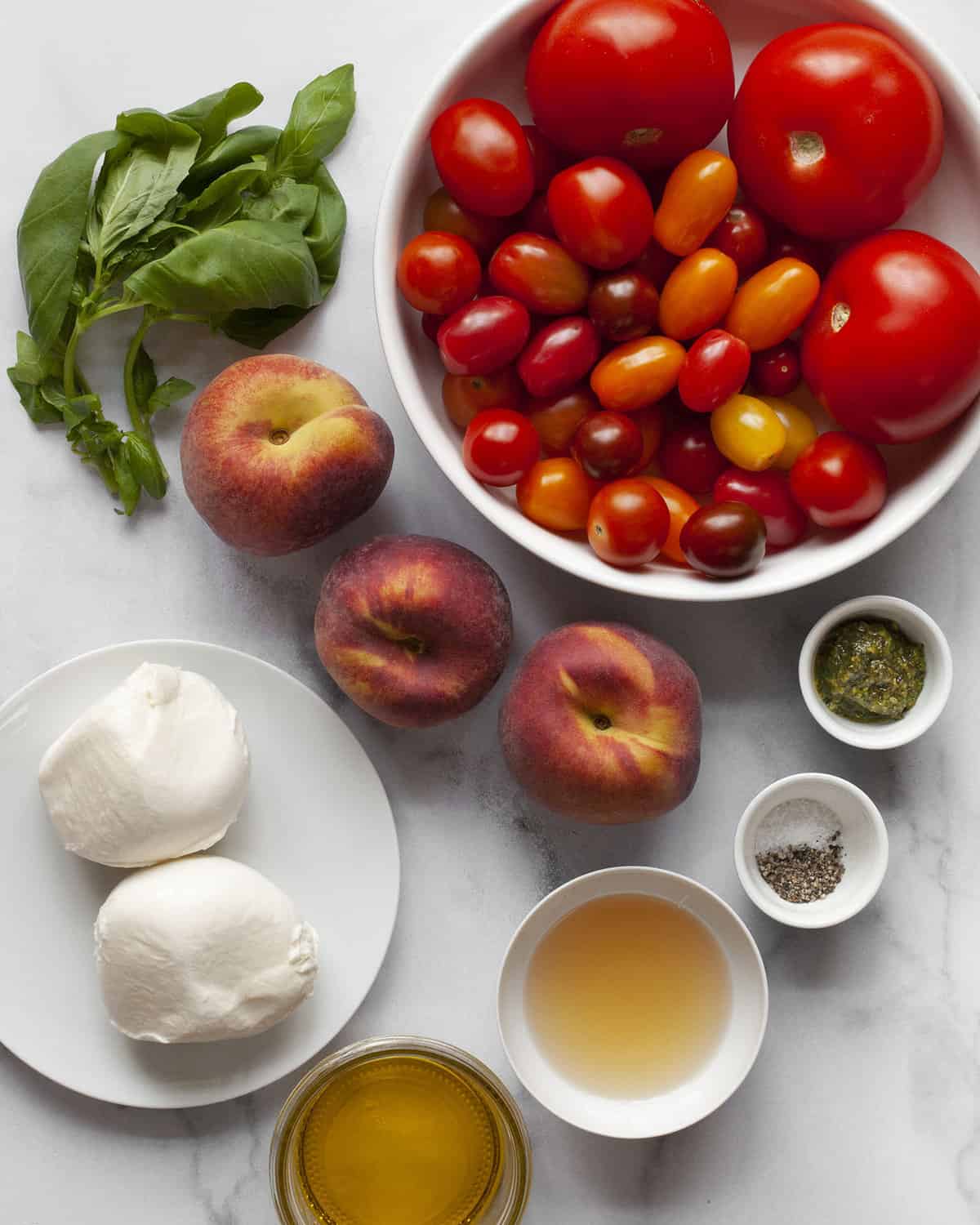 This is what you need:
Mozzarella: The salad requires fresh mozzarella, the kind that is sold in tubs with balls that are sitting in brine to keep them hydrated and soft. I don't slice them. When you tear mozzarella into pieces for a caprese salad, those uneven edges catch drops of dressing and stray juices from the tomatoes.
Tomatoes: I like using a mix of tomatoes in different colors and sizes. You can halve cherry tomatoes and grape tomatoes. And then slice medium to large tomatoes. Make sure they are ripe. You get bonus points if you include heirloom tomatoes from the farmers market or your garden.
Peaches: Cut the peaches into slices. Ripe peaches will give a little when you press them and they will smell fragrant. You can use yellow peaches or white peaches.
Basil: Even if they are larger, I keep all the fresh basil leaves whole rather than tearing them. The variety of sizes looks beautiful on the plate.
Olive oil: Use high quality extra virgin olive oil for the best flavor in the dressing.
Balsamic vinegar: My preference is white balsamic vinegar because it is lighter in taste and color than regular balsamic.
Pesto: You can use homemade basil pesto or store-bought pesto. If you do buy it, try to find pesto in the refrigerator case. That's because it will have a fresher, less processed taste than shelf-stable jarred pesto.
Salt & pepper season the dressing and then I finish the salad with flaky salt such as Maldon.
How To Make A Peach Caprese Salad
1. Prep the peaches, tomatoes and mozzarella. So the salad is ready to be put together all at once, start by slicing the peaches and tomatoes with a sharp knife and tearing the mozzarella into pieces.
2. Make vinaigrette. Whisk the pesto, olive oil, white balsamic vinegar, salt and pepper in a bowl.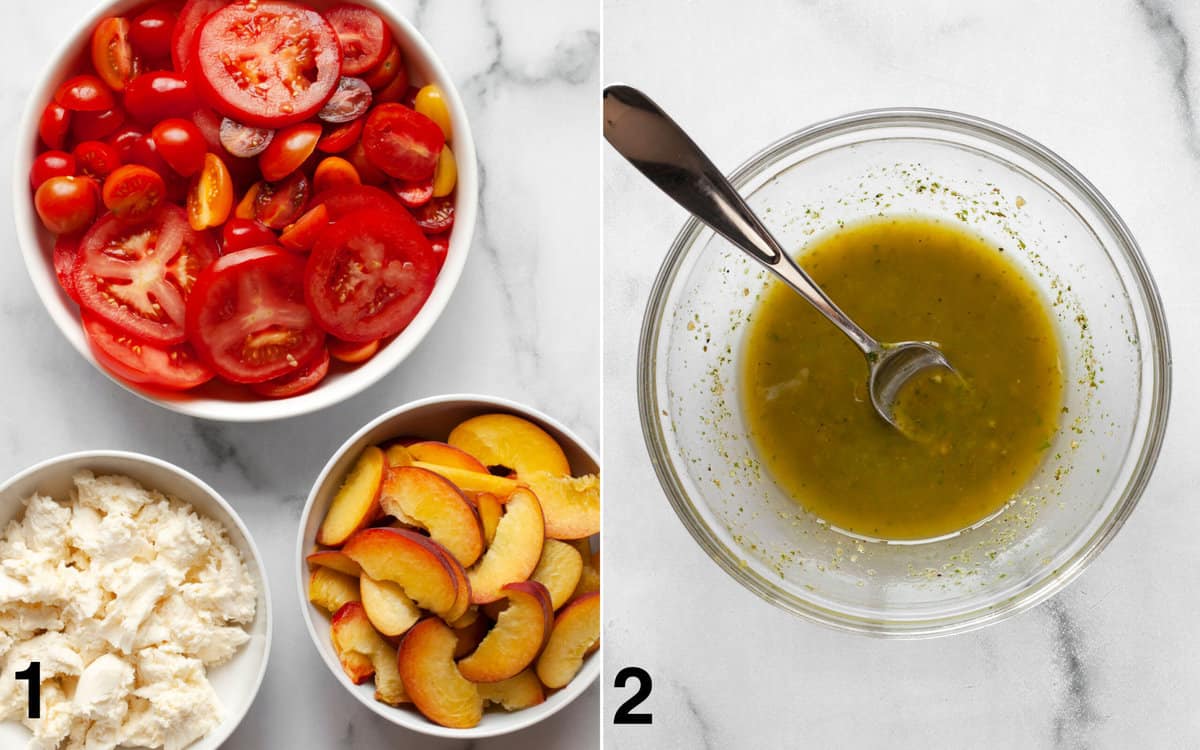 3. Assemble salad. Alternate putting, peaches, tomatoes, mozzarella, and basil on a large serving platter and drizzling the vinaigrette. Sprinkle the salad with flaky salt to finish it.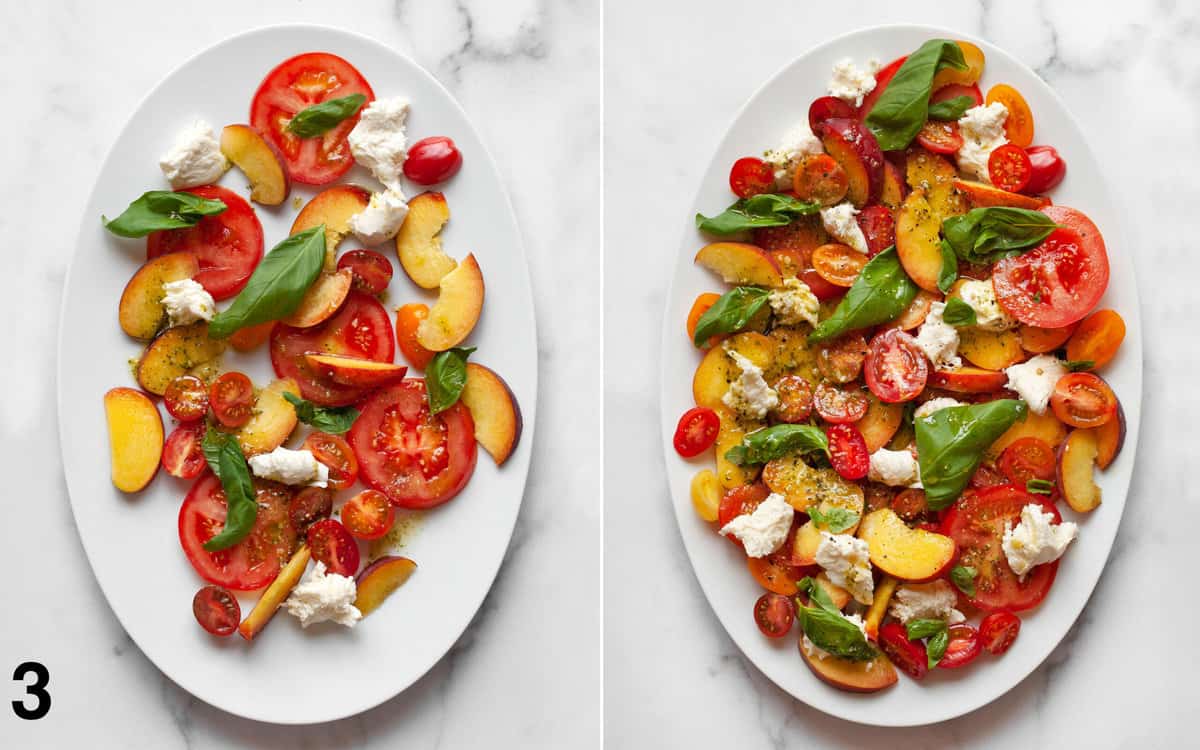 How To Serve A Peach Caprese Salad
As mentioned, this a fantastic summer salad. It's great for entertaining because it is a salad that can also be thought of as a starter You can serve it with charcuterie and other antipasti bites like marinated olives and homemade crackers.
Leftovers & Storage
You can store leftovers in the fridge in an airtight container up to 2 days. The basil will wilt because it is delicate, so you'll want to add fresh leaves. Also, make sure to let the salad sit at room temperature for at least 15 minutes before eating it. This gives the tomatoes a chance to lose the chill from the cold temperature of the refrigerator.
You can also make caprese toast and put the salad leftovers on slices of crusty bread. Or add greens and make it salad with lettuce.
Recipe Tips
Always use ripe tomatoes and peaches. There's nowhere to hide when it comes to a recipe with a limited ingredient list where everything is left fresh and raw. It is so important that each individual item has the best flavor possible.
Use a large serving plate and not a bowl. This isn't a salad that's tossed in the dressing. You want the tomatoes and peaches to be partially overlapping, so they all have a chance to make contact with the pesto vinaigrette. And alternate ingredients and vinaigrette as you assemble the salad.
If you are serving less people, you can halve the recipe. Just make the vinaigrette as written, and you can use that extra in another salad with greens.
FAQs
Can you use other stone fruit?
Yes, you can make a stone fruit caprese salad with nectarines, cherries and apricots.
What's the difference between fresh mozzarella and regular mozzarella?
Fresh mozzarella comes in balls. It's stored in tubs of brine and is milky and creamy. Regular mozzarella is a low-moisture version of the same cheese. Because it has less moisture, it stays fresher longer and is sold in blocks or shredded.
Peach Caprese Salad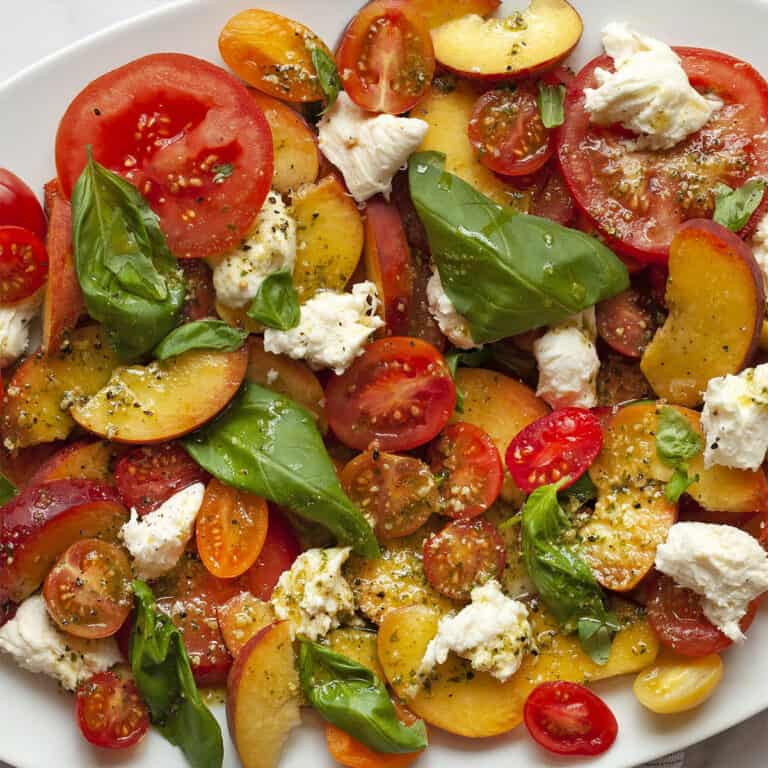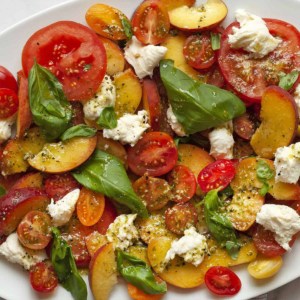 With tomatoes and stone fruit at their peak, this peach caprese salad recipe is a twist on the Italian classic. It's dressed in an herby pesto vinaigrette.
Ingredients
3

peaches

2

pounds

assorted tomatoes

8

ounces

fresh mozzarella

1

tablespoons

basil pesto

3

tablespoons

olive oil

2

tablespoons

white balsamic vinegar

1/4

teaspoon

kosher salt

1/4

teaspoon

black pepper

1/4

cup

basil leaves

Flaky sea salt for serving
Instructions
Halve the peaches, remove the pits and slice them.

For the tomatoes, slice the medium to large ones and halve the smaller grape and cherry tomatoes.

Tear the mozzarella into bite-sized pieces.

To make vinaigrette, whisk together the pesto, olive oil, white balsamic vinegar, salt and pepper in a small bowl.

To assemble salad, arrange the peaches, tomatoes, mozzarella, and basil on a large serving platter, alternating between ingredients and drizzling with the vinaigrette.

Finish the salad by sprinkling with flaky sea salt.
Notes
You can use stone fruit other than peaches such as nectarines, cherries or apricots.
Store leftovers in an airtight container in the refrigerator up to 2 days. Let the salad sit at room temperature for at least 15 minutes before serving. Also add fresh basil leaves.
You can eat leftovers on toast or stir them into lettuce.
Nutrition
Calories:
249
kcal
|
Carbohydrates:
15
g
|
Protein:
11
g
|
Fat:
17
g
|
Saturated Fat:
6
g
|
Polyunsaturated Fat:
1
g
|
Monounsaturated Fat:
8
g
|
Cholesterol:
30
mg
|
Sodium:
376
mg
|
Potassium:
489
mg
|
Fiber:
3
g
|
Sugar:
12
g
|
Vitamin A:
1863
IU
|
Vitamin C:
24
mg
|
Calcium:
217
mg
|
Iron:
1
mg
Nutrition information is automatically calculated, so should only be used as an approximation.