Butternut Squash & Cauliflower Quinoa

Scallions, crumbled goat cheese, chopped pistachios, sunflower seeds, chives and mint are the finishing touches in this butternut squash & cauliflower quinoa.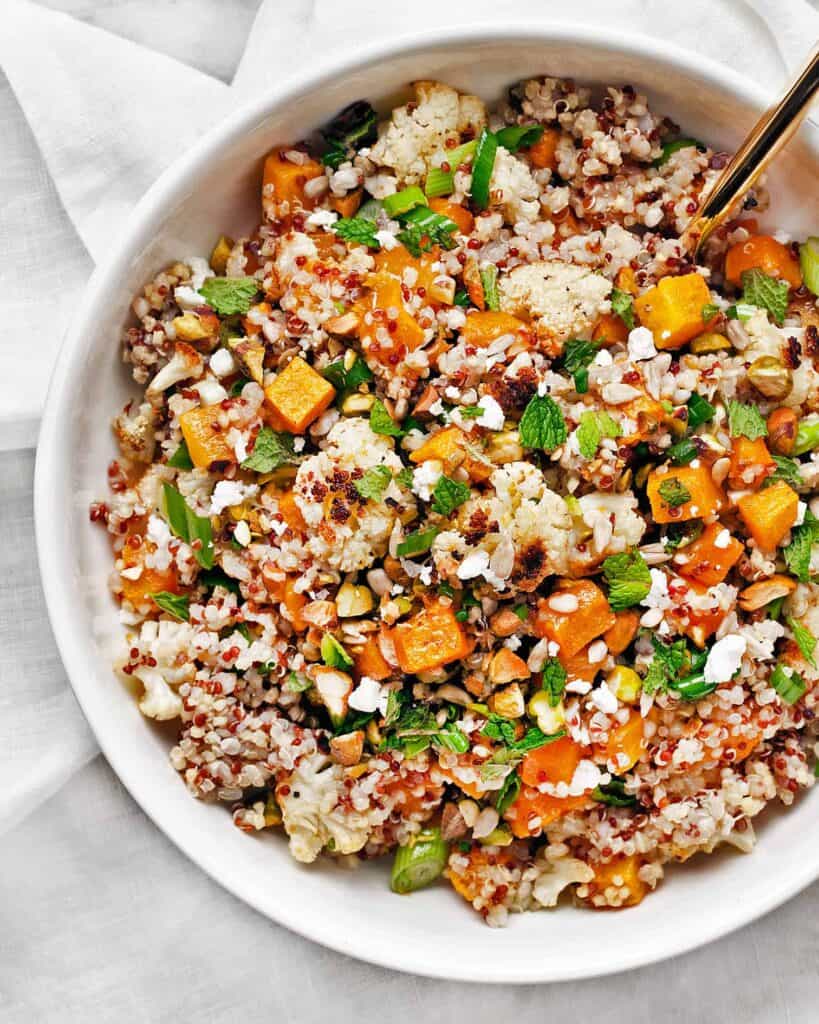 Last weekend I gave Thanksgiving a practice run. I roasted a dry-rubbed turkey, baked a pecan pie and experimented with sides.
I kind of ended up having Thanksgiving twice plus leftovers. How great is that!? I'm thinking this is going to be an annual dress rehearsal.
Of course you can't go wrong with the classics like stuffing and sweet potato (fill in the blank), but I always like to throw in something new that still respects the traditional dishes.
Obviously sides are what truly capture my interest with this meal.

Maybe it's because I am obsessed with vegetables.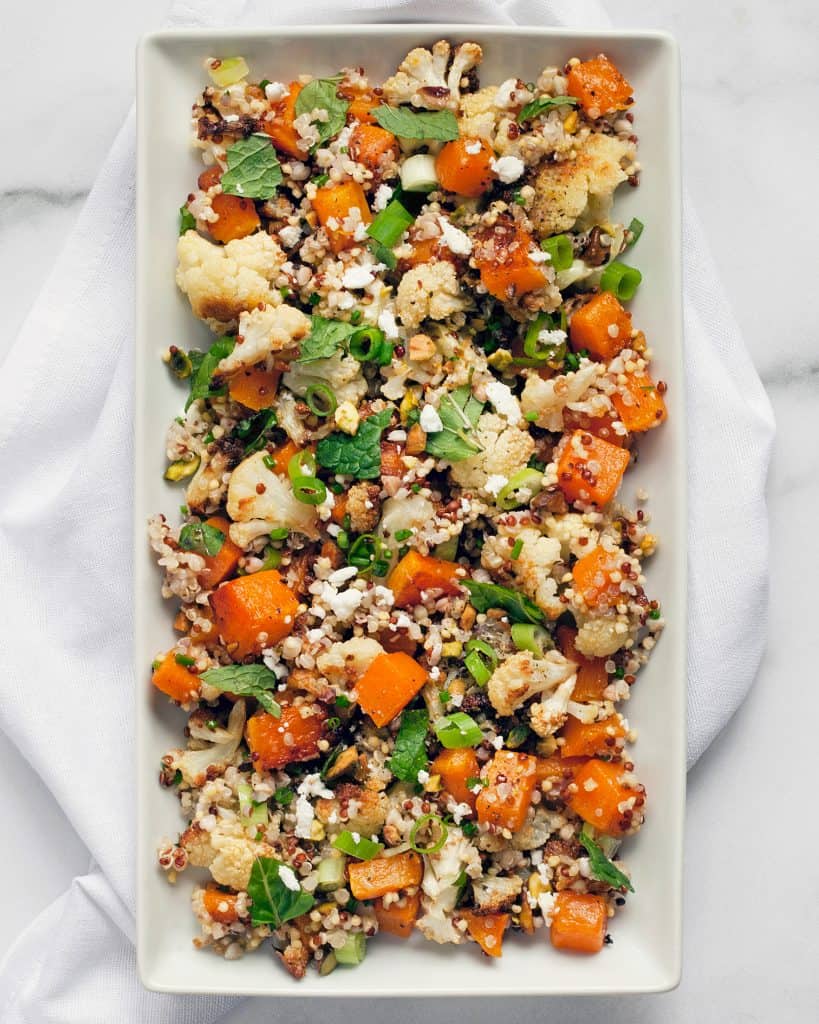 I started raiding my pantry for grains and ended up making this butternut squash & cauliflower quinoa
With a stash of root vegetables on the kitchen counter, it was no problem to be down one.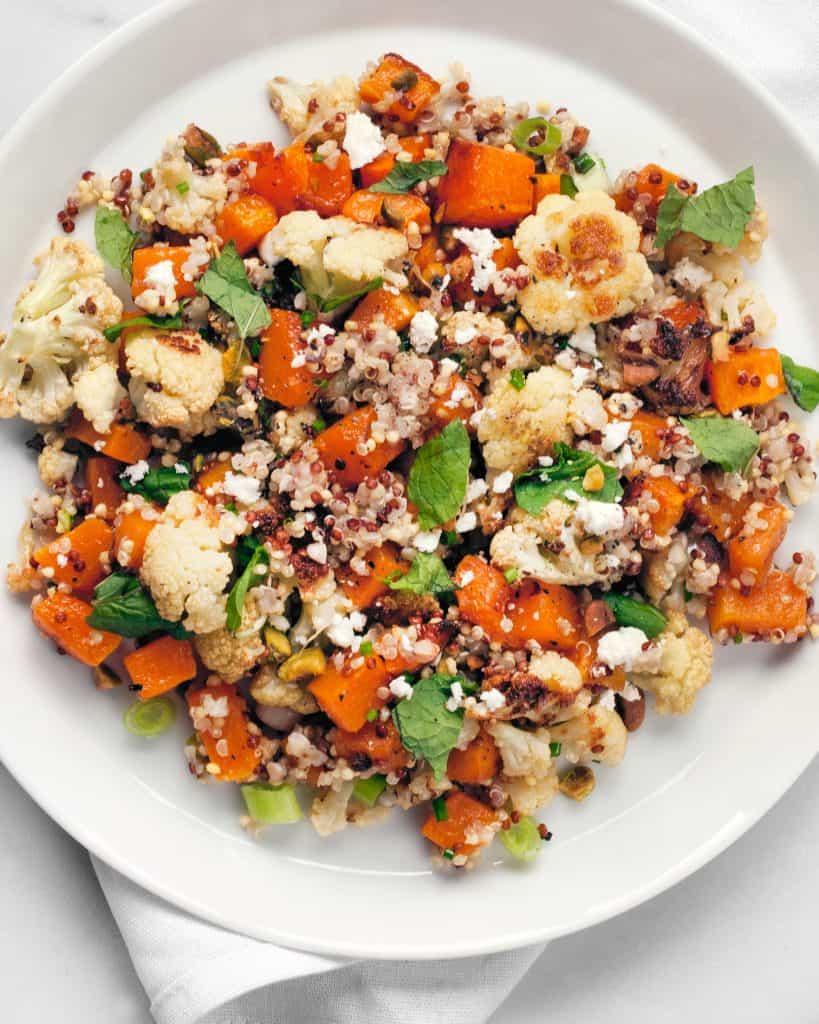 How To Make Butternut Squash & Cauliflower Quinoa
First I tossed the butternut squash and cauliflower in olive oil, salt and pepper.

Then I spread them on a sheet pan and roasted them together in the oven letting them brown at the edges.
While the vegetables were roasting, I made the quinoa. I like using tri-colored quinoa.
Wanting a mix of textures and herby flavor, I added scallions, pistachios, sunflower seeds, chives and mint to the bowl.

In addition, the mint gave it so much lift and aromatics.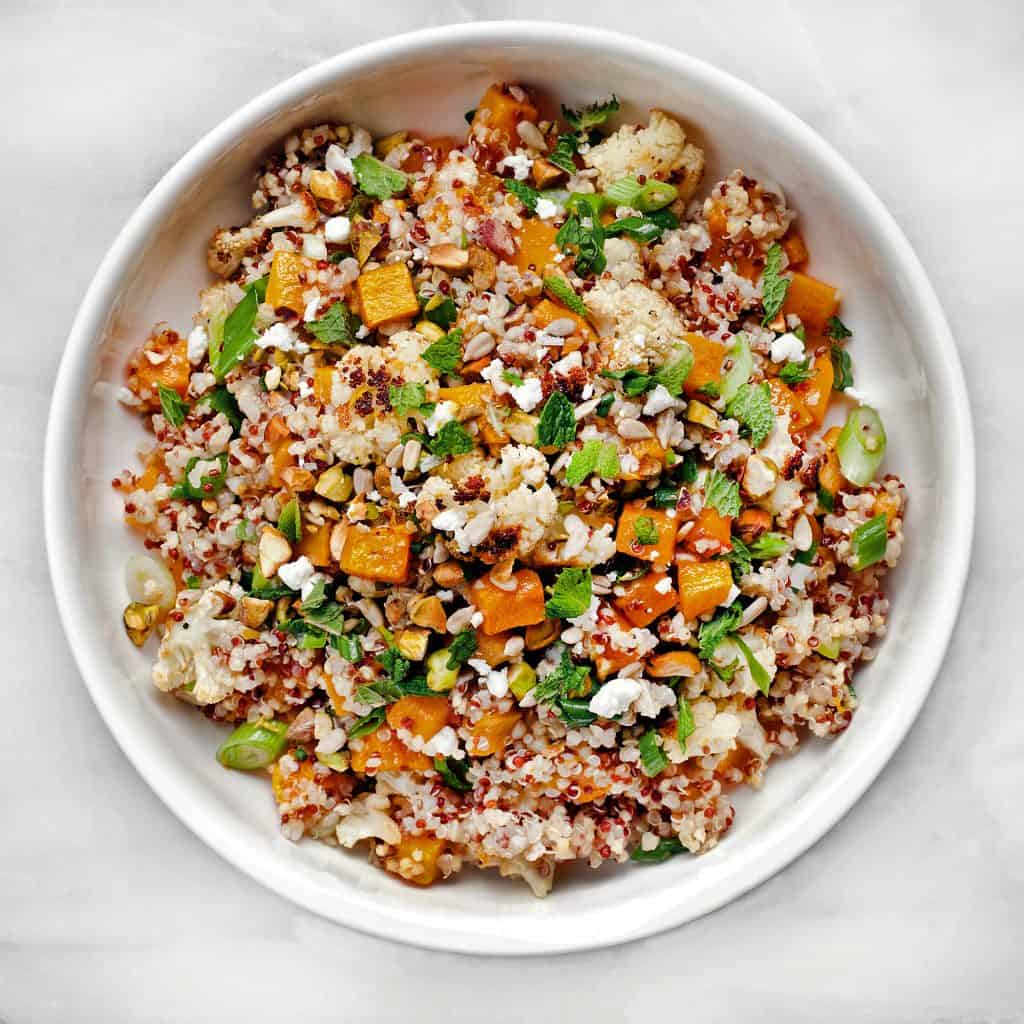 I also stirred in goat cheese; however, if you are vegan, this can be definitely be left out.
Finally, I whisked together lemon juice, olive oil, minced garlic, cumin salt and pepper.

I'm a big fan of drizzling vinaigrette into grain bowls.
This butternut squash & cauliflower quinoa had just the right amount of fresh herbs to go with the much-needed crunch.
Since it made it past the rehearsal stage, it was a featured side at our Thanksgiving table.

As expected, it was a big hit. I'm pleased to report there were lots of requests for an encore performance at next year's festivities.
Print
Butternut Squash & Cauliflower Quinoa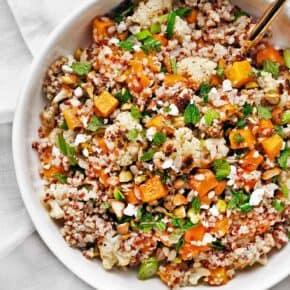 Author:
Prep Time:

15 minutes

Cook Time:

25-30 minutes

Total Time:

40-45 minutes

Yield: Serves

4

–

6

1

x
Scale
Ingredients
For quinoa
2 cups peeled & cubed butternut squash
1 pound cauliflower, trimmed and cut into florets
1 tablespoon olive oil
1 teaspoon kosher salt
1/2 teaspoon black pepper
1–1/2 cups water
3/4 cup tri-color quinoa
2 scallions, thinly sliced
1/4 cup crumbled goat cheese
1/4 cup chopped pistachios
2 tablespoons sunflower seeds
1 tablespoons fresh chives
2 tablespoons torn fresh mint
For vinaigrette
Juice of 1 lemon
1 garlic clove minced
1/2 teaspoon ground cumin
1/4 teaspoon kosher salt
Pinch black pepper
1/4 cup olive oil
Instructions
Preheat the oven to 400 degrees F.
Toss the squash and cauliflower with olive oil, salt and pepper on a sheet pan and spread into a single layer. Roast for 25-30 minutes until the squash is tender and the cauliflower is starting to brown.
Bring water and quinoa to a boil. Reduce the heat, cover and simmer for 12 minutes until the quinoa is tender and the water has been absorbed. Fluff with a fork and let the quinoa cool for 10 minutes. In a large bowl, combine the quinoa, squash, cauliflower, scallions, goat cheese, pistachios, sunflower seeds, chives and mint.
In a small bowl, whisk together the lemon juice, garlic, cumin, salt, pepper and olive oil. Stir the vinaigrette into the quinoa.
SHARE THIS