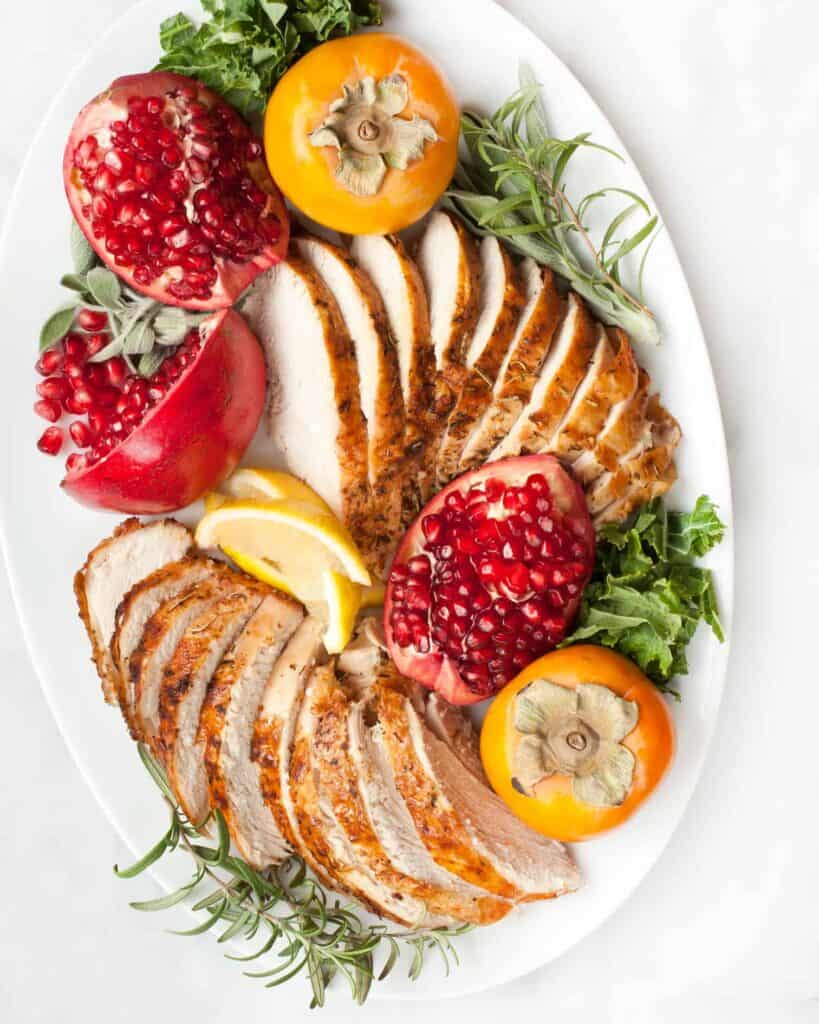 With nearly 3 weeks since Thanksgiving, I've had plenty of time to recover from the feast and settle into the unavoidable overeating for the remainder of the year.
Thanksgiving is my absolute favorite holiday meal.

From sides to dessert and everything in between, it's a total dream of a food extravaganza.

Since everyone contributes a little something, it's essentially the ultimate potluck.
We celebrated the holiday at my aunt and uncle's house. Dessert was our responsibility for the spread that involved a massive turkey of course.

We were a hungry bunch, which was obvious from the overloaded plates in front of each person at the table. The serving platters were pretty much polished off by the end.
After a meal like that most people would have had their fill of turkey, but I always crave a leftover sandwich.
It involves turkey with lettuce and a soft, spreadable cheese like brie on crusty bread smeared with cranberries fig jam.
When you don't host the dinner, you usually don't end up with leftovers, if they even exist.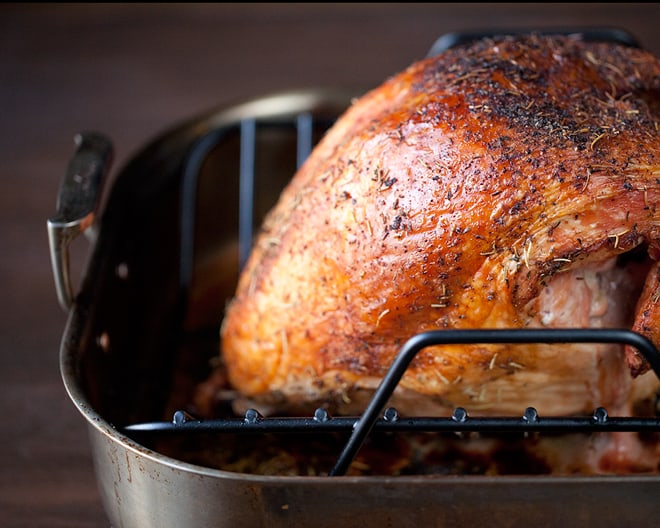 Dry Rubbed Turkey: The Ingredients
To satisfy my need for a leftover sandwich, I roasted a dry rubbed turkey breast.
I realize it doesn't exactly make sense to cook a meal and call it leftovers the first time you eat it, so excuse my wording!
I do marinades on occasion. Spice mixes are so much easier.

You don't have to season the meat, poultry or whatever hours in advance to get amazing flavor. And those spices don't slide off during cooking like a liquid marinade can.
My go-to spice rub is a mix of rosemary, thyme, oregano, paprika, cumin, onion powder, garlic powder, red pepper flakes, salt and pepper. I sprinkle it on lots of things including vegetables.
The combination of spices on the dry-rubbed turkey gave the bird so much personality, but kept it adaptable enough to work in a sandwich or be thrown into a salad.

Now I can say my turkey fix has been satisfied for the season.
Print
Dry Rubbed Turkey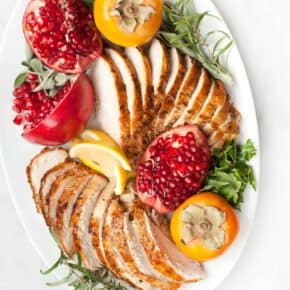 Prep Time:

1 hour

Cook Time:

1-1/2 – 2 hours

Total Time:

2-1/2 – 3 hours

Yield: Serves

6

–

8

1

x
Scale
Ingredients
1 tablespoon dried rosemary
1 tablespoon dried thyme
1 teaspoon dried oregano
1 teaspoon paprika
1/2 teaspoon cumin
1/2 teaspoon onion powder
1/2 teaspoon garlic powder
1/8 teaspoon red pepper flakes
1 tablespoon kosher salt
1 teaspoon black pepper
For turkey
1 8-pound bone-in turkey breast
Instructions
In a small bowl, combine the rosemary, thyme, oregano, paprika, cumin, onion powder, garlic powder, red pepper flakes, salt and pepper.
Place the turkey breast skin side up on a rack inside a roasting pan. Rub the spice mixture on the entire turkey breast including underneath the skin. Let the turkey sit at room temperature for 1 hour.
Preheat the oven to 450 degrees F.
Roast the turkey for 30 minutes. Reduce the oven temperature to 375 degrees F and continue roasting for 1 to 1-1/2 hours until an instant-read thermometer inserted in the thickest part of the breast is 165 degrees F. Let the turkey rest for 20 minutes before carving.
SHARE THIS