Crunchy Brussels Sprout Peanut Salad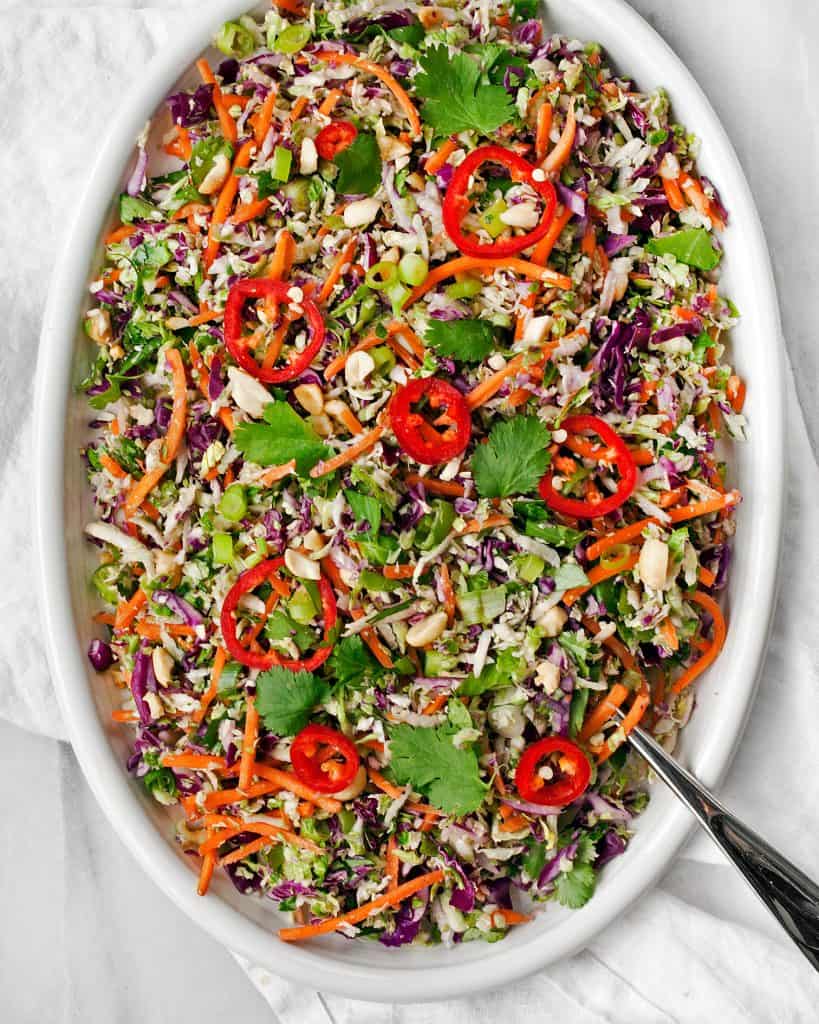 Since the beginning of the year I've been trying to consume vegetables at every meal. And yes, that includes breakfast.
It turns out it's not that hard to pull off. Lunch and dinner are easy, and I like to start my mornings with a blueberry smoothie that's not complete without a handful of baby spinach. Check, check and check!
What I have realized is that salads are the most common vehicle for my vegetables. Give me a filling salad, and I am happy.
My go-to greens other than spinach are romaine and arugula.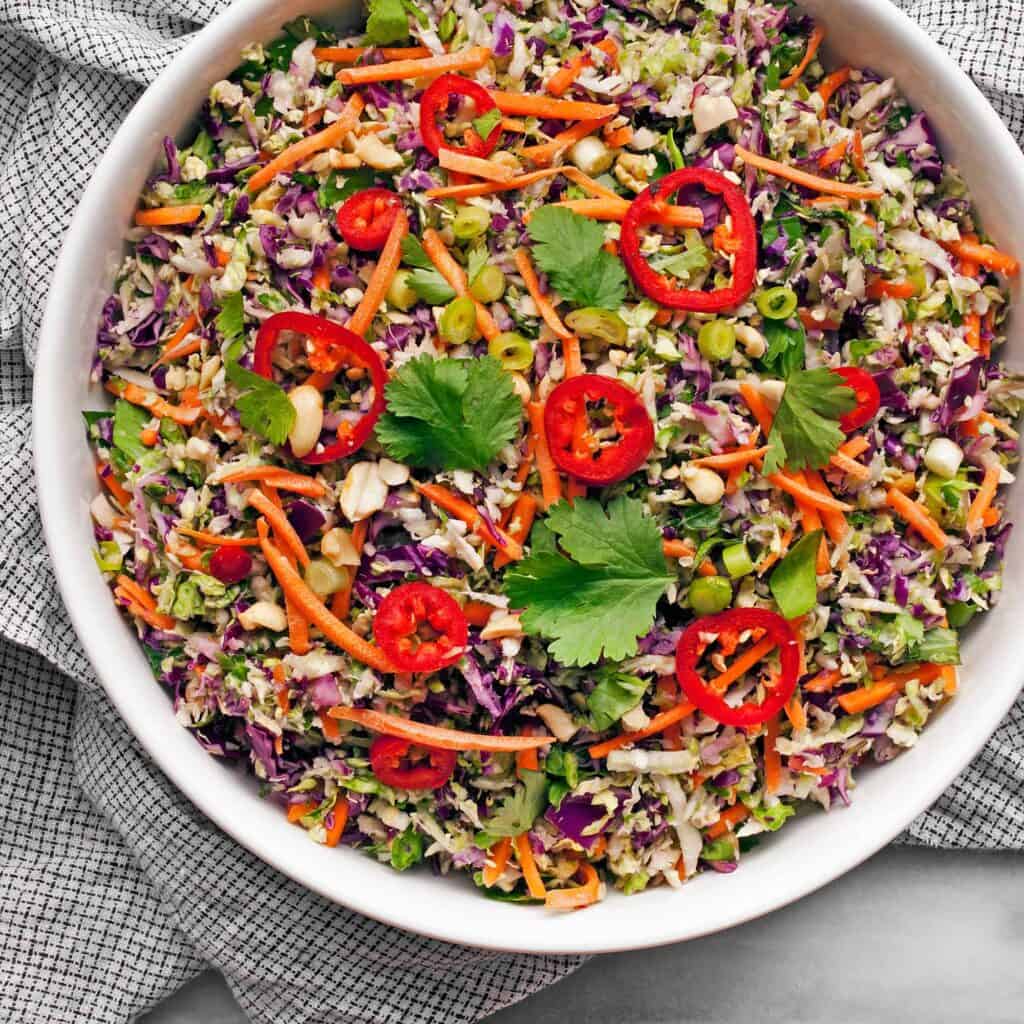 But my absolute favorite salad leaf alternate to my usual rotation are brussels sprouts.

I almost never cook them. It's only on an occasion like Thanksgiving when I roast them.

Raw brussels sprouts have me hooked. I like to shred them in the food processor because it's so fast. You can also use a box grater or mandolin.
For this crunchy brussels sprout peanut salad, I decided those sprouts needed some company.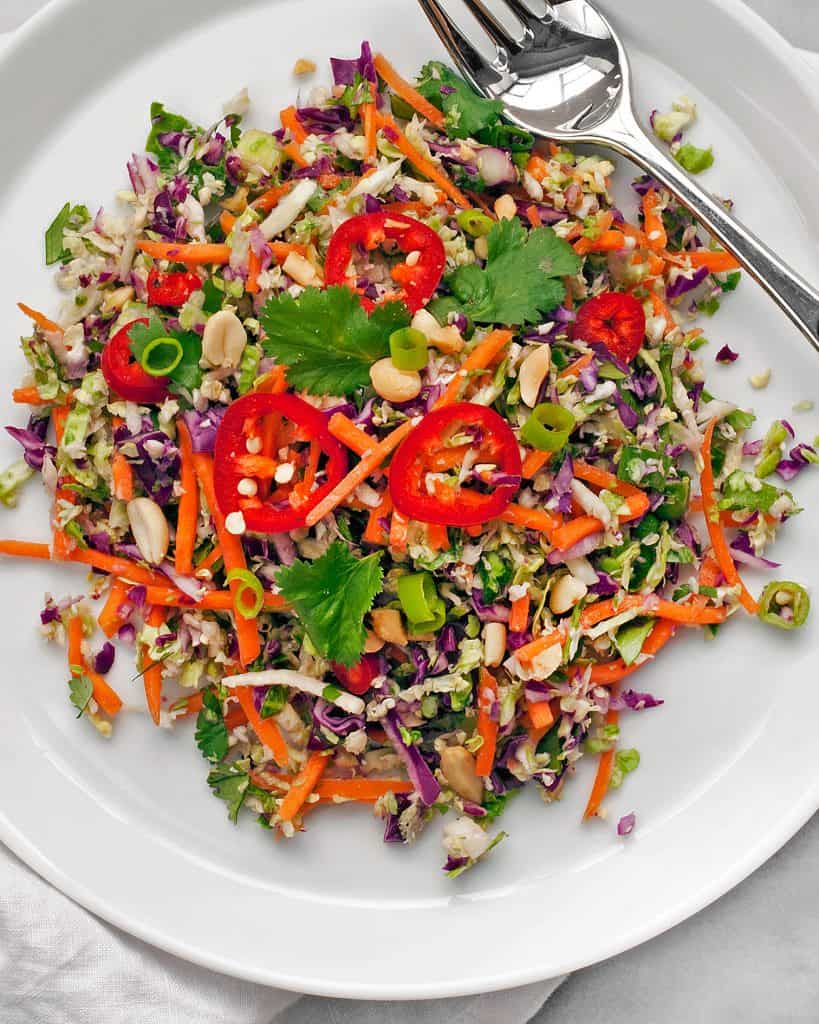 How To Make A Crunchy Brussels Sprout Peanut Salad
Instead of relying only on shredded sprouts, I folded in shredded red cabbage and carrots.

Wanting to put a Thai spin on the salad, I roughly chopped a bunch of cilantro and carefully sliced spicy red chilies.

The dressing is where I did more experimenting. I made it a few ways before I decided on the best version.

A vinaigrette just didn't have enough heft. It got so lost in the sprouts, cabbage and carrots that it didn't add enough flavor. Peanut butter fixed all of that.

I whisked together a mixture of lime juice, oil and cilantro. A spoonful of peanut butter made the dressing creamy enough, without being too heavy, to hold tight to all the veggies.

To finish off the salad, I sprinkled on chopped roasted salted peanuts. They added even more satisfying crunch.
Print
Crunchy Brussels Sprout Peanut Salad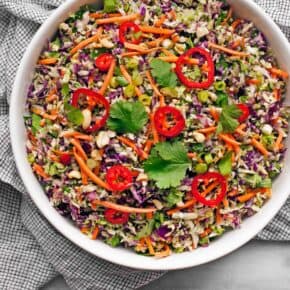 Prep Time:

15 minutes

Total Time:

15 minutes

Yield:

Serves 6
Ingredients
For salad
1 pound brussels sprouts, shredded with a mandolin, a food processor fitted with the grater disc or box grater
2 cups shredded red cabbage
2 cups shredded carrots
1/2 cup roughly chopped cilantro leaves
1 red chili, thinly sliced
1/3 cup salted roasted peanuts
For dressing
Juice of 1 lime
1 tablespoon chopped cilantro
1 garlic clove, minced
1 tablespoon creamy peanut butter
1/4 teaspoon kosher salt
Pinch black pepper
1/4 cup olive oil
Instructions
In a large bowl, combine the brussels sprouts, cabbage, carrots, cilantro leaves, chilies and peanuts.
For the dressing, whisk together the lime juice, cilantro, garlic, peanut butter, salt, pepper and olive until fully combined. Fold the dressing into the salad.
SHARE THIS