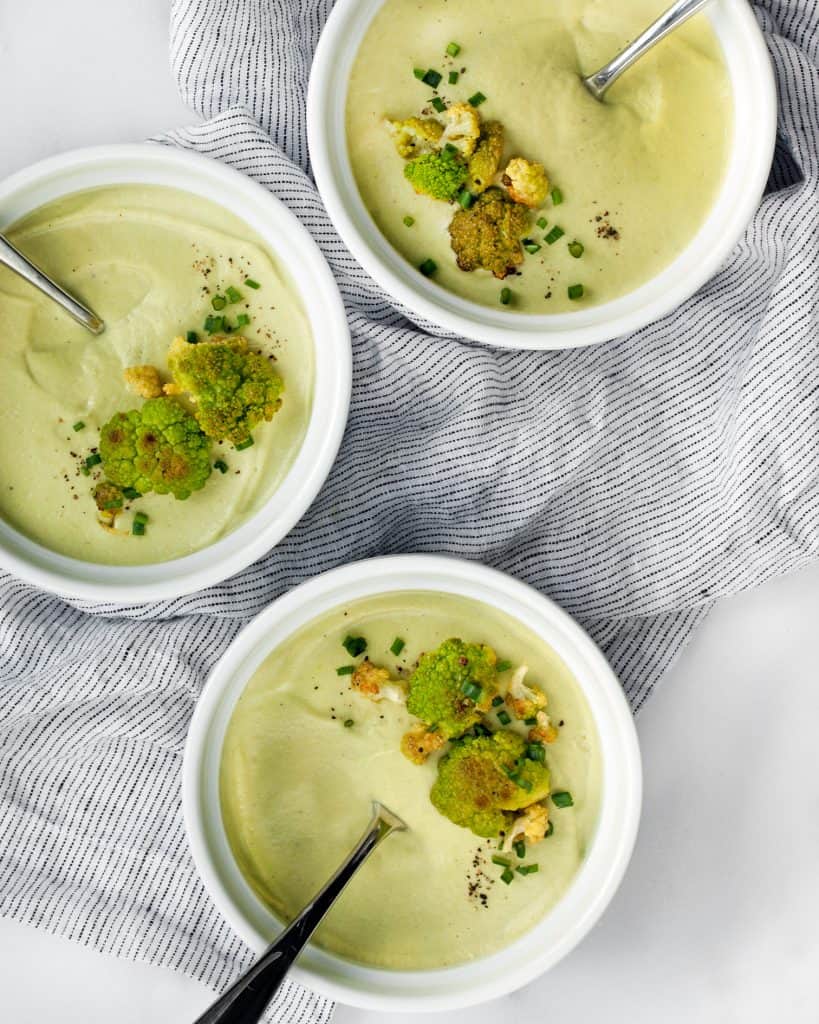 My food cravings tend to come in colors. If I've eaten too much of a single hue, I find myself craving another part of the rainbow.
In the cold February chill my palette is a bit limited. There are reds and oranges with tomato soup and roasted butternut squash and sweet potatoes.
Of course there is no shortage of brown foods like pasta, potatoes and lots of baked goods.
It's green that is easy to forget. All of a sudden I will have a desperate craving for a leafy salad to get back to feeling normal and balanced.
I do love a green soup, too. Broccoli spinach soup is one of my favorites, but I thought I should add another to my winter rotation.
I started brainstorming about all things green. Edamame was the first idea that popped into my mind. I love eating those beans steamed and straight from the pod with salt. I've even turned them into pesto.

But what veggie to pair with edamame? Green cauliflower!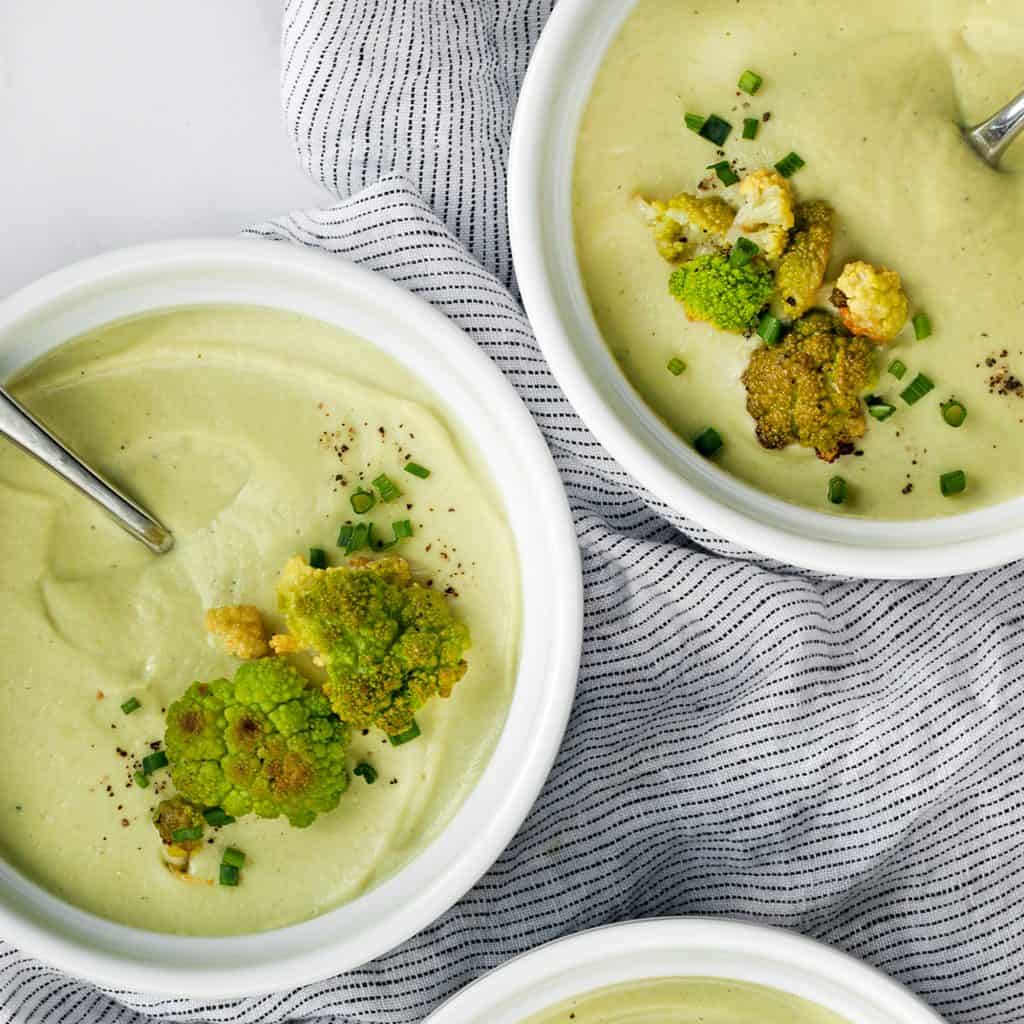 Multi-colored cauliflower gets me so excited. Even thought it's become more common, I still act like I will never see it again and buy heads in every color on the shelves.
For my edamame cauliflower soup, I started by roasting the cauliflower in the oven until it was just starting to turn brown. Then I turned off the oven and switched on the stovetop.
From there, it was a very straightforward vegetable puree soup. I sautéed onions and garlic, and then added shelled edamame, water and the cauliflower to the pot.
It didn't take long for the entire mixture to soften up enough to be blended into a smooth, light and almost cloud-like puree.

For such a simple vegan soup, it was very filling. I ladled less into my bowl than normal, and I was completely satisfied with a smaller serving.
Print
Edamame Cauliflower Soup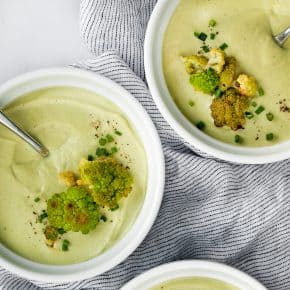 Total Time:

45-50 minutes

Yield: Serves

4

1

x
Scale
Ingredients
1 large head green cauliflower (about 2 pounds), trimmed and broken into florets
2 tablespoons olive oil
1 teaspoon kosher salt
1/2 teaspoon black pepper
1 small white onion diced
1 garlic clove, minced
12 ounces frozen shelled edamame
4 cups water
1 tablespoon minced chives
Instructions
Preheat the oven to 375 degrees F. Toss the cauliflower with1 tablespoon olive oil, 1/2 teaspoon salt and 1/4 teaspoon black pepper. Roast the cauliflower until it is tender and the florets are starting to brown at the edges, about 25 to 30 minutes.
Heat the remaining olive oil in a large saucepan over medium heat. Add the onions and sauté for 5 minutes until they start to soften. Stir in the garlic and remaining salt and pepper and continue cooking for an additional 3 minutes. Add the edamame, water and cauliflower, reserving 1/2 cup cauliflower for garnish. Simmer the soup for 10 minutes.
Carefully transfer the soup in batches to a blender to puree. Return the soup to the saucepan to reheat before serving, Divide into bowls and top with cauliflower and fresh chives.
SHARE THIS