Vegan Broccoli Soup with Spinach
on Jan 09, 2023, Updated Jul 09, 2023
With lots of broccoli and plenty of spinach, this vegan broccoli soup ticks all the boxes for getting your daily intake of greens. It's healthy comfort food that's filling and can be served with a salad for even more veggies in a single meal. The soup cooks in just over 30 minutes.
For more green soups, try my Roasted Asparagus Soup or Chile Verde with White Beans.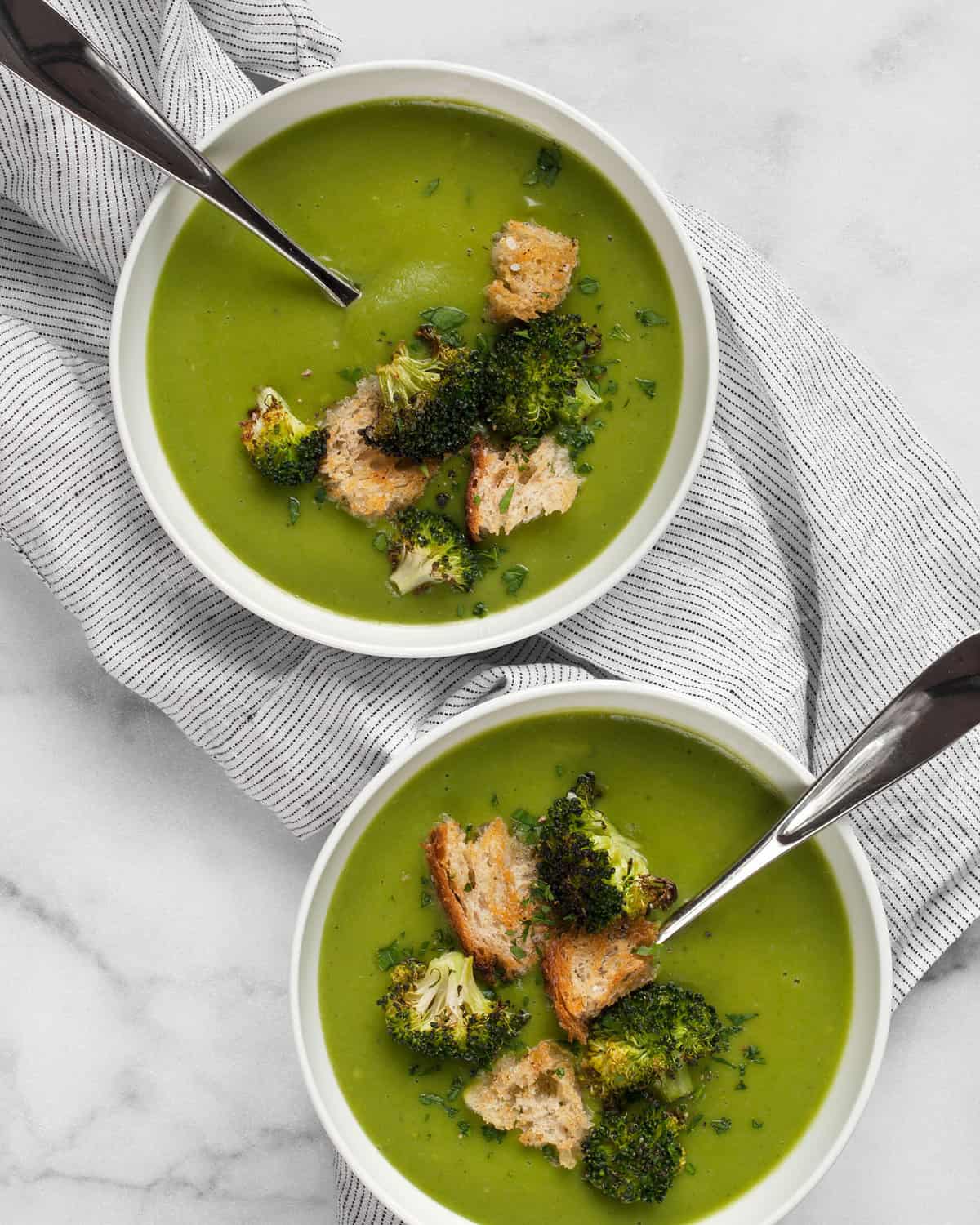 Why You'll Love This Healthy Broccoli Soup
If you're looking for an easy way to eat more greens, this soup is it. Between broccoli and spinach, each bowl is loaded with vitamin C, vitamin K, fiber, iron, potassium and so much more nutrition.
There is minimal food waste. Both the broccoli florets and stems are put to use in this recipe. So often when it comes to broccoli you only eat the florets, but the sliced stalks cook in the broth with the other ingredients.
This vegan soup is creamy without coconut milk or other additions. There are so many reasons to love pureed veggie soups. Once you have simmered the vegetables, use a high- powered blender to puree them into a soup that has a lovely creaminess.
Like so many soups, this one is freezer-friendly too. Always a good tip for meal planning is to freeze one portion every time you make soup. Then you will be stocked for weekday lunches and for those times when you think you don't have anything to eat.
The Ingredients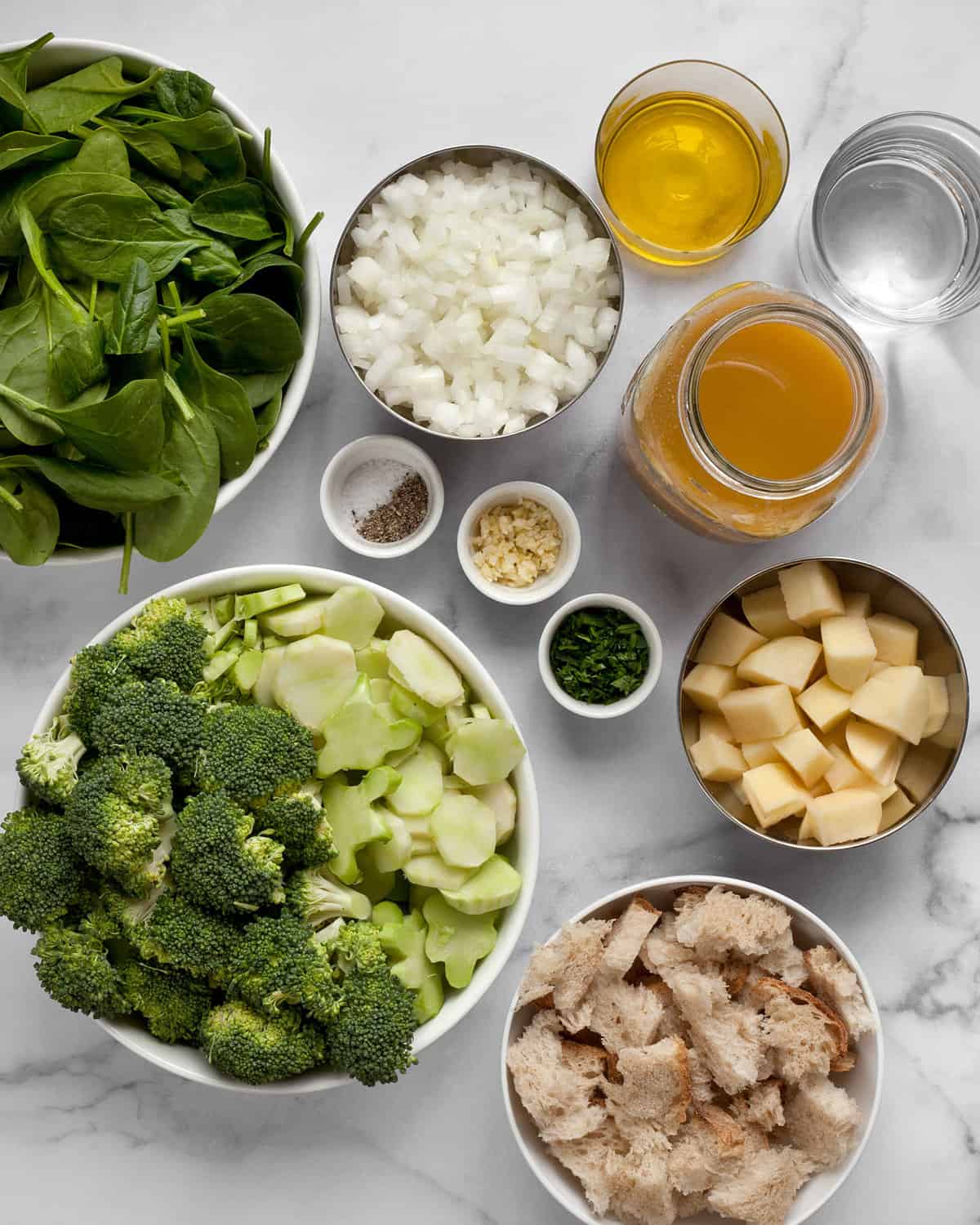 This is what you need:
Broccoli: Look for fresh broccoli where the florets tightly clustered. Avoid any with yellow flowers. Take a vegetable peeler and peel the stem to remove the small bumps.
Spinach: Five ounces of spinach may sound and look like a lot in the pot, but the heat from the soup will wilt it pretty quickly. Then pureed, it gives you nutrition and flavor and enhances the beautiful green color.
Onions: Cooking the soup starts with sautéing chopped onions in olive oil.
Potatoes: I peel and dice a russet potato to thicken the soup and enhance its creamy texture.
Vegetable broth & water: The total amount of the liquid in the soup is 4 cups. I do a 50-50 split between broth and water. The broccoli and spinach have lots of flavor on their own. By using this combination, the broth is less likely to mute the bright green color of the soup. Make sure to use low-sodium broth. If you don't mind if the soup is not vegan, you can swap in chicken broth.
Bread: Along with a third of the broccoli florets that roast on a sheet pan in the oven, I include torn pieces of bread. Then you have roasted broccoli and croutons to garnish the bowls of soup.
Olive oil: For the best taste, use extra virgin olive oil.
Parsley: I also like to garnish the soup with fresh herbs like chopped parsley. You can include chives too.
Salt & black pepper season the soup and the roasted broccoli and croutons.
How To Make This Vegan Broccoli Soup Recipe
Preheat the oven to 400 degrees F.
1. Heat the olive oil in a large pot or Dutch oven.
2. Sauté the onions. Give them 4-5 minutes to turn soft and translucent.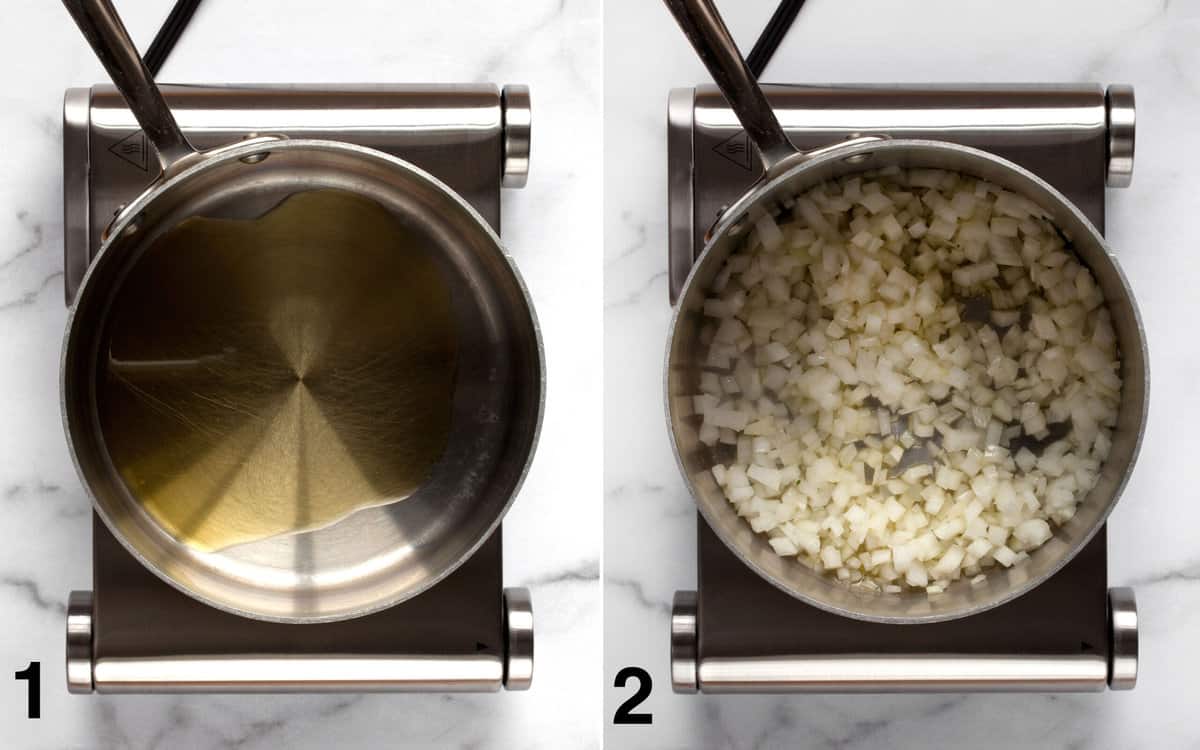 3. Stir in the minced garlic, salt and pepper. This will make the onions quickly become more fragrant.
4. Add the vegetable broth, water, potatoes, two-thirds of the broccoli florets and all the stems. Bring the soup to a boil, reduce the heat and simmer until the stems are tender, about 25-30 minutes.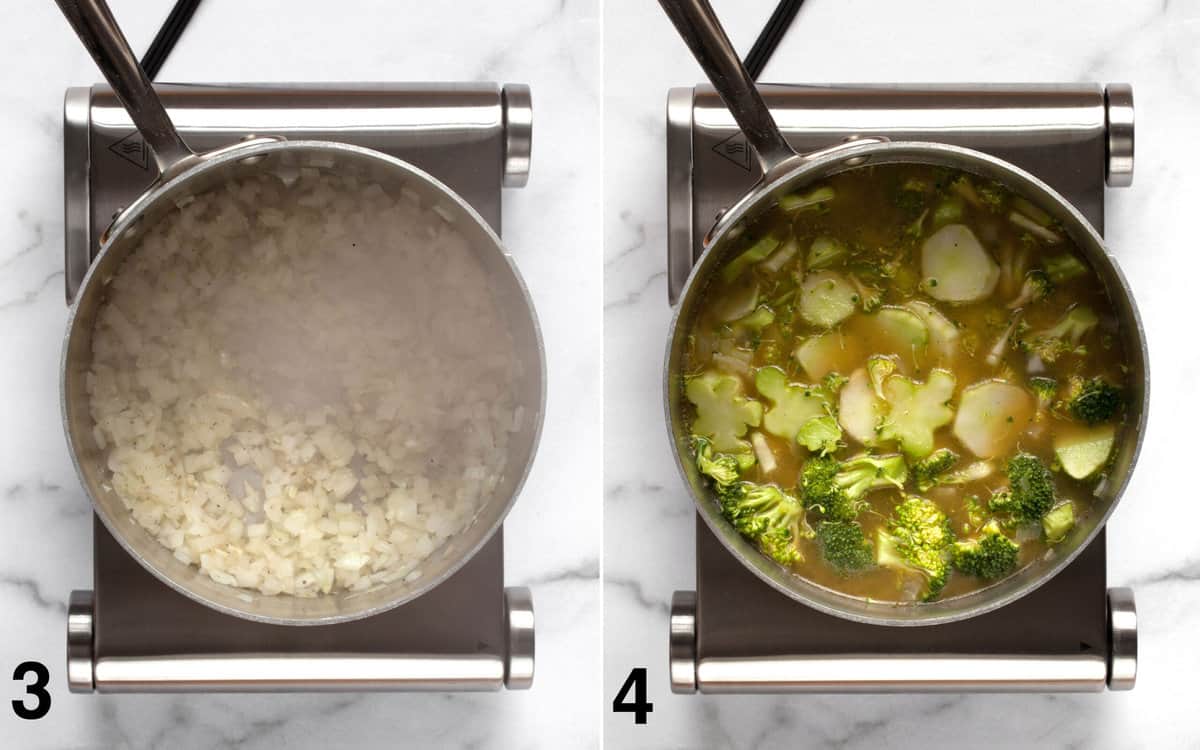 5. Stir in the baby spinach. As mentioned, it will almost look like too much in the pot, but it won't take long for the heat from the soup to wilt it.
6. Blend the soup. I recommend transferring the soup to a blender to puree it rather than using an immersion blender. This is so it turns out very smooth.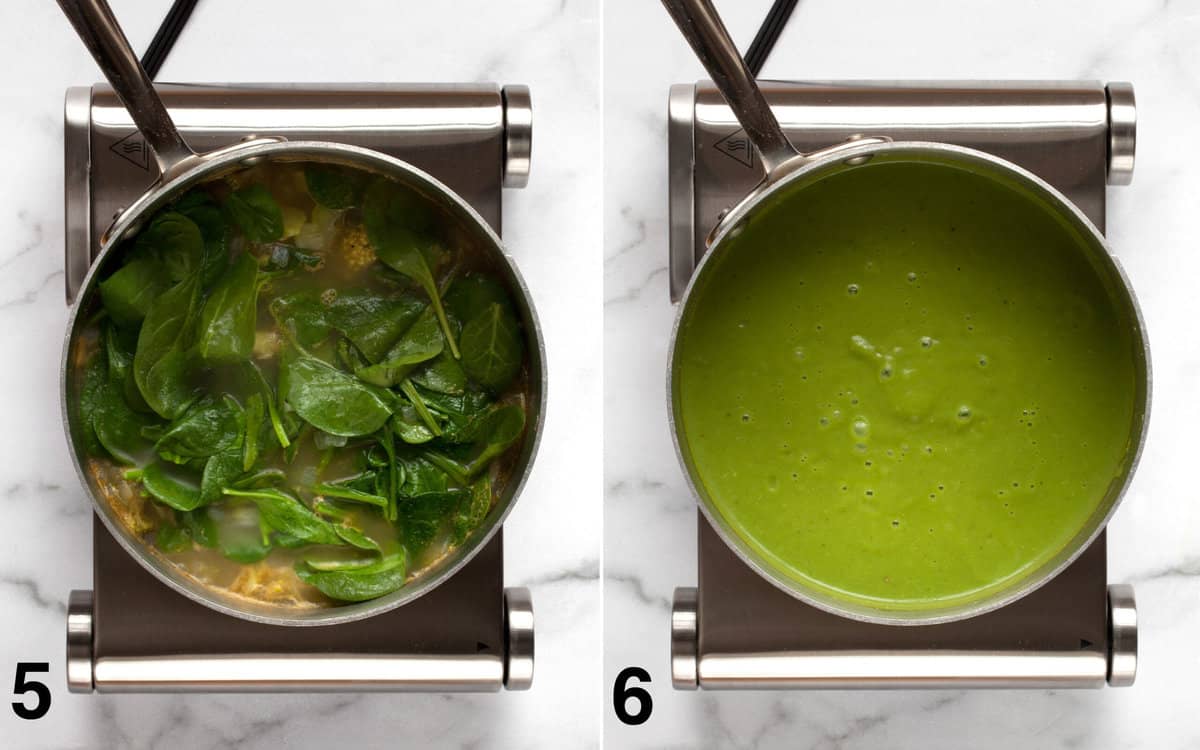 7. Toss the reserved broccoli florets and bread with olive oil, salt and pepper on a baking sheet.
8. Roast the broccoli until it is bright green and the bread is golden, about 10-12 minutes. Divide the soup into bowls and top them with roasted broccoli, croutons and chopped parsley.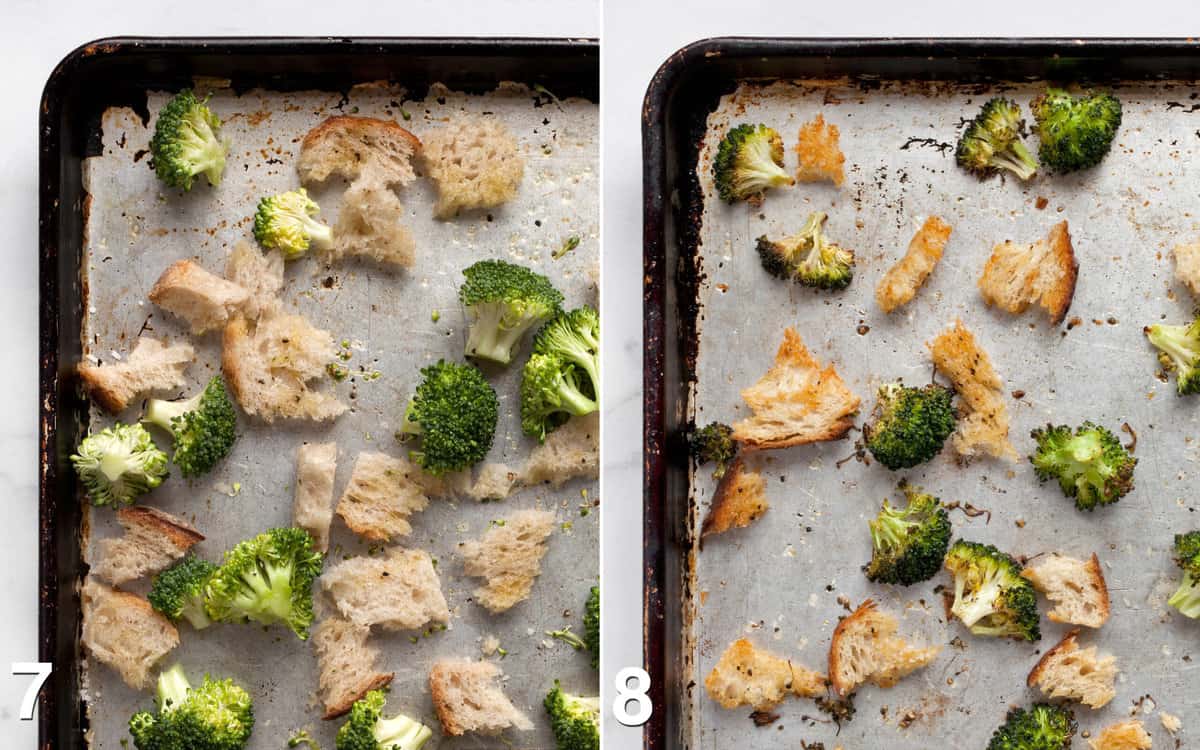 Leftovers & Storage
You can keep the soup in an airtight container in the fridge up to 3 days. To save it longer, freeze it up to 1 month. If you do plan on freezing it, remember that the roasted broccoli garnish and croutons should not be frozen. I recommend roasting a little broccoli and making a batch of my favorite Homemade Croutons when you plan to serve it again.
Warm the soup in a microwave or on the stovetop. It is easier to thaw the soup if you freeze it in portion sizes instead of in a single big container.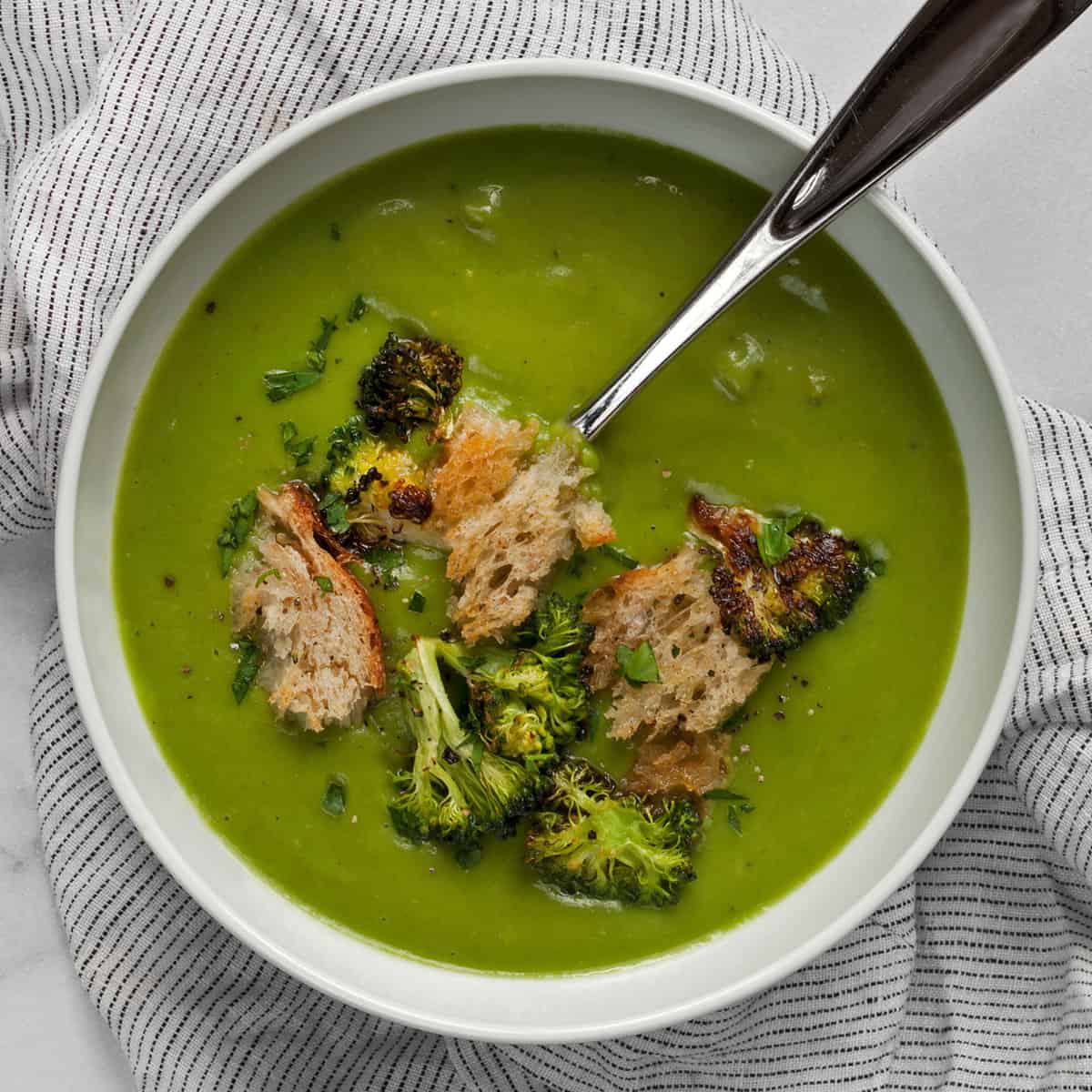 FAQs
Can you use frozen broccoli?
The recipe works best with fresh broccoli. Frozen broccoli tends to be more watery once you thaw it. Also fresh florets will taste much better in the soup.
Do you have to make the croutons?
No, you can skip the croutons for garnish, especially if you want the soup to be gluten free.
How do you thicken broccoli soup?
Including a diced russet potato is an easy way to thicken soup and make it creamier while keeping it vegan.
More Healthy Soup Recipes
Chickpea Soup
Carrot Ginger Soup
Spicy Chipotle Butternut Squash Soup
Hearty Vegetable Soup
Did you make this broccoli soup? Please leave a rating and comment below. Thanks!
Broccoli Spinach Soup Recipe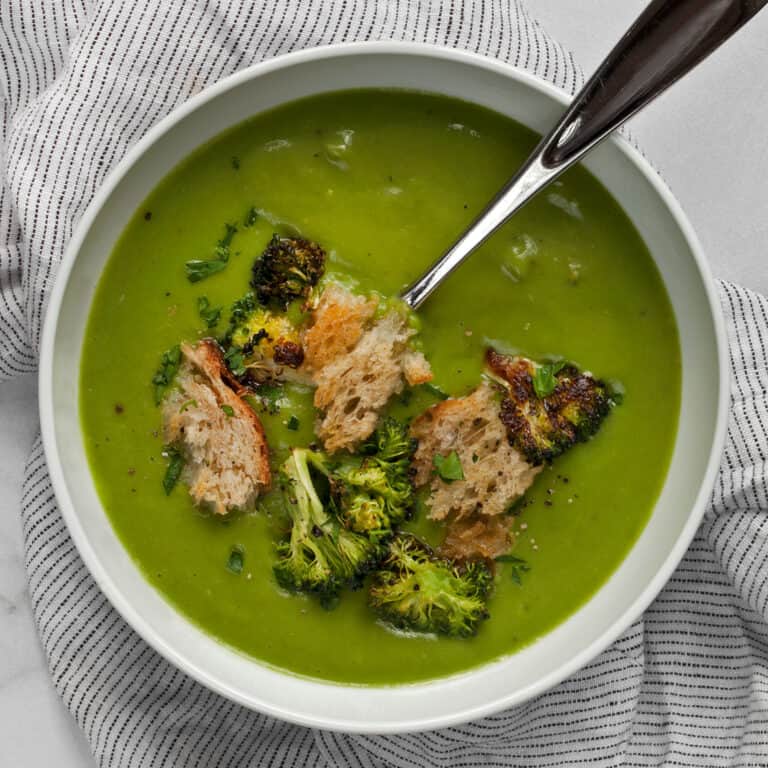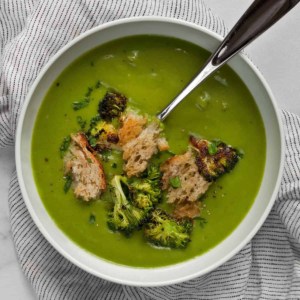 Using the florets and stems, broccoli spinach soup makes the most of every part of this nutritious, wholesome vegetable. This is a simple vegan soup that freezes well.
Ingredients
3

tablespoons

olive oil

1

small onion

roughly chopped

2

garlic cloves

minced

1

teaspoon

kosher salt

1/2

teaspoon

black pepper

2

cups

low-sodium vegetable broth

2

cups

water

1

russet potato

peeled and cubed

2

pounds

broccoli

cut into small to medium florets, stems peeled and sliced

5

ounces

baby spinach

4

ounces

ciabatta or sourdough bread torn into cubes

Chopped parsley for serving
Instructions
Preheat the oven to 400 degrees F.

Heat the 2 tablespoons olive oil in a large saucepan over medium high heat. Sauté the onions until they start to turn soft and translucent, about 4-5 minutes.

Stir in the garlic, 1/2 teaspoon kosher salt and 1/4 teaspoon black pepper. Continue cooking until fragrant, about 1 minute.

Add vegetable broth, water, potatoes, two-thirds of the broccoli florets and all the broccoli stems. Bring the soup to a boil, reduce heat and simmer until the broccoli stems are soft, about 25-30 minutes.

Stir in the spinach, letting it wilt.

Carefully transfer the soup in batches in a blender to puree. Return to the saucepan to reheat as necessary.

While the soup is simmering, toss the remaining broccoli florets and bread with 1 tablespoon olive oil, 1/2 teaspoon kosher salt and 1/4 teaspoon black pepper on a sheet pan. Roast until the broccoli is bright green and lightly browned at the edges and the bread is toasted, about 10-12 minutes.

Divide the soup into bowls and top with the roasted broccoli florets and croutons. Sprinkle with chopped parsley before serving.
Notes
Let the soup cool to room temperature before transferring to an airtight container. You can store it in the refrigerator up to 3 days or in the freezer up to 1 month. Warm the soup in the microwave or on the stove.
If you want the soup to be gluten free, skip the croutons to top it.
You can substitute the veggie broth with low-sodium chicken broth if you are ok with the soup not being vegan.
Adapted from Food & Wine November 2016
Nutrition
Calories:
319
kcal
|
Carbohydrates:
45
g
|
Protein:
13
g
|
Fat:
12
g
|
Saturated Fat:
2
g
|
Polyunsaturated Fat:
2
g
|
Monounsaturated Fat:
8
g
|
Sodium:
865
mg
|
Potassium:
1219
mg
|
Fiber:
9
g
|
Sugar:
7
g
|
Vitamin A:
4738
IU
|
Vitamin C:
218
mg
|
Calcium:
178
mg
|
Iron:
4
mg
Nutrition information is automatically calculated, so should only be used as an approximation.
Originally published October 24, 2016. Updated: January 9, 2023.