Grilled Apricot and Corn Harissa Couscous

Taking inspiration from the flavors and spices of a Moroccan tagine, this grilled apricot and corn harissa couscous also has chopped pistachios, parsley and arugula.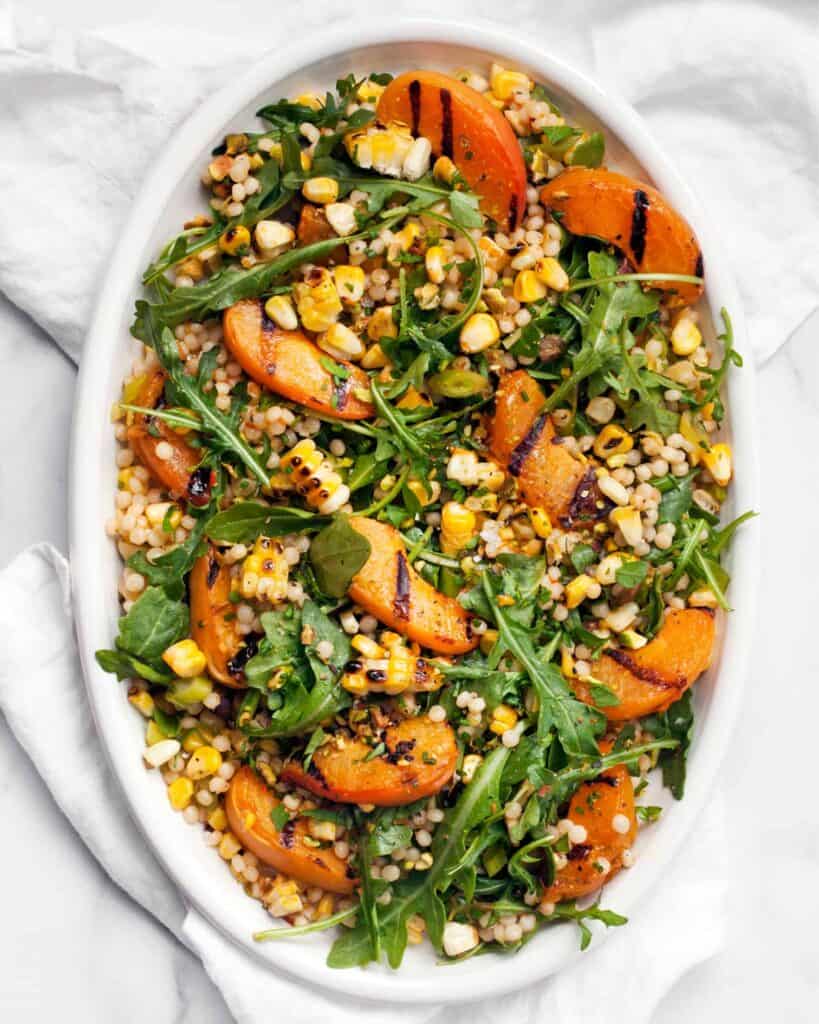 I have so much stone fruit stashed in my fridge that there isn't room for much else besides the basic essentials to get me through the week.
From cherries to peaches to nectarines, I can't get enough of all that pitted fruit.

I'm definitely late to the party on stone fruit. Besides cherries, in the form of canned pie filling (ick, I know), I never ate it as a kid.
How I regret those years I thought I didn't like stone fruit. What a mistake!The only thing I can do now is make up for lost time.
That means I go completely overboard come summer. I'm snacking on stone fruit, making cherry peach butter and baking fruit crisps.
Besides sweets, I love using stone fruit in savory dishes. They shouldn't be limited to just desserts.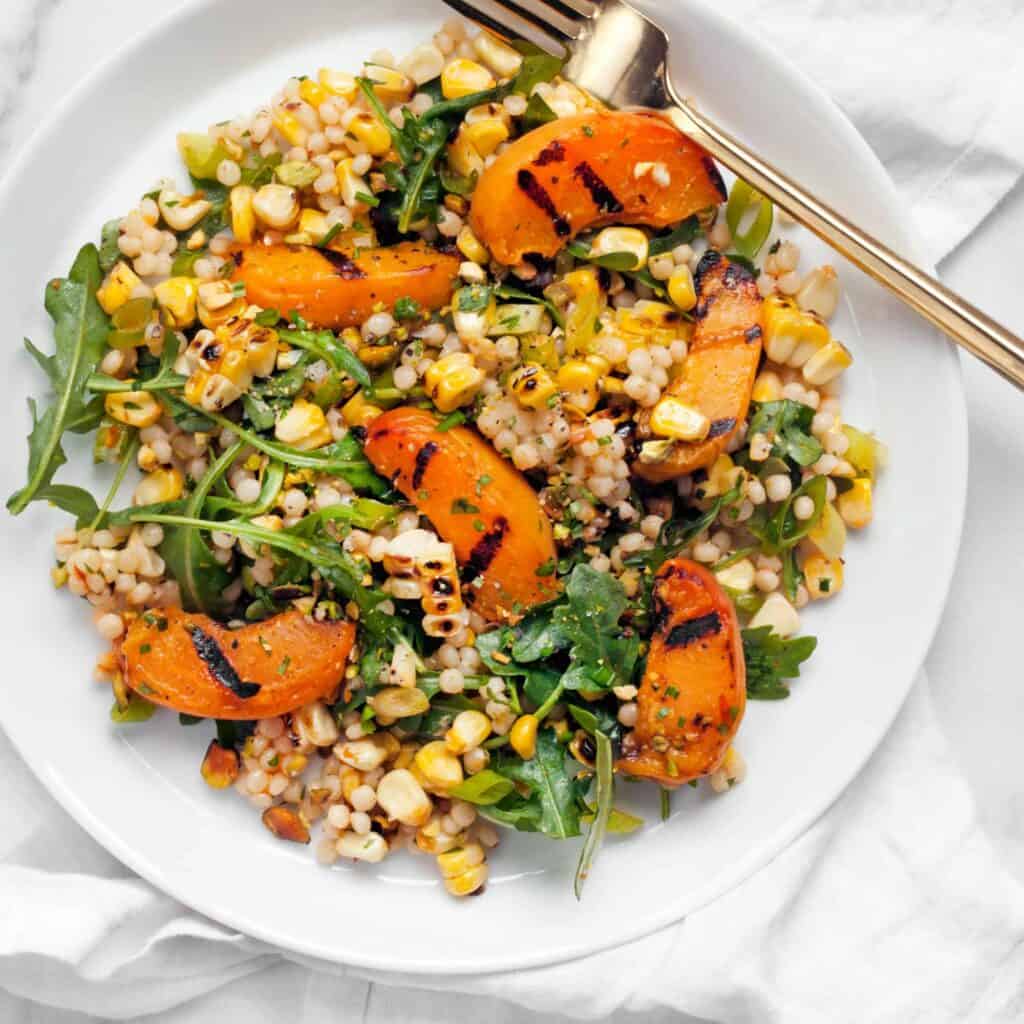 Stone fruit is a great addition to many salads. The sweetness isn't overpowering, so it plays well with greens and other typical salad ingredients.
Apricots are a fruit that I find myself eating dried more often than fresh. I like to add them in the last minutes of cooking a root vegetable tagine.
Taking inspiration from a the flavors of a Moroccan tagine, I made grilled apricot and corn harissa couscous.
Apricots are definitely tart. They can take over, so I needed to balance them out. Grilled corn is tasty, but it's subtle, more of a supporting player.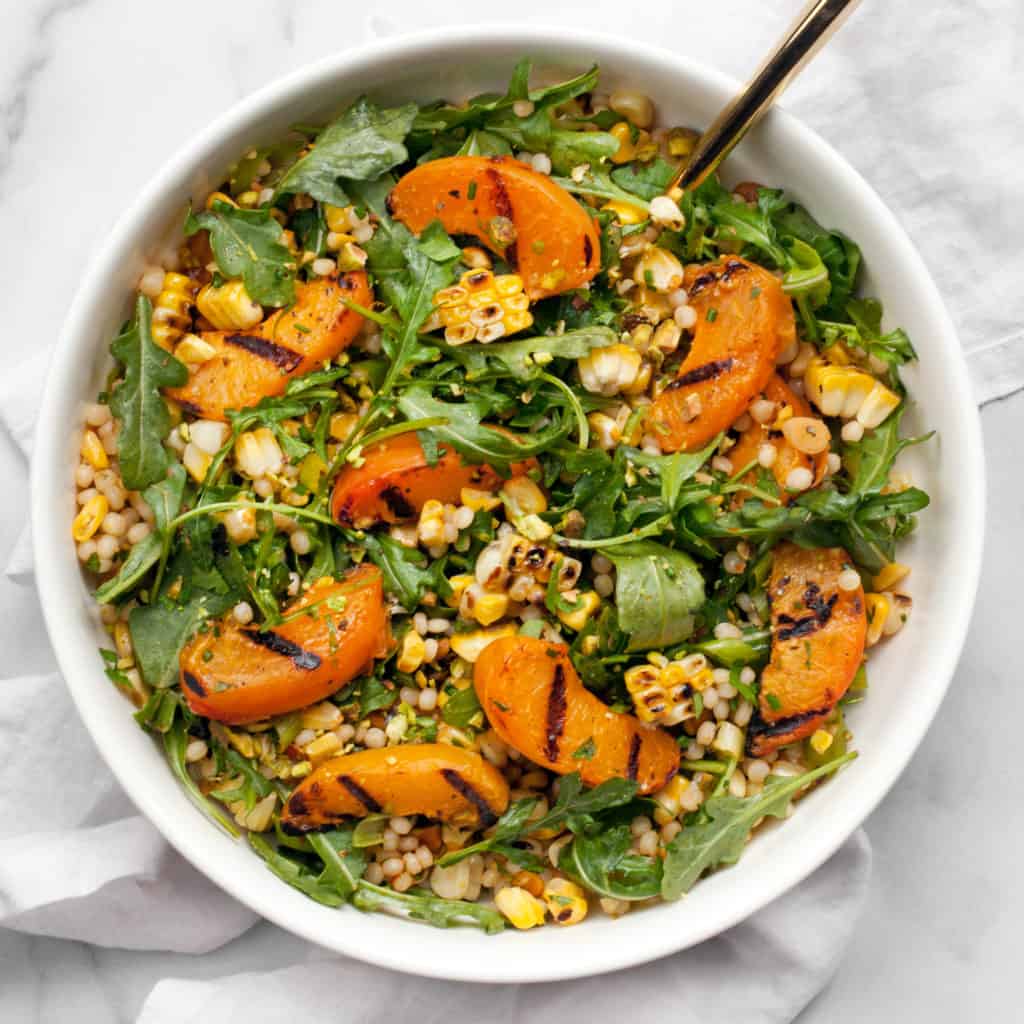 Grilled Apricot and Corn Harissa Couscous: The Ingredients
I wanted this dish to be a combination of greens and something more substantial. With its plump grains, I knew pearl couscous could handle me stirring in spicy harissa.
Ever since I made spicy baked egg cups a couple months ago, I've been adding harissa to lots of other things. I'm already on my second jar!
Besides harissa, I folded scallions, arugula, pistachios, chives and lots of parsley into the couscous.
There were bites that had heat and others were more sweet. I have a feeling my savory stone fruit kick will keep going.
Print
Grilled Apricot and Corn Harissa Couscous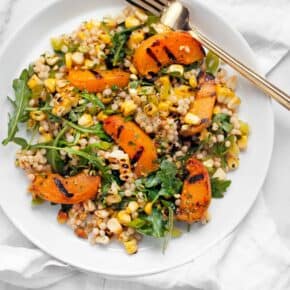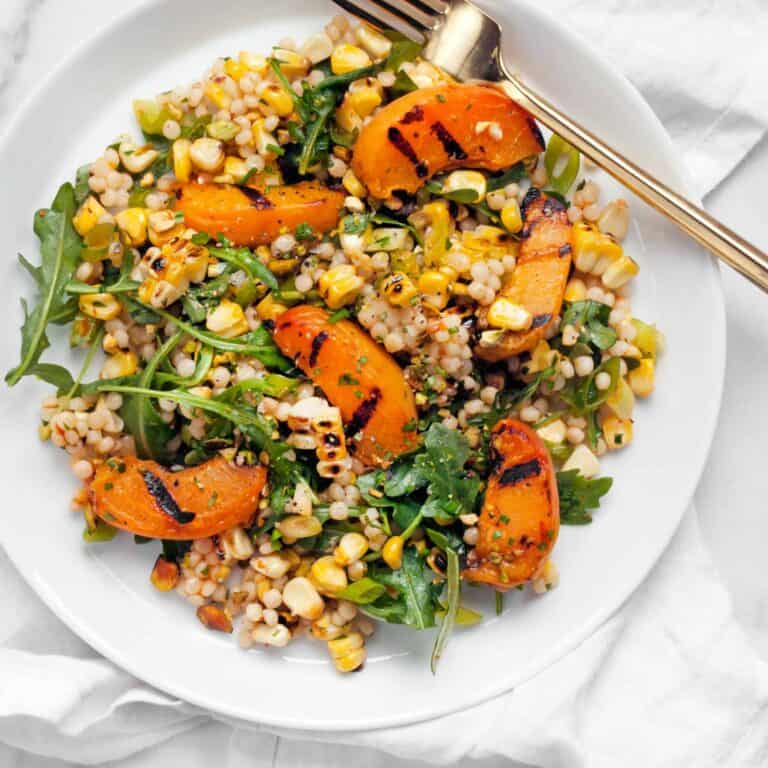 Author:
Prep Time:

10 minutes

Cook Time:

15-17 minutes

Total Time:

25-27 minutes

Yield: Serves

4

1

x
Scale
Ingredients
2 tablespoons plus 2 teaspoons olive oil
1 cup pearl (Israeli) couscous
1 cup plus 2 tablespoons water
3 apricots, halved, pitted and cut into 8 slices
3 corn cobs, shucked
1/2 teaspoon kosher salt
1/4 teaspoon black pepper
2 teaspoons harissa
2 scallions, thinly sliced
2 ounces baby arugula (about 2 handfuls)
1/4 cup roughly chopped pistachios
1 teaspoon minced chives
1/4 cup roughly chopped parsley
Instructions
Heat 1 tablespoon olive oil in a large saucepan over medium heat. Toast the couscous until it is golden, about 5 minutes. Add the water and bring to a boil. Reduce heat to low, cover and simmer until the water is absorbed and the couscous is tender, about 10 minutes. Transfer to a large bowl.
Preheat a gas or charcoal grill on medium high heat. Toss the apricots and corn with 1 tablespoon olive oil, salt and pepper.
Grill the corn until it is lightly charred, about 5-7 minutes. Grill the apricots until they have grill marks, about 1-2 minutes per side. Let the corn cool slightly before slicing the kernels off the cob.
Stir the harissa and 2 teaspoons olive oil into the couscous. Fold in the apricots, corn, scallions, arugula, pistachios, chives and parsley.
SHARE THIS