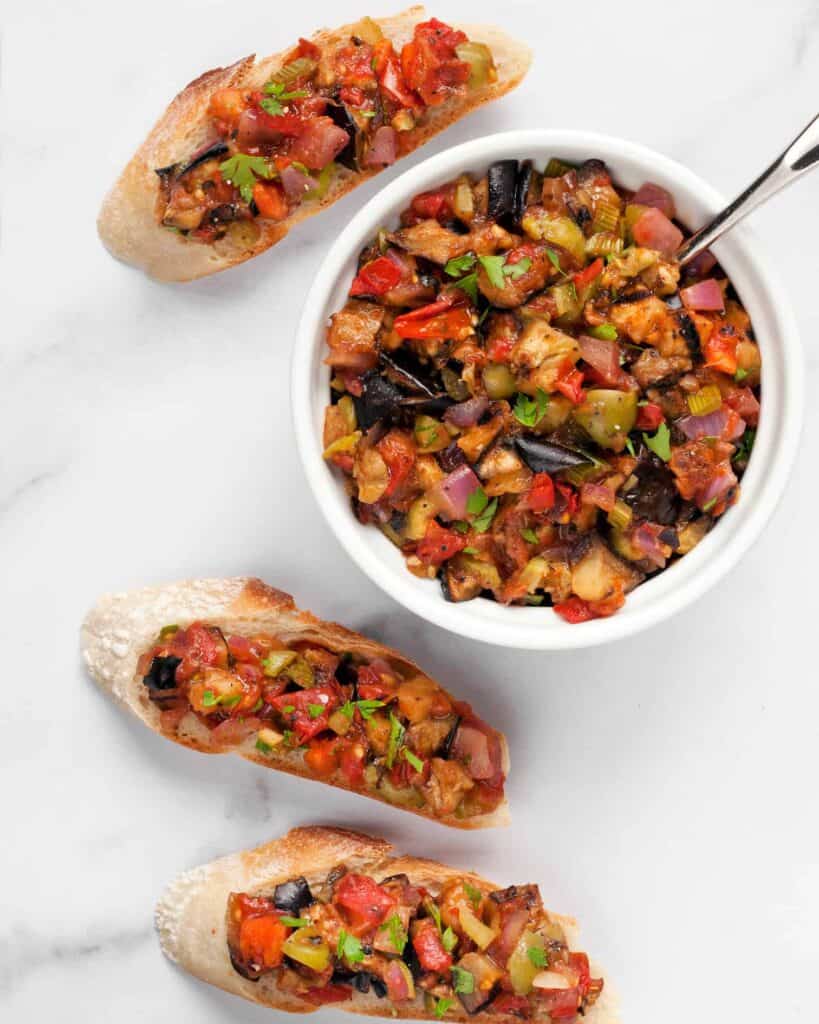 The best kinds of recipes are the ones where you end up with a dish you can eat in multiple ways.

I love anything that can go from an appetizer to a salad to a main with just a few additional elements. It's the best feeling when you can get extra mileage out of your leftovers without being stuck with the same version for consecutive meals.

Caponata is a traditional Sicilian dish that's a combination of eggplant, tomatoes, olives and onions. It can be served hot or cold and is thought of as a starter, side or relish.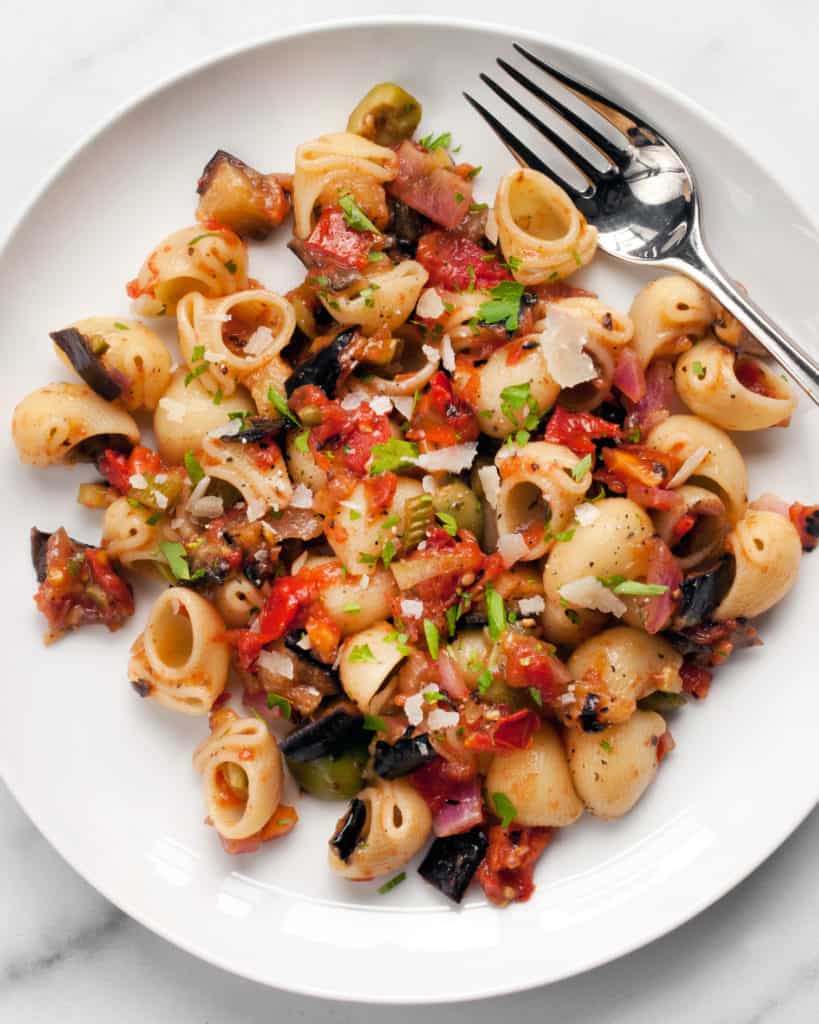 Ratatouille and caponata are similar except caponata combines sweet and sour flavors because of the additions of vinegar and sugar.

Instead of making mine on the stovetop, I went outside for grilled caponata.
Eggplant is wonderful when it's kind of smoky. That's why I thought of the grill.

I started by slicing the eggplant, tomatoes and onions into 1/4-inch-thick rounds. For more aromatics, I included a couple celery stalks and tossed all the veggies in olive oil, salt and pepper.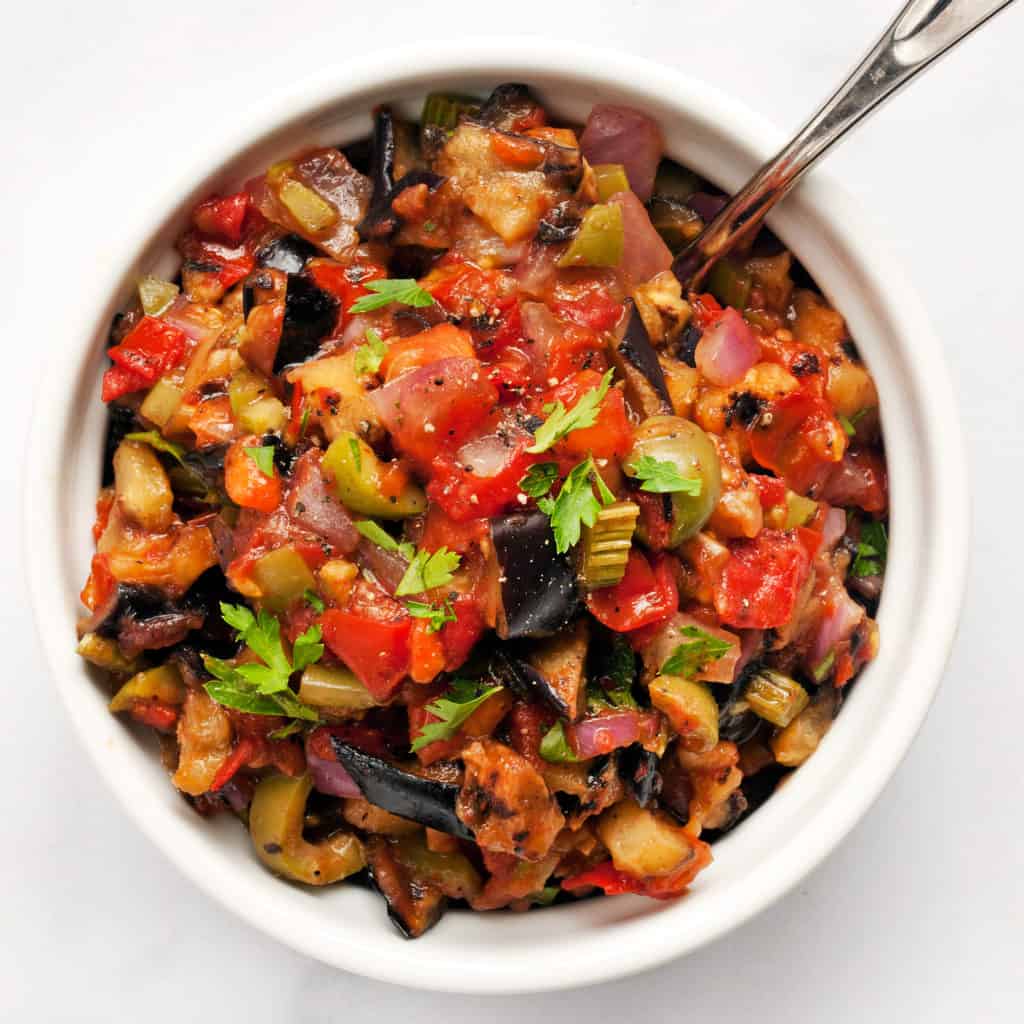 The grates were lined from front to back and side to side with vegetables. Once they were nice and grill-marked, I let them sit for a few minutes till they were cool enough to handle.
Then I diced the eggplant, onions and celery. After that I chopped the tomatoes.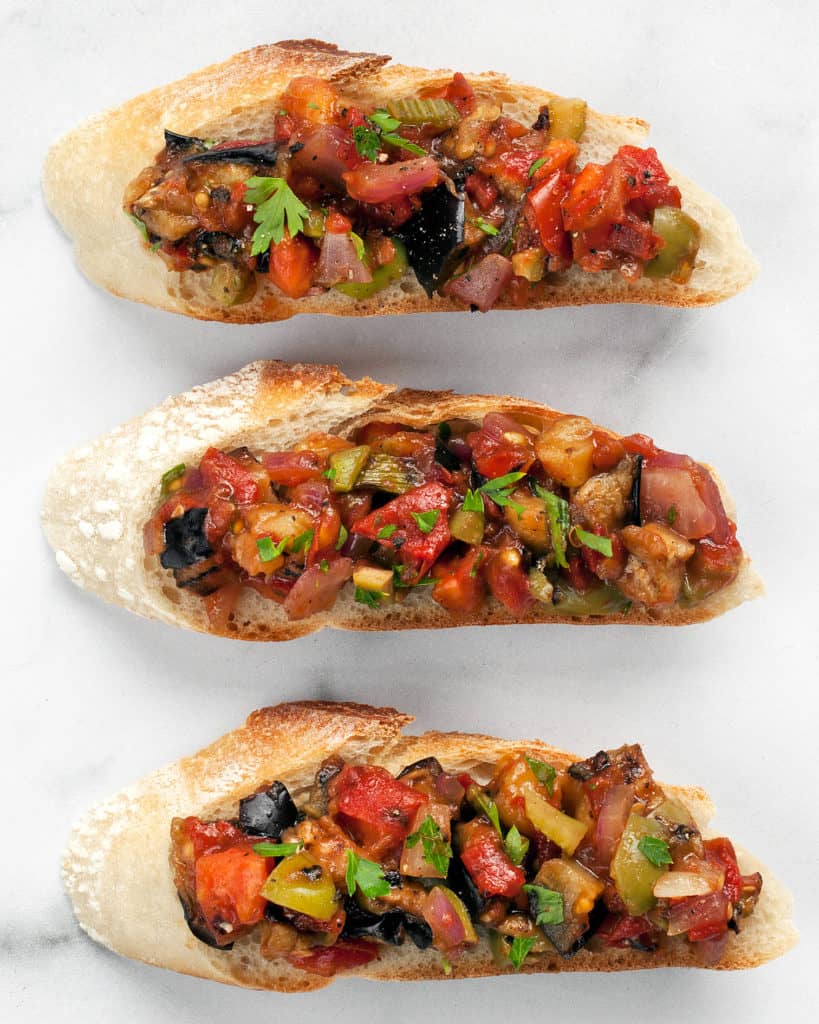 In a stovetop caponata, you add tomato paste and sauce. The grilled tomatoes fell apart as I chopped them and became kind of saucy .

I stirred in white wine vinegar, red pepper flakes for heat, salt and pepper.

The tomatoes were sweet enough on their own, so I felt no reason to add sugar.

I ate the caponata so many different ways. It was great spooned on baguette slices. I even folded it into quinoa.

And obviously, I had to use grilled caponata as a pasta sauce.Next time I might whip up a double batch. When you have that many different options to serve a certain leftover, you want it to last a bit longer.
Print
Grilled Caponata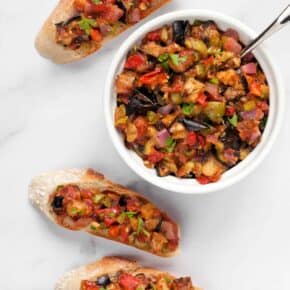 Prep Time:

10 minutes

Cook Time:

8-10 minutes

Total Time:

18-20 minutes

Yield: About

3 cups

1

x
Scale
Ingredients
1 medium red onion, cut into 1/4-inch-thick rounds
1 medium eggplant, cut into 1/4-inch-thick rounds
5 medium tomatoes, sliced 1/4-inch-thick
2 celery stalks
2 tablespoons olive oil
1 garlic clove, minced
1/4 cup roughly chopped pitted green olives
2 teaspoons white wine vinegar
1/4 teaspoon red pepper flakes
1 teaspoon kosher salt
1/2 teaspoon black pepper
Instructions
Preheat a gas or charcoal grill on high heat.
Toss the onions, eggplant, tomatoes and celery in olive oil. Grill the vegetables until they are tender and charred with grill marks: 4 minutes per side for red onions, 3 minutes per side for eggplant, tomatoes and celery.
Give the vegetables a few minutes rest until they are cool enough to handle. Dice the onions, eggplant and celery and transfer to a large bowl.
Roughly chop the tomatoes until they become the consistency of a chunky sauce. Add to the rest of the vegetables.
Stir in the remaining olive oil, garlic, olives, white wine vinegar, red pepper flakes, salt and pepper.
Serve as an appetizer with crusty bread, as a sauce for pasta or stir into your favorite grain.
Store in an airtight container in the refrigerator.
SHARE THIS