It's pretty much impossible for me to think of a cheese that I don't like. No matter how gooey or stinky a certain kind might be, I devour them all.
When I take my usual route at the grocery, I tend to find myself lingering in the cheese department. There isn't always something that I need from that area, but I like to browse.
In my world, cheese falls into a few categories. There are ones that are creamy and spreadable and others that melt when you heat them up.
Goat cheese is a versatile cheese that has multiple uses. I sprinkle crumbles on a salad and even spread it onto fancy toast with other toppings.
Melty cheeses are the basis for any good grilled cheese or pizza.
When I first learned about halloumi, it intrigued me because it didn't fit neatly into any of my cheese classifications.
Hailing from Cyprus, this semi-soft cheese has such a high melting point that it can withstand frying or grilling.
I would describe it has having a pleasantly salty flavor with an almost squeaky bite like a cheese curd.


With our grill working overtime on dinners ranging from burgers to chicken to salmon, I thought a vegetarian main was long overdue.
I'm such a veggie first eater that most of the time those non-vegetarian meals are to keep everyone else at home happy.
How To Make Halloumi Veggie Skewers
Even though I have been grilling non-stop, I couldn't remember the last time I had used my skewers.
I threaded them with a rainbow of vegetables including onions, zucchini, yellow squash and red peppers to make halloumi veggie skewers.
Before I grilled them, I made an herby lemon vinaigrette for a quick marinade. I used the extra for serving.
These halloumi veggie skewers go with so many things. You can enjoy them with couscous or your another one of your favorite grains. Hummus and pita are also a good match.
I have even witnessed the most meaty eaters of all eat the skewers as a side with burgers.
Print
Halloumi Veggie Skewers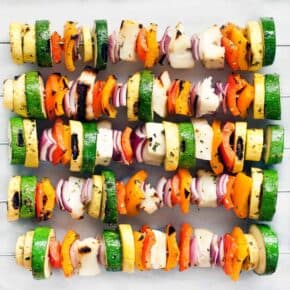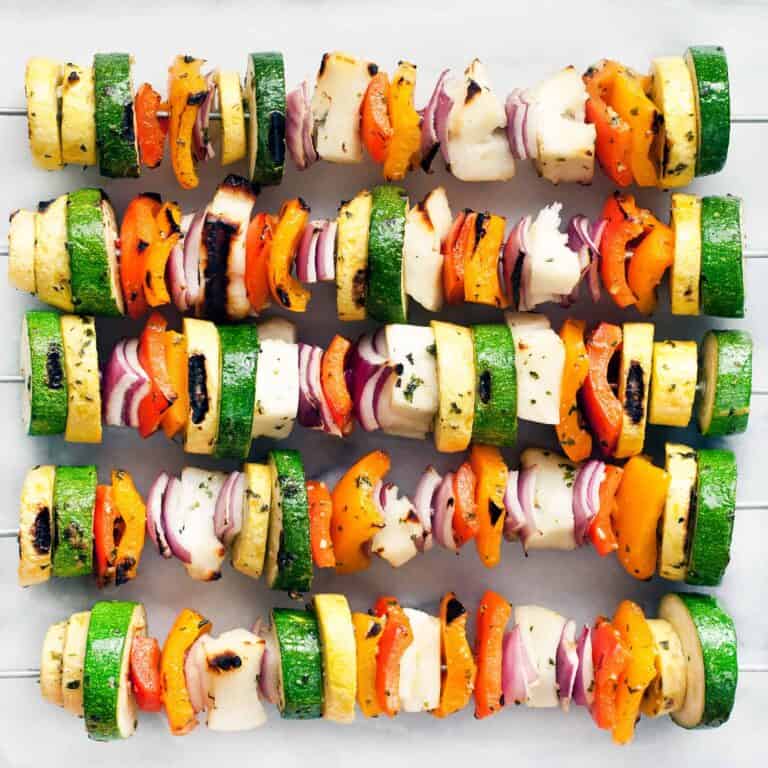 Prep Time:

25 minutes

Cook Time:

10 minutes

Total Time:

35 minutes

Yield: Serves

4

1

x
Scale
Ingredients
1 medium red onion, cut in half and quartered
3-4 medium zucchini and yellow squash, sliced into 1/4-inch-thick rounds
1 red pepper, cut into 1-inch pieces
1 orange pepper, cut into 1-inch pieces
1/2 pound halloumi, cut into 1-inch cubes
Juice of 1 lemon
1/4 cup olive oil
1 tablespoon chopped parsley
1 tablespoon chopped chives
1 tablespoon fresh thyme leaves
1/4 teaspoon kosher salt
1/4 teaspoon black pepper
Metal or wood skewers, if wood, soaked in water for 20 minutes
Instructions
Preheat a gas or charcoal grill on medium high heat.
In a large bowl, combine the onions, zucchini, yellow squash, red peppers and halloumi.
In a small bowl, whisk together the lemon juice, olive oil, parsley, chives, thyme, salt and pepper. Marinate the vegetables and cheese for 20 minutes before threading onto skewers. Reserve the remaining marinade for serving.
Grill for 10 minutes until the vegetables and halloumi are heated through have grill marks. Serve with extra marinade.
SHARE THIS