Homemade Chai Concentrate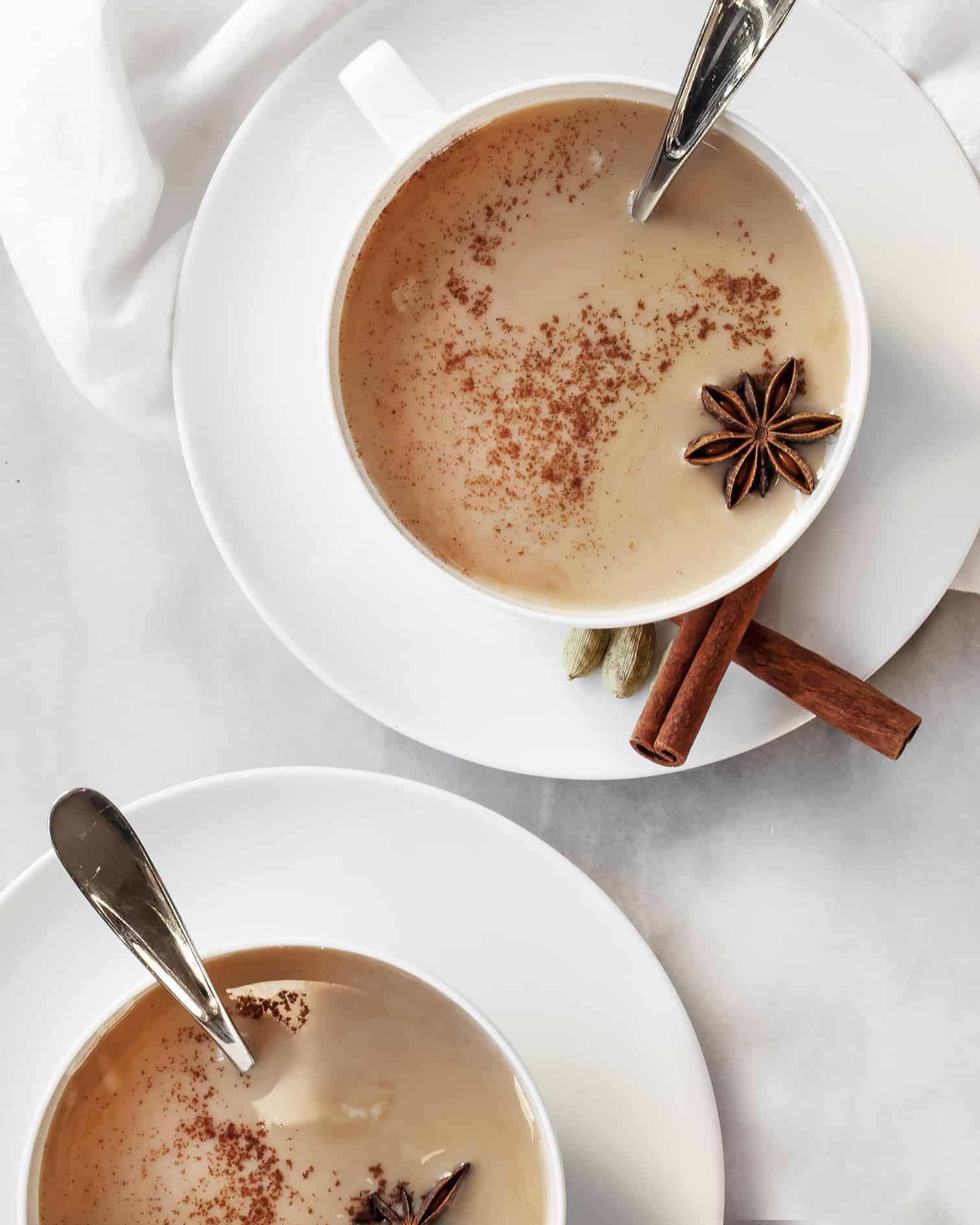 I'm not much of a coffee drinker even though I love the smell of a coffee shop and enjoy coffee-flavored desserts. Sips just don't do it for me.
No matter what time of year, I'm obsessed with chai lattes. They are my caffeinated beverage of choice.
Even on the warmest days, I like drinking my favorite iced cinnamon-spiced beverage.
For the last year or so, I've been buying chai concentrate and doing the mix myself instead of shelling out $5 per cup at a coffee shop.
No barista training or expertise is needed to pour 1 part chai concentrate and 1 part almond milk.
I'm usually drinking these on the go and not soaking up the café atmosphere, so it doesn't seem worth their high price.
The switch from iced to hot is almost upon us and with that I'm changing from store-bought to homemade chai concentrate.
Yes, the pre-made concentrate is super convenient, but it's full of all sorts of other ingredients that are pretty unavoidable with packaged foods.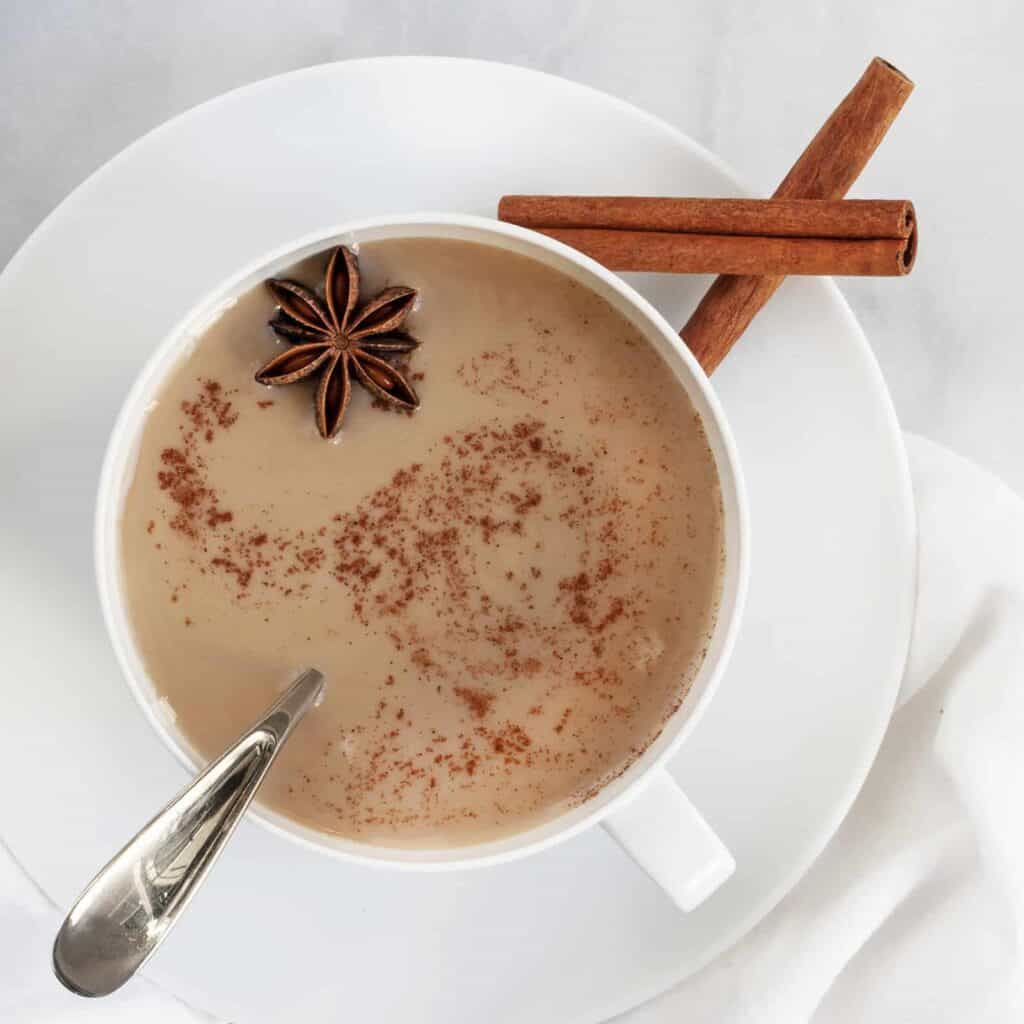 To make the concentrate, I went a little overboard in the bulk department buying a mix of my favorite spices including cinnamon sticks, star anise, cloves and cardamom pods.
The best part about the bulk department is that you can get exactly the amount that you need.

I have limited spice storage space in my kitchen, and spices tend to lose their potency after a year hidden in the back of a drawer.
At home I simmered all those fragrant ingredients with water, coconut sugar and a bundle of black tea bags.

What I liked about the from-scratch version was the prominence of the tea.

So often the sweetness of chai can be overwhelming almost giving you a sore throat when you drink it.
I've been trying to find more time to make homemade chai concentrate to keep up with how much I enjoy it!
Print
Homemade Chai Concentrate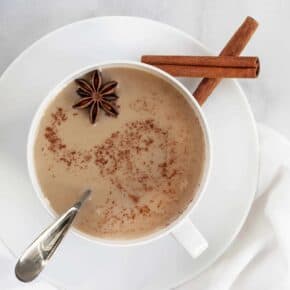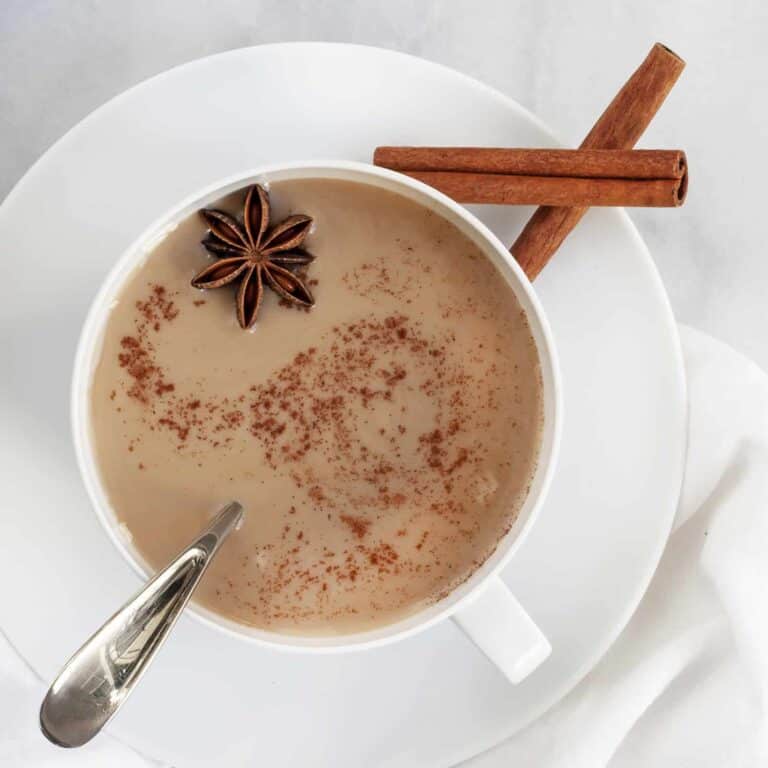 Cook Time:

20-25 minutes

Total Time:

20-25 minutes + cooling time

Yield:

4 cups

1

x
Scale
Ingredients
5 cups water
1/2 cup coconut sugar
8 black tea bags, remove tags and tie bags in a bundle
4 cinnamon sticks
2 star anise
8 cloves
10 cardamom pods
5 black peppercorns
5 whole allspice
1–2" piece of fresh ginger, thinly sliced
1 tablespoon honey
1/2 teaspoon vanilla extract
Instructions
In a large saucepan, bring the water and sugar to a boil over high heat. Add the tea bags, cinnamon, star anise, cloves, cardamom pods, peppercorns, allspice and ginger. Reduce the heat to medium low and simmer for 20-25 minutes. Pour the mixture through a fine mesh strainer into a large bowl and discard the spices. Stir in the honey and vanilla extract.
Let the chai concentrate cool to room temperature before transferring to a jar and storing in the refrigerator.
Combine 1 part chai concentrate and 1 part milk. Heat the mixture or serve with ice.
SHARE THIS