Last Sunday our downstairs neighbor sent us an email that could only be described as awkward.

It started out with "I hope you had a good weekend," and then there was a but.

She told us we are so noisy that we are waking her up every morning. I immediately felt defensive. How late does she sleep!? This coming from me, the early riser.

Of course, we aren't your dream upstairs neighbors unless you also have a toddler who runs around acting like a typical almost three-year-old. And even then, you still probably would want some peace and quiet.
Since the email we've been paranoid about any noise. I have realized that I shouldn't be blaming it all on my little one.
When I hit start on my fancy (and loud) high-powered blender to make my daily smoothie, I wonder if that could be part of the reason for the complaints.

I love having a smoothie everyday, but this is a good reason to change up my routine and try something else.

Mid-morning I like to sip on a chai latte, but I decided to try it first thing in the form of oatmeal. Before I went to bed, I made a batch of overnight chai oatmeal with almond milk.

To get that spiced flavor and scent, I used a mix of cinnamon, cardamom, ginger, cloves, nutmeg and a pinch of black pepper.

I topped my bowl with blackberries, strawberries, chia seeds, almonds and even more cinnamon.

The oatmeal had the flavor I adore so much about my latte. It got me thinking what else could I chai. If that's even a term!

Will I ever drop my smoothie forever? Absolutely not. In the meantime, I might find days to give our neighbors a break from the noise of the blender…if that's part of the problem!

Print
Overnight Chai Oatmeal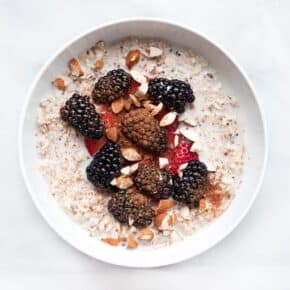 Prep Time:

5 minutes

Total Time:

5 minutes + soaking overnight

Yield: Serves

2

1

x
Scale
Ingredients
1 cup old-fashioned oats
1 cup almond milk
1 teaspoon ground cinnamon plus more for serving
1/4 teaspoon ground cardamom
1/4 teaspoon ground ginger
1/8 teaspoon ground cloves
1/8 teaspoon ground nutmeg
1/8 teaspoon black pepper
Berries and nuts for serving
Instructions
In a small bowl, combine the oats, almond milk and spices. Cover and refrigerate overnight. Serve with berries, nuts and additional cinnamon.
SHARE THIS