Mini Frittatas with Spinach & Parmesan
Packed with baby spinach and Parmesan, these mini frittatas are an easy baked egg recipe. They have only 6 ingredients, and they are ready in less than 30 minutes. You can easily adapt them and use other veggies that you have in your kitchen.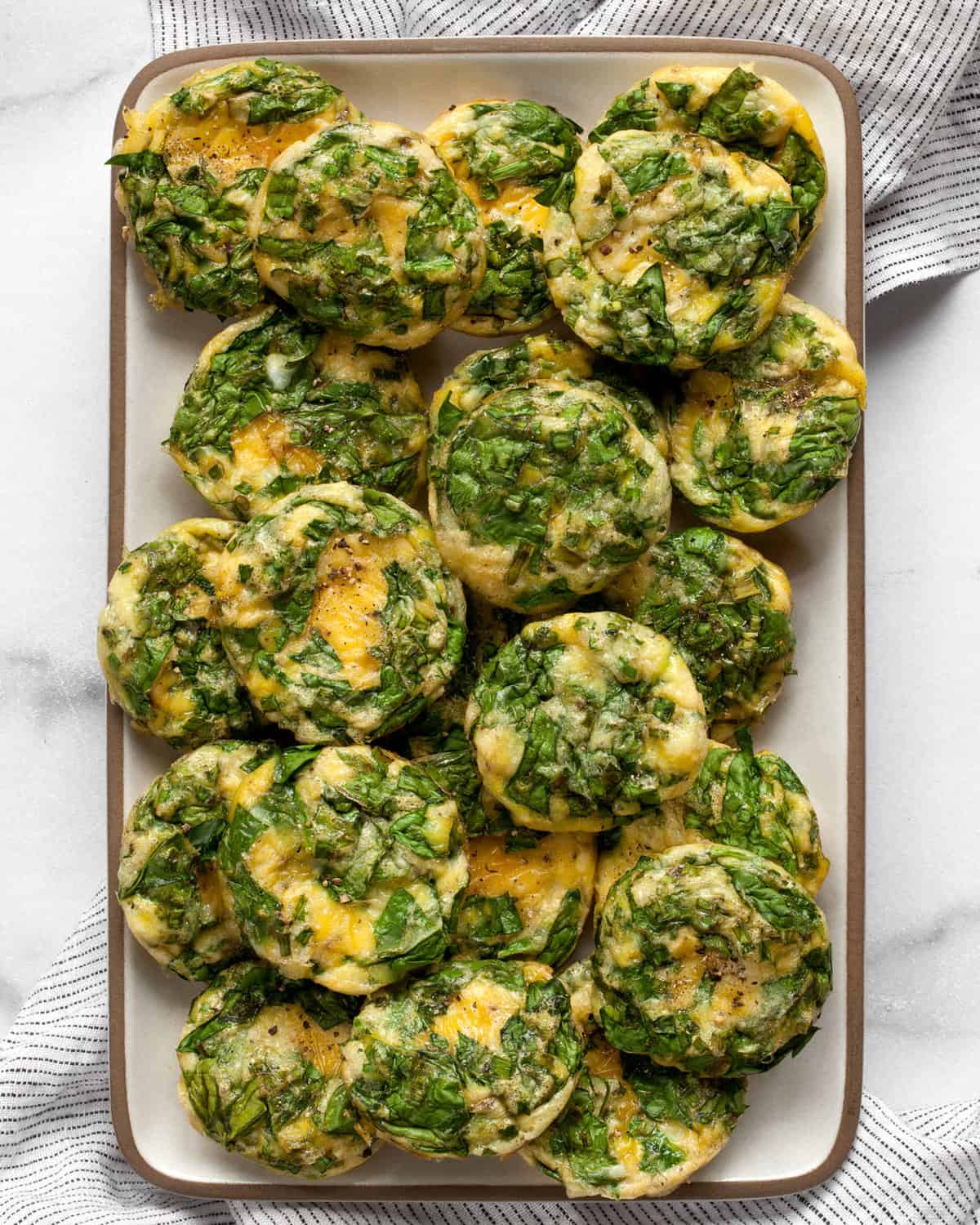 What is a Frittata?
You can think of this Italian recipe as a quiche without a crust. This egg-based dish is typically filled with some combination of vegetables, cheese and/or meats. That's one of the many reasons why frittatas are so fantastic. Leftovers of this and that are great options for fillings.
Usually you sauté the fillings in a large skillet and then pour in a mixture of whisked eggs, milk, salt and pepper. Once the eggs have just set at the edges, the skillet goes into the oven to bake.
How are Mini Frittatas Different from a Traditional Frittata?
Since you can't put a muffin tin on a burner on the stove, these mini frittatas bake entirely in the oven. I think that's what makes them even easier than a traditional frittata a big skillet that's sliced into wedges when served.
By making them in individual muffin cups, they are great for entertaining as well as meal prep. It's convenient that they are all already portioned out. This also gives you more flexibility if you want to fill them with different ingredients. For instance, maybe you are feeding vegetarians and meat-eaters.
The Ingredients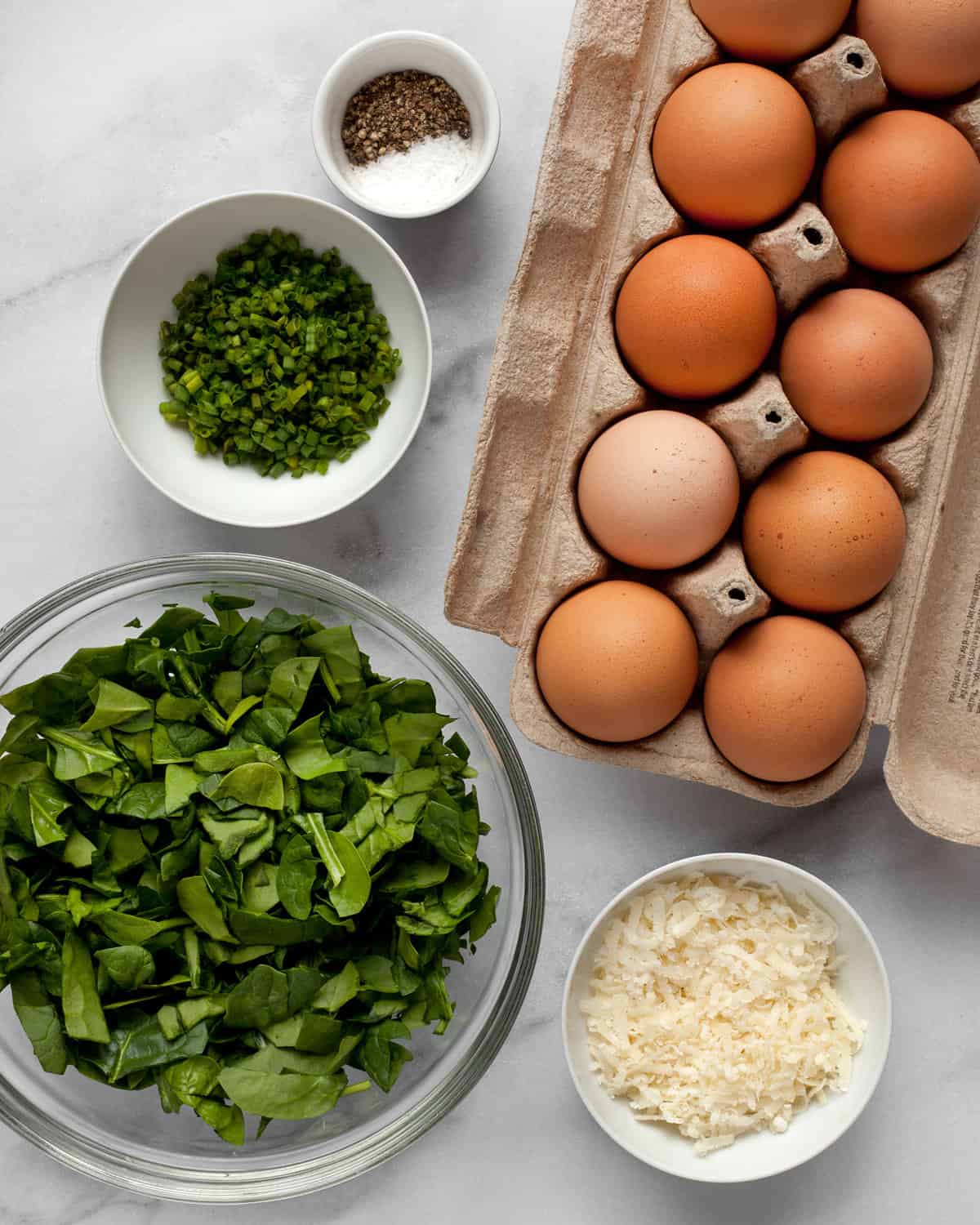 This is what you need:
Eggs: The frittata recipe calls for 10 large eggs.
Spinach: Since the muffin cups are mini in size, you should roughly chop the leaves. Then they will fit better in the pan.
Parmesan is a hard cheese, so you don't end up with overly melty or gooey consistency in the baked eggs. What it does add is something nutty with lots of umami.
Chives give the frittatas a nice light onion flavor. You can do a mix of fresh herbs and use chopped parsley too, but make sure to include some chives.
Salt & pepper season the egg mixture and bring out the overall flavors of the frittata.
Variations
No matter what mix-ins you add to a frittata, if they need to be cooked, you have to do that before putting them in the pan. They will not cook as the eggs bake. It's not enough time or the right kind of heat to make that happen. Greens like spinach are an exception because they wilt quickly. Here are some other vegetarian frittata combinations:
Tomato, zucchini & corn
Roasted broccoli, red onions and cheddar cheese
Mushrooms, tomatoes and goat cheese
Roasted red peppers, spinach and feta
How To Make Mini Frittatas
Preheat the oven to 325 degrees F. Grease a mini muffin pan with non-stick cooking spray.
1. Combine the eggs, Parmesan, salt and pepper in a large bowl.
2. Whisk together the egg mixture.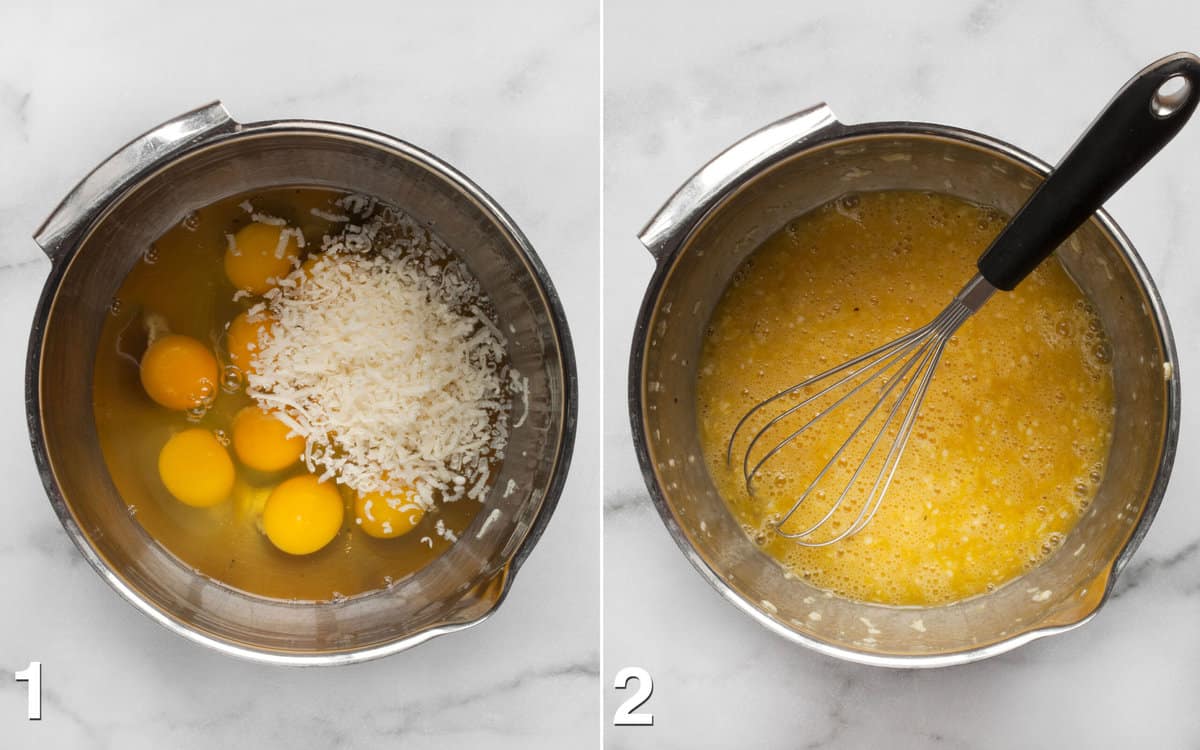 3. Put the chopped spinach into the muffin cups.
4. Pour the egg mixture over the chopped spinach. Make sure they are filled close to the top, but not overflowing.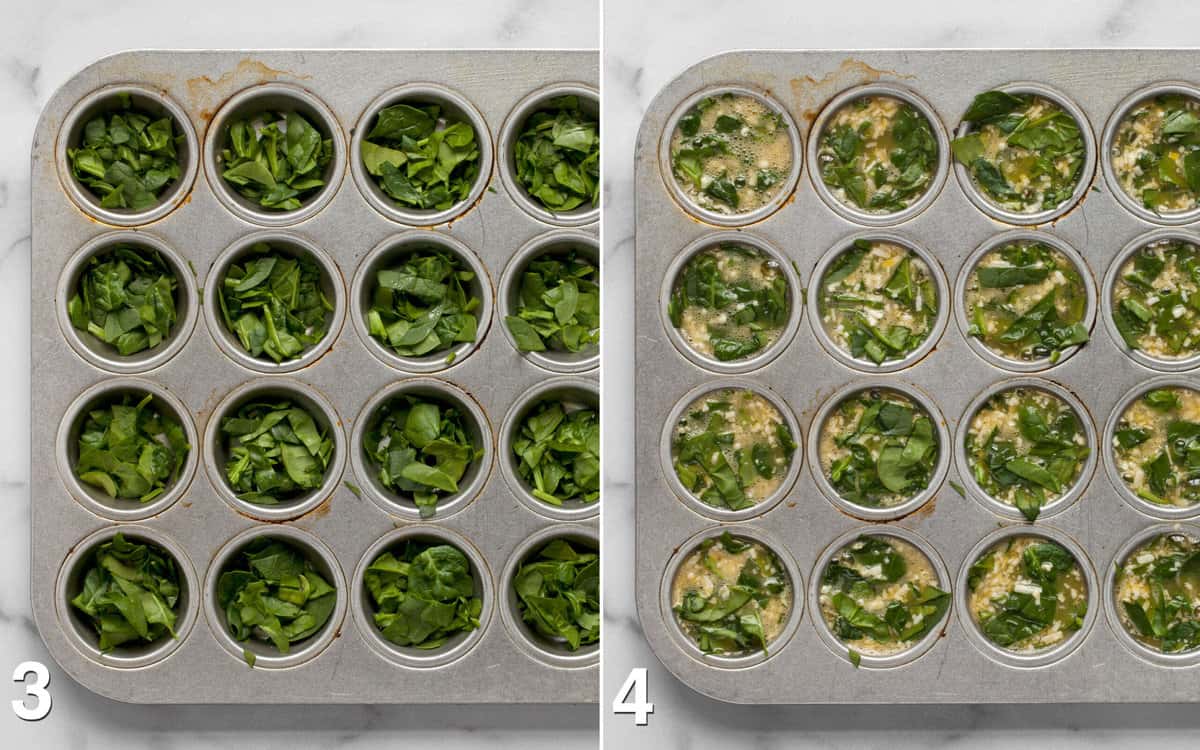 5. Sprinkle with the chopped chives.
6. Bake the frittatas until they are just set. This will take about 15-20 minutes. They will puff up and then go back down again. Some will pull away from the sides of the cups.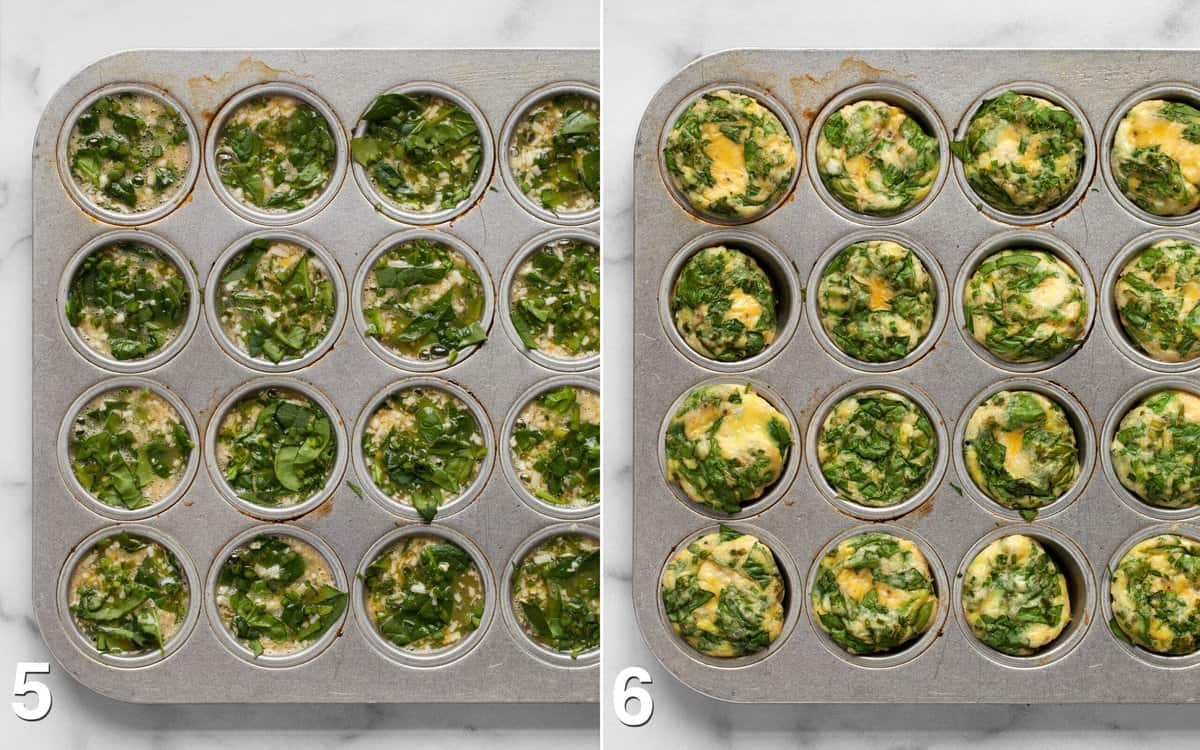 Serving & Leftovers
You can serve mini frittatas warm or at room temperature. They are wonderful for weekend brunch for a crowd. It's always nice to have small bites when you serve an entire spread of different dishes. Put out a bottle of hot sauce with them because there are always people who love their eggs with a spicy kick.
Of course, I am more likely to be eating these frittatas myself on a regular basis rather than throwing a brunch party. There are different ways I like to eat them as leftovers. I chop them and throw them into a mixed greens salad or a bowl of cooked grains like barley, farro or quinoa for lunch.
My preference is to eat leftover frittatas cold or let them sit out at room temperature for a bit to lose the chill of the fridge. I find when you try to rewarm them they can become rubbery. You can store them in an airtight container up to 5 days in the refriegrator.
FAQs
Can you bake mini frittatas in a standard muffin pan?
Yes. With this recipe, follow the instructions the same. But fill the standard-sized muffin cups a little over 75% full. It will most likely yield 10 frittatas.
What's the difference between a frittata and a quiche?
Both are baked egg dishes. An Italian frittata does not have a crust and a French quiche does have a crust and is more custardy because the eggs are whisked with heavy cream.
Will raw vegetables cook when they are mixed with eggs in a frittata?
When you add fillings to a frittata, they need to be cooked. They will not fully cook when they are baked in the eggs. For instance, you can eat mushrooms raw, but they will be much more flavorful if you sauté them first.
Did you make this frittata recipe? Please leave a rating and comment below. Thanks!
Mini Spinach Frittatas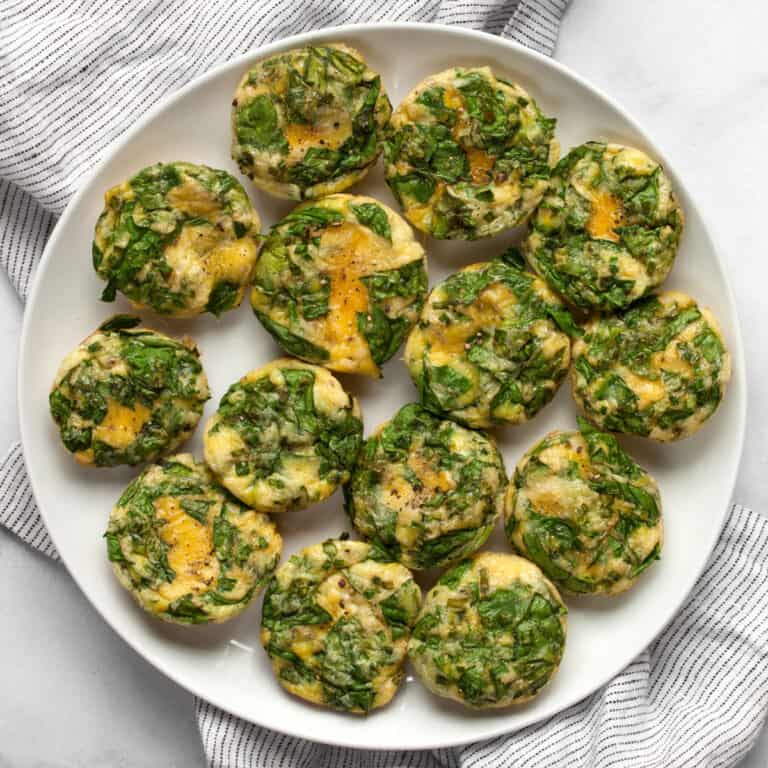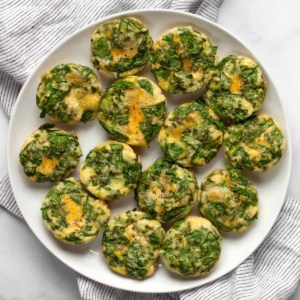 Served warm or at room temperature, mini spinach frittatas are great to serve for brunch. Or make an entire batch for easy meal prep for the week ahead.
Ingredients
Non-stick cooking spray

10

large eggs

1/4

cup

grated Parmesan cheese

1/2

teaspoon

kosher salt

1/2

black pepper

2

ounces

chopped baby spinach

2

tablespoons

minced chives
Instructions
Preheat the oven to 325 degrees F. Grease a 24-cup mini muffin pan with non-stick cooking spray.

In a large bowl, whisk together the eggs, Parmesan, salt and pepper.

Put the spinach into the bottoms of the muffin cups.

Pour the egg mixture over the spinach. The muffin cups should be not quite full, about 1/8 inch from the top. Then sprinkle on the chives.

Bake the frittatas for 15-20 minutes until they eggs are just set.
Notes
Store leftovers in an airtight container in the refrigerator up to 5 days. Leftovers are best if they are not warmed. Let them sit at room temperature if you prefer them not to be fridge cold. Enjoy leftovers on their own or with a salad or cooked grains.
You can bake these in a standard-sized muffin pan. Fill the cups about 75% full. Then the recipe will yield about 10 frittatas.
Nutrition
Calories:
31
kcal
|
Carbohydrates:
0.4
g
|
Protein:
3
g
|
Fat:
2
g
|
Saturated Fat:
1
g
|
Polyunsaturated Fat:
0.4
g
|
Monounsaturated Fat:
1
g
|
Trans Fat:
0.01
g
|
Cholesterol:
69
mg
|
Sodium:
95
mg
|
Potassium:
41
mg
|
Fiber:
0.1
g
|
Sugar:
0.1
g
|
Vitamin A:
341
IU
|
Vitamin C:
1
mg
|
Calcium:
22
mg
|
Iron:
0.4
mg
Nutrition information is automatically calculated, so should only be used as an approximation.
Originally published June 8, 2015. Updated April 2, 2023.