Every winter I'm convinced the current snowstorm will be the last one. I'm always wrong. Without fail, another blast of cold returns.

Call it denial or whatever you want. As a Midwesterner since birth, I should really know better!

My optimistic eyes (and my stomach) can see spring in the not so distant future. The layers upon layers and from hats to scarves to gloves will all be worth it.

With a new season brings different produce, and I feel like it's been months of eating the same thing over and over again. Where is the variety? The selection?

My boredom struck a bit early this year. I am a completely different person than I was at the beginning of root vegetable season.

That excitement about squash, sweet potatoes and more is melting away like the dirty snow piled up on the edges of the sidewalks.

I am desperate for spring and especially summer produce, but it's way too early to have those kinds of ridiculous daydreams.
Doing my best to stay positive, I decided to get a bit creative with my winter veggies instead of doing soup or a grain bowl.

I mixed an earthy and spicy seasoning blend for these roasted root vegetable tacos. The spice blend included cumin, paprika, chili powder, garlic powder, oregano salt and pepper.

For the vegetables, I cubed butternut squash, sweet potatoes, carrots, parsnips and turnips. Then I tossed them in the spice mix and roasted them for 30 minutes until they were tender.

To balance out the heat from the chili powder, I whipped up a cilantro lime crema with Greek yogurt to add a zippy, cool freshness.

I finished the tacos with cilantro and sliced red chilis. They were a welcome break from the usual treatment of hearty winter vegetables.

Fortunately, now winter has me inspired once again.
SaveSave
SaveSave
SaveSave
Print
Root Vegetable Tacos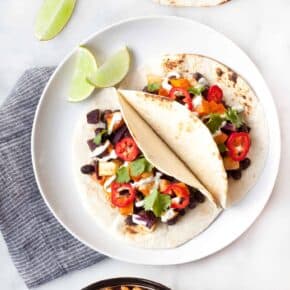 Prep Time:

15 minutes

Cook Time:

30 minutes

Total Time:

45 minutes

Yield: Serves

4

1

x
Scale
Ingredients
2 teaspoons cumin
1 teaspoon paprika
1/4 teaspoon chili powder
1/4 teaspoon garlic powder
1/4 teaspoon onion powder
1/4 teaspoon oregano
1 teaspoon kosher salt
1/2 teaspoon black pepper
4 cups root vegetables, peeled and cut into 1/2-inch cubes (squash, sweet potatoes, carrots, parsnips, turnips)
1 tablespoon vegetable oil
1-15 ounce can black beans, drained and rinsed
3/4 cup Greek yogurt
Juice of 1 lime
1/4 cup cilantro leaves plus more for garnish
Sliced red chilis for garnish
6-8 flour tortillas, warmed
Instructions
Preheat the oven to 400 degrees F. Line a sheet pan with aluminum foil.
In a small bowl, combine the cumin, paprika, chili powder, onion powder, garlic powder, oregano, salt and pepper. Toss the vegetables in the oil and spice mix. Roast for 30 minutes until tender.
While the vegetables are roasting, place the yogurt, lime juice and cilantro in a blender or food processor and mix until fully combined.
Combine the roasted vegetables and black beans before serving with tortillas and topping with cilantro lime crema and cilantro leaves.
SHARE THIS