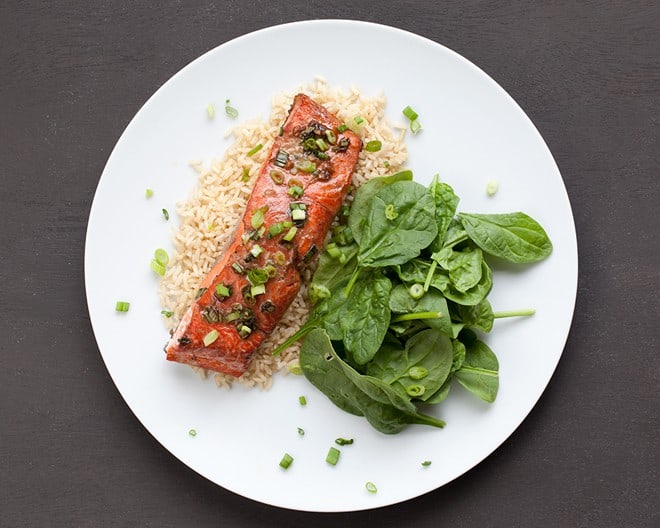 It has taken me years to acquire a taste for fish. Like most kids, I started off on fish sticks, which were more about the crispy fried breading than anything else. Next I ate shrimp from my favorite Chinese restaurant entree. By early adulthood, I dipped my toe into seafood with mild white fish, a seemingly healthy and grown-up thing to order from a menu when out to eat.

Despite eventually liking fish, I used to think salmon was too strong for my bland aquatic preferences until I went to a luncheon where salmon was the only option. It turned out I enjoyed it. Since then, I have experimented with different ways of cooking salmon at home. I roasted this soy ginger salmon in the oven and served it with brown rice and a spinach salad for a simple weeknight dinner.
Serves 4
1/4 cup low sodium soy sauce
1 teaspoon sesame oil
1 teaspoon rice vinegar
1 tablespoon honey
1 tablespoon fresh ginger, minced
1 garlic clove, minced
4 scallions, thinly sliced
1/4 teaspoon kosher salt
1/4 teaspoon black pepper
4 6-ounce salmon fillets
Preheat the oven to 400 degrees F. Line a sheet pan with aluminum foil.
Whisk together the soy sauce, sesame oil, rice vinegar, honey, ginger, garlic, scallions, salt and pepper. Pour the marinade into a large dish. Place the salmon fillets skin-side up, and allow them to marinate for 15 minutes.
Transfer the fillets to the prepared sheet pan, arranging them skin side down. Roast for 12-15 minutes until the salmon is opaque and cooked through.
SHARE THIS