Spicy Roasted Vegetable Egg Cups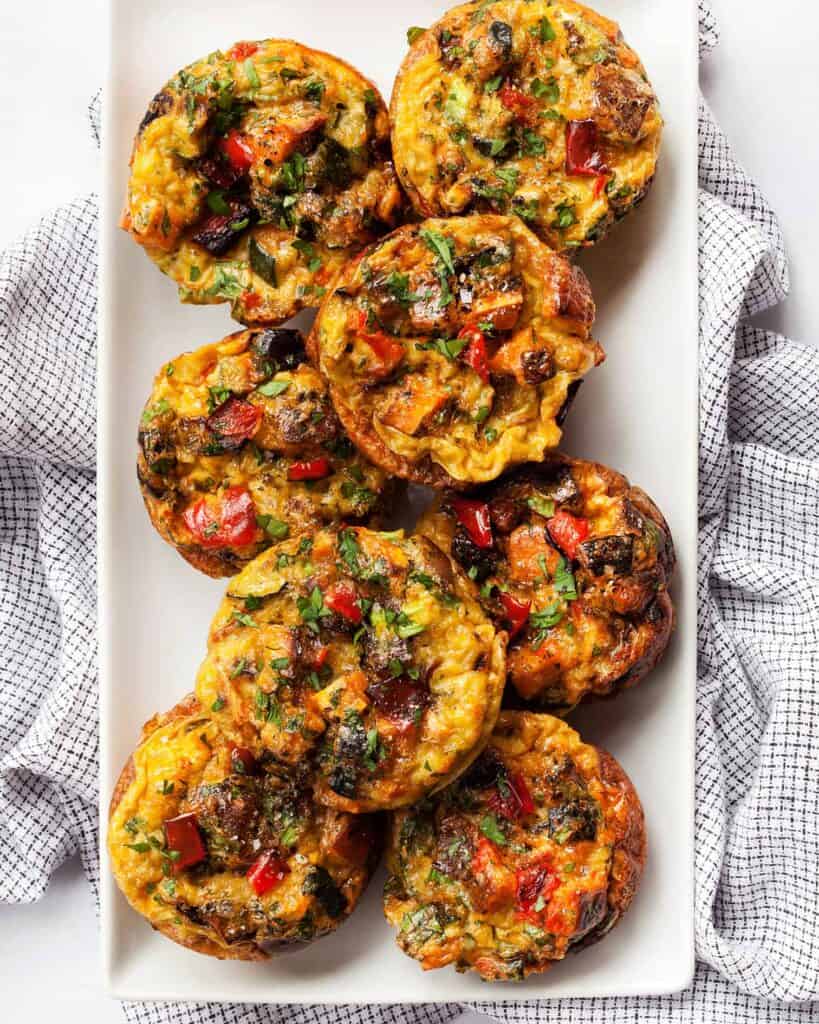 It's only on rare occasion that I eat eggs before noon. As weird as it sounds, they just don't sound like breakfast food to me.
The exception I make is when we go out to a restaurant for breakfast. I'm not one to go all in on an overloaded plate of pancakes or waffles. Savory is more my speed.

Eggs in my world are for lunch or dinner. And they deserve so much recognition!

I consider them a hero ingredient. Eggs come to the rescue when you have no time and you think you have nothing to eat at home.
A simple scramble is a great way to repurpose whatever's in your fridge in a matter of minutes. Hard-boiled eggs transform a salad into a satisfying meal on its own.
When I made these spicy roasted vegetable egg cups, I actually had leftovers on my mind.
I think I've hesitated to make a frittata in a while because I know I'm the person at home who will be eating the entire thing, and it just seems like a lot.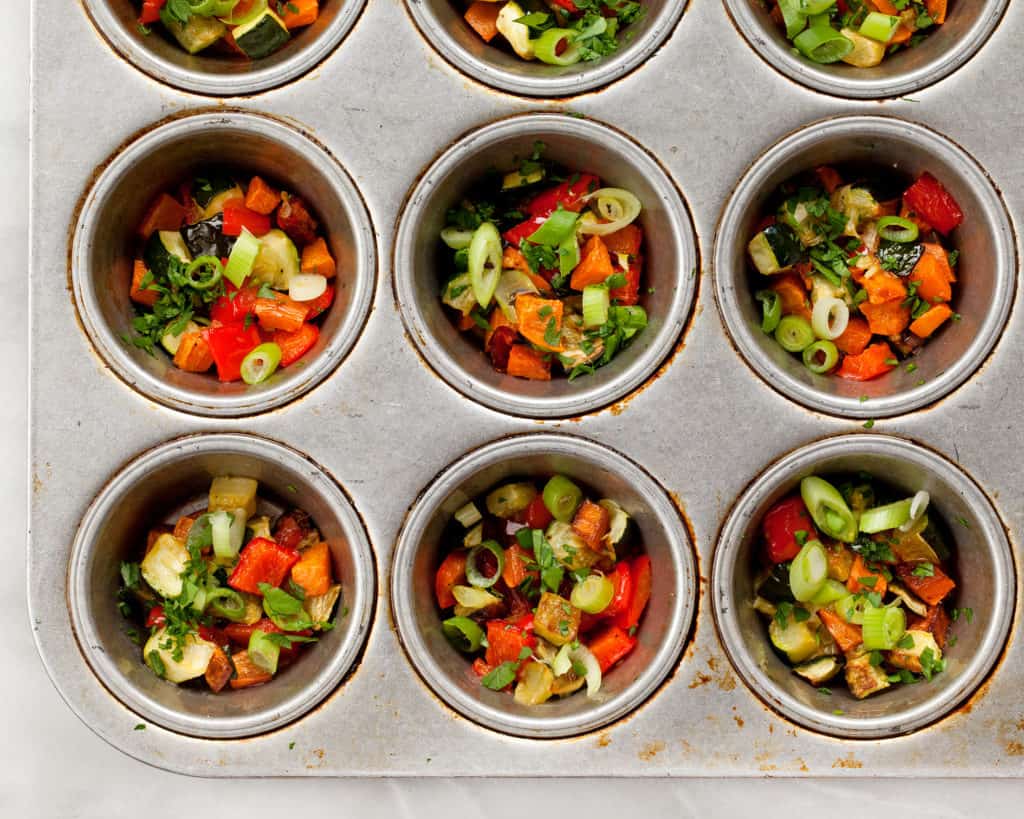 Spicy Roasted Vegetable Egg Cups: The Ingredients
Frittatas are great for entertaining. Of course egg cups are, too, but I think they are best in single serving situations.

I've been eating them with mixed green salads for lunch and dinner. I don't bother to warm them up. I just eat the egg cups straight from the fridge.

To make them, I roasted sweet potatoes, zucchini and red peppers. Once they were slightly browned at the edges, I transferred them to a greased muffin tin along with scallions and parsley.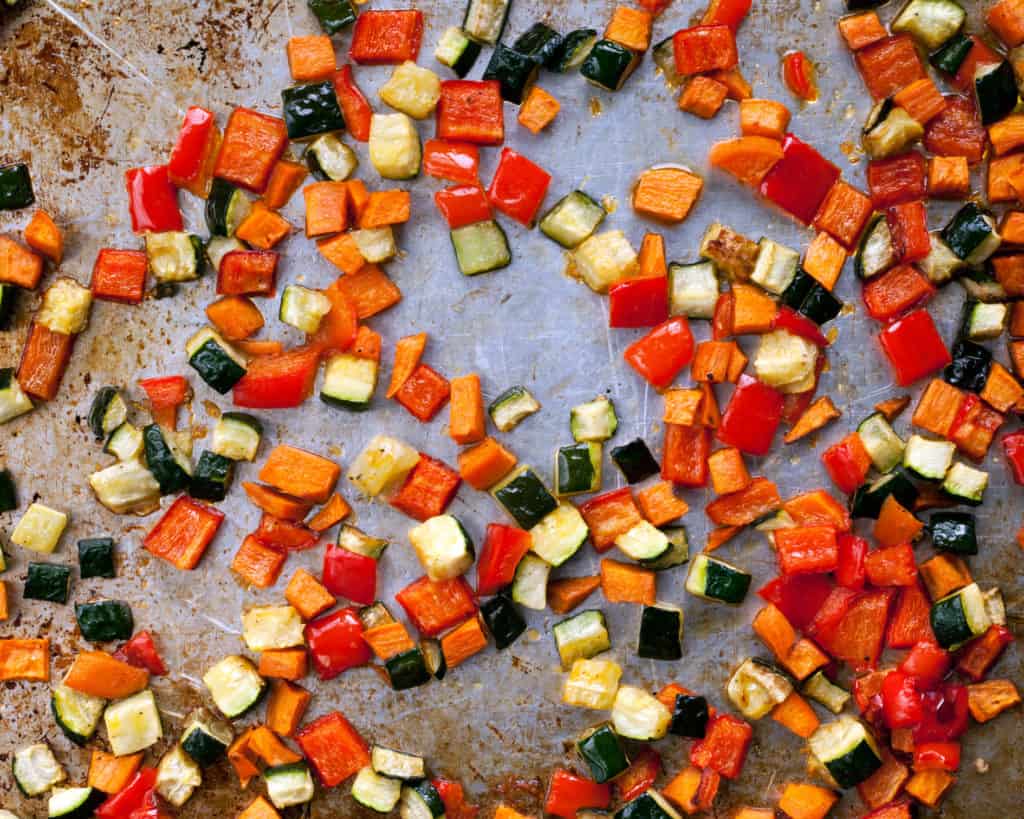 Then I whisked together the eggs, milk and another key ingredient, harissa.

By adding harissa, it was as if I baked my eggs with the hot sauce instead of just drizzling it on top as an afterthought.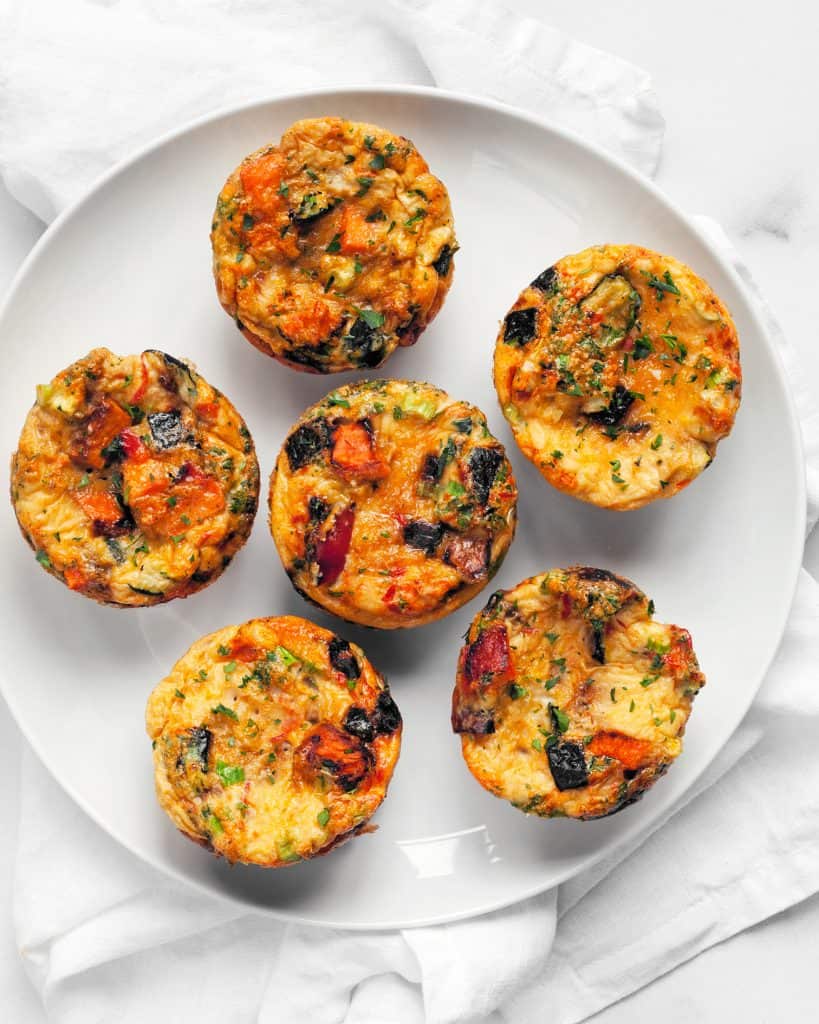 I poured over the egg mixture over the veggies. They puffed up as they baked.

Once the eggs were fully set, I let them cool to room temperature before stashing them in the fridge for a week's worth of lunches.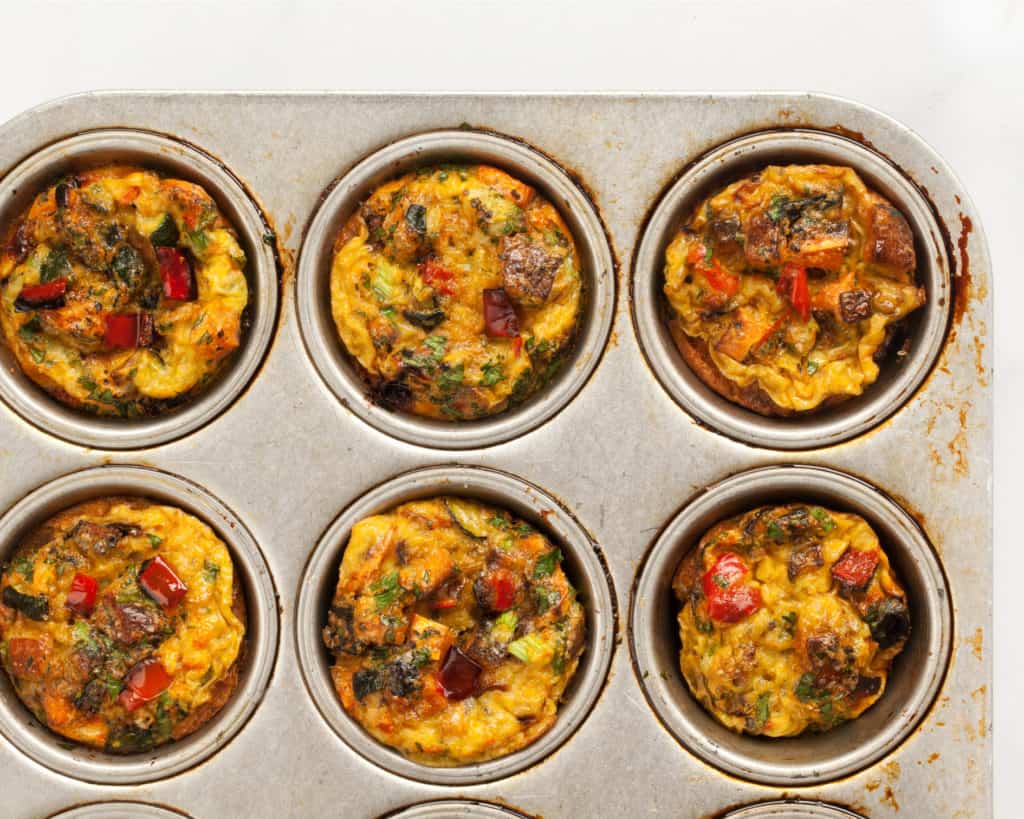 I wouldn't put meal restrictions on these spicy roasted vegetable egg cups. They are good no matter what time of day.
Print
Spicy Roasted Vegetable Egg Cups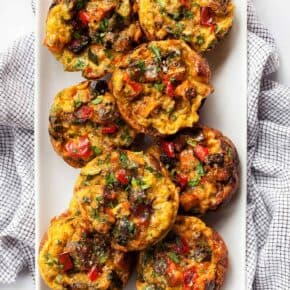 Prep Time:

15 minutes

Cook Time:

15-20 minutes

Total Time:

30-35 minutes

Yield: Makes

12

1

x
Scale
Ingredients
1 red bell pepper, diced
1 sweet potato, peeled and diced
1 zucchini, diced
1 tablespoon olive oil
1 teaspoon kosher salt
1/2 teaspoon black pepper
Non-stick cooking spray
1/4 cup chopped parsley plus more for serving
1 scallion, thinly sliced
9 large eggs
1/2 cup milk
1-2 teaspoons harissa
Instructions
Preheat the oven to 400 degrees F.
Toss the peppers, sweet potatoes and zucchini with olive oil, 1/2 teaspoon salt and 1/4 teaspoon black pepper. Roast until the vegetables are starting to brown at the edges and the sweet potatoes are tender, about 30 minutes.
Let the vegetables cool for 10 minutes before transferring them to a 12-cup muffin pan greased with non-stick cooking spray. Sprinkle the parsley and scallions into the muffin cups.
In a large bowl, whisk together the eggs, milk, harissa and remaining salt and pepper. Pour the egg mixture into the muffin cups until they are 3/4 full.
Bake for 15-20 minutes until the eggs have puffed up and are set.
Serve warm, at room temperature or chilled from the fridge. Garnish with additional chopped parsley before serving.
Store in an airtight container in the refrigerator up to 1 week.
SHARE THIS