Stone Fruit Kale Barley Salad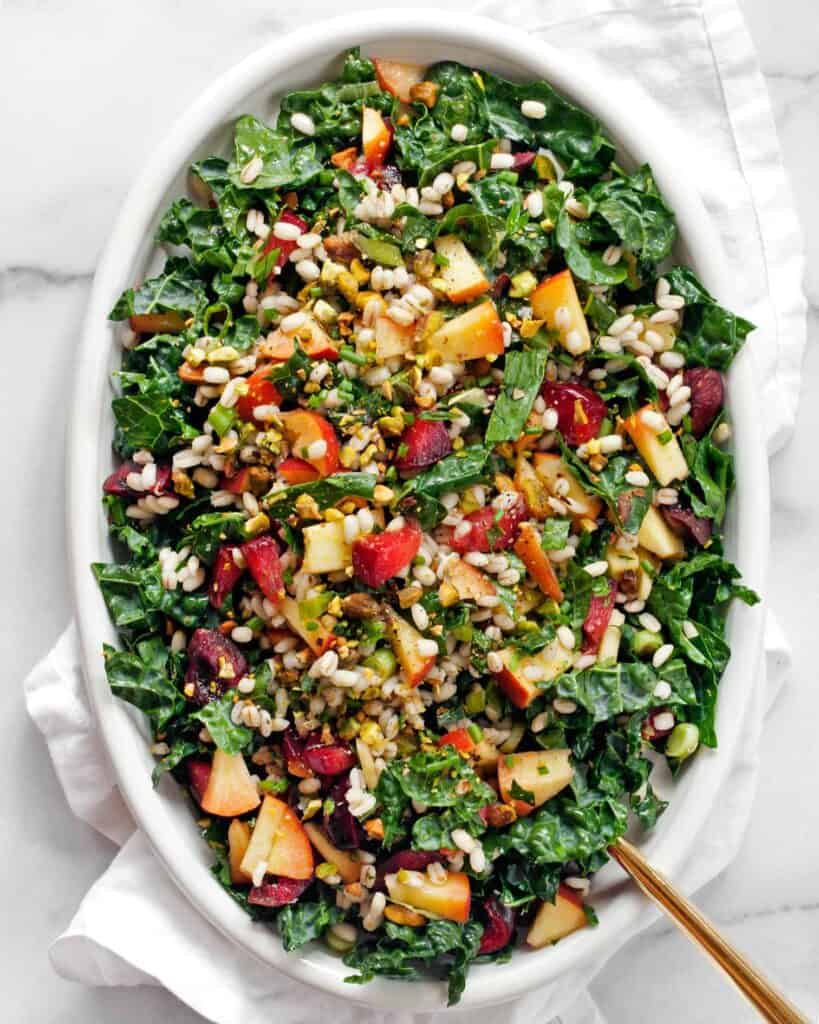 We're nearing the end of July, and I have a fridge packed with stone fruit.

Things really can't get much better, right?

With everything from berries to corn, summer is the only time of year when I can get uncomfortably full just from eating fruits and veggies.

One of my usual snacks is yogurt with smashed berries, but I've been skipping the yogurt, going all fruit instead.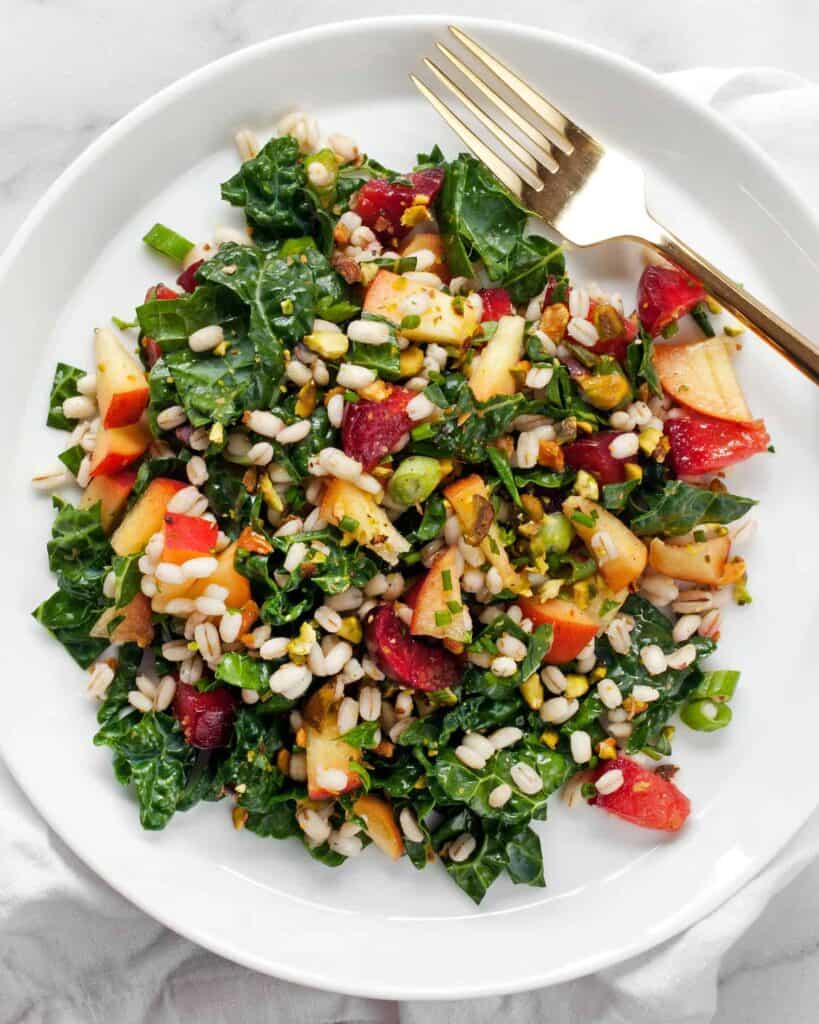 My true July obsession has been eating fruit in salads. I haven't baked as many pies as I have the past few years.
My cravings have been for less sugary sweet and more healthy ways to consume fruit.

That means fruit salads, but not actual fruit salads.

Mine are always a mix of lots of greens along with a light vinaigrette.

When I made this stone fruit kale barley salad, I didn't have an exact plan.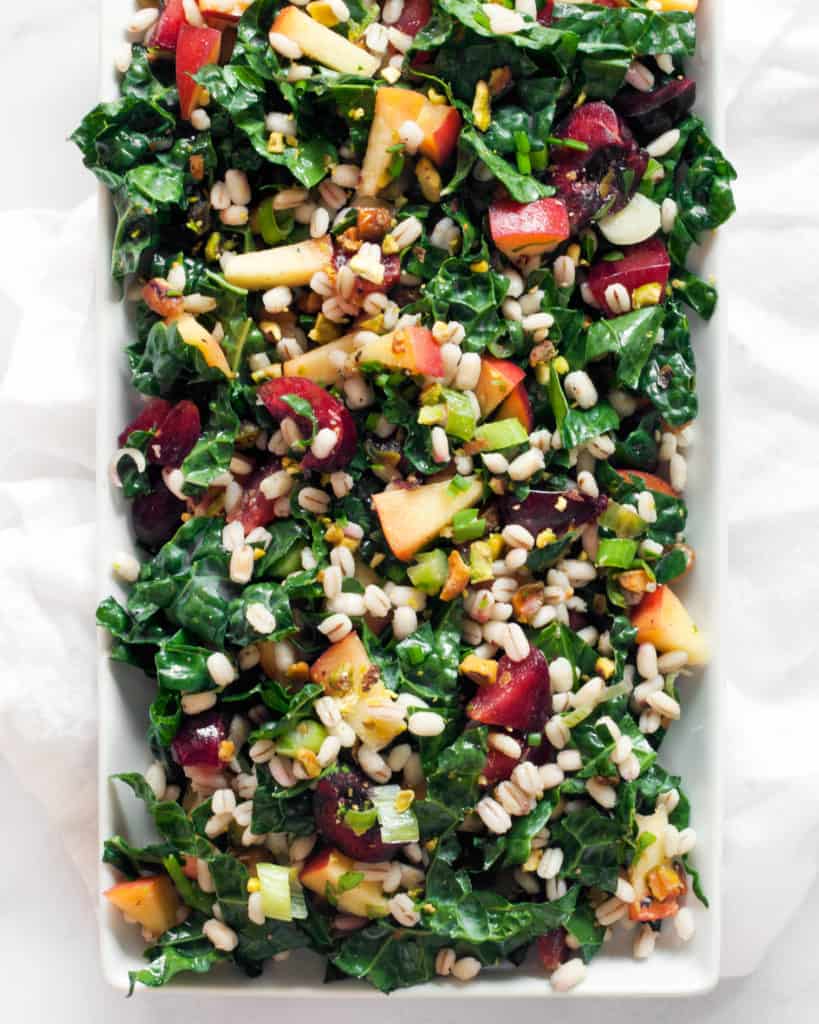 How To Make Stone Fruit Kale Barley Salad
I started by cutting up whatever stone fruit I had. That included peaches, nectarines, plums and cherries.
For this recipe, you want to end up with about 2 cups of roughly chopped stone fruit.
I knew I wanted to use kale because those sturdy leaves would stand up to both the juices from the fruit and the dressing for the salad.
With my stone fruit mix and kale in a big bowl, I just kept adding more ingredients—some texture and others for flavor.
The salad needed onions, so I reached for scallions. I always have a bunch at home.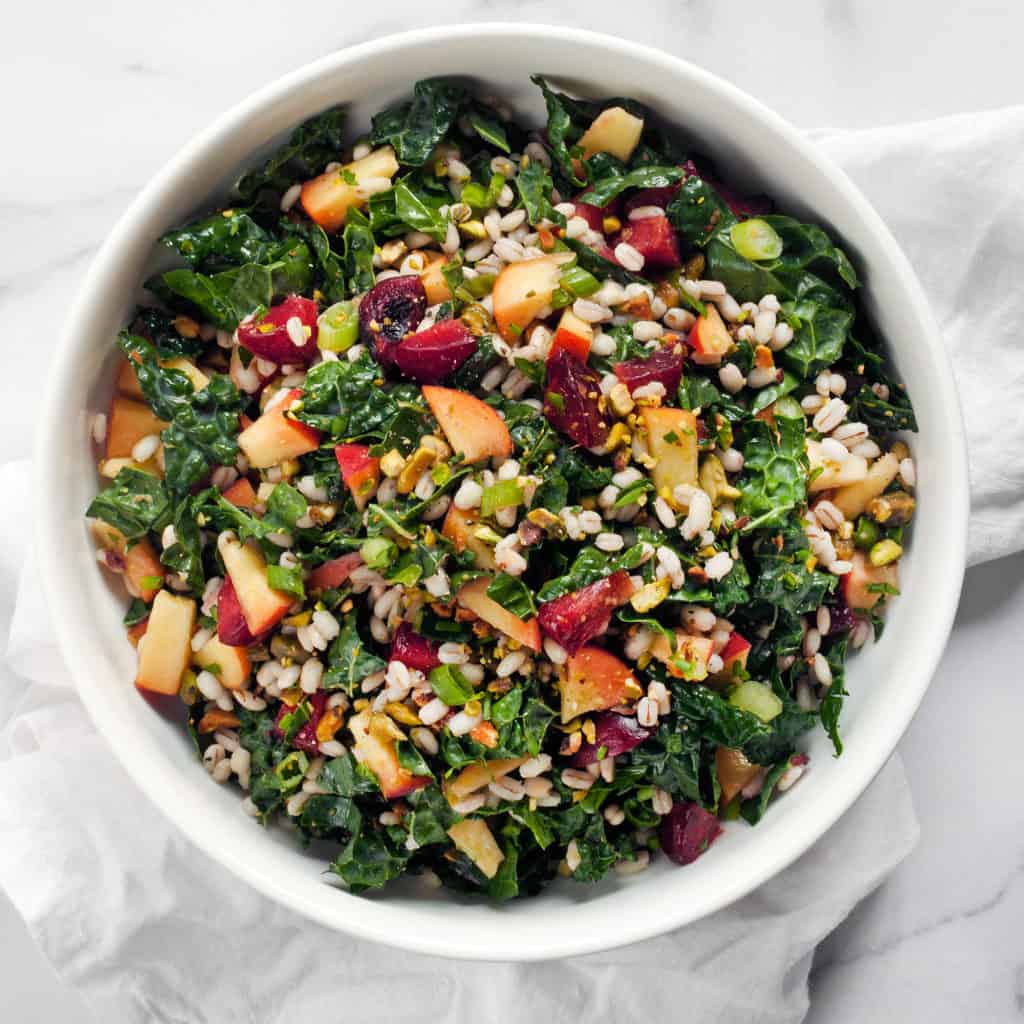 Next it was fresh parsley and then chopped pistachios.
Searching for something else, I spotted a container of leftover barley in my fridge. That was the filling ingredient that was missing.
I quickly whisked together a Dijon lemon vinaigrette and drizzled that over my stone fruit kale barley salad.
If you know me, then you know how much I love leftovers, but salads don't always work.
Even if you don't dress them, the lettuce tends to lose its fresh crunch.
That's why I love kale so much. I finished off this salad a couple days after I made it, and it was just as good as the first time.
Print
Stone Fruit Kale Barley Salad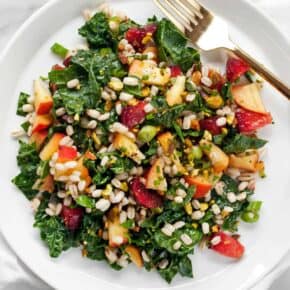 Prep Time:

15 minutes

Cook Time:

12 minutes

Total Time:

27 minutes

Yield:

Serve 4
Ingredients
For salad
1/2 cup barley
1 cup water
1 bunch Lacinato kale, stems removed and leaves chopped
2 cups pitted and roughly chopped stone fruit (peaches, nectarines, plums, cherries)
2 scallions, thinly sliced
1 tablespoon chopped fresh parsley
1/4 cup roughly chopped pistachios
For vinaigrette
1 tablespoon fresh lemon juice
1 teaspoon Dijon mustard
1/2 teaspoon kosher salt
1/4 teaspoon black pepper
2 tablespoons olive oil
Instructions
In a medium saucepan, combine the barley and water. Bring to a boil, reduce heat and simmer for 12 minutes until tender. Let stand for 2-3 minutes and fluff with a fork. Transfer to a large bowl.
Stir the kale, fruit, scallions, parsley and pistachios into the barley.
For the vinaigrette, in a small bowl, combine the lemon juice, mustard, salt and pepper. Whisk in the olive oil until fully combined.
Toss with salad with the vinaigrette before serving.
Notes
The barley can be made up to 2 days in advance.
SHARE THIS