Strawberry Nectarine Panzanella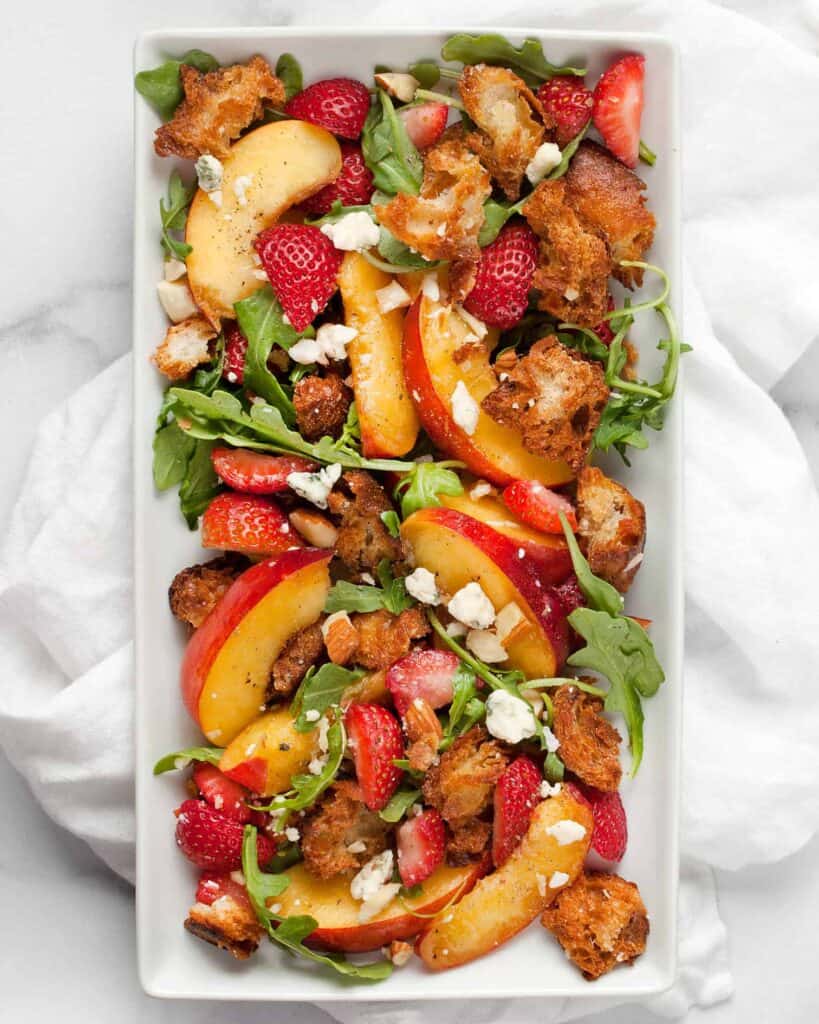 I have a shopping addiction that just started in the last few weeks.

I've been going completely overboard on berries and stone fruit. They have replaced all other snacks in my regular rotation.

I find myself mindlessly devouring a bag of cherries while standing at the kitchen counter doing something mundane like going through the mail or paging through a catalog. Yes, it could be worse.

That fruit could be potato chips or another salty snack.

Instead I've been eating cherries until I am too full to fit anything else into my stomach.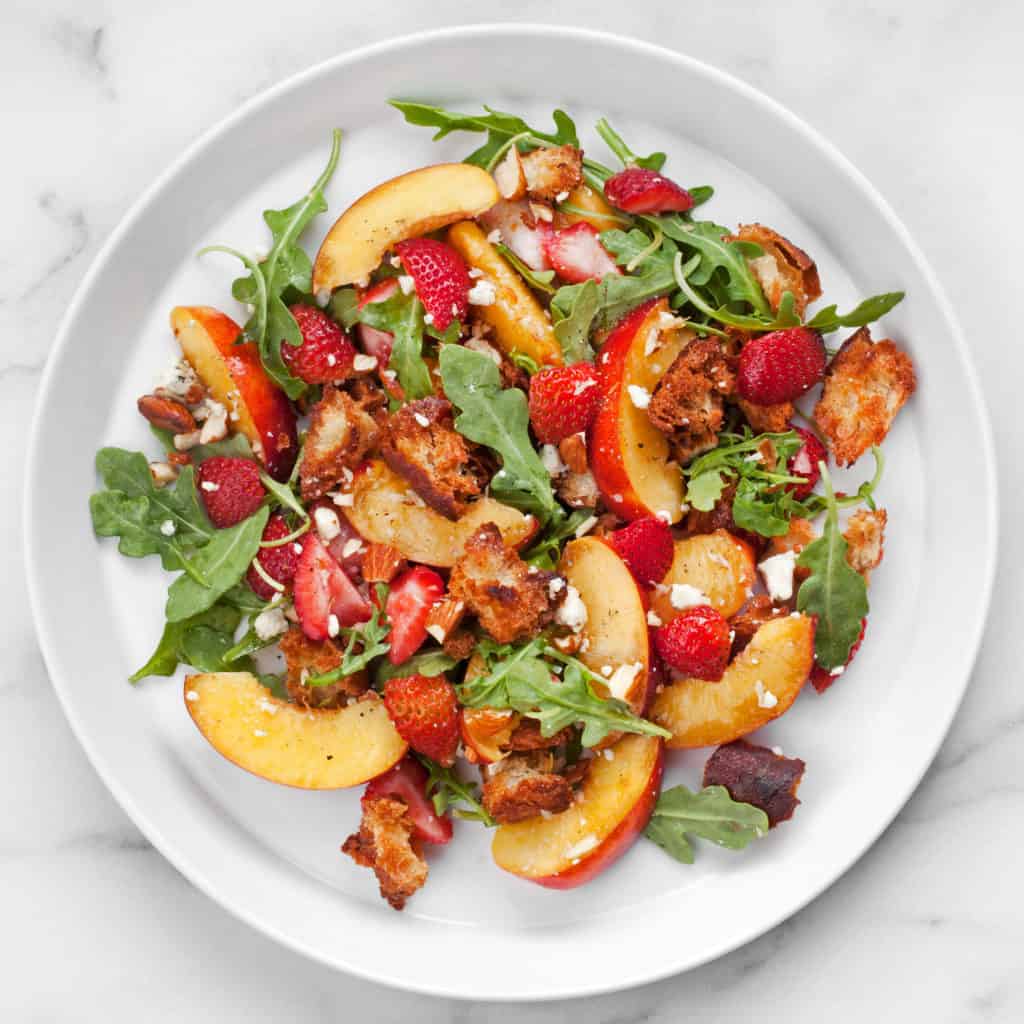 How weird is it to think that I've spoiled dinner eating too much fruit instead of food that's actually unhealthy?
Fruit is usually the star of summer desserts from galettes to crumbles, but I like fruit in savory dishes even more.

Summer fruit is wonderful in salads. I love the contrast of peppery greens and dressing with the subtle sweetness of fruit. I've been hooked on a blackberry salad with basil pesto vinaigrette. It just screams summer to me.
I decided I needed to tackle the surplus of fruit that I had stashed in the fridge. It had to be a salad, but I wanted it to be more about fruit than leafy greens.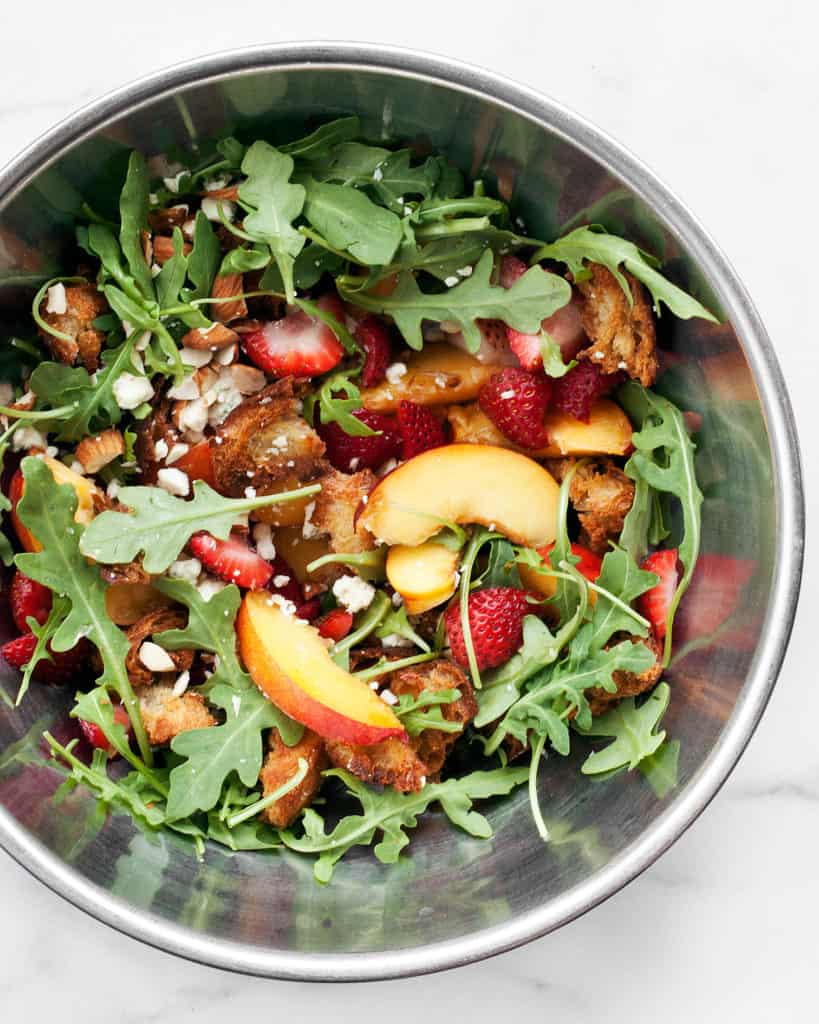 Strawberry Nectarine Panzanella: The Ingredients
With toasted bread, one of my go-to summer salads is a panzanella. It's a great way to use the odds and ends of a baguette or another crusty loaf.

Plus, I always find that when I add bread to a salad, it becomes so much more filling.

When strawberries are in season, they're always on special at the grocery or available at the farmers market. That's when I make up for lost time for all the months that we went without them at our house.
I buy strawberries by the pound (or more)!
Stone fruit also has a place in my heart. I alternate between peaches and their fuzz-free cousins, nectarines.

With all that fruit, I made a strawberry nectarine panzanella.

I pulled things to the savory side, by adding salty, crumbled gorgonzola cheese, arugula, almonds and sumac-spiked lemon vinaigrette.

My strawberry nectarine panzanella is delightfully fresh and my trusty way of getting through my fruit supply.
Print
Strawberry Nectarine Panzanella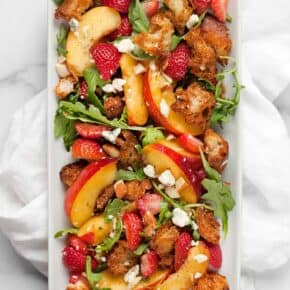 Prep Time:

15 minutes

Cook Time:

15 minutes

Total Time:

30 minutes

Yield:

Serves 4
Ingredients
For salad
6 ounces crusty bread, torn into pieces
1 tablespoon olive oil
1/2 teaspoon kosher salt
1/2 teaspoon black pepper
8 ounces strawberries, hulled and quartered
3 nectarines, pitted and thinly sliced
4 ounces baby arugula
1/4 cup crumbled gorgonzola
1/4 cup roughly chopped almonds
For vinaigrette
Juice of 1 lemon
1 garlic clove minced
1/4 teaspoon sumac plus more for serving
1 teaspoon kosher salt
1/2 teaspoon black pepper
1/4 cup olive oil
Instructions
Preheat the oven to 425 degrees F.
Place the bread on a sheet pan and toss with 1 tablespoon olive oil, 1/2 teaspoon salt and 1/2 teaspoon pepper. Bake the bread until it toasted and deep golden brown, about 15 minutes, stirring halfway through baking. Let cool.
In a large bowl, combine the toasted bread, strawberries, nectarines, arugula, gorgonzola and almonds.
For the vinaigrette, stir together the lemon juice, garlic, sumac, salt and pepper in a small bowl. Whisk in the olive oil until fully combined.
Toss the vinaigrette into the salad.
SHARE THIS