Sweet Potato Chorizo Tacos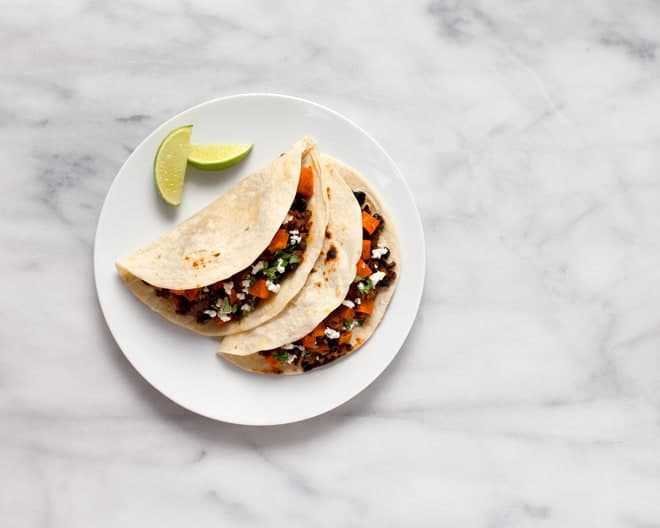 In our neighborhood there is no shortage of donuts or tacos. The sugary fried scent of freshly made donuts fills the air in the mornings, and then by lunchtime, depending where you are walking, the irresistible smell of spicy goodness takes over. It should be no surprise then that I find myself devouring a few tacos every week.
These days we eat at home more than we dine out. I had a craving for tacos, so I decided to make sweet potato chorizo tacos, a fall version of my favorite street food. I roasted sweet potatoes in the oven and cooked spicy chorizo on the stovetop. Finished with cojita and cilantro, these stood up to the neighborhood competition.


Sweet Potato Chorizo Tacos
Serves 4
2 medium sweet potatoes (about 3/4 pound), peeled and cut into 1/2-inch chunks
2 tablespoons olive oil
1/2 teaspoon kosher salt
1/2 teaspoon black pepper
1 small white onion, roughly chopped
1 pound spicy chorizo sausages, casings removed
1-15 ounce can black beans, drained and rinsed
8-10 flour tortillas, warmed
1 handful cilantro, roughly chopped
2 ounces cojita or feta, crumbled
8-10 flour tortillas, warmed
Lime wedges for serving
Preheat the oven to 400 degrees F.
Place the sweet potatoes on a foil-lined sheet pan. Toss with 1 tablespoon olive oil, salt and pepper. Roast for 30-35 minutes until a knife easily pierces the potatoes, and the edges have started to brown. Set aside.
Heat 1 tablespoon olive oil in a large skillet over medium high heat. Add the onions and sauté for 6-8 minutes until they are soft and translucent. Add the chorizo, breaking up with a wooden spoon, until cooked through, about 7-8 minutes. Stir in the black beans and sweet potatoes before serving with tortillas and topping with cilantro and cojita. Serve with lime wedges.
SaveSave
SHARE THIS