Vegan Pizza Dough Cinnamon Rolls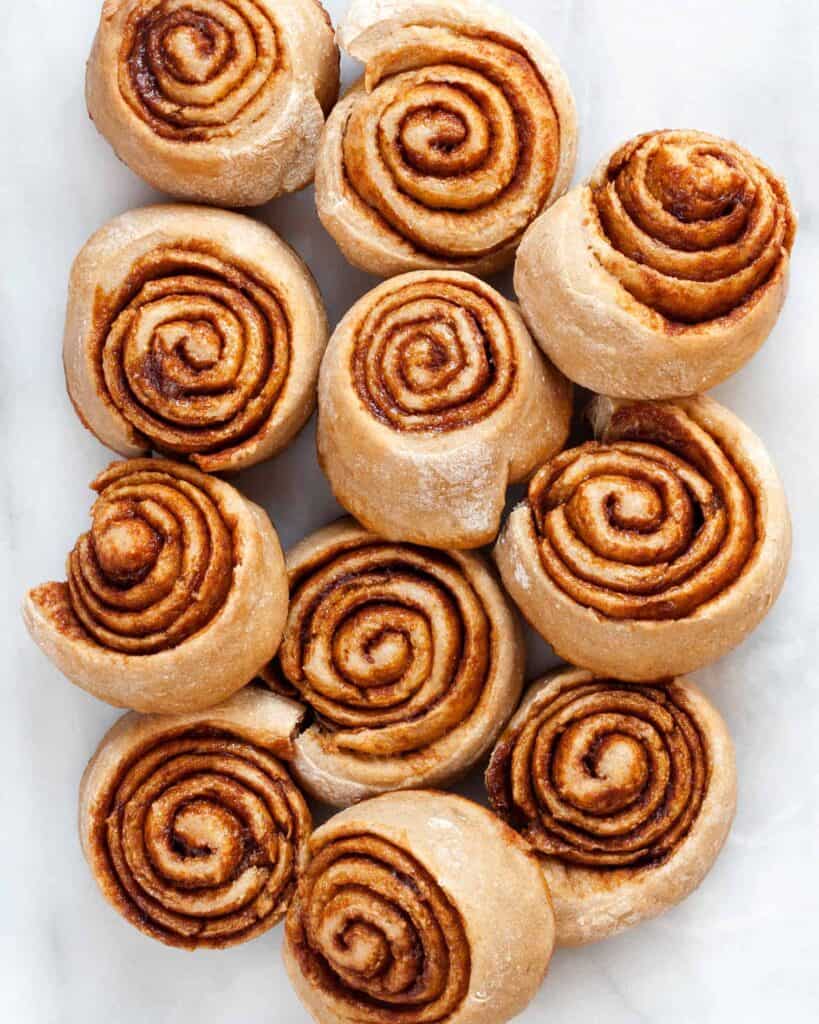 I've been keeping a secret from my brother, and I don't feel guilty about it.
A few days ago he came over to babysit while my husband and I met friends for dinner. We got home after bedtime, but my son gave me the full report about their fun evening when he woke up the next morning.
We always have treats around the kitchen from all my baking. Of course my brother knows he can help himself to whatever. Sharing is one of the best parts of cooking.

Plus he's also into food, and we like talking about recipes.
My five-year-old told me they had cinnamon rolls for dessert. I had baked a batch earlier that day. The two of them absolutely loved the cinnamon rolls.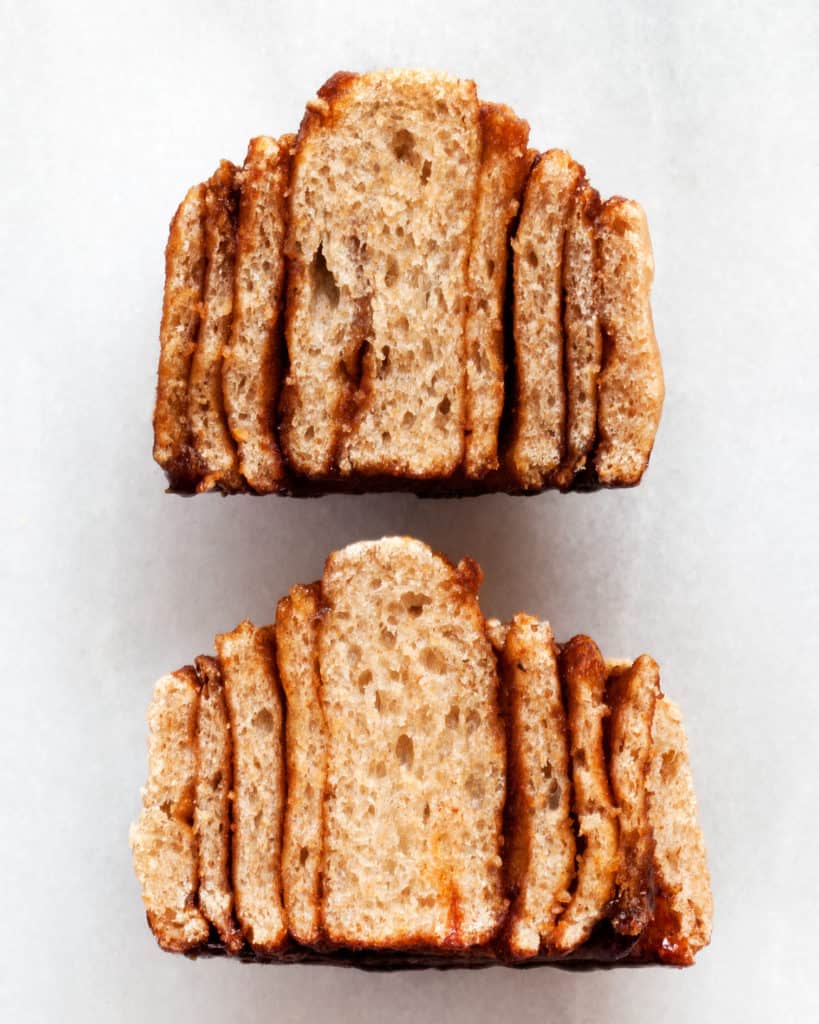 Little does my brother know, until he's reading this, that they were vegan pizza dough cinnamon rolls.

I have feeling my phone is going to be buzzing with a text message at any moment. Classic cinnamon rolls with their buttery layers and gooey frosting are wonderful, but I wanted to come up with a quicker cinnamon roll that didn't require as many ingredients or as much effort.
I make pizza doughso often that I pretty much do it on autopilot. It's a combination of bread flour and whole-wheat flour along with salt, a little sugar, olive oil, and of course, yeast.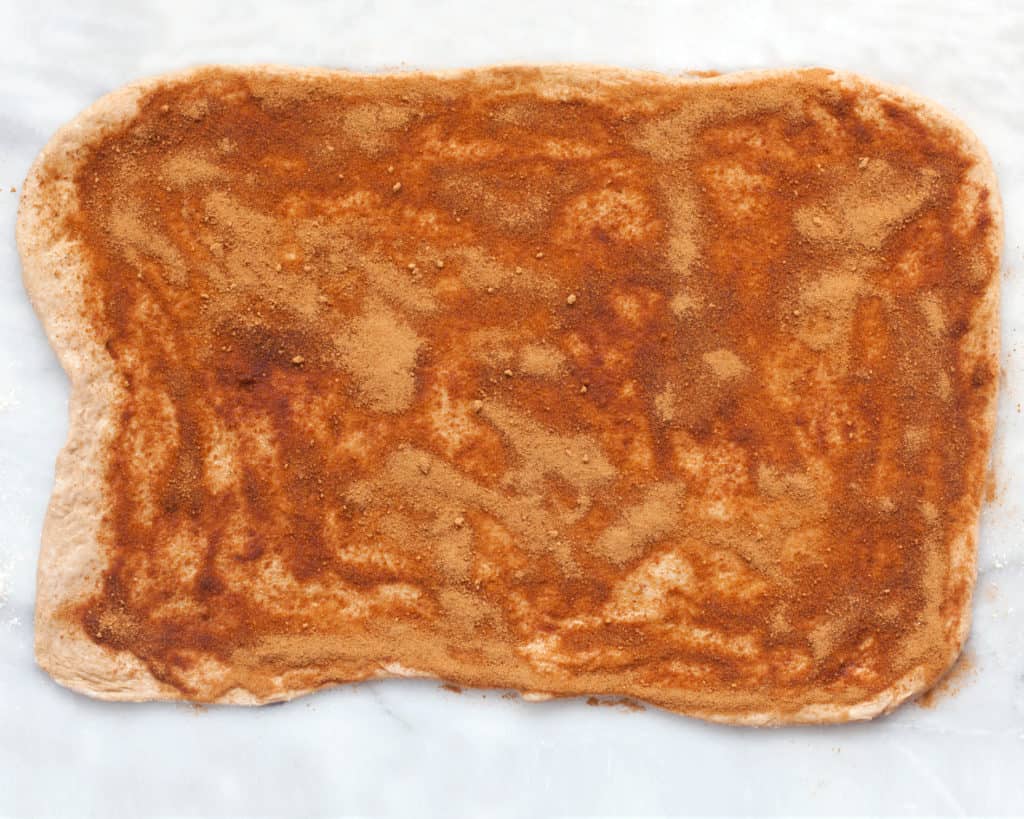 For these rolls, I added ground cinnamon to the dry ingredients.

Once the dough had risen, I rolled it out into a rectangle and brushed it with melted coconut oil. Then I sprinkled on a mixture of coconut sugar and more cinnamon.

I rolled the dough into a log and put it in the freezer for 15 minutes to firm up a bit and make it easier to slice.

As the rolls baked, they filled the kitchen with the wonderful aroma of cinnamon.
You can use store-bought pizza dough for a shortcut, but they won't turn out as cinnamon-y.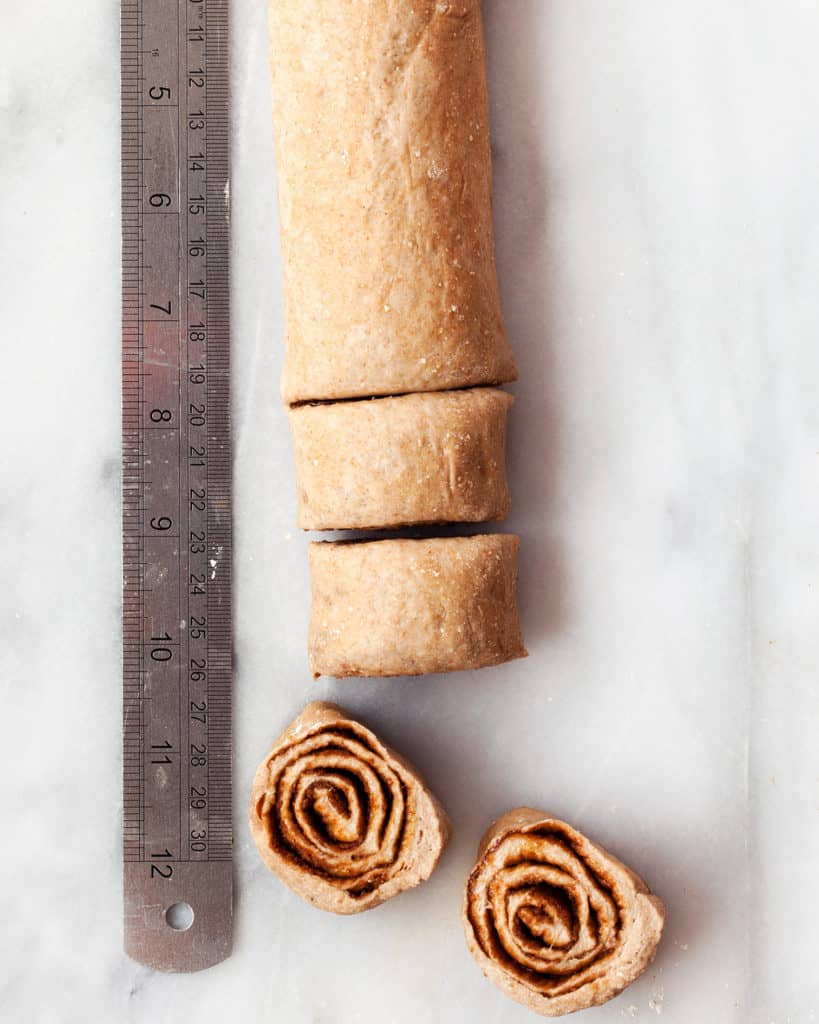 The rolls are best the day they are baked. They are more chewy than soft and flaky like traditional cinnamon rolls.
These vegan pizza dough cinnamon rolls are definitely a much lighter version of the original.
Print
Vegan Pizza Dough Cinnamon Rolls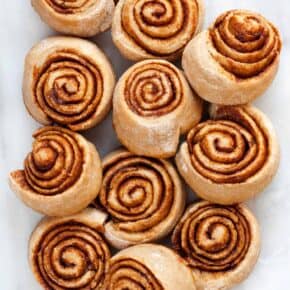 Prep Time:

2 hours 20 minutes

Cook Time:

20-25 minutes

Total Time:

2 hours 40-45 minutes

Yield:

12

rolls

1

x
Scale
Ingredients
2/3 cup warm water
1/2 teaspoon dry active yeast
1/2 teaspoon granulated sugar
1 teaspoon olive oil plus more for bowl
1 cup bread flour plus more for work surface
1/2 cup whole-wheat flour
1 teaspoon + 2 teaspoons ground cinnamon
1/2 teaspoon kosher salt
1 tablespoon coconut oil, melted
1/3 cup coconut sugar
Instructions
In a small bowl, combine the water, yeast, sugar and olive oil. Let stand until foamy, about 5 minutes.
In the bowl of a food processor, pulse the flours, 1 teaspoon cinnamon and salt. Add the yeast mixture and process until a ball of dough forms. Transfer the dough to an oiled bowl. Cover and let rise until doubled in volume, about 2 hours or up to overnight in the refrigerator.
Preheat the oven to 375 degrees F Line a sheet pan with parchment.
Roll the dough into a 10-inch by 14-inch rectangle on a lightly floured work surface. Brush with coconut oil.
In a small bowl, combine the coconut sugar and remaining cinnamon and sprinkle evenly over the dough. Roll dough into a log starting with one of the short sides.
Place the log, seam side down, on the prepared sheet pan and chill in the freezer for 15 minutes.
Transfer the log to a cutting board. Trim the uneven ends. Slice the log into 1-inch-wide rolls. Place them on the prepared sheet pan spacing 3 inches apart.
Bake for 20-25 minutes until puffed up and golden brown. Serve warm or at room temperature.
The rolls are best the day they are baked.
SHARE THIS