Waffles are not something I typically order when I go out to brunch.
I just can't commit to a decadent, dessert-like confection for an entire meal, or I will feel bad the rest of the day.
My tendencies out are savory: egg dishes with lots of vegetables.
But things are totally different at home. I make waffles reminiscing about my grandfather.
He may have used a mix for his pancakes and waffles, but he was the ultimate breakfast chef.
No morning creation I whip up will ever be able to top the love and care he put into those mornings from the waffles to the fresh squeezed orange juice.
My son is a big fan of waffles. They are his go-to thing to order when we go out for brunch.


He will refuse the pancakes on the kid's menu and order a Belgian waffle from the regular menu.
And I understand why.
Restaurant waffles are different. They are lightly crisp on the outside and fluffy on the inside.
It didn't take long to research and discover the world of yeasted waffles. That's the magic behind the consistency of those Belgian waffles.
For the batter, you melt butter in a saucepan of milk. Once it cools to lukewarm, you mix it with bloomed yeast and then stir in all-purpose and whole wheat flour.
It's best to do all this right before you go to sleep to give it time to rise in the fridge. If you are up early and making brunch, the batter can rise at room temperature in 2-3 hours.
Even though these waffles diverted from the standard buttermilk version, I know my grandpa would have approved.
Between my husband, son and I, we never can finish a full batch of waffles. I let the leftovers cool to room temperature and then freeze them.
Nothing is better than a freezer waffle reheated in the toaster on a busy weekday morning.
Print
Yeasted Waffles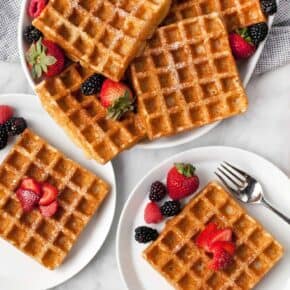 Prep Time:

2-3 hours

Cook Time:

15 minutes

Total Time:

2-3 hours 15 minutes

Yield:

10

–

12

waffles

1

x
Scale
Ingredients
2–1/4 cups milk
1/2 cup (1 stick) unsalted butter plus more for serving
1 tablespoon granulated sugar
1 teaspoon kosher salt
1/2 cup warm water
1 packet dry active yeast (2–1/4 teaspoons)
2 cups all-purpose flour
3/4 cup whole wheat flour
2 large eggs
1 teaspoon vanilla extract
1/4 teaspoon baking soda
Maple syrup, fresh berries and confectioners' sugar for serving
Instructions
In a large saucepan over medium high heat, heat the butter and milk until the butter melts. Do not let it simmer. Stir in the sugar and salt. Remove from the heat and let cool to lukewarm.
In a large bowl, combine the water and yeast and let stand until foamy, about 5 minutes. Whisk the milk-butter mixture into the yeast. Stir in both flours.
Cover the bowl. Let the dough rise until doubled in volume, about 2-3 hours at room temperature or overnight in the fridge.
Preheat a waffle iron. Mix the eggs, vanilla extract and baking soda into the batter. Using 1/2 cup batter per waffle, cook until golden brown.
Serve immediately or keep the waffles warm in a 200 degree F oven.
Serve with maple syrup and berries and dust with confectioners' sugar.
Notes
Waffles can be frozen. Cool on a wire rack to room temperature. Store in an airtight container in the freezer. Reheat in the toaster.
Adapted from The New York Times April, 2 2012
SHARE THIS