Yellow Sheet Cake with Chocolate Ganache Frosting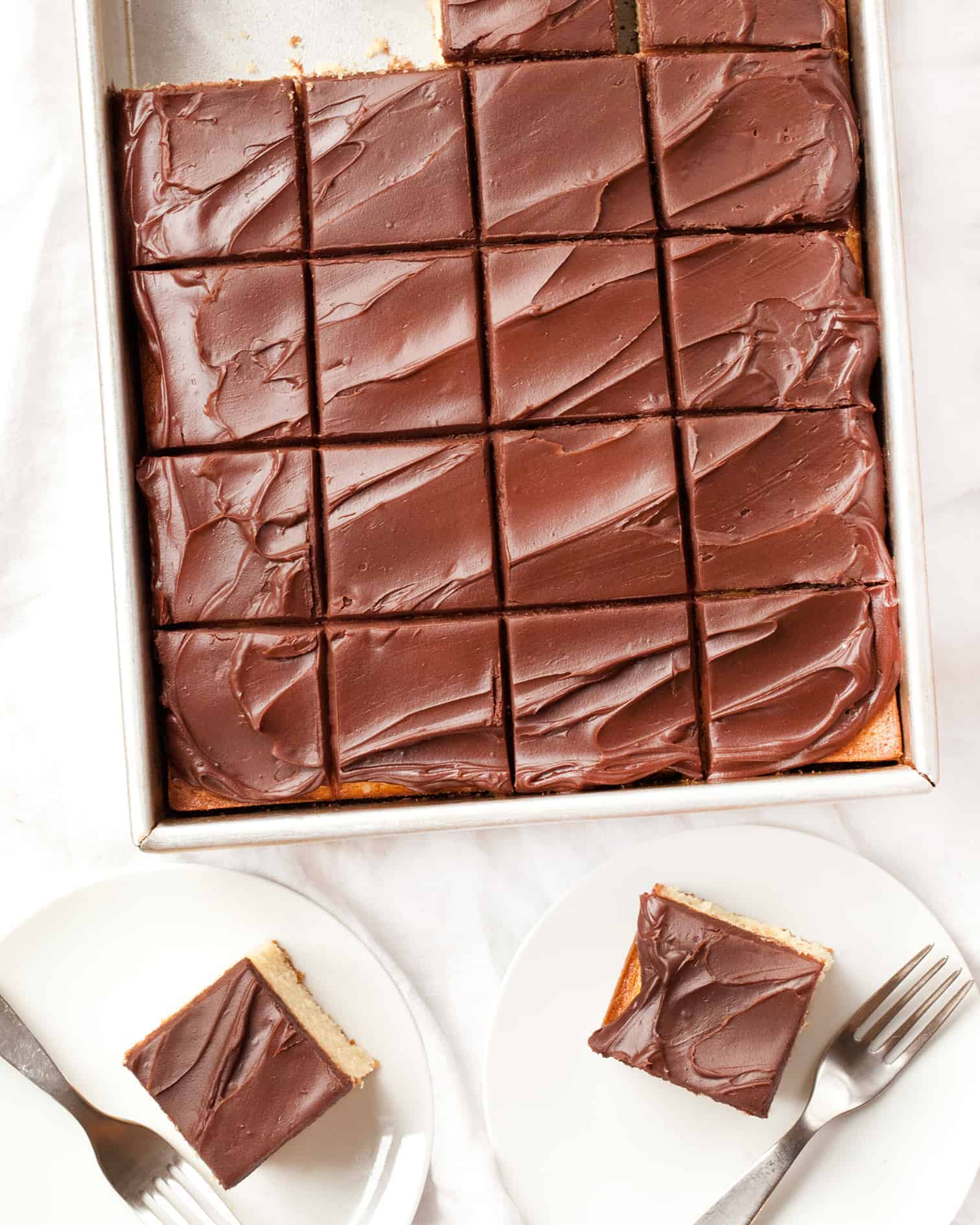 My go-to feed-a-crowd kind of dessert is brownies or pretty much any bar cookie. With their drop cookie cousins, I always worry that they will be lopsided instead of uniform circles. That's not to say there aren't times when I want to put in a smidge more effort to get an extra level of finish without demanding hours of time and a piping bag. Lately I've been very into sheet cakes including this yellow sheet cake with chocolate ganache frosting.
I baked the cake a day in advance in a 13 x 9-inch pan. That gave it plenty of time to cool off before I made the rich chocolate frosting, a combination of melted milk & semisweet chocolate chips and heavy cream. I used an offset spatula to frost the cake with dramatic swoops and swirls—no artistic ability required. Forgive the perfectionist in me for using a ruler to slice 24 equal squares. It didn't take that long, and then everyone in the group got the same size piece.
Yellow Sheet Cake with Chocolate Ganache Frosting
Adapted from Real Simple
Serves 24
For cake
1/2 cup (1 stick) unsalted butter, melted and cooled, plus more for pan
3-1/2 cups all-purpose flour, plus more for pan
2-1/4 teaspoons baking powder
1-1/4 teaspoons kosher salt
1/2 teaspoon baking soda
4 large eggs
2 cups granulated sugar
1/2 cup vegetable oil
1 tablespoon vanilla extract
1-1/2 cups whole milk
For frosting
1-1/2 cups semisweet chocolate chips
3/4 cup milk chocolate chips
1-1/2 cups heavy cream
1-1/4 teaspoons kosher salt
2 teaspoons vanilla extract
Preheat the oven to 350 degrees F. Grease a 13-inch by 9-inch baking pan with butter. Dust with flour and tap out the excess.
In a medium bowl, sift together the flour, baking powder, baking soda and salt. In the bowl of a stand mixer fitted with the whisk attachment, beat the eggs and sugar until pale and thick, about 4 minutes. Beat in the melted butter followed by the oil and vanilla extract.
With the mixer on low speed, beat in the dry ingredients in 3 additions alternating with the milk in 2 additions until just combined. Be careful not to over mix. Spread the batter into the prepared pan and bake for 35-40 minutes until a toothpick inserted in the center comes out clean. Let the cake cool completely.
For the frosting, place the chocolate chips in a large bowl. In a small saucepan over medium heat, bring the heavy cream and salt to a simmer. Pour over the chocolate chips. Let sit a few minutes before stirring until smooth. Whisk in the vanilla extract. Let the mixture cool to room temperature, stirring occasionally. It should thicken to a spreadable consistency. Use an offset spatula to spread the frosting over the cake.
SaveSave
SaveSave