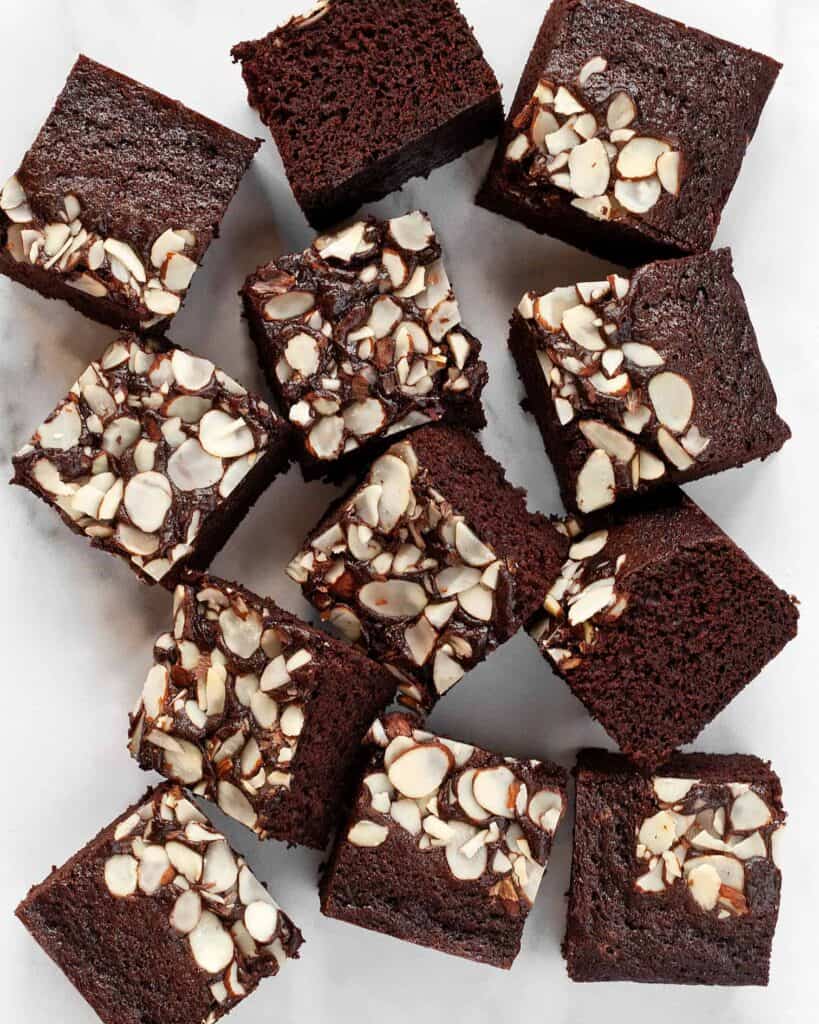 In the last month my husband has taken on barista duties at home.

We both miss going to the coffee shop in our neighborhood.

It was heartbreaking to order my last iced oat milk latte before they had to close, not knowing when they would open again, like the rest of the cafes and restaurants in the city.

We bought a couple bags of beans that day and have been making pour-over coffee in a Chemex ever since.

This has required multiple additional coffee purchases online, too. We keep buying locally roasted beans.
I drink mine iced with lots of milk in an attempt to mimic my coffee shop latte.

From this new routine, we have ended up with leftover brewed coffee. I always put it in a jar and stash it in the fridge for the next day.
It's not exactly cold brew, but I don't mind.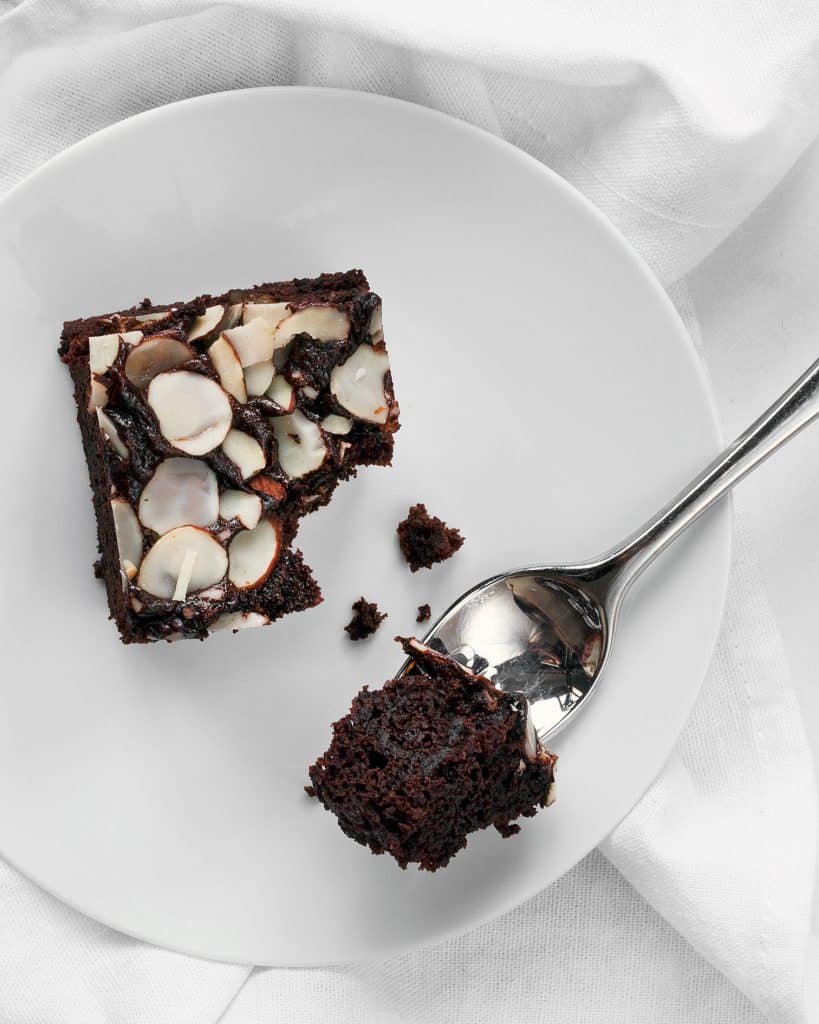 Coffee and chocolate always pair well together especially in baked goods.
Many recipes include a little bit of coffee just to bring out the chocolate flavor, and you can't even taste the coffee.

That inspired me to find a different way to use the extra coffee in the refrigerator.
I baked a mocha almond cake that turned out with a fudgy, but not too dense, crumb.
This cake will remind you of a classic chocolate birthday cake.

My husband, who is used to having a consistent supply of from-scratch baked goods, paused after his first bite.

He loved it as much as I did.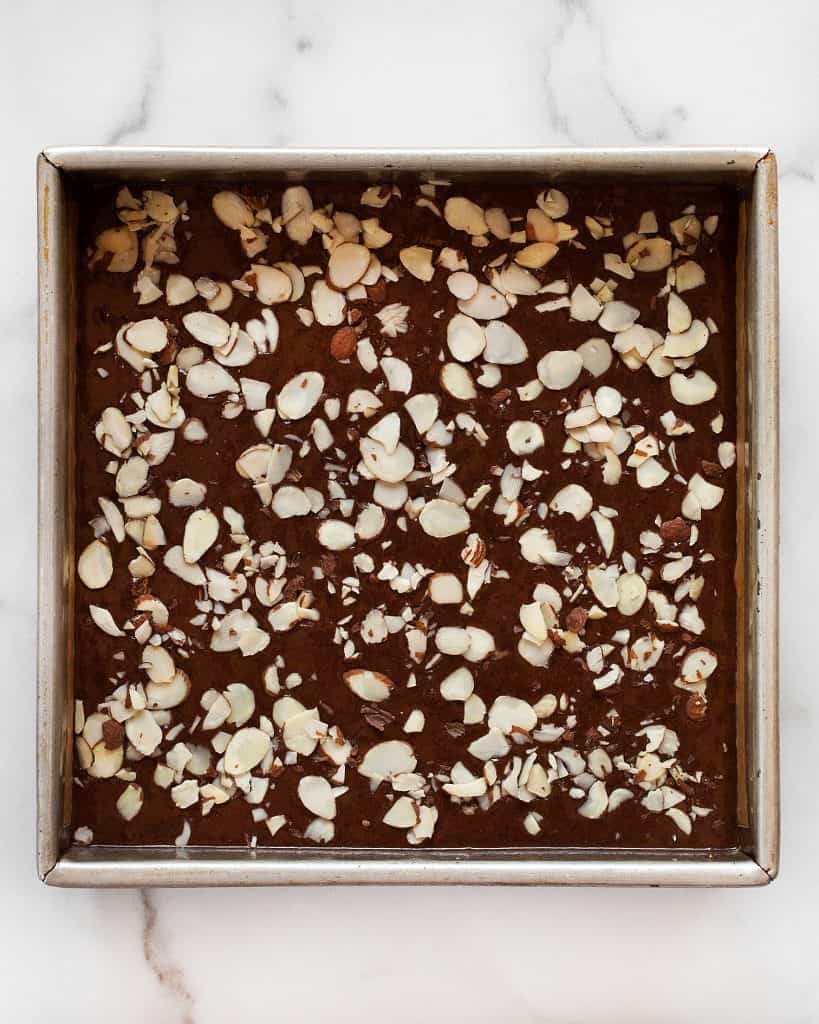 How To Make A Mocha Almond Cake
The first step is to mix room temperature butter with granulated sugar until it is light and fluffy.

Then beat in the eggs followed by vanilla extract and a little almond extract.

I only use a 1/8 teaspoon almond extract because it's strong.

The dry ingredients are a combination of flour, cocoa powder, baking soda, baking powder and salt.

Next I fold the flour-cocoa powder mixture into the wet ingredients. When the batter gets stiff, I gently stir in the brewed coffee.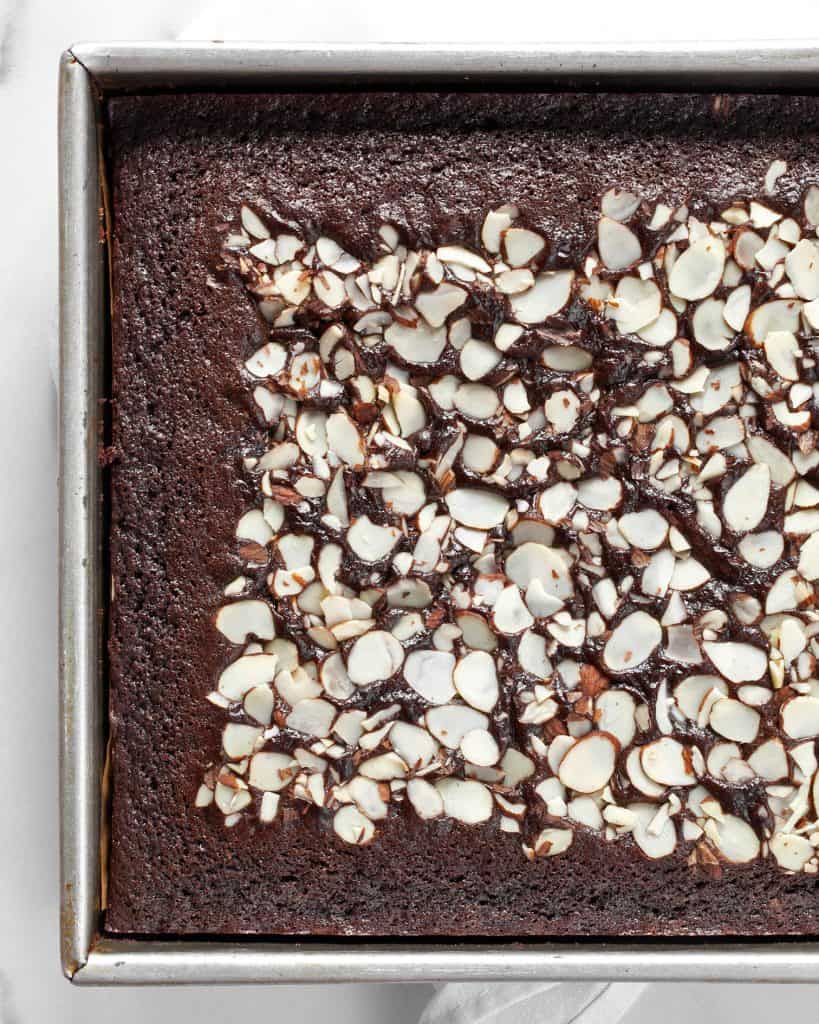 The batter pours easily into a 9-inch-square baking pan.

Before I put it in the oven, I sprinkle sliced almonds all over the top.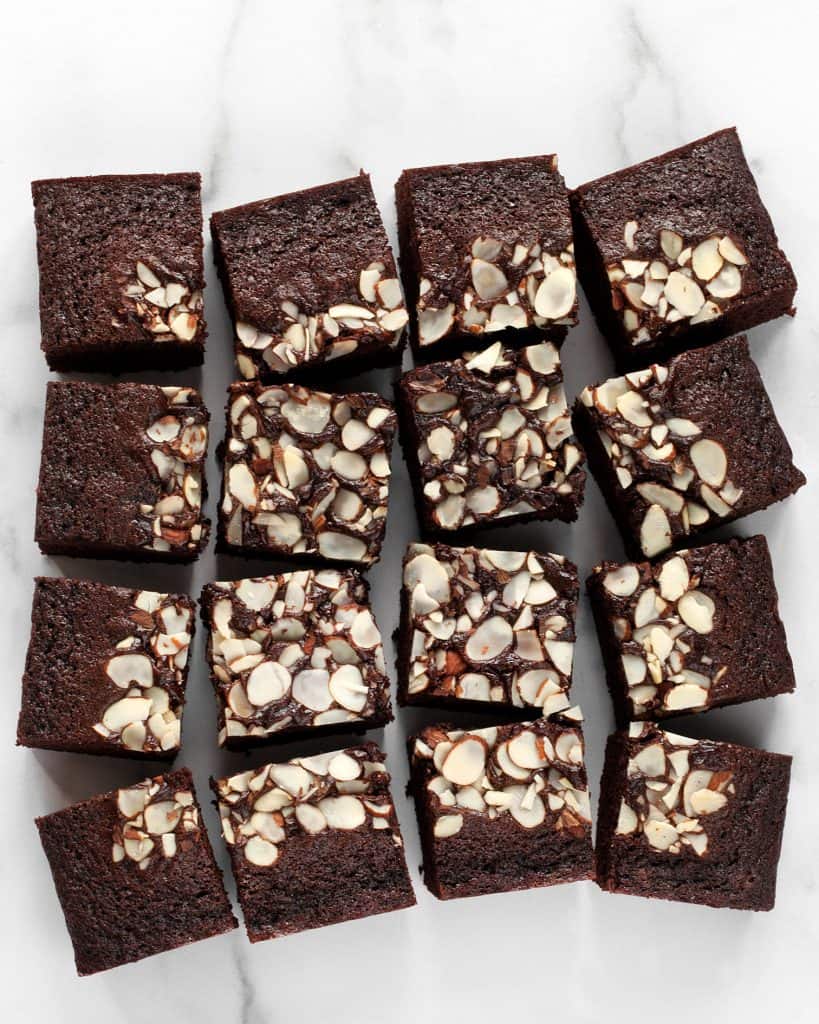 As the cake rises, a border without almonds will appear on all 4 sides.
I like ending up with squares of mocha almond cake with different amounts of nuts.
Usually I share everything I bake with people at my office. In this current work from home situation, I end up freezing half of most everything I make.

But it's always good to have a surplus of chocolate cake on hand.
Print
Mocha Almond Cake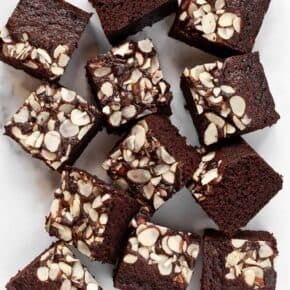 Prep Time:

15 minutes

Cook Time:

40-42 minutes

Total Time:

55-57 minutes + cooling

Yield: One

9

-inch cake

1

x
Scale
Ingredients
Non-stick cooking spray
10 tablespoons (5 ounces) unsalted butter at room temperature
1–2/3 cups granulated sugar
2 large eggs at room temperature
1 teaspoon vanilla extract
1/8 teaspoon almond extract
1–1/2 cups plus 2 tablespoons all-purpose flour
1/2 cup plus 1/3 cup cocoa powder
1 teaspoon baking soda
1 teaspoon baking powder
1/2 teaspoon kosher salt
1–1/2 cups brewed coffee at room temperature
1/4 cup sliced almonds
Instructions
Preheat the oven to 350 degrees F.
Grease a 9-inch square baking pan with non-stick cooking spray and line with parchment paper leaving enough overhang to life out the baked cake.
In a large bowl, use an electric mixer to cream the butter and sugar until they are pale and fluffy, about 4 minutes. Beat in the eggs, one at a time, followed by the vanilla extract and almond extract.
In a medium bowl, sift together the flour, cocoa powder, baking soda, baking powder and salt.
Fold the dry ingredients into the wet ingredients. When the batter starts to get stiff, gently stir in the coffee until there are only a few small lumps.
Pour the batter into the prepared pan and sprinkle the top with the sliced almonds.
Bake for 40-42 minutes until a toothpick inserted in the center of the cake comes out with just a couple crumbs.
Cool the cake for 20 minutes on a wire rack. Run a knife around the edges of the pan. Use the parchment paper to lift the cake out of the pan to continue cooling.
Serve the cake warm or at room temperature.
SHARE THIS