Roasted Cauliflower Kale Salad

With chopped kalamata olives and roasted tomatoes, this simple and healthy Roasted Cauliflower Kale Salad is finished with crumbled feta and balsamic vinaigrette.
Last summer we didn't end up growing anything in our annual container garden.

We usually plant our Earth Boxes Memorial Day weekend, but I remember a year ago, May, and most of June, was quite chilly here in Chicago.
There were days when I was still wearing boots and socks! That slow start to summer really threw me off.

This year is completely different.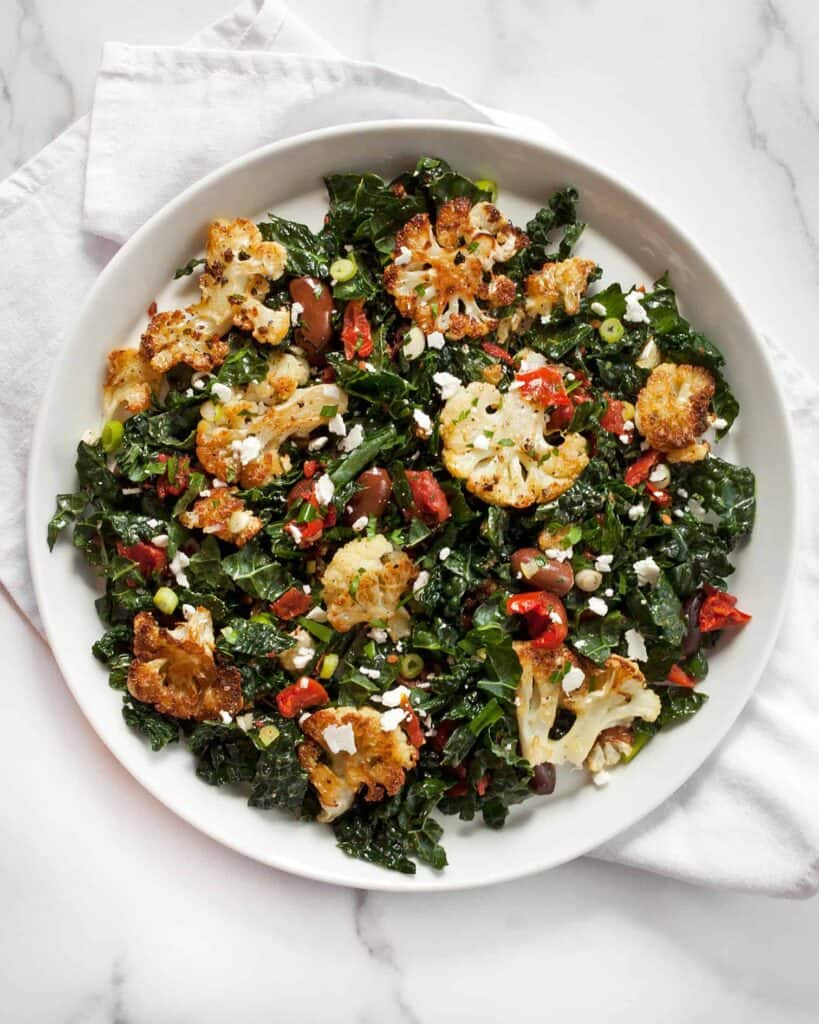 I am thrilled to report that my husband and son spent yesterday weeding and planting our containers.

Instead of waiting until it's warm enough to put tomatoes and basil into the soil, we're starting early with lots of greens.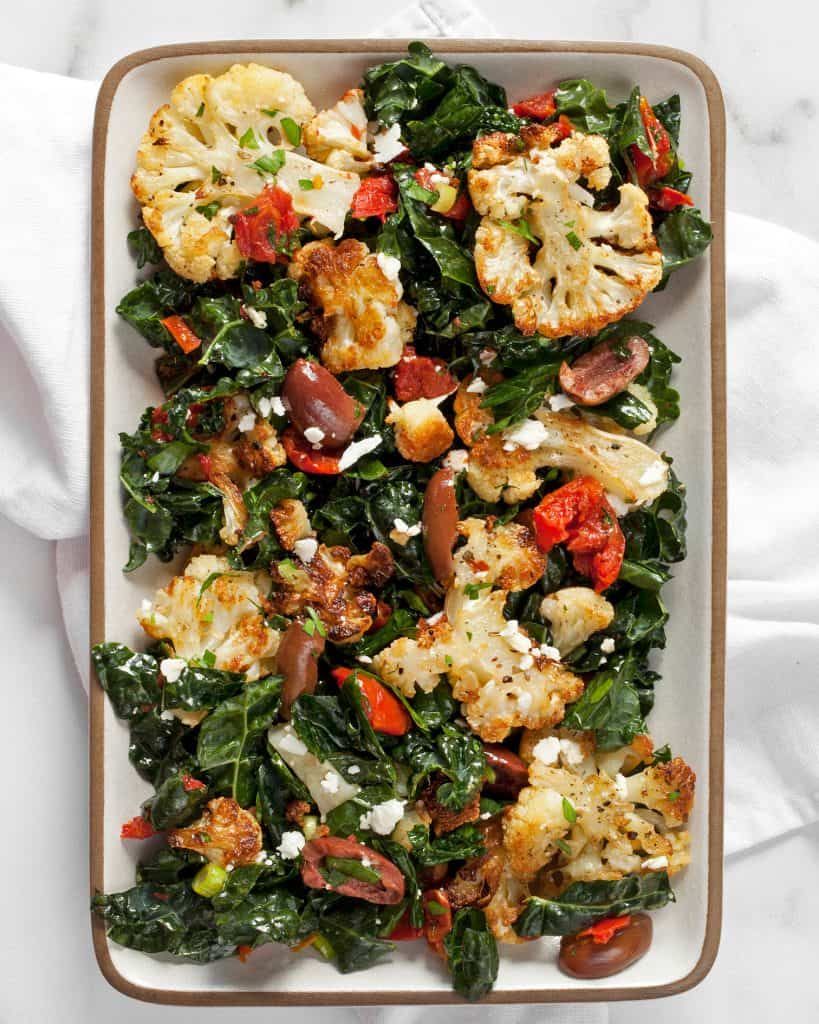 So far we planted spinach, kale, scallions, herbs and a mesclun mix.

I can't wait for more salads especially with kale.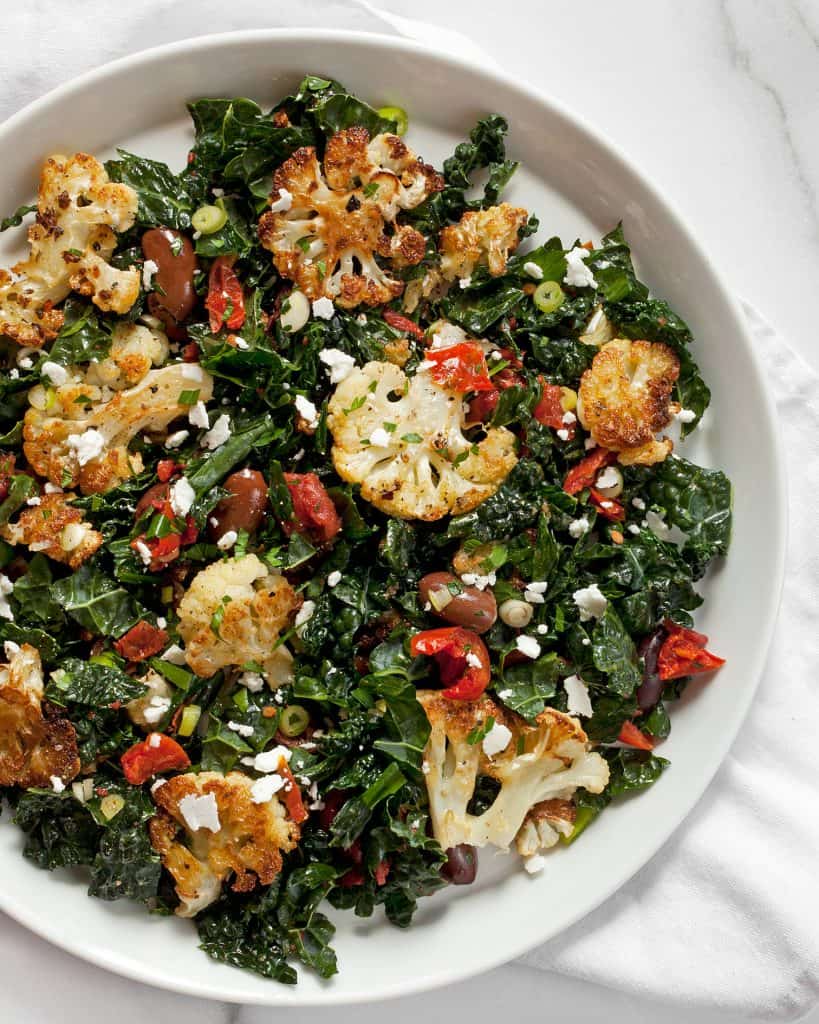 There really isn't a leaf I don't like for a salad, but I am such a huge fan of ones that have more structure and heft.

Kale and other more sturdy salad options can stand up to vinaigrette and all sorts of different ingredients like tomatoes, beans and toasted bread.

I love a kale salad with roasted sweet potatoes and chickpeas or fingerling potatoes. Both of those combinations are on my weekly dinner rotation.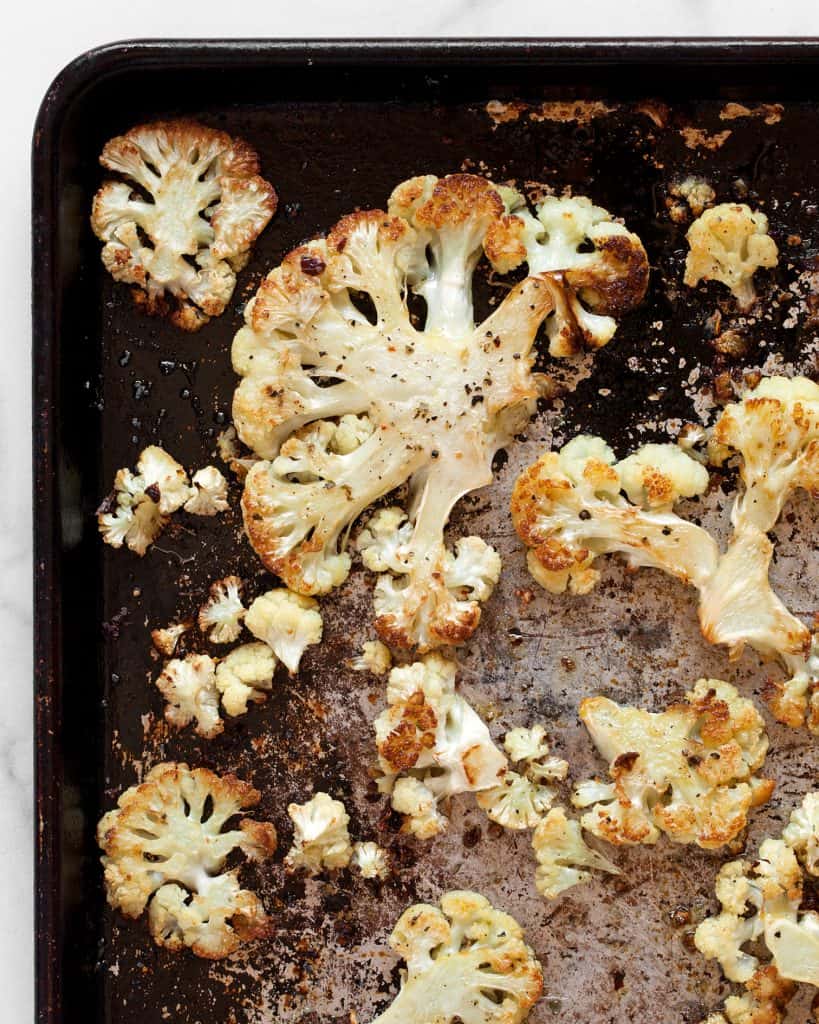 Roasted Cauliflower Kale Salad: The Ingredients
Expanding my repertoire, I made a roasted cauliflower kale salad.

There are so many ways to eat cauliflower: raw and roasted.

Once again, I sliced a head of cauliflower instead of breaking it into florets. That maximized the contact with the pan and the browning.

I tossed the cauliflower in only olive oil, salt, black pepper and red pepper flakes for some heat.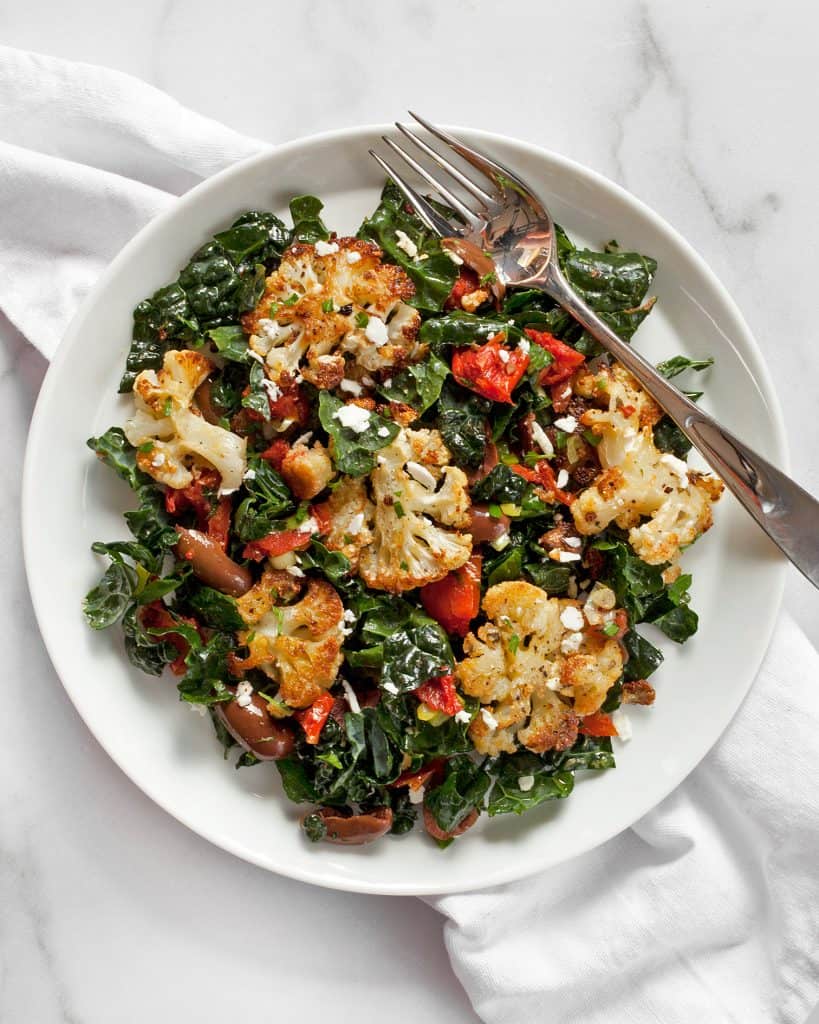 For the salad, I reached for my favorite antipasti—kalamata olives and those amazingly flavorful roasted tomatoes you can find jarred or at the olive bar.

Antipasti are one of my go-tos for quick pastas, pizzas, and of course, salads.

Along with the kale, olives and tomatoes, I added sliced scallions, crumbled feta and chopped parsley.

To finish this roasted cauliflower kale salad, I drizzled on a simple balsamic vinaigrette.
Print
Roasted Cauliflower Kale Salad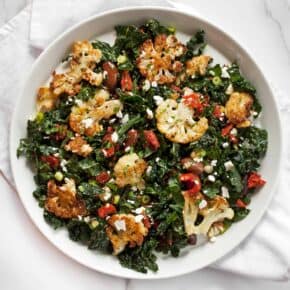 Prep Time:

10 minutes

Cook Time:

20-25 minutes

Total Time:

30-35 minutes

Yield: Serves

4

1

x
Scale
Ingredients
For cauliflower
1 head cauliflower, leaves removed, bottom stem trimmed
1 tablespoon olive oil
1/2 teaspoon kosher salt
1/4 teaspoon black pepper
1/4 teaspoon red pepper flakes
For salad
1 large bunch lacinato kale, stems removed and leaves roughly chopped
2 scallions, thinly sliced
1/2 cup chopped roasted tomatoes
1/2 cup chopped pitted Kalamata olives
1 tablespoon chopped parsley
1/4 cup crumbled feta
For vinaigrette
2 tablespoons balsamic vinegar
1/4 cup olive oil
1/4 teaspoon kosher salt
1/4 teaspoon black pepper
Instructions
Preheat the oven to 425 degrees F.
Cut the cauliflower lengthwise into 3/4-inch slices. On s sheet pan, toss the cauliflower 1 tablespoon olive oil, 1/2 teaspoon kosher salt, 1/4 teaspoon black pepper and red pepper flakes.
Arrange the cauliflower in a single layer. Roast for 20-25 minutes, flipping halfway through cooking, until browned.
In a large bowl, combine the cauliflower, kale, scallions, tomatoes, olives, parsley and feta.
For the vinaigrette, whisk together the balsamic vinegar, olive oil, salt and pepper in a small bowl. Drizzle over the salad.
SHARE THIS