Kale Brussels Sprout Salad with Pears
on Dec 02, 2021, Updated Dec 19, 2022
With pears, nuts and crumbled blue cheese, this kale brussels sprout salad is perfect for fall-winter meals. The greens are intense (in a good way), so I like pairing them with the taste of sweet fruit and strong cheese. It's dressed in sherry vinaigrette.
Why You'll Love This Salad
It's for the year round salad enthusiast. Just because we are in the colder months, it doesn't mean we should avoid salads. In fact we should embrace them. All it takes is a shift in greens and feature ingredients to make a salad seem winter weather worthy.
These are hearty greens that can stand up to anything. That includes chunks of fruit, chopped nuts and good vinaigrette. The risk of soggy greens is far lower than with delicate arugula, spring greens or baby spinach.
Even though it's technically not a chopped salad, it will satisfy that craving. This salad is all about texture. There are plenty of crunchy and crisp moments with raw sprouts and kale.
This combination of brussels sprouts and kale delivers on nutrition. They are rich in vitamin A vitamin C, vitamin K, fiber, iron and more nutrients. The salad is also gluten-free.
How To Cut Brussels Sprouts
To prep your sprouts for a salad, you will need to trim off the stem end and discard any wilted outer leaves. Beyond that you do not need any special tools.
Then thinly slice the sprouts lengthwise. I find it's best to use a paring knife for this. They don't turn out as thin as they would when you shred brussels sprouts with a grating disc in a food processor. This is what I do for my Brussels Sprout Caesar Salad, but I actually like the bite of hand-sliced raw brussels sprouts.
Ingredients & Substitutions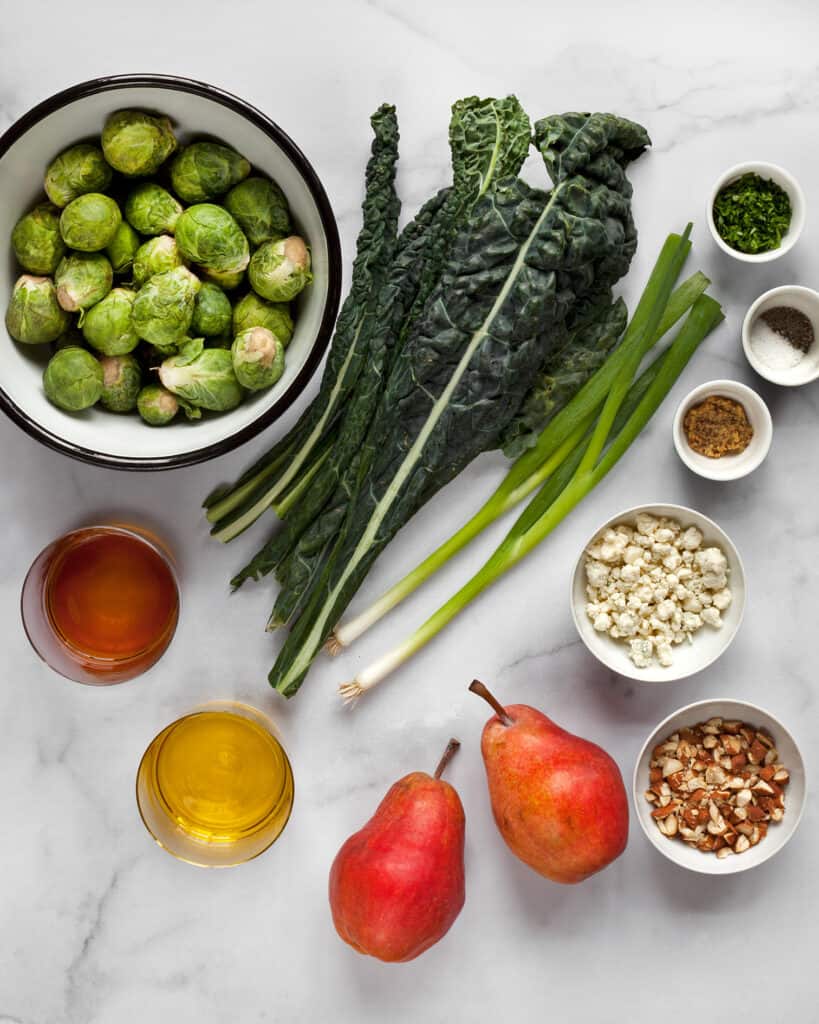 This is what you need for the salad:
Brussels sprouts: Look for brussels sprouts with tightly packed leaves. They should be green and not have any yellow spots.
Kale: Also known as dino kale, lacinato kale leaves are a dark, almost bluish green. First pull out the thick rib down the center. Then chop the leaves. You can also use curly kale.
Pears: Bartlett pears are fragrant, juicy and sweet. Their texture is soft and buttery. I love the red color with all the greens in the salad. If you prefer apples, they would be a great swap. You can also add 1/4 cup dried cranberries if you like something else sweet with the fresh fruit.
Scallions: For something light and oniony, I include a couple sliced scallions. Thinly sliced red onions are an option for a substitute.
Almonds: Chopped almonds give the salad nutty flavors. You can substitute with walnuts, pecans or even sunflower seeds. You are entitled to bonus points for toasting the nuts, which you can do in a 350-degree F oven on a baking sheet for 5 minutes.
Blue cheese: When you have pears in a salad it's pretty much impossible not to throw in crumbled blue cheese because fruit and this pungent salty cheese are perfect together. But I know not everyone is a fan. If you aren't a blue cheese person, use goat cheese or feta instead.
Parsley: Fresh herbs are one of my favorite final touches to salads. That includes chopped parsley.
Sherry vinaigrette: The dressing for the salad is a combination of minced garlic, sherry vinegar, whole grain mustard, salt, black pepper, and of course, olive oil. You can substitute with balsamic vinegar or apple cider vinegar depending how much impact you want the dressing to have.
How To Make This Kale Brussels Sprout Salad
1. Make the vinaigrette. Whisk together the garlic, mustard, sherry vinegar, salt, pepper and olive oil in a small bowl.
2. Combine the salad ingredients in a large bowl. That includes the kale, brussels sprouts, scallions, pears, almonds, blue cheese and parsley. Toss the salad with the vinaigrette.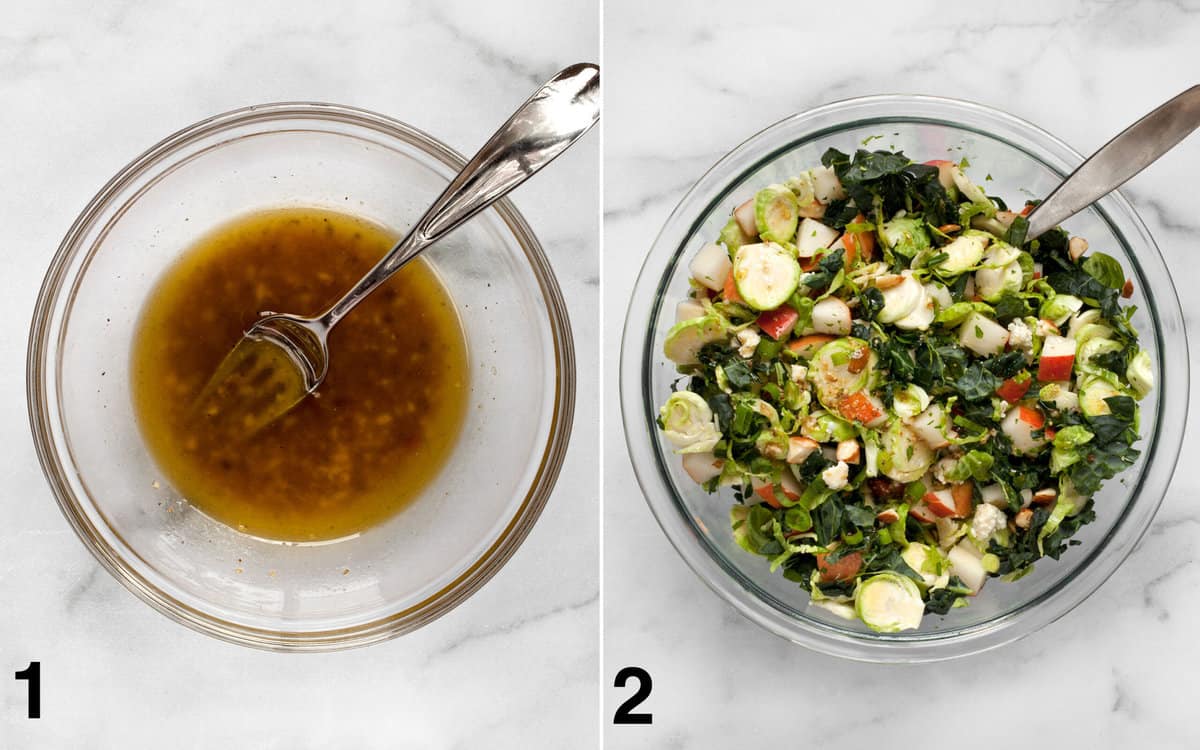 Serving The Salad
This is one of those big salads that definitely could be considered a lunch or dinner salad. It eats like a meal on its own.
But because it has brussels sprouts as a base, you can think of it as a side dish and a salad in one. These kinds of two-for-one dishes really come in handy for holiday meals such as Thanksgiving or Christmas.
Making The Vinaigrette In Advance
The salad is best made right before you are planning to serve it. So that means you should wait to slice the brussels sprouts, chop the kale and dice the pears.
But what you can do ahead of time is make the vinaigrette. Store it in the refrigerator up to 3 days in advance. You may find that the olive oil turns solid at the colder temperature in the fridge. Just run the airtight container with the dressing under warm water and shake it around for the oil to turn to liquid again.
Leftovers
Store leftover salad in an airtight container up to 3 days. If you know you are going to save some of the salad, do not toss that portion in the vinaigrette. Also, the salad will lose some of its crispness the longer it is stored.
Did you make this kale and brussels sprout salad? Please leave a rating and comment below. Thanks!
Kale and Brussels Sprout Salad with Pears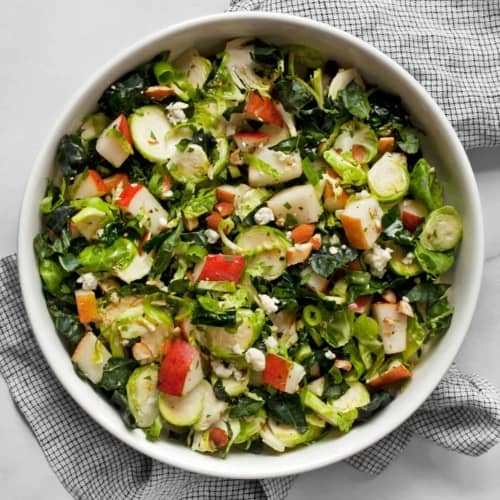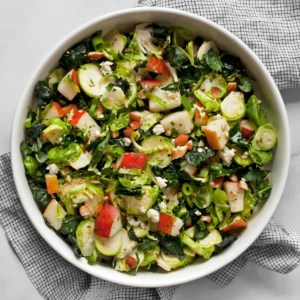 With bitter greens, this kale brussels sprout pear salad has everything from sweet fruit to salty blue cheese to crunchy almonds all tossed in sherry vinaigrette.
Ingredients
For vinaigrette

1

garlic clove

minced

1

teaspoon

whole grain mustard

2

tablespoons

sherry vinegar

1/4

teaspoon

kosher salt

1/4

teaspoon

black pepper

1/4

cup

olive oil

For salad

1

pound

brussels sprouts

trimmed and thinly sliced lengthwise

2

cups

chopped Lacinato kale

ribs removed

2

scallions

thinly sliced

2

red Bartlett pears

cored and diced

1/4

cup

roughly chopped almonds

1/4

cup

crumbled blue cheese

1

tablespoon

chopped parsley
Instructions
For the vinaigrette, whisk together the garlic, mustard, sherry vinegar, salt, pepper and olive oil in a small bowl.

In a large bowl, combine the brussels sprouts, kale, scallions, pears, almonds, blue cheese and parsley.

Drizzle the vinaigrette into the salad, tossing to combine.
Notes
You can use curly green kale instead of lacinato kale.
Pecans, walnuts or sunflower seeds are great substitutes for the almonds.
If you prefer a cheese that is less strong, try feta or goat cheese.
You can add more sweetness and texture with 1/4 cup dried cranberries.
The vinaigrette can be made up to 3 days in advance. Store in an airtight container in the refrigerator. If the olive oil becomes solid, run the container under hot water and shake it around. The olive oil will turn into liquid again.
Store leftover salad in a separate container from the vinaigrette up to 3 days in the fridge.
Nutrition
Calories:
310
kcal
|
Carbohydrates:
27
g
|
Protein:
8
g
|
Fat:
21
g
|
Saturated Fat:
4
g
|
Polyunsaturated Fat:
3
g
|
Monounsaturated Fat:
13
g
|
Trans Fat:
0.003
g
|
Cholesterol:
6
mg
|
Sodium:
294
mg
|
Potassium:
700
mg
|
Fiber:
9
g
|
Sugar:
12
g
|
Vitamin A:
2136
IU
|
Vitamin C:
113
mg
|
Calcium:
160
mg
|
Iron:
3
mg
Nutrition information is automatically calculated, so should only be used as an approximation.
Originally published December 2, 2021. Updated: December 19, 2022.