Kale Brussels Sprout and Pear Salad
It's pretty much a guarantee that I will have greens in my fridge—usually at least two kinds at any given time.
Spinach is a must for my morning berry smoothie, but the other leaves depend on what salads I have planned for the week ahead. Garbage salads are one of my go-to meals.
I find I can stretch odd amounts of leftovers. My solution is to add a few handfuls of salad greens along with vinegar and oil.


It's my way of cleaning out the fridge and avoiding food waste while getting more than my daily requirement of veggies.
I love Romaine for chopped salads, but ever since the massive recall, I've been feeling kind of lost. It has pushed me to reach for other options.
I'm beginning to see Romaine reappear on restaurant menus. Yet the selection at the grocery is still mostly spinach and arugula.


With such limited choices, I ended up making a kale, brussels sprout and pear salad, and I'm not sure that I miss all the other salad mixes.
Brussels sprouts have been appearing in lots of my recent fall salads. They are good shredded or trimmed with the leaves separated. Sprouts are tasty roasted, but I think I prefer them left raw.
Kale Brussels Sprout and Pear Salad: The Ingredients
For this kale brussels sprout and pear salad, I shredded brussels sprouts and tossed them with chopped Lacinato kale and scallions.


To offset those bitter greens, I added diced red Bartlett pears for subtle sweetness and crumbled blue cheese for something a bit salty, strong and pungent. Chopped almonds gave the salad crunch.
For the dressing, I whisked together sherry vinaigrette and drizzled it over this hearty bowl of mixed greens.
The combination of kale and brussels sprouts was satisfying and crunchy.
This kale brussels sprout and pear salad satisfied my craving for chopped salad and was more nutritious than just simply Romaine.
Print
Kale, Brussels Sprout and Pear Salad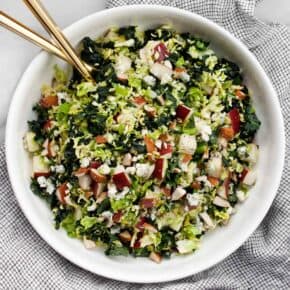 Prep Time:

15 minutes

Total Time:

15 minutes

Yield:

Serves 4
Ingredients
For salad
4 cups chopped Lacinato kale
1 pound brussels sprouts, shaved thinly with a mandolin or a food processor fitted with the slicing disc
2 scallions, thinly sliced
2 red pears, cored and diced
1/4 cup roughly chopped almonds
1/4 cup crumbled blue cheese
1 tablespoon minced chives
For vinaigrette
1 garlic clove, minced
2 tablespoons sherry vinegar
1/4 teaspoon kosher salt
1/4 teaspoon black pepper
1/4 cup olive oil
Instructions
In a large bowl, combine the kale, brussels sprouts, scallions, pears, almonds, blue cheese and chives.
For the vinaigrette, combine the garlic, sherry vinegar, salt and pepper in a small bowl. Whisk in the olive oil until fully combined. Drizzle the vinaigrette into the salad, tossing to combine.
SHARE THIS