Almond Flour Cake
on Dec 09, 2022, Updated Dec 19, 2022
With just 8 ingredients, this almond flour cake recipe is lovely, simple and perfect no matter the season or the occasion. You don't need a layer cake or frosting to make a beautiful dessert. It turns out deep golden brown on the outside and is decorated with almonds sprinkled on the batter before the cake goes in the oven.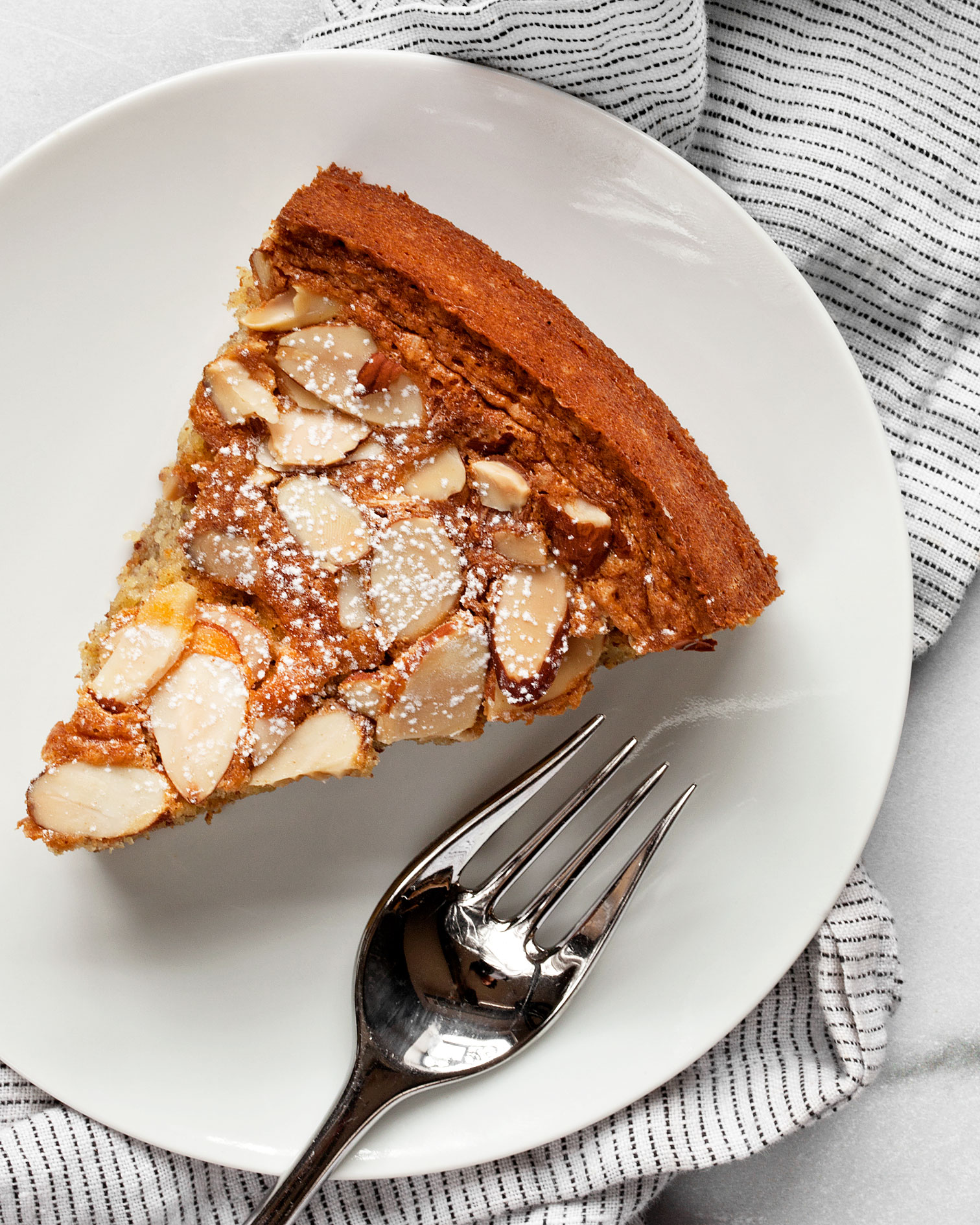 Why You'll Love This Cake
It is delicious and happens to be gluten-free. Since it's made with almond flour instead of all-purpose flour, there is no gluten in the recipe. But I still bake it even if I know there isn't anyone who will be eating it who has a dietary restriction. The cake is just that good.
This cake is simple. It only has 8 ingredients. And many of them you probably already have in your pantry or fridge on a regular basis. So this can be a more spontaneous bake, one that doesn't require going to the grocery.
You can pair it with different things when you serve it. From chocolate to fruit, almonds and nuts play well with so many other flavors. Take advantage of that and add variety and options.
The Ingredients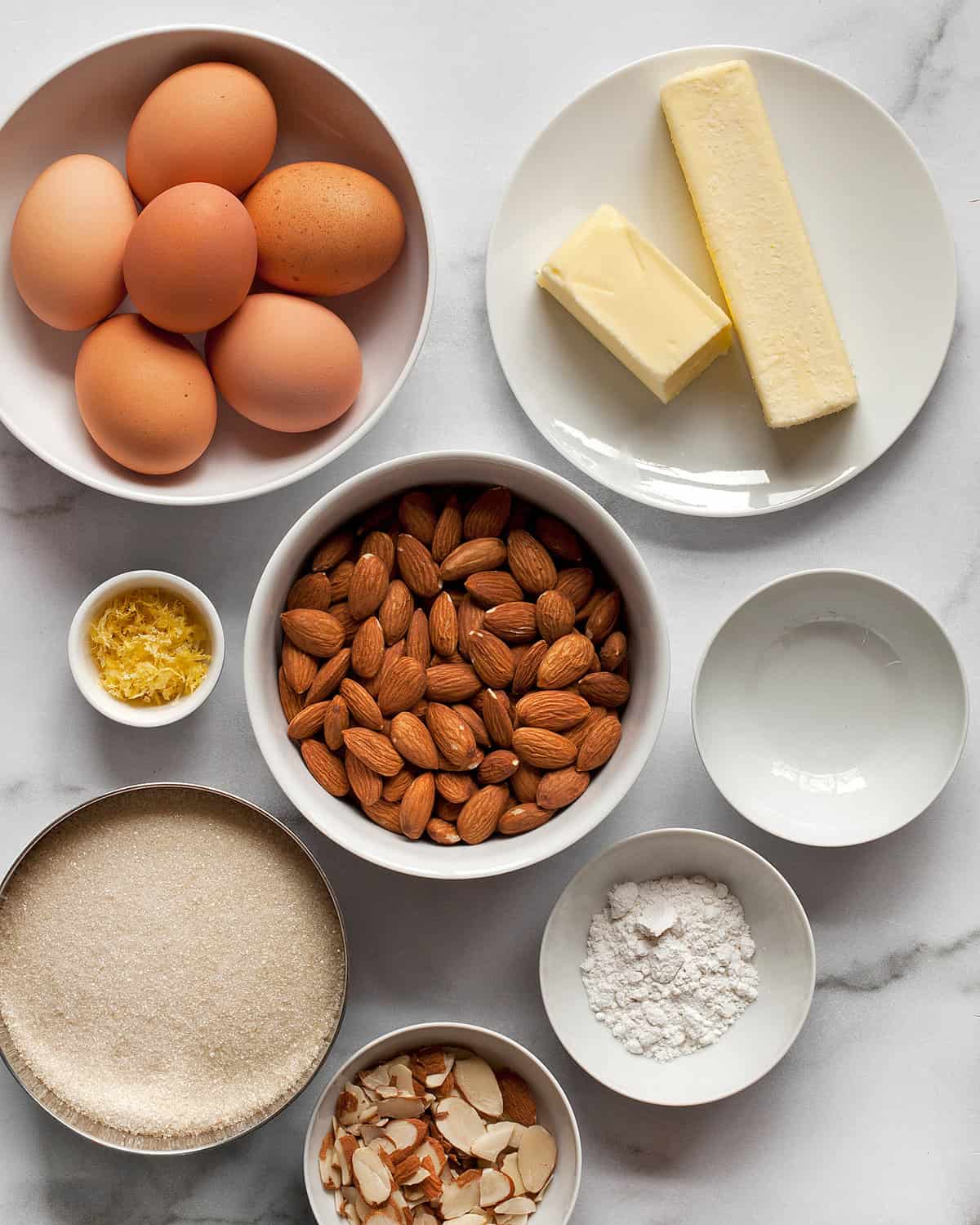 This is what you need:
Almonds: The recipe calls for unroasted, unsalted almonds. You grind them in the food processor to make them into almond meal.
Butter: Like most baking recipes, use unsalted butter for this cake.
Eggs: For the recipe, you need 6 large eggs. And 3 of those you will separate into yolks and whites. One of the final steps for the batter is to whip the egg whites into soft peaks. This helps the cake rise.
Granulated sugar: Creaming the butter and sugar gives the cake air and volume. Because of this, you don't need baking powder or another leavening agent. It also evenly mixes and dissolves the sugar granules into the batter.
Almond extract, no surprise, makes the cake fragrant and gives it an almond-y taste. It's not enough to do this with the nuts on their own. The cake doesn't need vanilla extract.
Lemon zest adds something bright and citrusy.
Sliced almonds are sprinkled on the batter once it is in the pan. They add texture and a finished look that lets people know the flavor of the cake.
Confectioner's sugar, also known as powdered sugar, should be dusted on the cake right before you are about to serve it.
Variations
With baking it is important to stick to the script rather than improvise. But one easy way to change the personality of this cake is with the citrus zest. Instead of lemon, you can use orange zest or lime zest or a mix.
How To Make This Almond Flour Cake Recipe
Preheat the oven to 350 degrees F. Grease a springform pan and line the bottom with parchment paper.
1. Cream the butter and sugar. It's best to use a stand mixer or electric hand mixer to do this. Give it 3-4 minutes. In this time the butter and sugar will become pale and fluffy.
2. Separate 3 of the eggs and beat the egg yolks into the creamed butter and sugar. Then add the almond extract.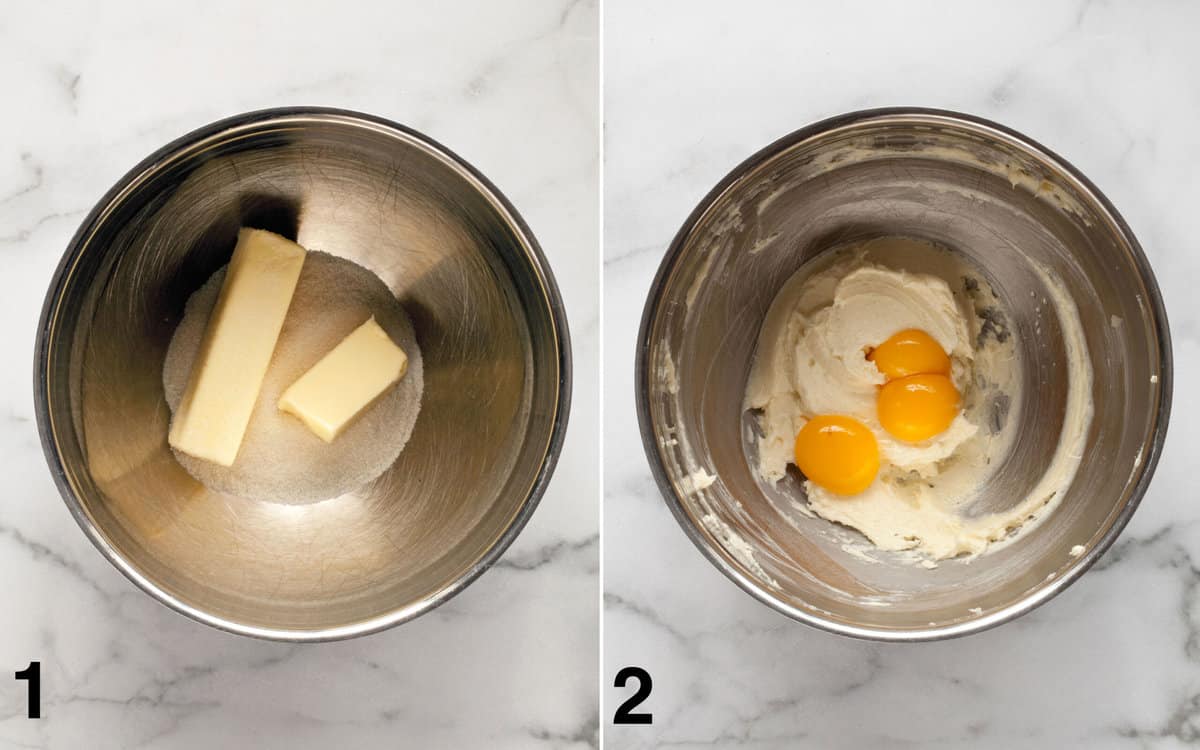 3. Grind the almonds in a food processor. They should be a fine, flour-like consistency.
4. Pulse the sugar, lemon zest and 3 whole eggs into the ground almonds.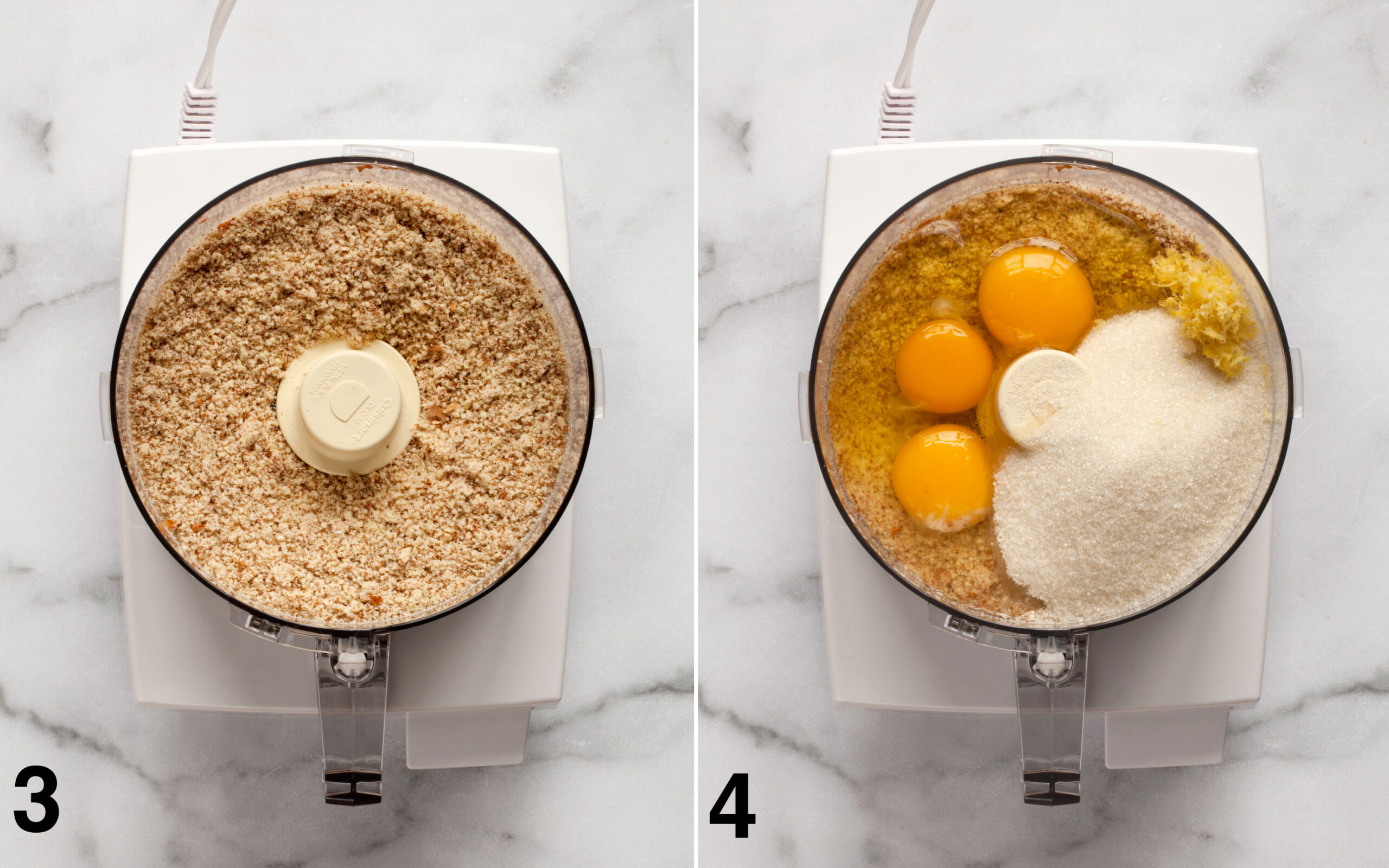 5. Beat the egg whites in a separate bowl. Before you do this, make sure to clean the beaters of the mixer. If there is any residual butter or fat, it will prevent the whites from reaching soft peak stage. As you beat the whites and they become foamy, add the remaining sugar. Then continue mixing until they hold soft peaks.
6. Stir the nut mixture into the creamed butter and sugar.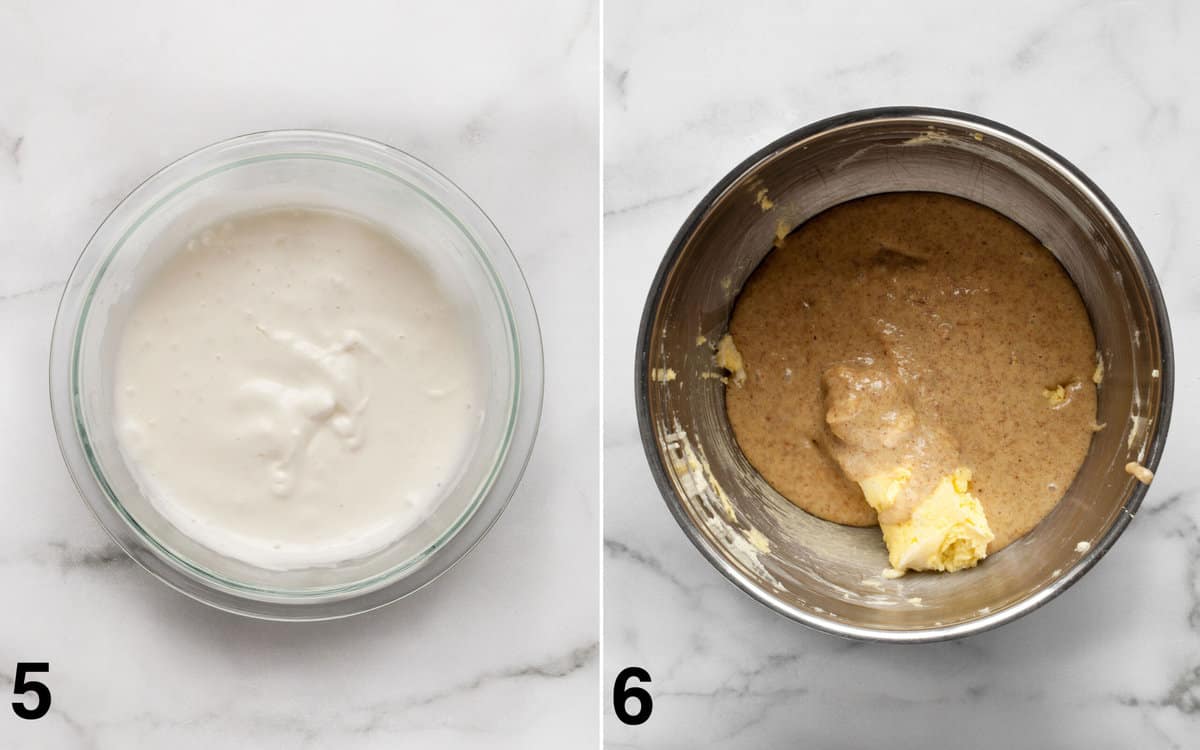 7. Fold in the egg whites. Be gentle when you do this, so you don't lose any volume.
8. Spread the cake batter into the pan and add sliced almonds, covering the top.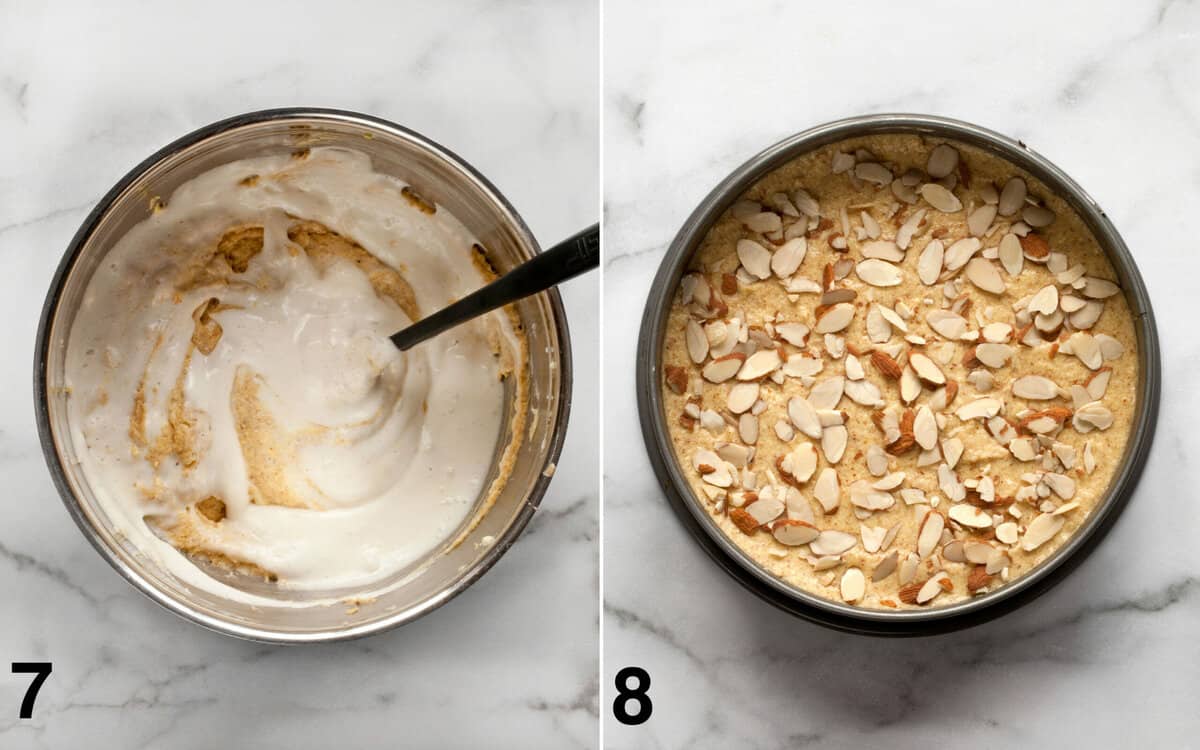 9. Bake the cake until it turns golden brown, about 30 minutes. A toothpick inserted in the center should come out clean. Wait 10 minutes for the cake to cool slightly and then remove it from the pan. Dust with powdered sugar before serving.
Recipe Tips & Shortcuts
You can use store-bought almond meal instead of grinding it yourself. Maybe you don't have a food processor or perhaps you want to save a little time. Then just stir together the almond meal, sugar, lemon zest and eggs in a large bowl.
Make sure to let the butter sit at room temperature, so it is very soft. Then it will easily combine with the sugar. Plan ahead and put it on the kitchen counter. I do this before I go to sleep if I am planning to bake the next morning.
Slowly and carefully stir the egg whites into the batter. Be patient. Everything will eventually combine. If you do this too quickly and vigorously, your cake won't rise as much as it should.
What To Serve with Almond Cake
As mentioned, nuts go with lots of other flavors. Depending what kind of dessert person you are, you can go with any of these or a combination:
Fruit including fresh berries and citrus
Ice cream in flavors such as chocolate, chocolate chip, salted caramel or vanilla
Whipped cream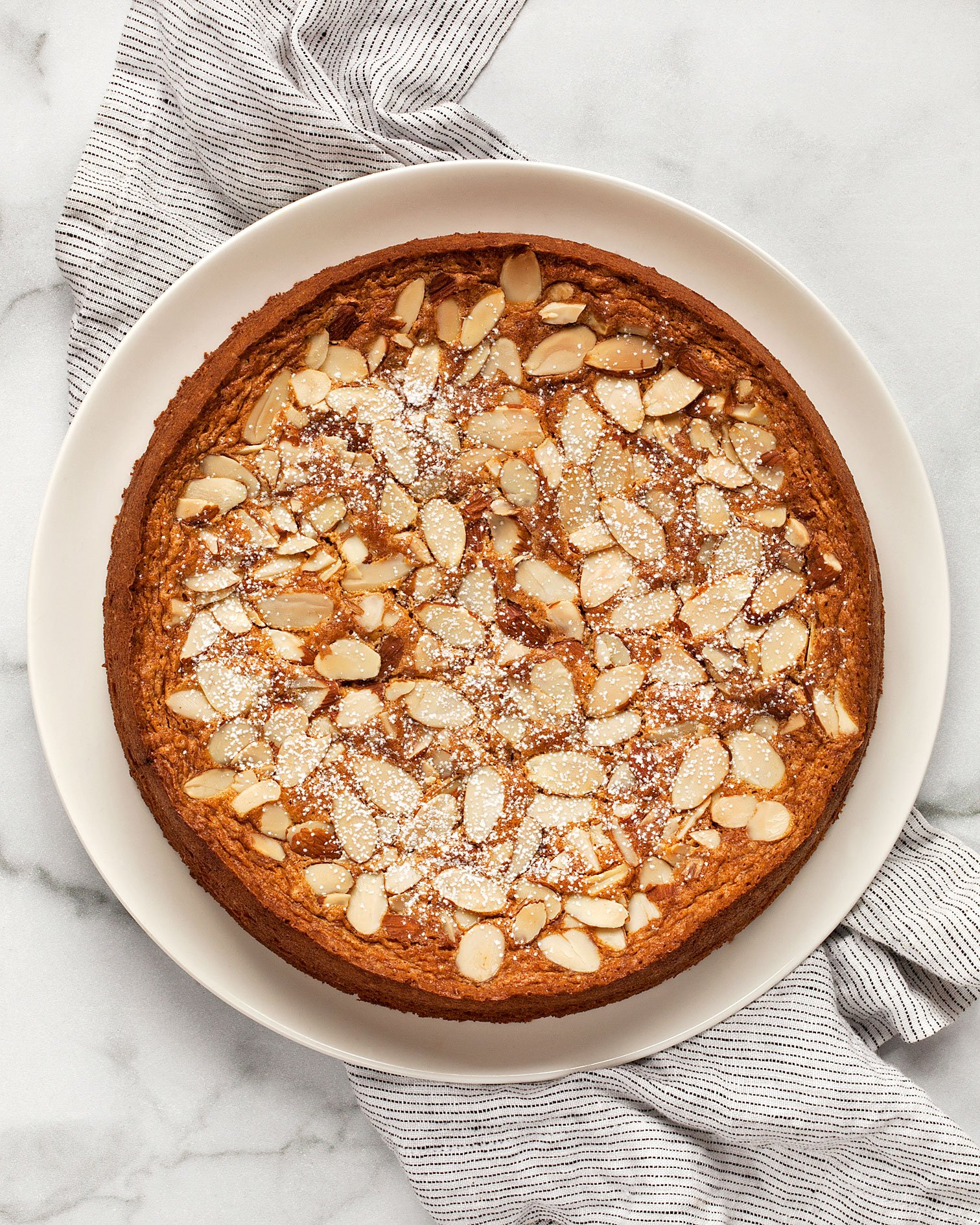 Leftovers & Storing
Store the cake in an airtight container at room temperature. It will stay good for 4 days. You can freeze the cake to keep it up to 1 month. I recommend cutting it into slices or smaller segments rather than freezing an entire cake. Let it thaw slowly in the refrigerator.
FAQs
What is the difference between almond meal and almond flour?
Almond meal is made from ground almonds with their skins. For almond flour, the almonds have been blanched to remove their skins before they are ground. Almond flour is for more delicate baked good like macarons. Almond meal is good for quick breads, cookies and rustic cakes.
What is a springform pan?
A springform pan is a pan with a ring that sits on a base, so the sides can be easily removed. It is essential for cheesecake, quiche, frozen desserts and some cakes when it would be difficult or impossible to get them out of a traditional cake pan with fixed sides. Also, if your cake is very delicate, it could split or break if you try to flip it over to remove it.
What do soft peaks mean?
This is when you beat egg whites or whip cream to the point that it has thickened enough that when you hold your whisk upside down, the peaks will slowly fall back into themselves.
SaveSave
Gluten-Free Almond Flour Cake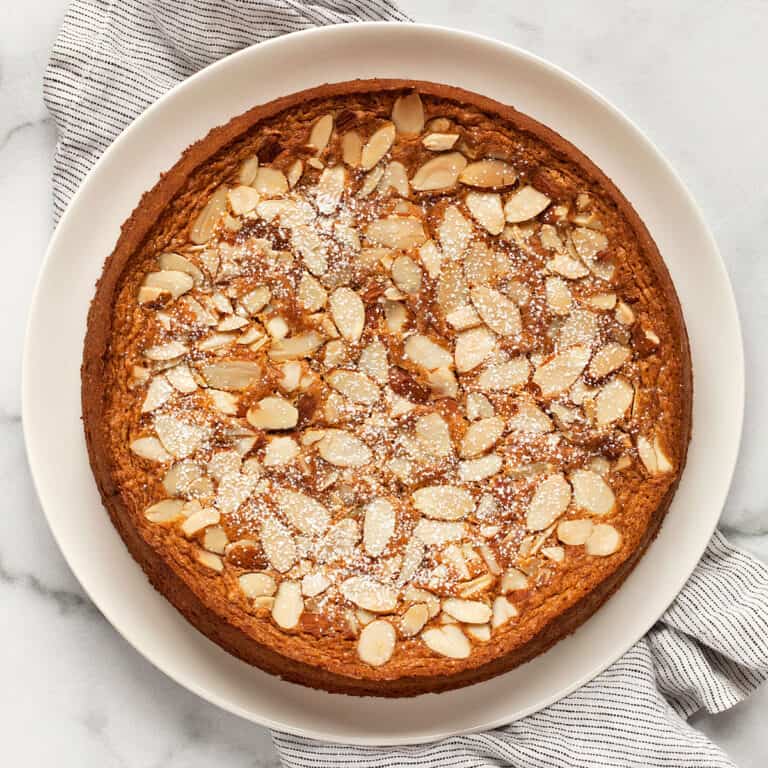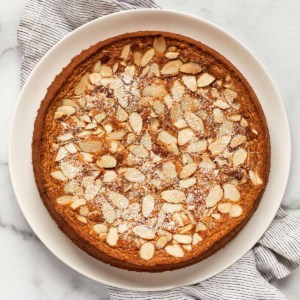 Fragrant and nutty, this easy gluten-free almond cake is wonderfully buttery with a moist crumb. It's topped with sliced almonds that toast in the oven as the cake bakes.
Ingredients
12

tablespoons

unsalted butter at room temperature plus more for pan

1-1/4

cups

granulated sugar

6

large eggs

1/2

teaspoon

almond extract

8

ounces

whole almonds

Zest of 1 lemon

1/4

cup

sliced almonds

Confectioners' sugar for serving
Instructions
Preheat the oven to 350 degrees F. Butter a springform pan and line the bottom with parchment paper.

Use an electric mixer to cream the butter and 1/4 cup sugar until light and fluffy, about 3-4 minutes.

Separate 3 of the eggs. Beat 3 yolks into the sugar-butter mixture until it turns pale. Then add the almond extract.

In a food processor, grind the nuts into a fine meal. Add 3/4 cup granulated sugar, lemon zest and 3 whole eggs. Pulse to mix everything together.

Clean the beaters of the electric mixer. In a medium bowl, beat the egg whites. When they become foamy, slowly add the remaining sugar, beating until soft peaks form.

Gently stir the nut mixture into the creamed butter and sugar.

Fold in the egg whites.

Transfer the batter to the prepared pan and top with sliced almonds.

Bake until the cake is golden brown and a toothpick inserted in the center comes out clean, about 30 minutes. Let the cake cool for 10 minutes before removing from the pan. Cool on a wire rack.

Dust with confectioners' sugar before serving.
Notes
Instead of grinding the almonds, you can use 8 ounces of almond meal. Then stir it together with the sugar, lemon zest and eggs in a large bowl rather than doing this in a food processor.
Serve the cake with fresh fruit, ice cream or whipped cream.
Leftover cake can be stored in an airtight container at room temperature up to 4 days.
To freeze the cake, wrap it tightly and put it in an airtight container up to 1 month. Thaw it in the refrigerator.
Adapted from Mark Bittman
Nutrition
Calories:
400
kcal
|
Carbohydrates:
31
g
|
Protein:
9
g
|
Fat:
29
g
|
Saturated Fat:
10
g
|
Polyunsaturated Fat:
4
g
|
Monounsaturated Fat:
12
g
|
Trans Fat:
1
g
|
Cholesterol:
134
mg
|
Sodium:
40
mg
|
Potassium:
224
mg
|
Fiber:
3
g
|
Sugar:
26
g
|
Vitamin A:
563
IU
|
Calcium:
86
mg
|
Iron:
1
mg
Nutrition information is automatically calculated, so should only be used as an approximation.
Originally published March 29, 2018. Updated: December 9, 2022.