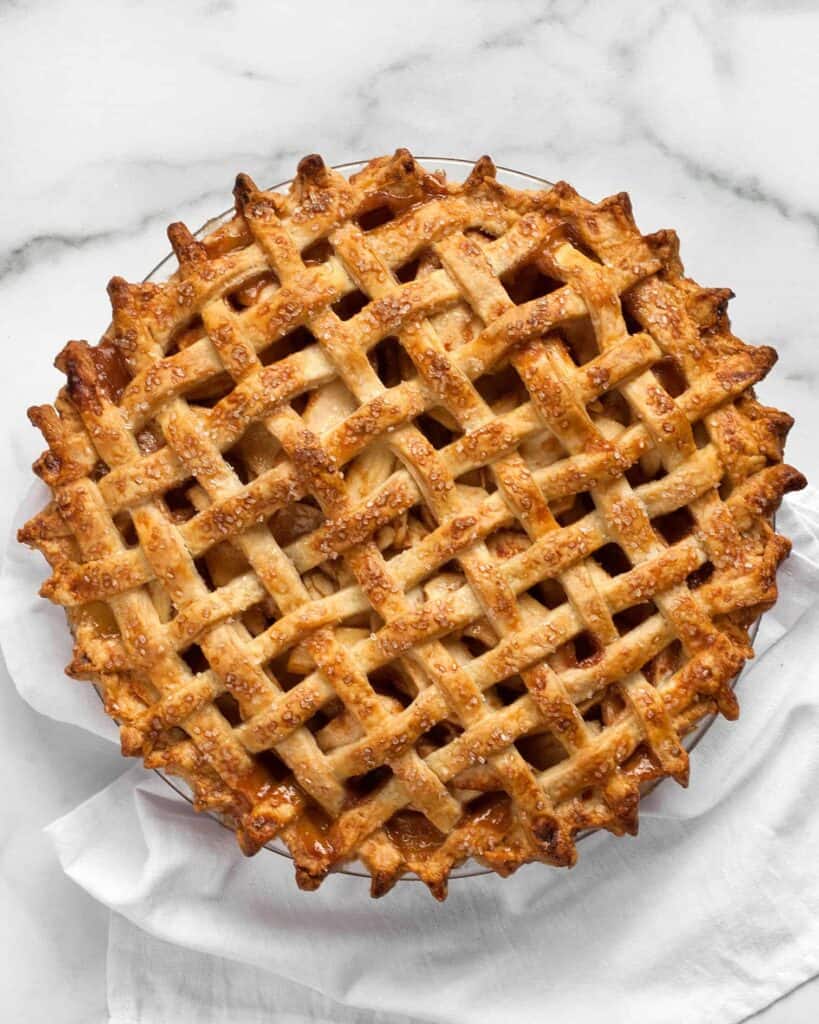 The assignments for Thanksgiving dinner have been handed out.
Of course I am excited. The more things to make, the better!
Thanksgiving is the Super Bowl of family holidays. It's time that I bring my A game.
I'm responsible for 3 sides plus 1 dessert.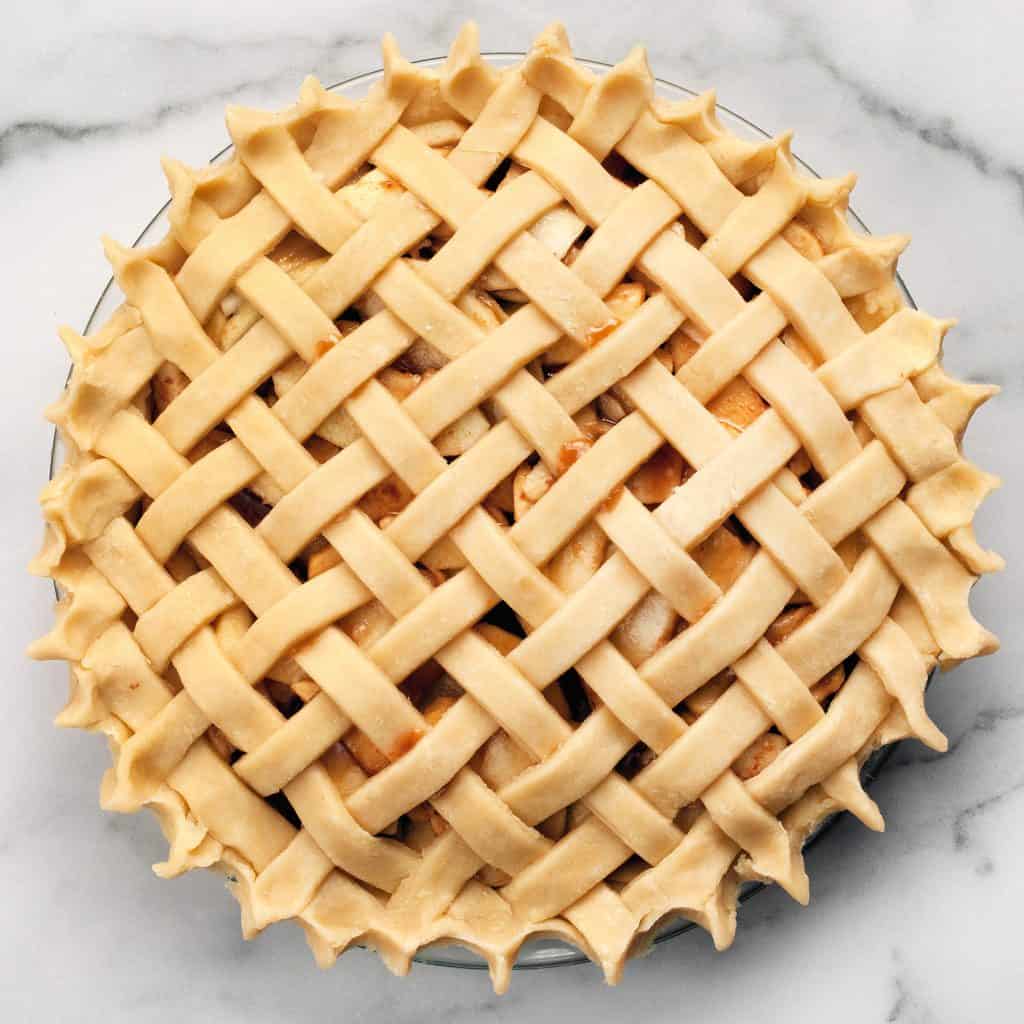 The sides are no problem. The key thing is to find side dishes that are good served at room temperature.
That's actually true with pretty much everything for Thanksgiving when competition for the oven is fierce.
Dessert for some reason always has me stumped.
There are just so many good options from a pear almond tart to even chili chocolate pumpkin marble bread.
But you can't go wrong with pie. It's the ultimate classic.
Indecision is my problem.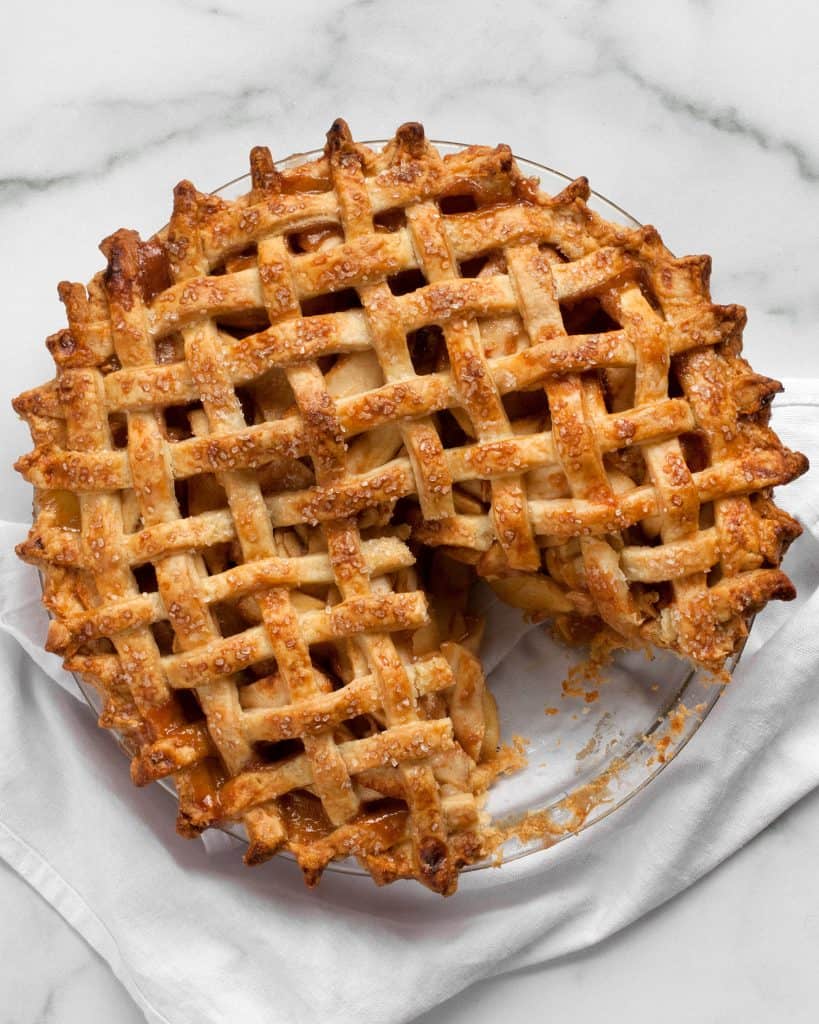 My trouble making up my mind results in late night online shopping.

I ordered mini pie pans thinking I would do one big salted caramel apple pie with smaller pies in other flavors to go with it.
The choices wouldn't disappoint anyone, right?
Then I talked myself out of that crazy plan. Why not just go with a single spectacular dessert?

When it's that good, do you really need options?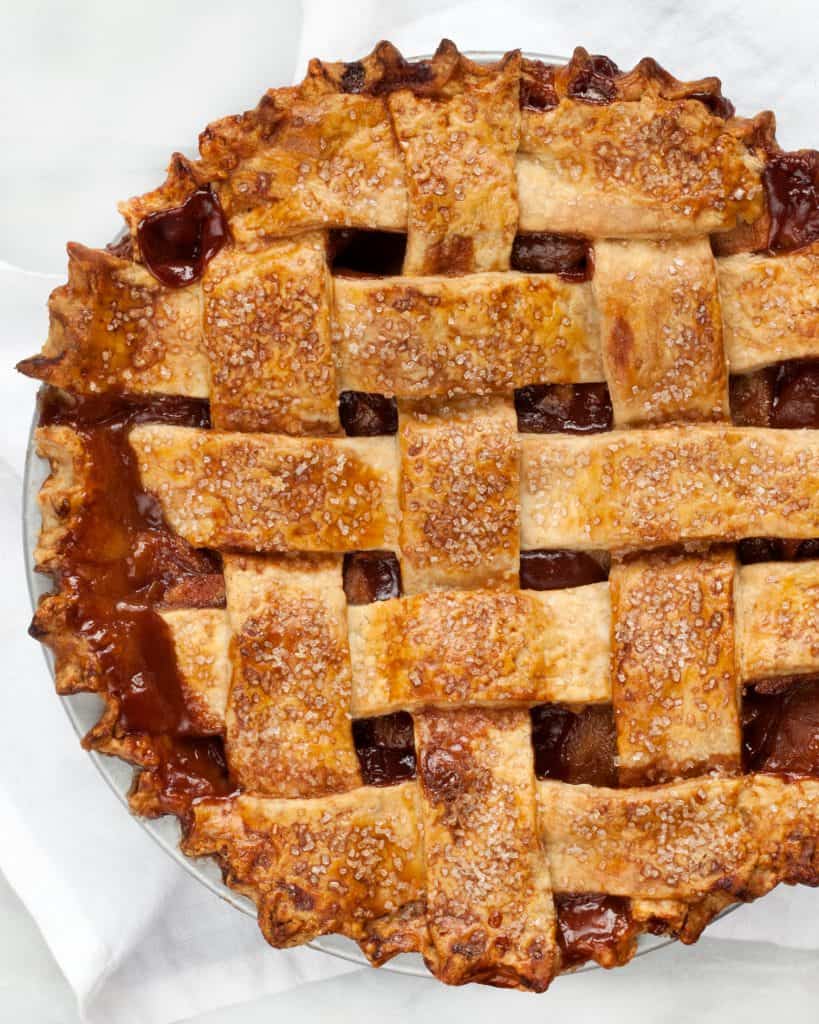 How To Make Salted Caramel Pie
I posted a picture of this salted caramel pie on Instagram on Thanksgiving Day 2017.

Now I've gotten around to posting an official recipe before this year's festivities.

Pie is great to prep for holidays because you can do the steps in phases.

I always make the dough for the pie in advance and chill it in the fridge for a day or so.

When I am ready assemble and bake the pie, I started by cooking the salted caramel on the stove.

The filing is everything you would crave for an apple pie. It's a mix of Honeycrisp and Granny Smith apples along with cinnamon, ginger, cloves and nutmeg.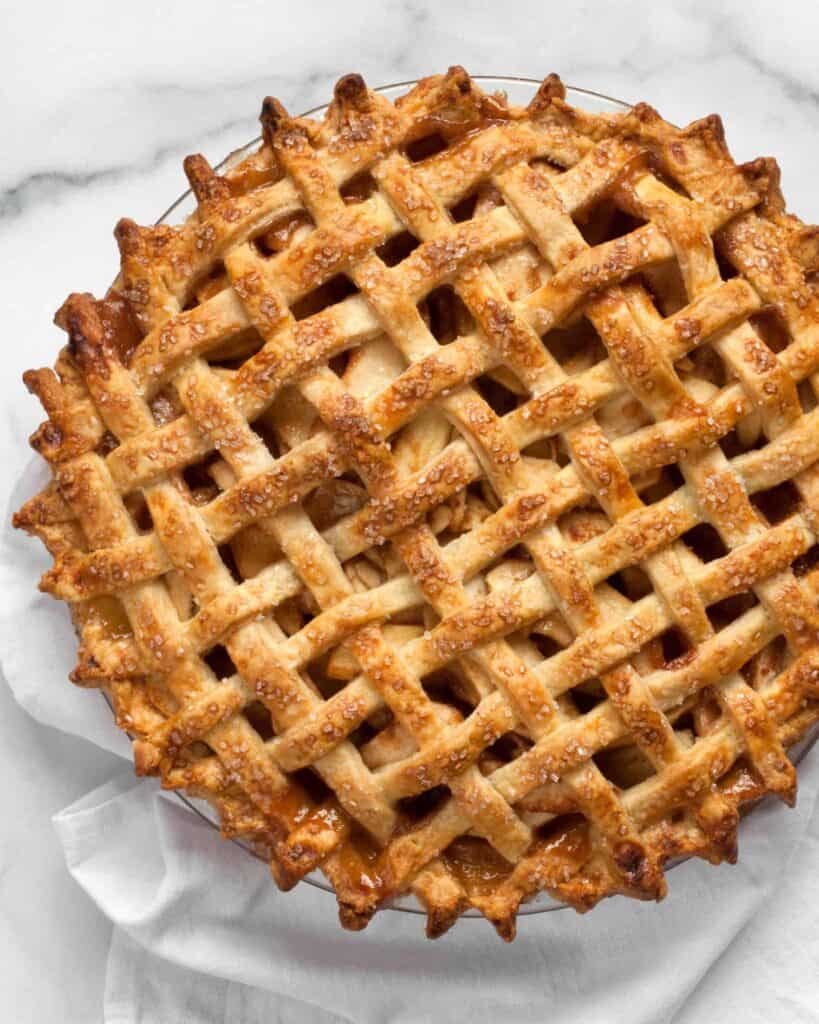 With the filling prepped, I roll out the bottom crust and put it in the dish.
I use a spoon to pile on the apples and pour in the salted caramel.
For the top crust, I am always a fan of a lattice. It looks beautiful with narrow or wide strips.
To finish the pie, I crimp the edges and brush the top with an egg wash and sprinkle on sanding sugar for a sweet crunch.
Every time I bake a salted caramel apple pie, there are never any leftovers. We polish it off.
What's left in the pie dish are crumbles a pool of caramel.
Print
Salted Caramel Apple Pie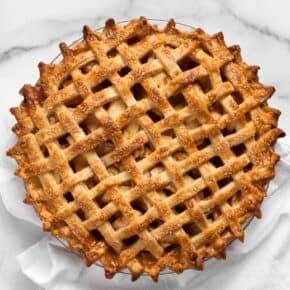 Prep Time:

1 hour 30 minutes

Cook Time:

1 hour 15 minutes

Total Time:

2 hours 45 minutes

Yield:

1 pie
Ingredients
For dough
2-1/2 cups all-purpose flour plus more for work surface
1 tablespoon granulated sugar
1 teaspoon kosher salt
1 cup (2 sticks) unsalted butter, chilled and cut into cubes
4-6 tablespoons ice cold water
For caramel
1 cup granulated sugar
1/4 cup water
1/4 cup heavy cream
4 tablespoons unsalted butter, cubed
1 teaspoon vanilla extract
1 teaspoon sea salt
For filling
6 large apples (Honeycrisp and Granny Smith), peeled, cored and sliced thinly
Juice of 1 lemon
1/2 cup granulated sugar
1/4 cup all-purpose flour
2 teaspoons ground cinnamon
1/4 teaspoon ground ginger
Pinch of ground cloves
Pinch of ground nutmeg
For pie
1 egg, lightly beaten
1 tablespoon sanding sugar
Instructions
For the dough, combine the flour, sugar and salt in a large bowl. Use a fork or pastry blender to cut the butter into the flour mixture until it forms pea-sized clumps. Use a spatula or wooden spoon to gradually fold the water into the dry ingredients.
When the dough starts to form, use your hands to bring it together into a ball. Divide the dough in half, press into disks and cover with plastic wrap. Chill in the refrigerator for at least 1 hour or up to 2-3 days.
Preheat the oven to 375 degrees F.
To make the caramel, combine the granulated sugar and water into a medium saucepan over medium-low heat, stirring frequently until the sugar has dissolved. Increase the heat and bring the caramel to a boil and stop stirring. Brush down the sides of the saucepan with a wet pastry brush as necessary.
When the caramel is a deep amber color, remove it from the heat and whisk in the heavy cream, butter, vanilla extract and salt. For the filling, in a large bowl, combine the apples, lemon juice, sugar, flour, cinnamon, ginger, cloves and nutmeg.
On a lightly floured work surface, roll out one of the dough disks into an 11-inch diameter circle about 1/8-inch-thick. Transfer the dough to a 9-inch pie plate. Spoon the filling into the pie and pour 1/2 cup caramel sauce over the apples.
Roll out the remaining dough into a rough 9-inch-by-12-inch rectangle. Cut into strips. Lay half the strips over the pie. Weave the remaining strips in the opposite direction, folding back the perpendicular strips as you go. (For lattice inspiration, try here and here).
Trim the strips creating a 1-inch overhang, Tuck the strips under the crust and crimp the edges. Brush with the beaten egg and sprinkle with sanding sugar.
Bake the pie for 1 hour to 1 hour 15 minutes until the crust is golden brown and the filling is bubbling. If the crust starts browning too quickly, loosely cover with foil.
Cool the pie to room temperature before serving.
SHARE THIS