Looking for a cure for the cold weather blues? Try this zippy, fresh beet orange kale salad with pistachios, scallions and a mix of naval and blood oranges.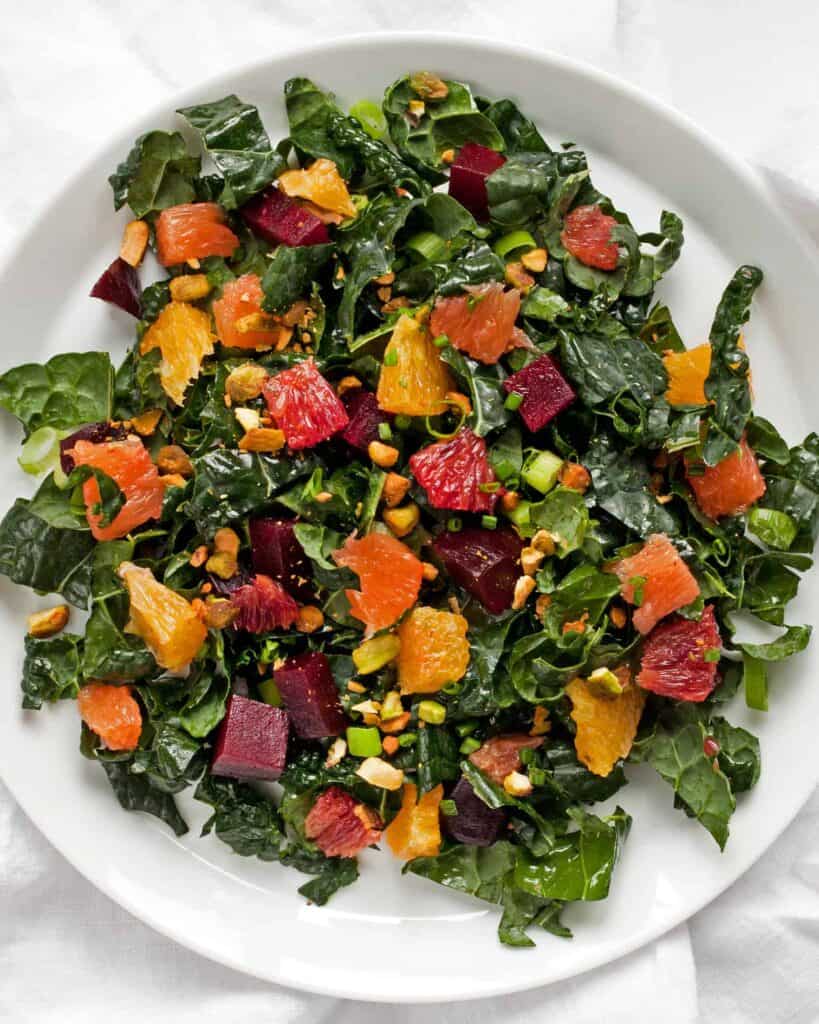 I love how vegetables that many of us once refused have become popular.
Who knew that brussels sprouts and cauliflower would each become such a thing?

Never in my dreams would I have ever thought these veggies would get me giddy with excitement when I saw them on a restaurant menu.

Kale also falls in this category. The kale salad has actual become a cliché.

But I don't care. I am proudly kale obsessed.

It won't matter if its trendy status fades, I am here for kale for the long haul.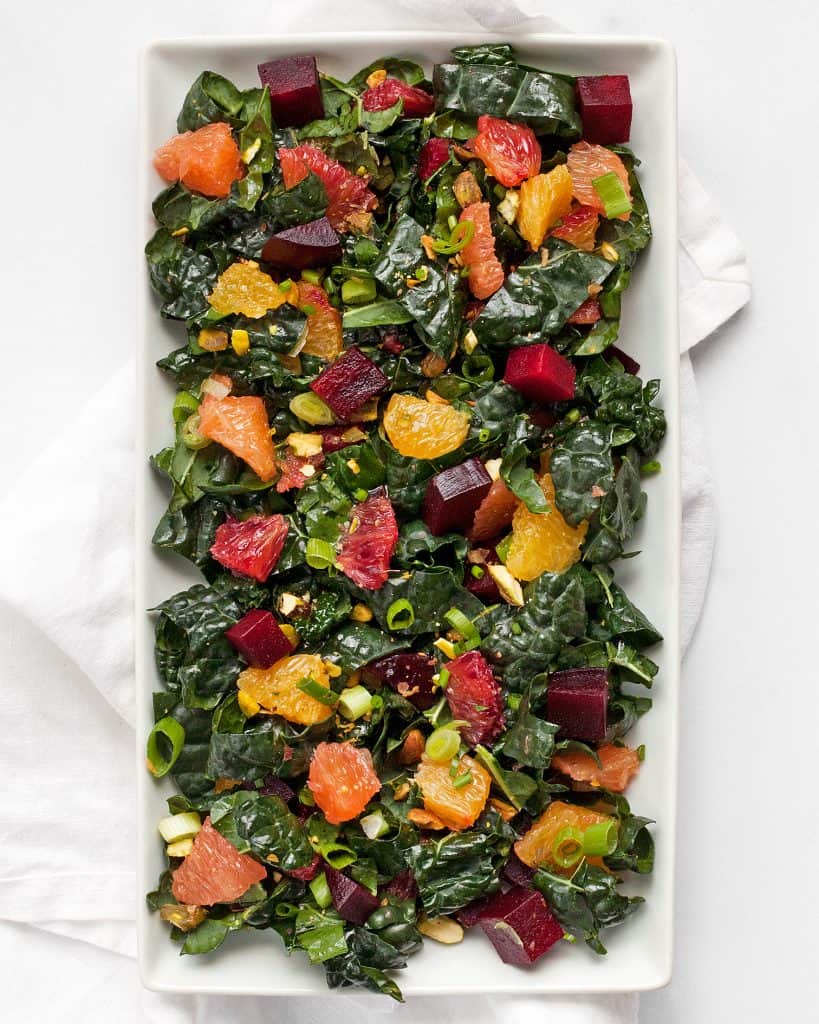 Kale leaves are sturdy. They stand up to any dressing or other ingredient that would potentially cause other types of greens to wilt under their weight.

During the winter months, I like roasting vegetables and tossing them into salads. That could involve sweet potatoes, fingerling potatoes or even acorn squash.

Root vegetables that I sometimes forget about are beets.

It's not that they are difficult to cook. I just think the starchy carb-lover that I am to my core, reaches for potatoes to roast first.

Beets have their own distinct flavor. I think of them as earthy, but I'm not sure that's so descriptive.
What I know is that I do like beets in salads, especially ones with a kale base.

As we head into the colder months, I start eating more citrus in salads, too.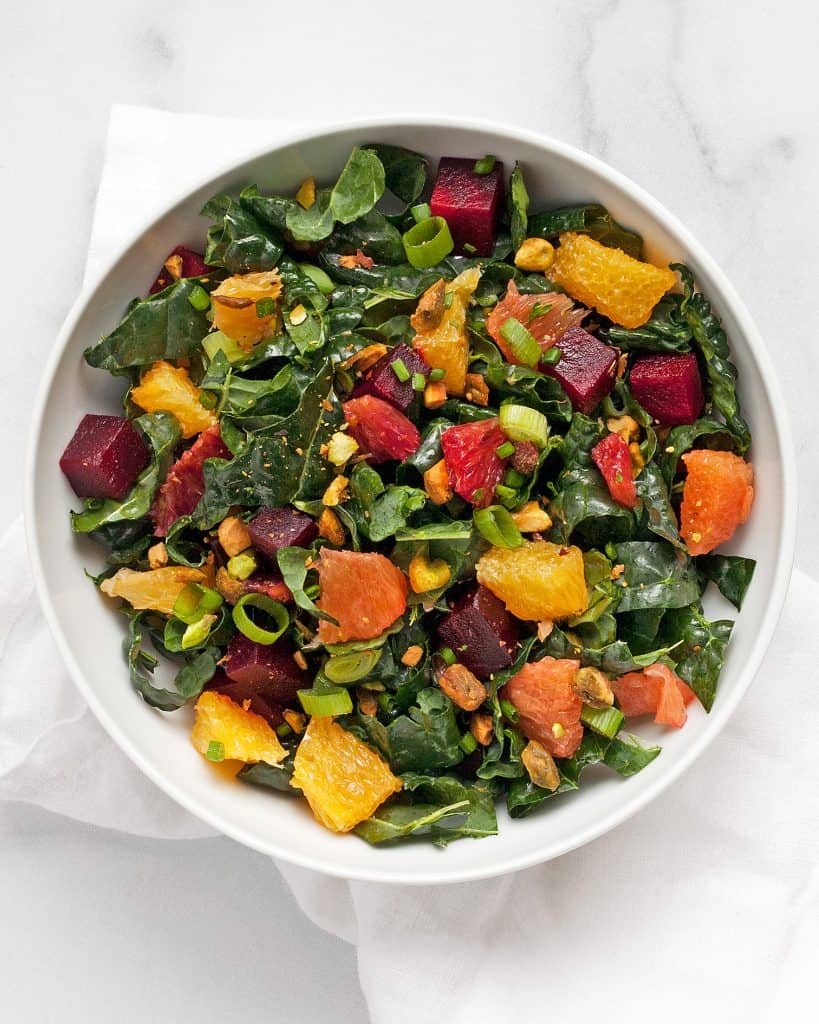 How To Make A Beet Orange Kale Salad
This kale beet orange salad is a winter salad that I've been making for the last couple years because it is so zippy and fresh.

I start by roasting the beets in foil packets in the oven.While that is happening, I slice the skin off the oranges including the white pith and cut out each of the segments.
I use a combination of naval and blood oranges and make sure to save the juice, which I whisk with olive oil, salt and pepper to make orange vinaigrette.
Then I toss the kale, oranges and beets with scallions, chives and chopped pistachios.
Yes, the beets can stain everything else in the bowl, but I don't mind seeing them make their mark on my kale beet orange salad.
Print
Beet Orange Kale Salad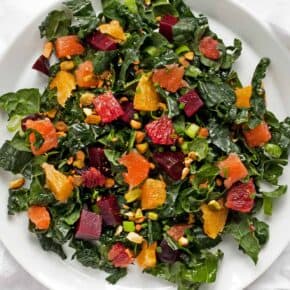 Author:
Prep Time:

15 minutes

Cook Time:

45-50 minutes

Total Time:

60-65 minutes

Yield: Serves

4

1

x
Scale
Ingredients
For beets
4 medium beets
1 tablespoon olive oil
1 teaspoon kosher salt
1/4 teaspoon black pepper
For salad
3 navel, blood or cara cara oranges
1/4 cup olive oil
1/2 teaspoon kosher salt
1/4 teaspoon black pepper
1 large bunch lacinato kale, stems removed and leaves roughly chopped
2 scallions, thinly sliced
1 tablespoon minced chives
1/4 cup chopped salted roasted pistachios
Instructions
Preheat the oven to 400 degrees F.
Place each beet on an individual sheet of aluminum foil. Drizzle the beets with olive oil and season with salt and pepper. Fold into loose packets and place on a sheet pan. Roast the beets for 45-50 minutes until they are easily pierced with a knife.
When the beets are cool enough to handle, use a paper towel to rub off the skin. Dice the beets.
Cut the skin and white pith from the oranges. Slice between the membranes removing the segments while collecting the juice in a small bowl. Dice the orange segments.
Whisk the olive oil, salt and pepper into the orange juice.
In a large bowl, combine the kale, scallions, chives and pistachios. Fold in the beets and oranges. (The beets may stain some of the other ingredients in the bowl.)
Drizzle with orange vinaigrette.
SHARE THIS