A simple salad that makes the most of citrus season, this orange olive salad has peppery watercress, feta, toasted walnuts, parsley and orange vinaigrette.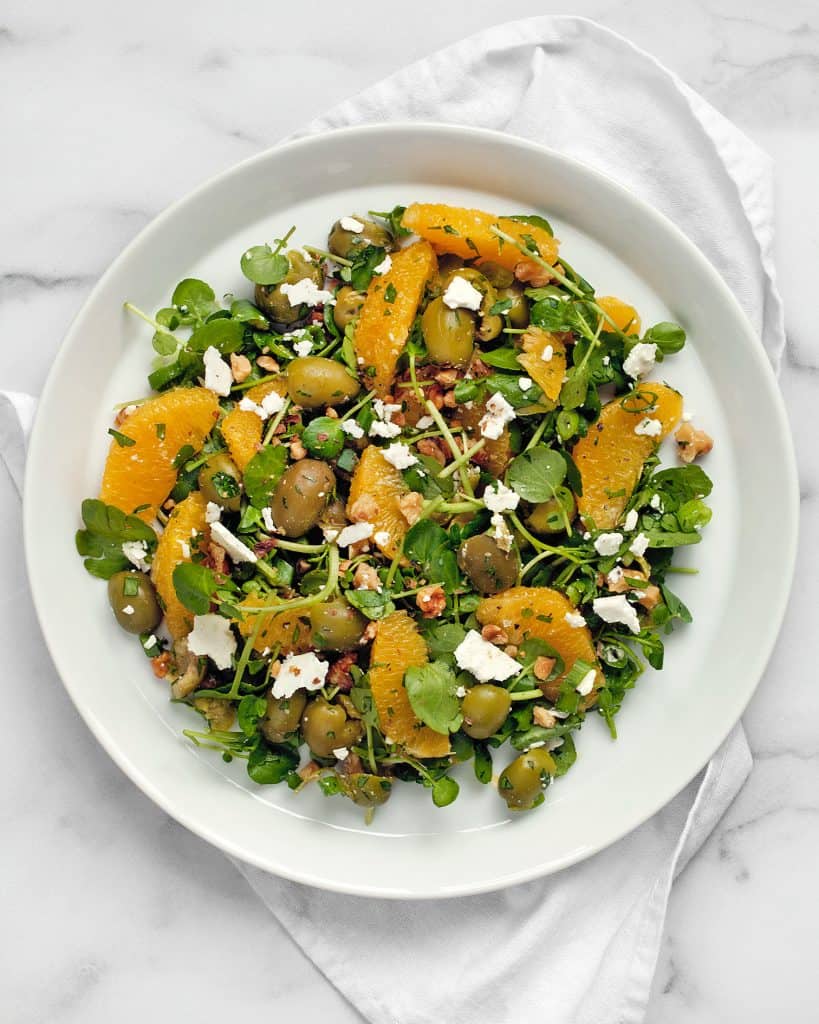 Citrus is getting me through winter, but I admit it's more about the zest than the actual flesh.
From lemon to lime to orange, I love pulling out my microplane and adding zest to sweet and savory dishes.

My 6-year-old is very into the dessert and breakfast treat uses for zest.
We've had baked donuts on repeat. Together we zest a mix of citrus since he can't just chose one.

For the grownups, I add lemon zest to grains and pasta dishes like lemon pepper spaghetti.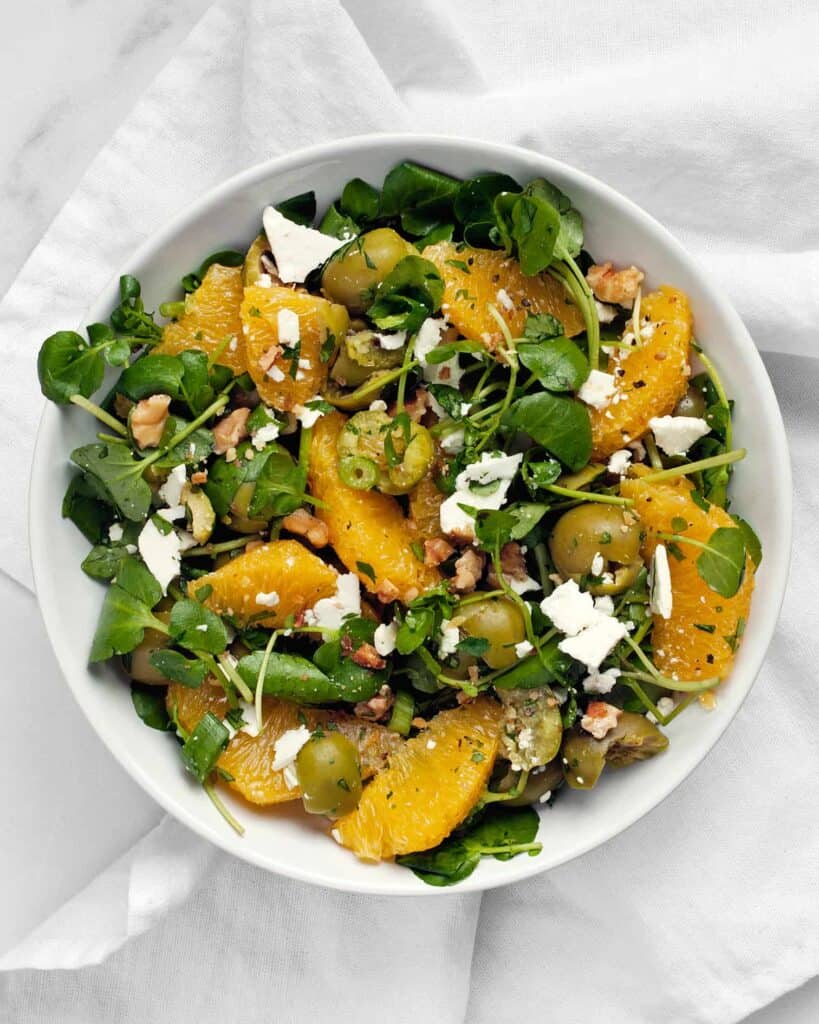 I just love the scent of citrus on my hands—a definite perk of cooking and baking with this powerful ingredient.
With all this zesting, I've ended up with a surplus of oranges with patchy skin from removing the zest.
Snacking on segments is one option, but the other is to incorporate fruit into salads.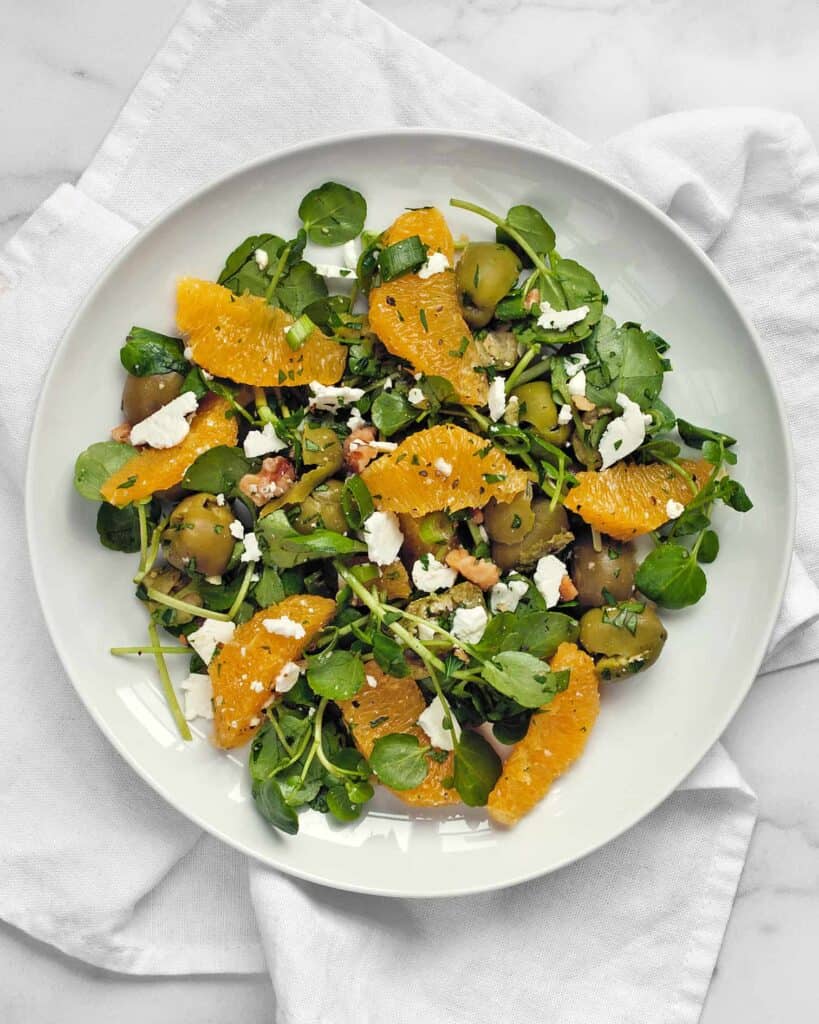 No matter the season whether it's berries or peaches in the summer or figs in the fall, I love the addition of sweeter ingredients with greens.
This orange olive salad also adds subtle salty flavors to the mix.

The green olives are Castelvetrano olives. Yes, that is a total tongue-twister, but don't be intimidated, they are easy to find at the olive bar at the grocery.

Castelvetrano olives are more mild than deep brown, almost black Kalamata olives, which more people might be familiar with.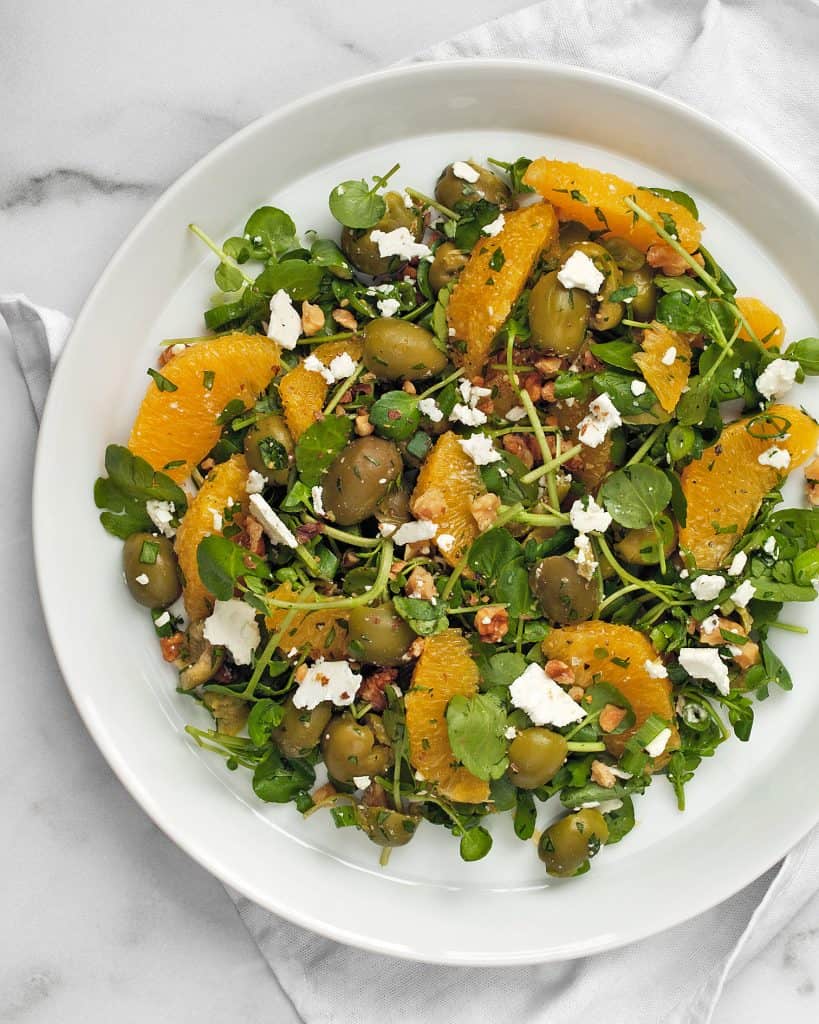 How To Make An Orange Olive Salad
You can buy these firm green olives pitted, but I like to do the work myself just pushing down with the back of my chef's knife, letting the skin split and pulling out the pit by hand.
I prefer the jagged edges of olives pitted by hand instead of the perfectly circular hole that is clear evidence the work was done by a machine.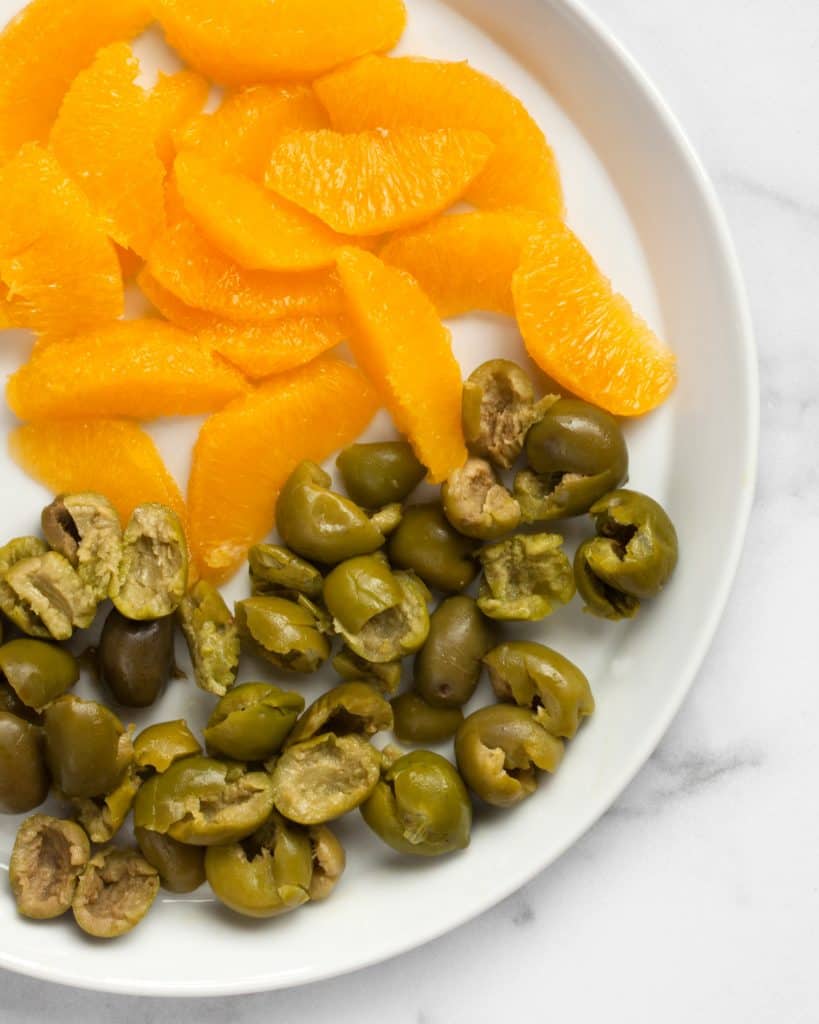 For the navel oranges, I slice off the skin and cut out the orange segments catching the juice in a small bowl.
Then I whisk white wine vinegar, olive oil, salt and pepper into the juice to make an easy vinaigrette.
I toss the oranges and olives into a bowl of peppery watercress with scallions, parsley, toasted walnuts and thin slices of salty feta cheese.
To finish, I add a drizzle of dressing to this orange olive salad.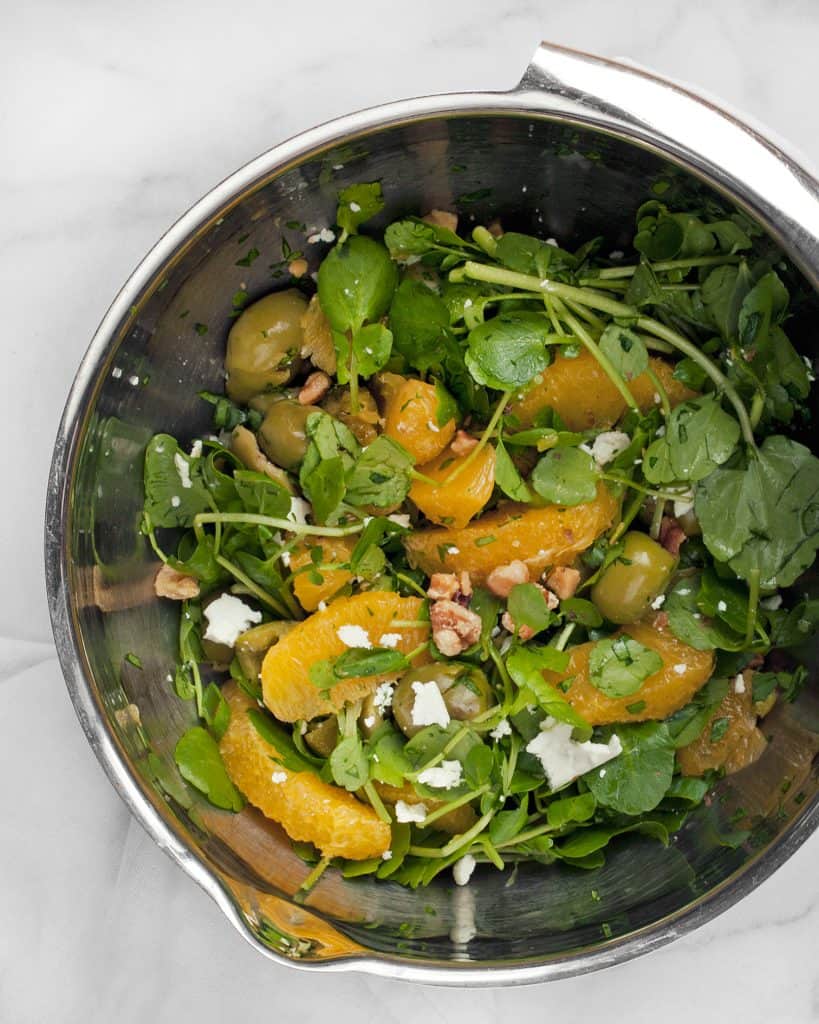 Print
Orange Olive Salad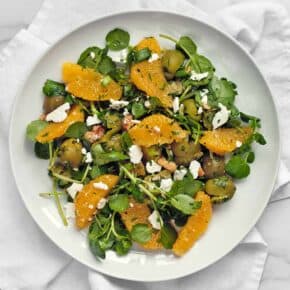 Author:
Prep Time:

15 minutes

Cook Time:

–

Total Time:

28 minute

Yield: Serves

4

1

x
Scale
Ingredients
2 Navel oranges
1 tablespoon white wine vinegar
1/2 teaspoon kosher salt
1/4 teaspoon black pepper
1/4 cup olive oil
1 cup Castelvetrano olives, pitted
4 ounces watercress
2 scallions, thinly sliced
1/4 cup roughly chopped toasted walnuts
1 tablespoon chopped parsley
1 ounces feta, thinly sliced and crumbled
Instructions
Cut the peel and white pith from the oranges. Slice between the membranes removing the segments while collecting the juices in a bowl. Whisk in the vinegar, salt and pepper and then the olive oil.
In a large bowl, combine the oranges, olives, watercress, scallions, walnuts, parsley and feta. Drizzle with the vinaigrette, tossing to combine.
SHARE THIS