Charred Tomato Panzanella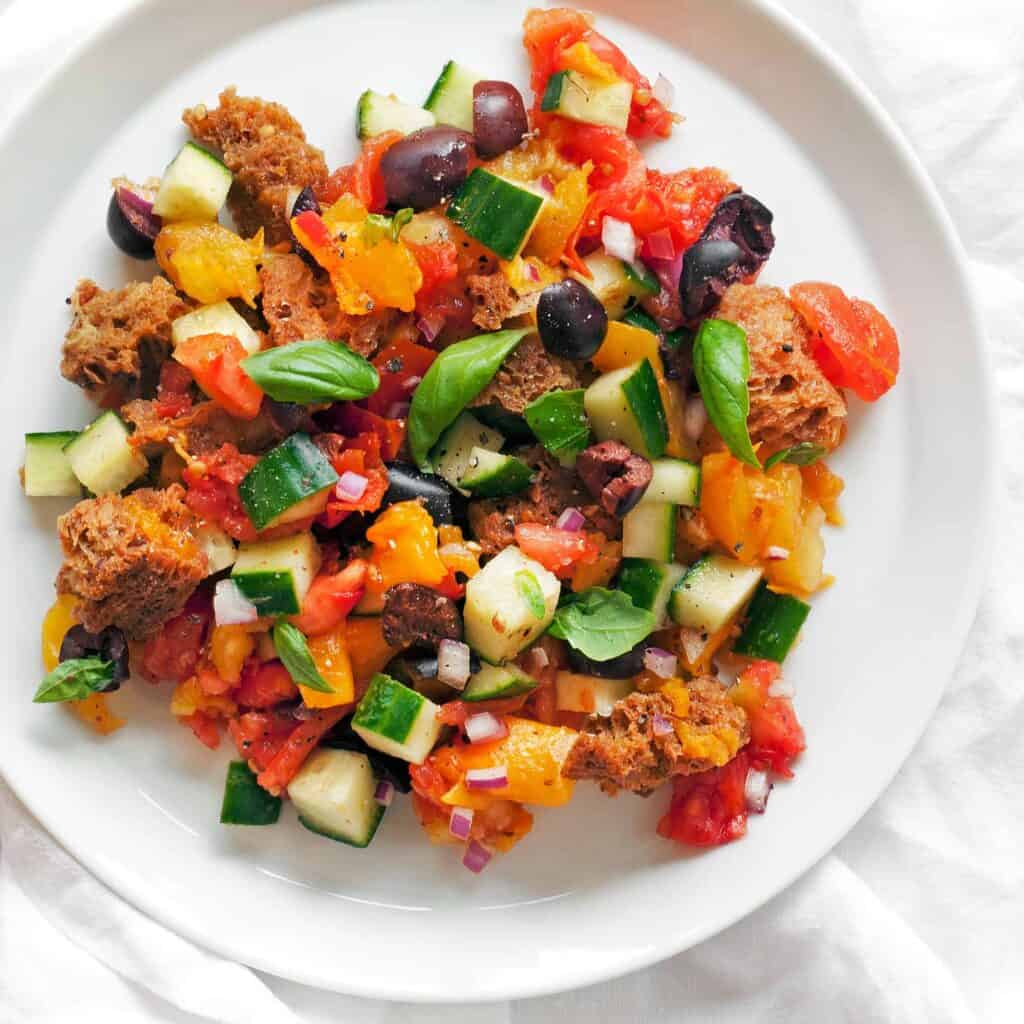 There are two salads that I have on repeat every summer: Greek salads and panzanella salads.
They have a few things in common. Neither salad is based on lettuce. Both are dressed with vinaigrettes.
The most important similarity is that they involve tomatoes. In fact, tomatoes are one of the key ingredients.
That explains why panzanella and Greek salads are at their peak during summer tomato season.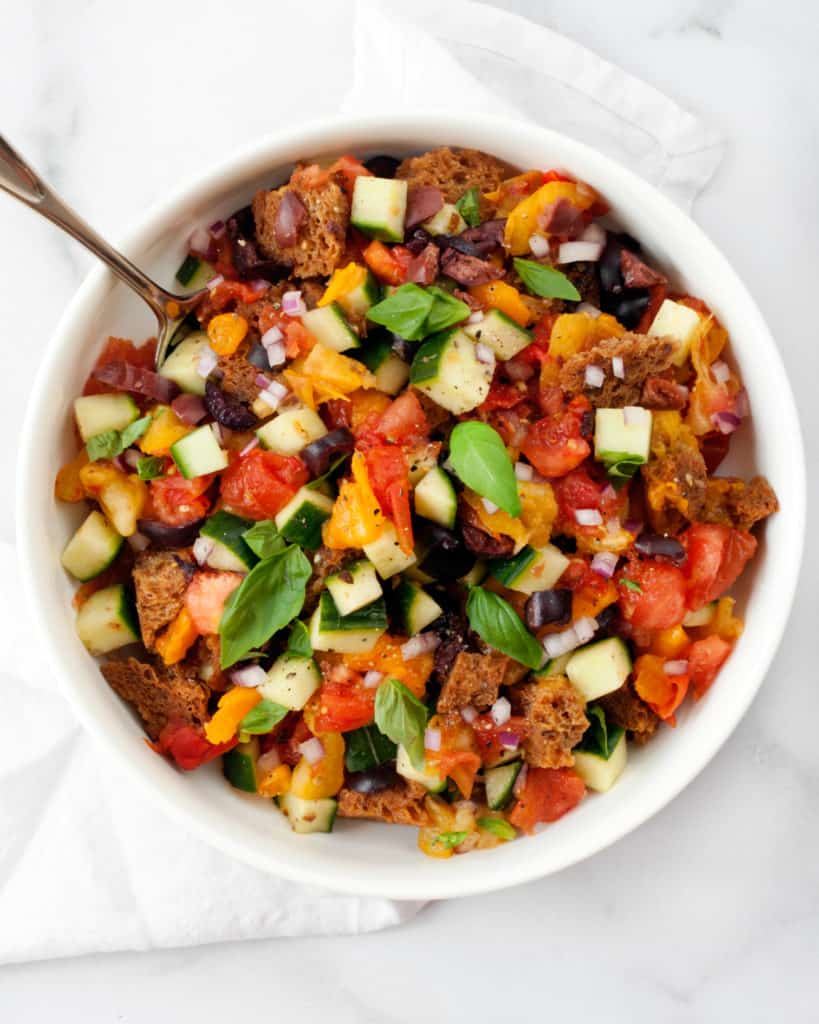 From fresh tomato sauce to Caprese salads, the cans of tomatoes in my pantry are collecting dust at this very moment.
Tomatoes are one of my top 5 most used ingredients. With every variety at my fingertips from beefsteaks to green zebras to sweet 100s, I swap tinned for fresh. I do my best to get them into as many meals as possible.
The classic panzanella uses raw tomatoes. I put in a little more effort than usual and used the broiler for this charred tomato panzanella.
How To Make Charred Tomato Panzanella
Before I work on the tomatoes, I toss torn crusty bread in olive oil, salt and pepper. Then I toast them on a sheet pan in the oven until they turn deep golden brown.
I like to use multi-grain bread, but any hearty loaf would work.
Next I switch the oven from bake to broil. I arrange the tomatoes on an aluminum foil-lined sheet.
The tomatoes are in a row, so they all get an equal amount of heat from the broiler flame.
I roast the tomatoes for a few minutes and then flip them over to the other side. The skin blisters and chars a bit.
Once the tomatoes are cool enough to handle, I roughly chop them, discarding any loose skin.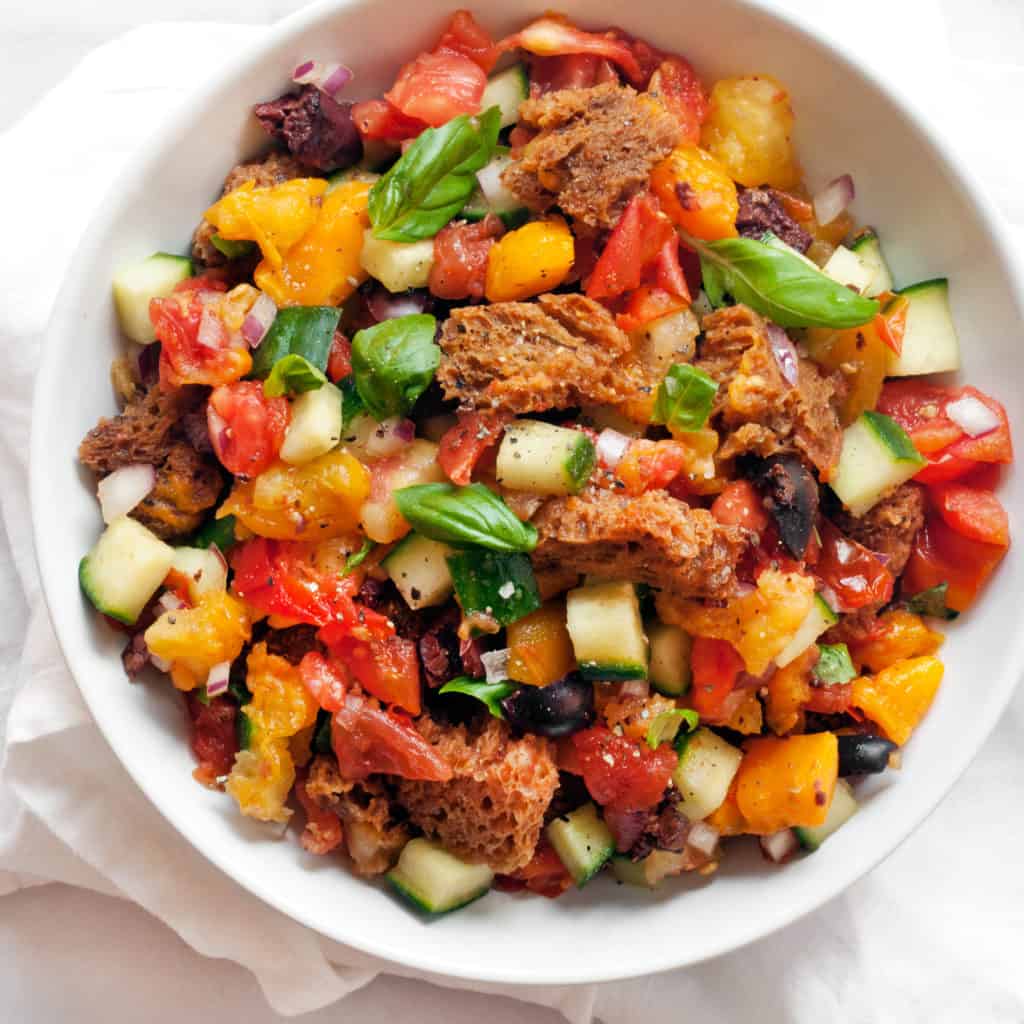 Roasting the tomatoes is worth the time because it really enhances their flavor.
I put the tomatoes into a big bowl and carefully pour out the excess juices because I don't want them to overwhelm the bread.
Then I fold in chopped cucumbers, pitted Kalamata olives and red onions, olive oil and red wine vinegar.
I stir in torn basil and the bread along with salt and pepper.
This charred tomato panzanella makes the most of each tomato. To stretch the salad and make it last longer, I eat it mixed with quinoa or arugula.
Print
Charred Tomato Panzanella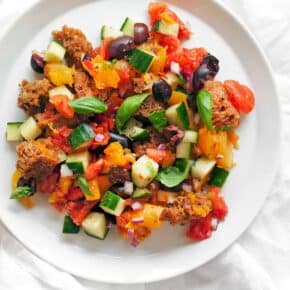 Prep Time:

15 minutes

Cook Time:

17-18 minutes

Total Time:

32-33 minutes

Yield: Serves

4

1

x
Scale
Ingredients
6 ounces crusty bread, torn into pieces
1 tablespoon +1/4 cup olive oil
1/2 teaspoon kosher salt plus more for serving
1/2 teaspoon pepper plus more for serving
4 – 5 large ripe tomatoes (about 3 pounds)
1 small English cucumber, diced
1/2 small red onion, roughly chopped
1 cup pitted Kalamata olives, roughly chopped
2 tablespoons red wine vinegar
1/4 cup torn fresh basil leaves
Instructions
Preheat the oven to 425 degrees F.
Place the bread on a sheet pan and toss with 1 tablespoon olive oil, salt and pepper. Bake the bread until it toasted and deep golden brown, about 15 minutes, stirring halfway through baking.
Preheat the broiler. Place the tomatoes on a foil-lined sheet pan and broil until charred and blistered, about 2-3 minutes per side.
When the tomatoes are cool enough to handle, roughly chop them, discarding any loose skin. Put the tomatoes into a large bowl.
If there is excess juice from the tomatoes, carefully pour it out of the bowl.
Add the cucumbers, onions, olives, 1/4 cup olive oil and red wine vinegar and season with salt and pepper.
Stir in the bread cubes and basil before serving.
SHARE THIS