There are few special classics that are basically summer on a plate.
With tomatoes, basil and fresh mozzarella, the caprese salad is absolutely one of them, if not the best example.

I wish I could say that every summer we get our act together and plant a garden in containers on our back deck.

All sorts of commitments tend to get in the way from family to work. It's amazing how watering plants once, maybe twice, a day sounds like too much to do.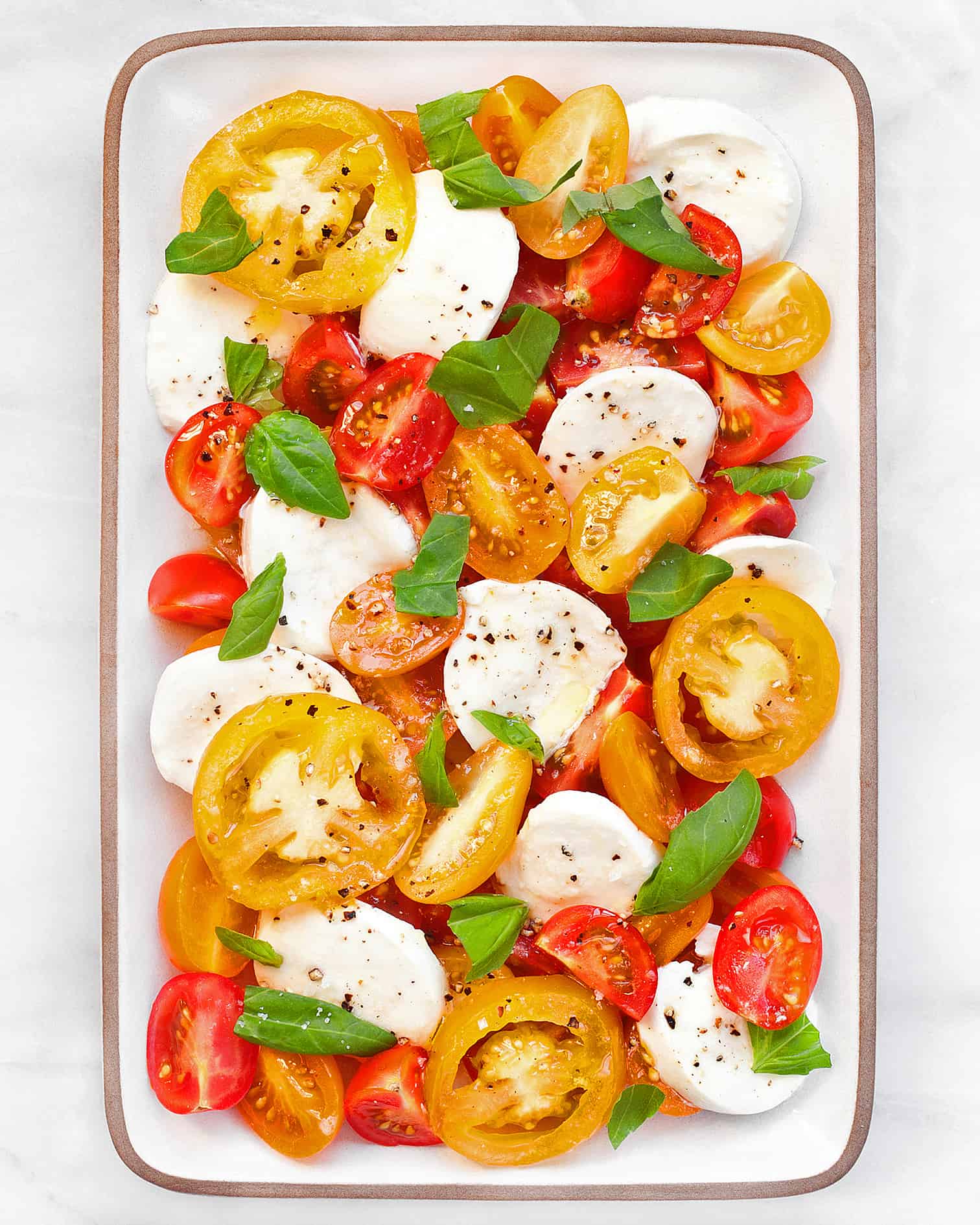 As much as I want to claim a garden as my own, I turn to the farmers market for my tomatoes and basil.

The selection is pretty great, and I love taking in that relaxed atmosphere of a sunny weekend Saturday or Sunday to do my shopping.

A traditional caprese is sliced tomatoes, mozzarella and basil leaves drizzled with olive oil, and sprinkled with salt and pepper.

I have a few variations that I like.

I will simmer balsamic vinegar until it reduces into a thick syrup. Then I drip that tart sauce on top of the tomatoes and mozzarella.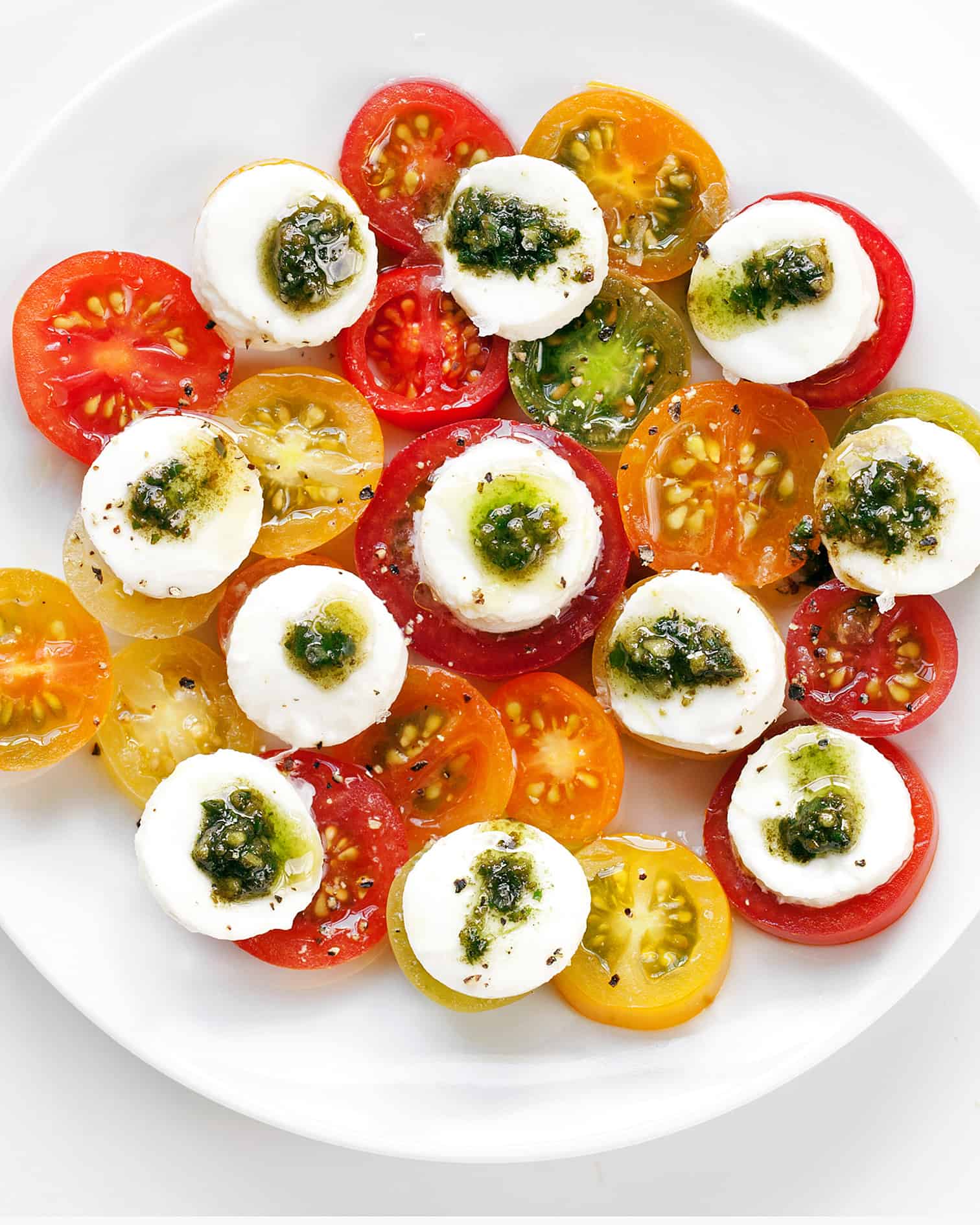 I don't always have fresh basil at home. The leaves are so delicate that I tend to turn them into pesto to make them last longer.

There are so many things to do with pesto beyond pasta. It's the perfect sauce to stir into grains or salads. I even love pesto in scrambled eggs.

Another option is to add baby greens like arugula and spinach and turn it into a more hearty salad.

Of course there is nothing wrong with keeping it to the Italian classic.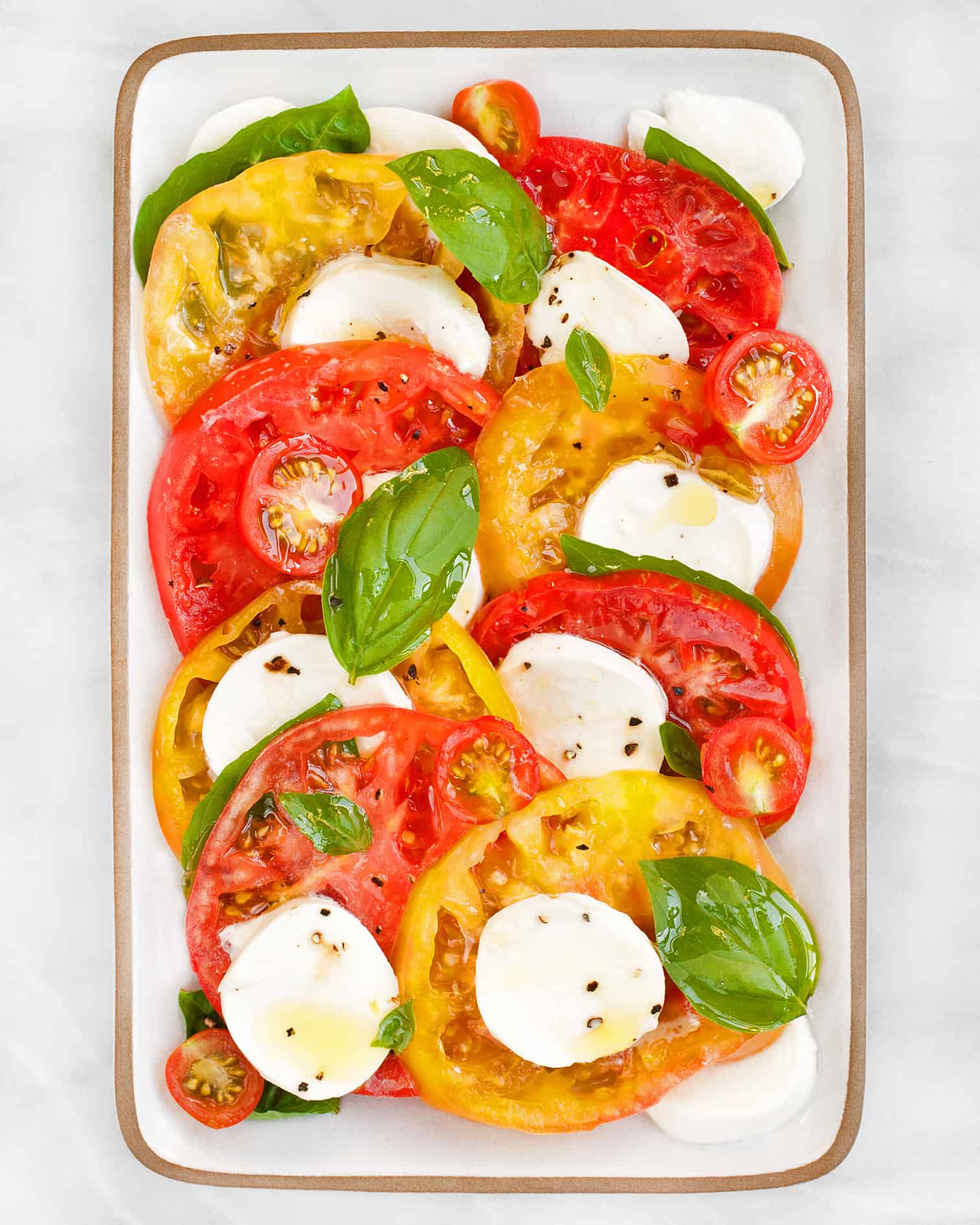 The most important thing is to make sure that you have beautiful ripe, juice tomatoes.

From heirloom to grape to cherry tomatoes, the size and shape do not matter. Just tear or slice your mozzarella, so you have a balanced proportion of tomatoes to cheese.

Summer is the most fleeting of the seasons, so I recommend eating a caprese salad as often as you can.

It just tastes better on sunny hot days.
SaveSave
Print
Caprese Salad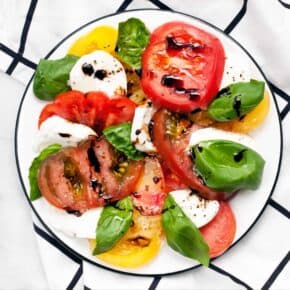 Prep Time:

10 minutes

Total Time:

10 minutes

Yield:

Serves 2-4
Ingredients
For salad
1 pound assorted tomatoes, sliced 1/4-inch thick
8 ounces fresh mozzarella, sliced 1/4-inch thick
2-4 tablespoons extra virgin olive oil
1 teaspoon flaky sea salt
1/2 teaspoon black pepper
Toppings
Option 1:
Fresh Basil Leaves
Options 2:
Basil Pesto
Option 3:
Balsamic Syrup
1 cup balsamic vinegar
1 tablespoon light brown sugar
Instructions
To assemble the salad, arrange the tomatoes and mozzarella on a serving plate. Drizzle with olive oil and sprinkle with salt and pepper.
Top with fresh basil leaves, basil pesto for balsamic syrup.
For the balsamic syrup, combine the balsamic vinegar and brown sugar in a small saucepan. Bring the mixture to a boil over medium high heat. Cook stirring occasionally until it has thickened and reduced by half, about 5 minutes. Set aside to cool. (This recipe makes more than needed for the salad. Leftover syrup can be stored in the refrigerator up to 1 month.)
SHARE THIS