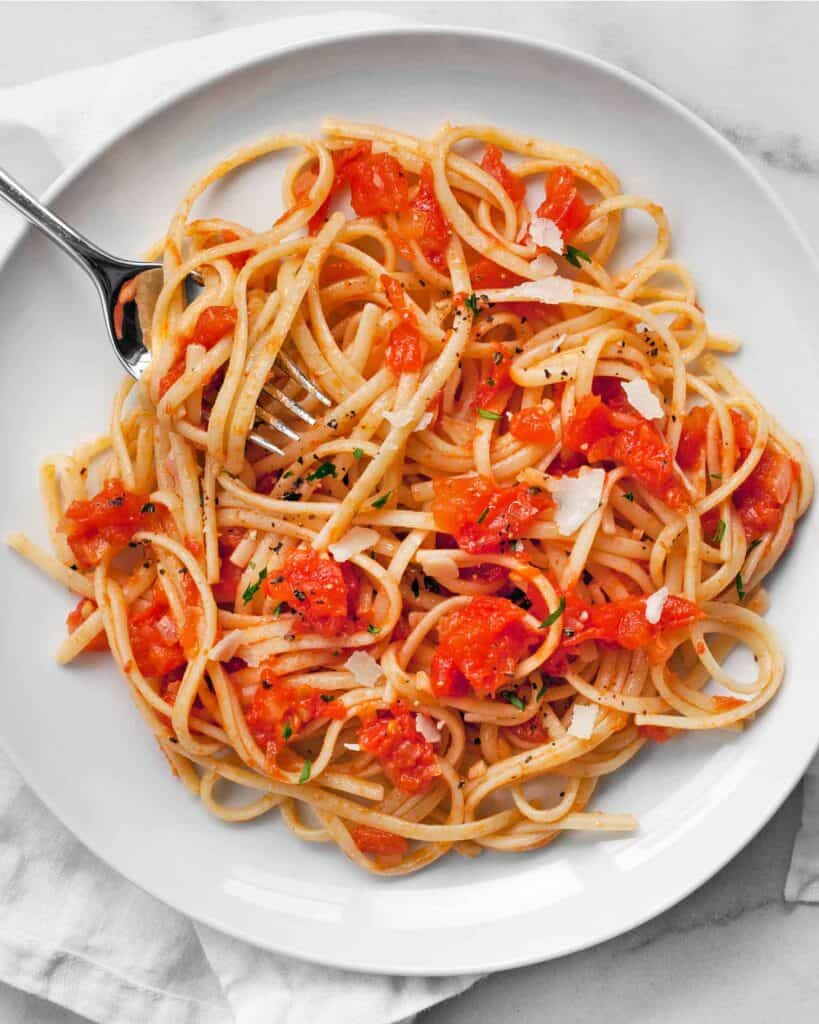 My pantry is never without canned tomatoes. Whole, diced or crushed, they are a constant staple.
Canned tomatoes are the base for so many soups, like Tuscan ribollita and roasted tomato. They are also handy for three-bean chili.
A few years ago I spent an entire weekend canning 20 pounds of Roma tomatoes from the farmer's market.
With tomato season in its last weeks, I was doing everything I could to hold on to summer.
It was quite an undertaking peeling, deseeding, crushing and canning over a hot stove during a muggy September.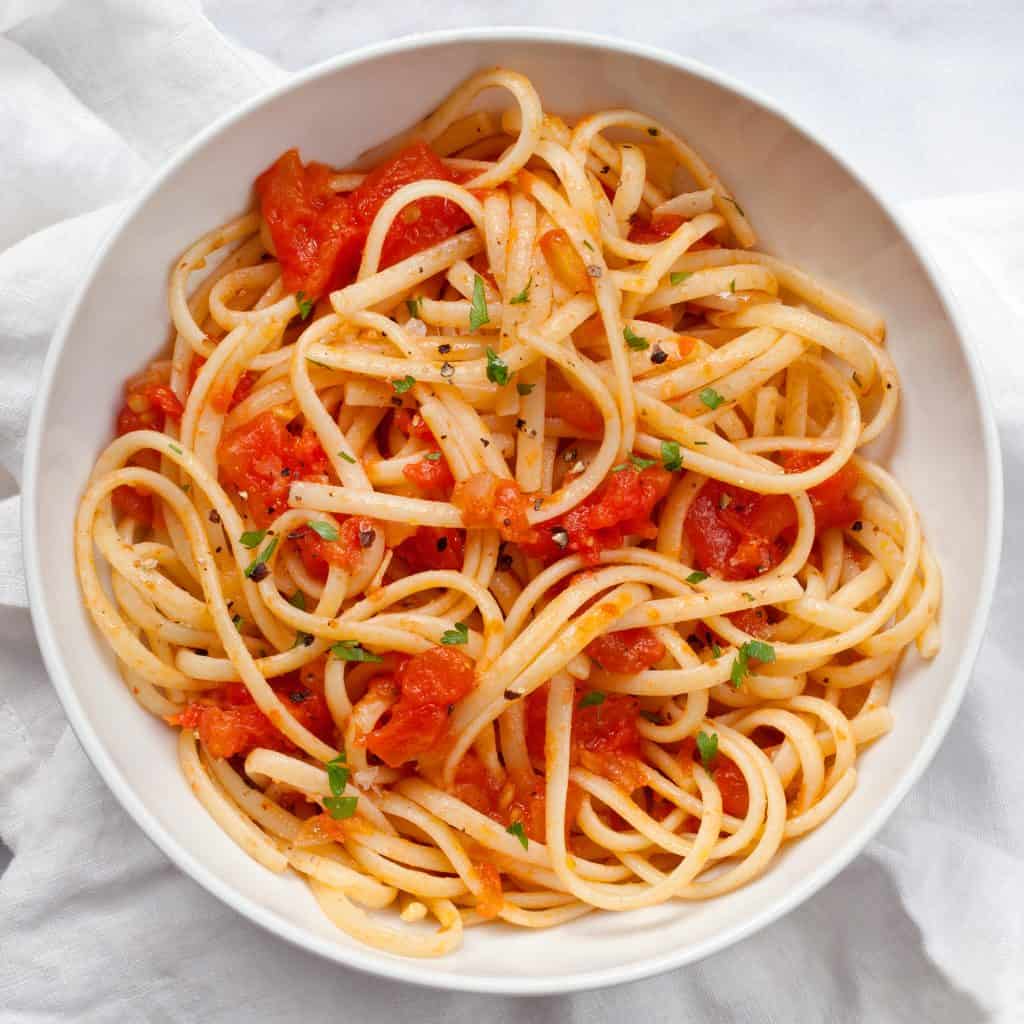 All that work seemed worth it when I first popped open a homemade jar of tomatoes on a frigid winter evening in January.
Since I can't add more hours to the day or days to the week, having a stash of homemade canned tomatoes is just not realistic. With baby, blog and everything else, I can't devote an entire weekend to canning.
Also, there is nothing wrong with store-bought canned tomatoes. They are full of flavor and incredibly versatile in all sorts of dishes.
I had this realization that I rarely make actual tomato sauce during tomato season. Tomatoes are either left raw in salads like a Caprese, or I slow-roast them.
It was time to change that, so I whipped up a batch of fresh tomato sauce using 2 pounds of ripe red Roma tomatoes.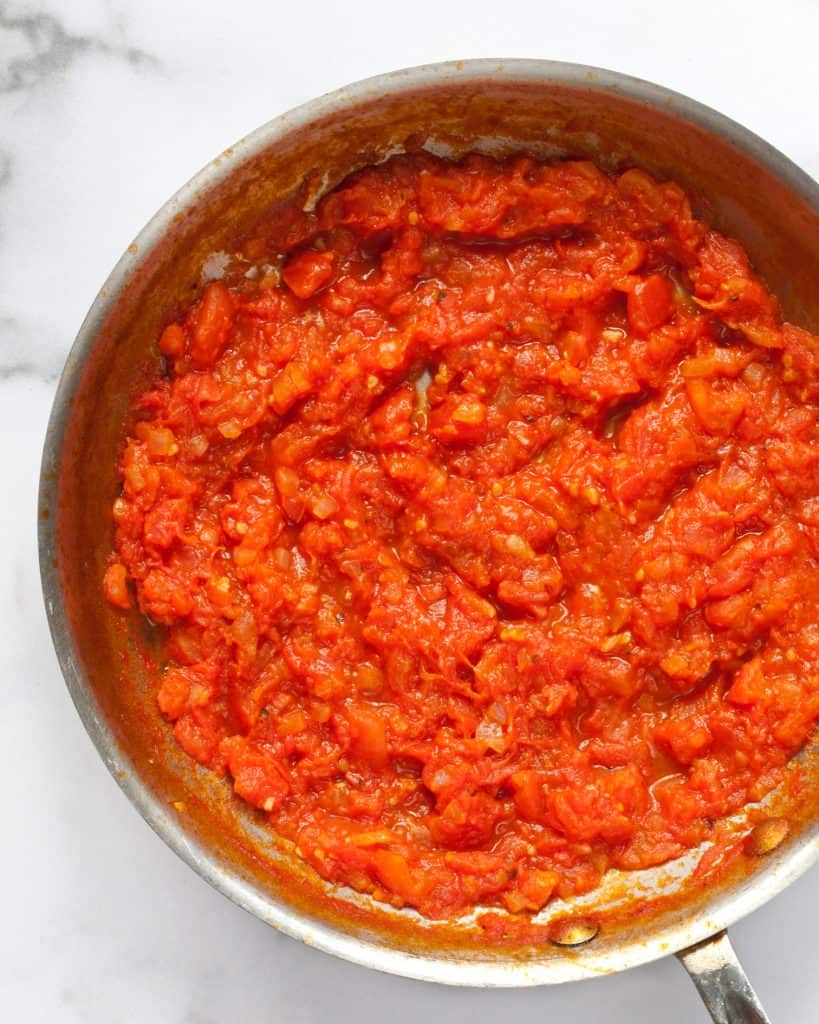 I started by scoring an X into the bottoms of the tomatoes and then putting them into boiling water for a minute. That made removing the skin easy.
I halved the tomatoes and scooped out the seeds. Then I roughly chopped the tomatoes.
Over medium high heat, I sautéed the tomatoes with olive oil, minced garlic and onions. The tomatoes fell apart. I used a potato masher to crush them into a barely chunky sauce.
Fresh tomato sauce is lighter in color and more delicate in flavor than one made from canned tomatoes.
It will work with any pasta shape.
Print
Fresh Tomato Sauce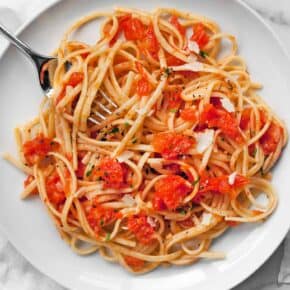 Prep Time:

5 minutes

Cook Time:

25 minutes

Total Time:

30 minutes

Yield:

2 cups

1

x
Scale
Ingredients
2 pounds Roma tomatoes
1 tablespoon olive oil
1 small white onion, roughly chopped
2 garlic cloves, minced
1/4 teaspoon red pepper flakes
1 teaspoon kosher salt
1/2 teaspoon black pepper
Instructions
Bring a large saucepan of water to a boil. Score an X into the bottom end of each tomato. Boil the tomatoes for 1 minute and then transfer to a bowl of ice-cold water. Peel the tomatoes and halve them. Scoop out the seeds and roughly chop them.
Heat the oil in a large skillet over medium high heat. Sauté the onions until they start to soften, about 4 minutes. Stir in the garlic and cook until fragrant, about 1 minute. Add the tomatoes, red pepper flakes, salt and pepper. Simmer the tomatoes for 20 minutes. Use the back of a wooden spoon or potato masher to smash the tomatoes.
Store in an airtight container in the refrigerator.
SHARE THIS