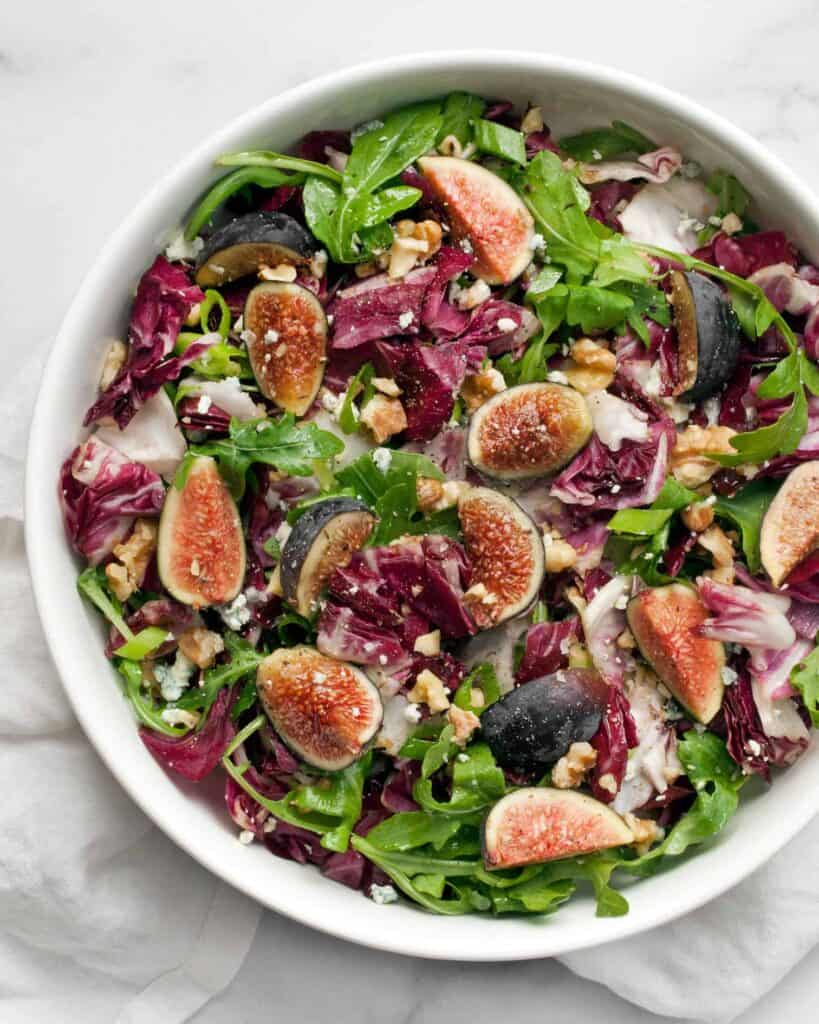 I don't think of myself as a jealous person.

Time spent wishing for something in or about someone's life seems like a waste. I do my best to be more of a glass half full kind of person.

Be grateful for what you have and the opportunities that are in front of you.

That's a positive mantra I try to live by, but we all have our moments. No one is perfect.

It started last week when I posted a photo of these honey-whipped goat cheese fig toasts. Figs are automatically photogenic, so it generated a bunch of comments.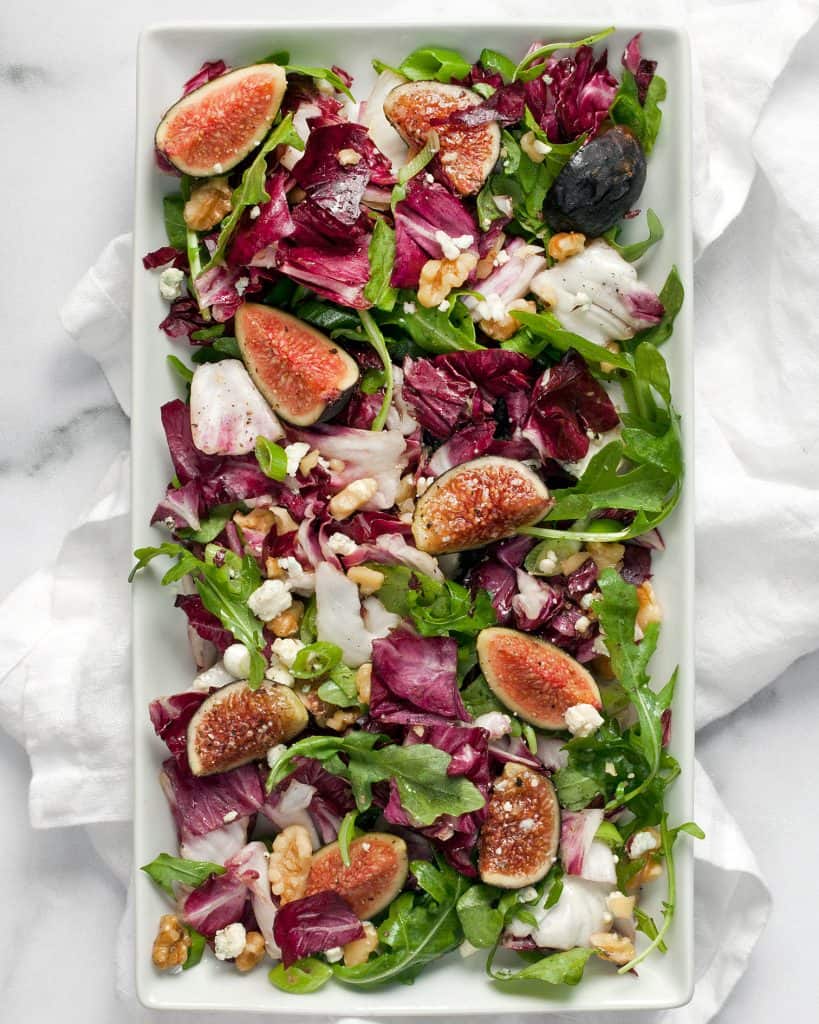 One came from a follower who lives in southern California. She said, "Finally an idea on what to do with our abundant fig trees!!!"

That must be nice! Too many figs to know what to do with would be my dream.

Can you blame me for feeling a lot more than a fraction of envy?

Here in Chicago we are anxiously awaiting cooler temperatures and months of puffy coats and layers while our friends in California are basking in a fig harvest. Some of them are lucky enough to have them right outside their front door.

Leaving the Midwest is not something I have plans to do.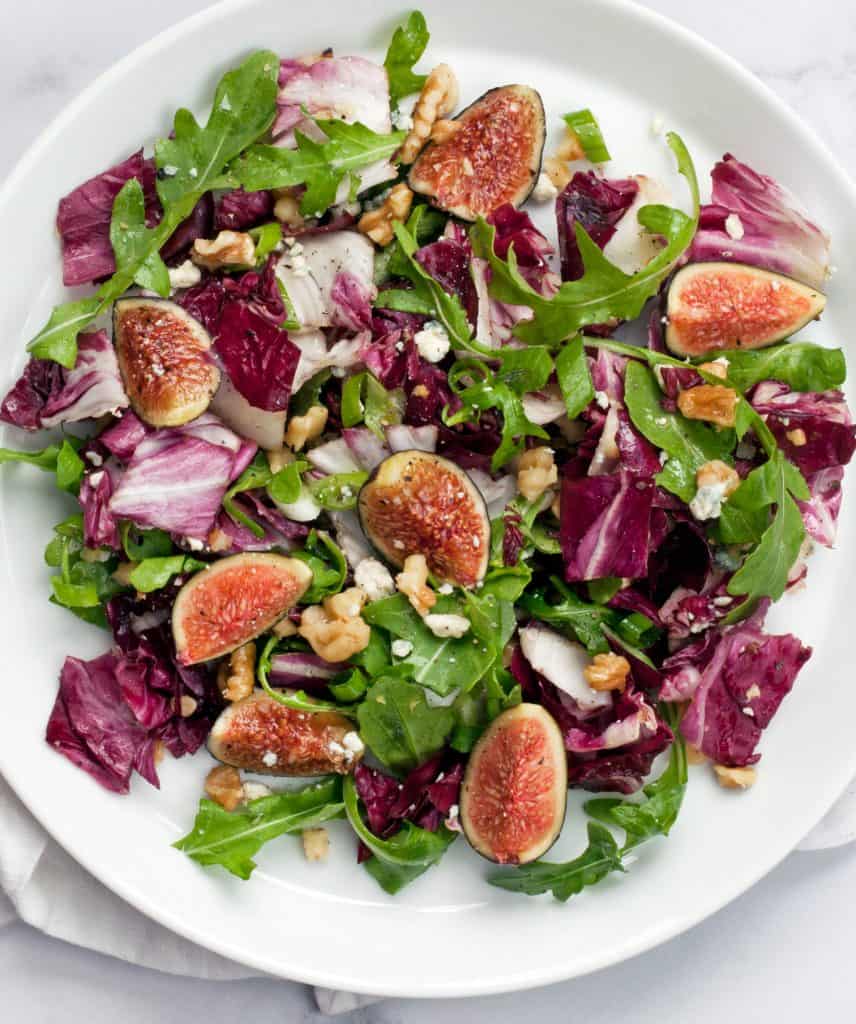 I can make peace with my jealously. Anytime I see figs at the grocery I buy them.
Even if I have nothing planned other than devouring them with a spoon of almond butter. Figs are worth their high price tag.
Changing things up from my little fig toasts, I made a fresh fig radicchio salad.
Radicchio can be a difficult lettuce. It has a bitter flavor.
Don't get me wrong, I like it, but it's stubborn.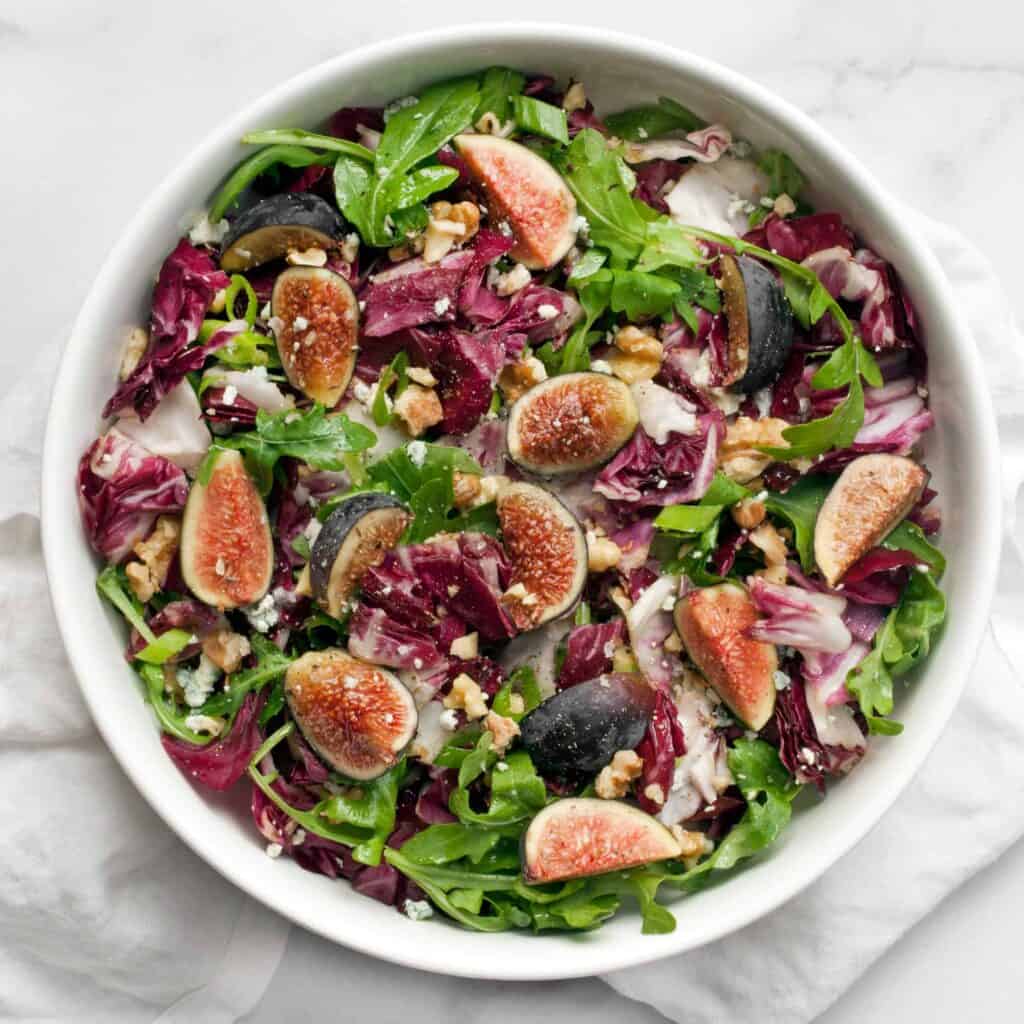 Balancing The Bitter For The Better: Fig Radicchio Salad
You bring out the best in that distinct, crispy radicchio when you balance it out with other ingredients.

For instance, I love radicchio in an Italian chopped salad.

Here I offset it with sweet figs and peppery arugula. To match its bite, I added crumbled gorgonzola cheese and walnuts.
Then I whisked together lemon maple vinaigrette to dress it.
While I love my fig radicchio salad as is, I know fresh figs can be a challenge to find sometimes. In their place you could try sliced plums or apples.
Switching up the fruit won't give you the exact same result, but the goal when substituting figs is to add something a bit sweet.
Print
Fig Radicchio Salad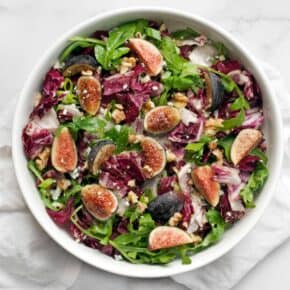 Prep Time:

15 minutes

Total Time:

15 minutes

Yield: Serves

4

1

x
Scale
Ingredients
For salad
1 head radicchio, cored and chopped
1 ounce arugula
10–12 fresh figs, quartered
2 scallions, thinly sliced
1/4 cup roughly chopped walnuts
1/4 cup crumbled gorgonzola
For vinaigrette
Juice of 1 lemon
1 teaspoon maple syrup
1/4 cup olive oil
1/2 teaspoon kosher salt
1/2 teaspoon black pepper
Instructions
In a large bowl, combine the radicchio, arugula, figs, scallions, walnuts and gorgonzola.
In a small bowl, whisk together the lemon juice, maple syrup, olive oil, salt and pepper.
Drizzle the vinaigrette over the salad, gently tossing to combine.
SHARE THIS