Honey-Whipped Goat Cheese and Figs

Infused with rosemary and topped with arugula, Honey-Whipped Goat Cheese and Figs on toasted baguette slices make a simple sharable appetizer.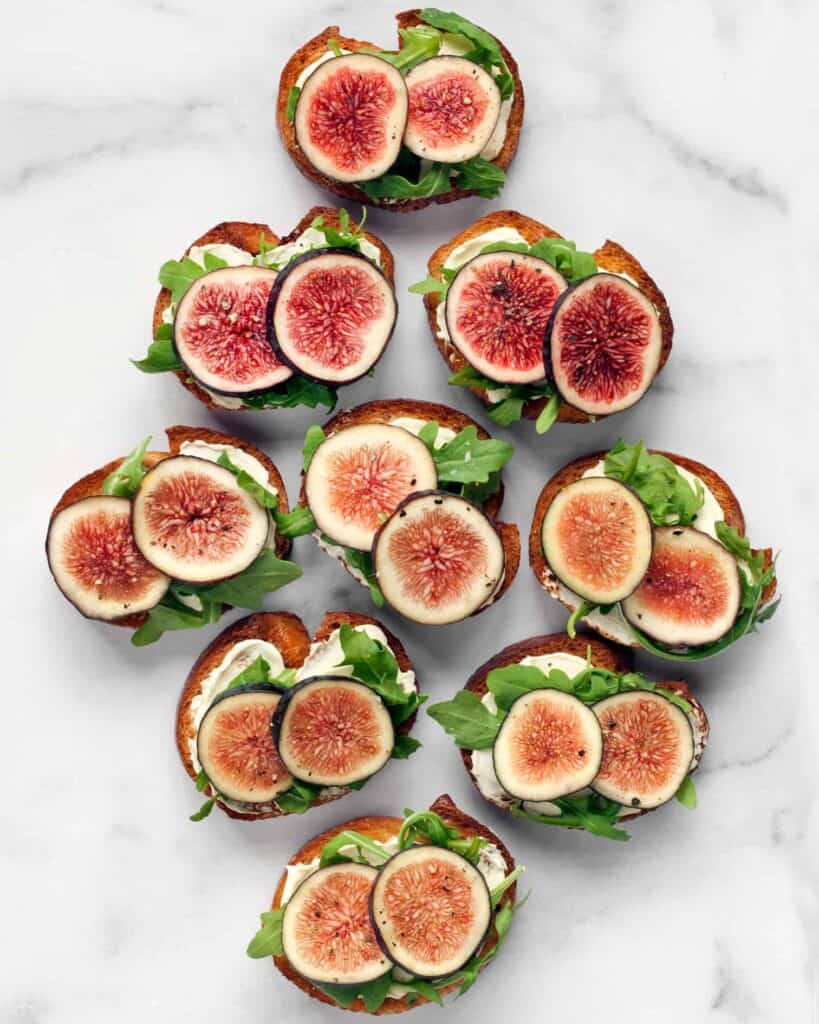 A few months ago I tried to have my groceries delivered, but it just wasn't for me.
I am part of the dwindling sector of the population that actually enjoys going on a weekly run for food and all the essentials.
And I'm a total control freak.
That applies to grocery shopping, but not all aspects of my life. I don't have the capacity or time for that.
I want to be the one to pick out the substitutions of the shelves aren't stocked with my preferred brands.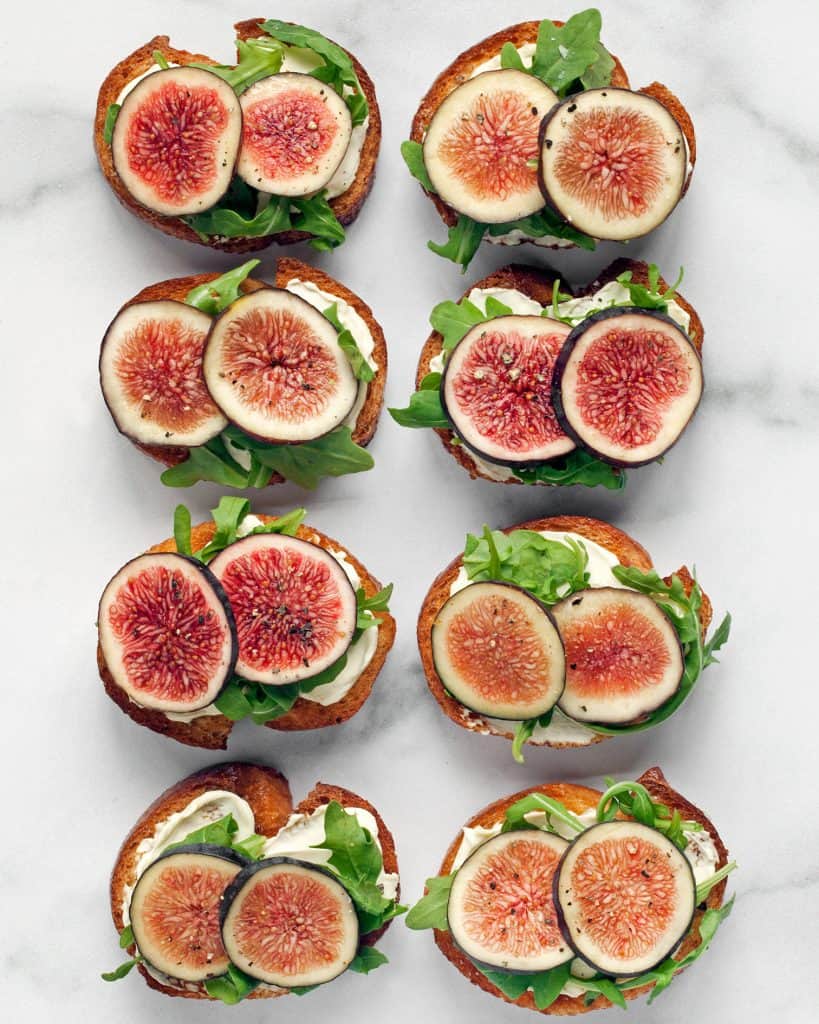 Why would I leave these big decisions up to a complete stranger to predict what I might like instead.
The other thing is that I have spent so much time in produce departments that I know what I'm looking for in terms of ripeness and appearance.
How else would I geek out in the fruits and veggies when I see exotic things like fresh figs?
For us Midwesterners, fresh figs are an instant trip to California or somewhere else with the perfect Mediterranean climate.
I take my fig selection very serious examining each one in my selected little box. When I see or feel one that's not up to my standards, I will switch it out for another.
I know I am picky!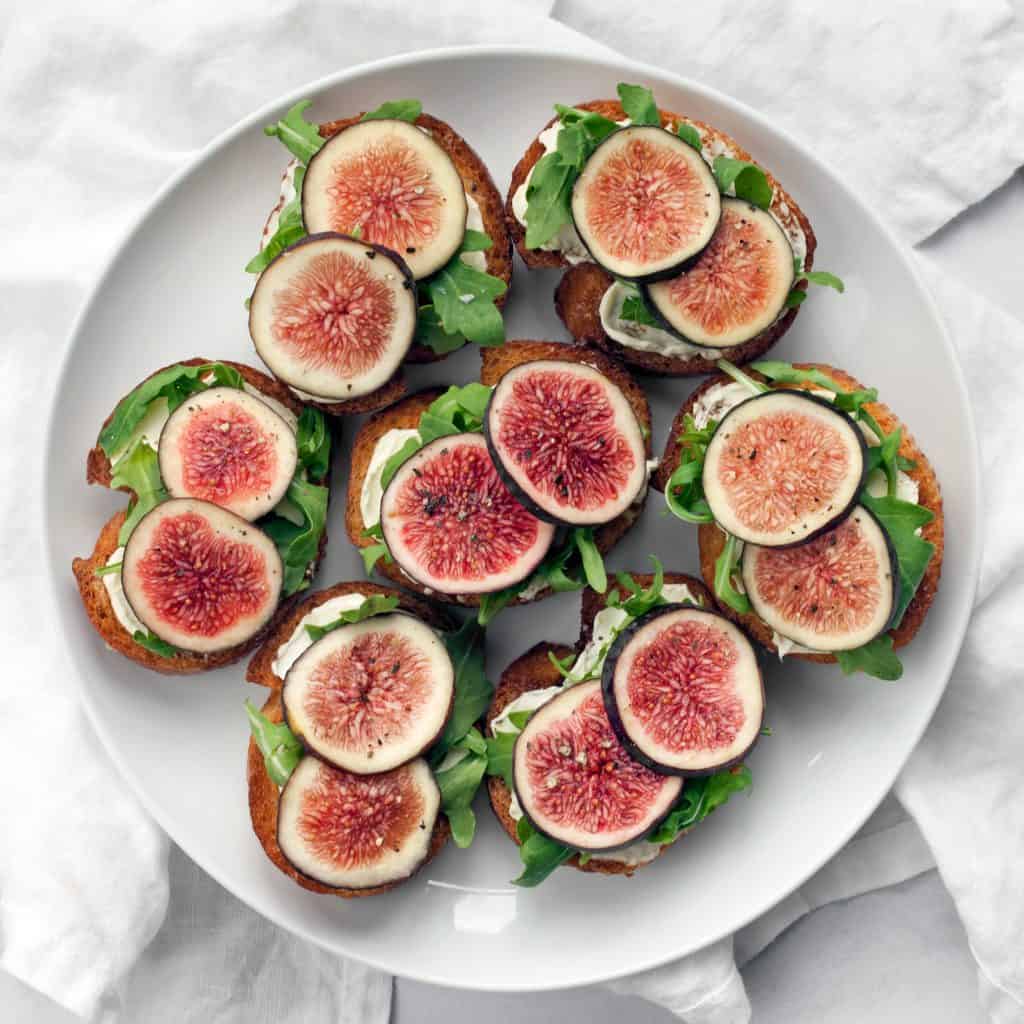 How To Make Honey-Whipped Goat Cheese And Figs
Usually when I buy figs I eat them in a salad like one with couscous and greens.
This time I pulled out the food processor to make honey-whipped goat cheese and figs instead.
I smeared the spread on toasted baguette slices and then added baby arugula.
For good measure, I drizzled on a bit more honey that I infused with fresh rosemary.
If you're looking for a good appetizer or nibble to go with a glass of wine, do a special something on toast like honey-whipped goat cheese and figs.
Print
Honey-Whipped Goat Cheese and Figs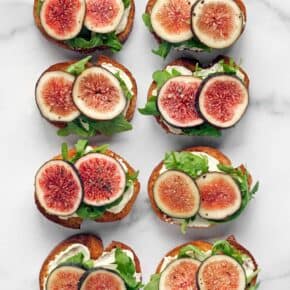 Author:
Prep Time:

15 minutes

Cook Time:

5 minutes

Total Time:

20 minutes

Yield: Serves

6

–

8

1

x
Scale
Ingredients
For honey-whipped goat cheese
4 ounces goat cheese at room temperature
2 ounces cream cheese at room temperature
1 tablespoon honey
1/4 teaspoon salt
For serving
1 tablespoon honey
1 tablespoon water
2 rosemary sprigs
Baguette, sliced
Baby arugula
1 pound fresh figs, sliced
Salt and black pepper
Instructions
Combine the goat cheese, cream cheese, honey and salt in a food processor. Mix until light and whipped, about 1 minute.
In a small skillet over medium heat, simmer the honey, water and rosemary for a few minutes. Discard the rosemary.
Toast the sliced baguette. Spread with honey-whipped goat cheese and top with arugula and figs. Drizzle with rosemary-infused honey and season with salt & pepper.
SHARE THIS