I'm not exaggerating that my three-year-old has an addiction to a particular brand of snack mix. I can still picture him in the cart when we picked out our first bag with its jumble of cheddar & butter bunny crackers and pretzels. If I knew then what I know now, I wouldn't have bought them. They are organic—not an endorsement of nutrition—and when we run out, it's a full-on emergency situation.
With no school today, I spent the day with my little one. This morning he helped me pulse together the dough in the food processor for homemade cheese crackers. I used whatever shredded cheese we had in the fridge, a mix of cheddar, jack, Asiago and Parmesan. When he woke up from his nap, he was excited about them, but didn't try one. Maybe I needed to cut out bunnies?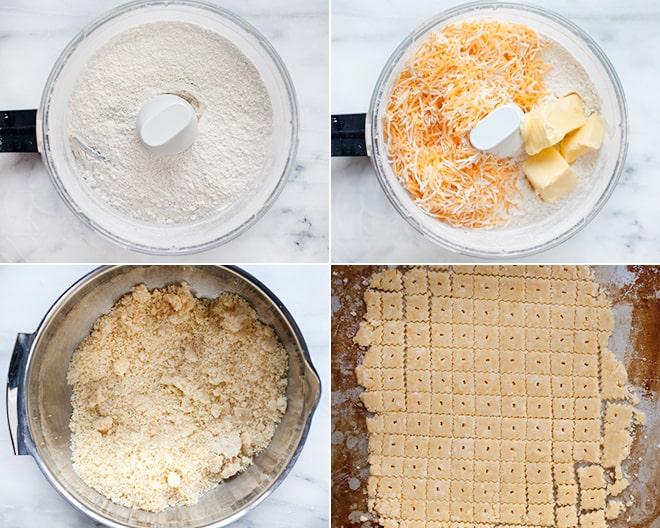 Homemade Cheese Crackers
Adapted from Food52
Makes about 5 cups crackers
2 cups all-purpose flour
1/2 teaspoon baking powder
3/4 teaspoon kosher salt plus more for sprinkling crackers
6 tablespoons unsalted butter at room temperature
7-1/2 ounces (about 3-1/2 cups) finely grated cheese (cheddar, jack, Parmesan, Asiago)
2 to 4 tablespoons ice water
1 large egg white, lightly beaten
In a food processor, combine the flour, baking, powder and salt. Add the butter and cheese and pulse into a crumbly dough. Mix in 2 tablespoons of water. The dough should hold together when squeezed. If not, add up to 2 tablespoons of water.
Divide the dough in half and pat into a rectangle. Cover tightly with plastic wrap and chill in the refrigerator for at least 30 minutes.
Roll out one rectangle of dough at a time until it is just less than 1/8-inch thick. Using a fluted pastry wheel, cut into 3/4-inch-wide strips and then cut into perpendicular 3/4-inch-wide strips. Use a skewer to poke a hole into the center of each square. Chill in the freezer for 10-15 minutes.
Preheat the oven to 350 degrees F. Line two sheet pans with parchment paper.
Brush the frozen crackers with egg white and sprinkle with salt. Use an offset spatula to transfer them to the prepared sheet pans and carefully break them apart. Bake for 14-16 minutes until the crackers are puffed up and golden brown. If the crackers are fully frozen, they will need to be baked longer.
Transfer to a wire rack to cool. Store in an airtight container.
SaveSave
SaveSave
SHARE THIS