The question I got most when I was pregnant was if I was having a boy or girl. There was no debate whether to find out the sex of the baby.

I wanted the surprise. "It's a…" in the delivery room! In fact I was more paranoid that a nurse or doctor would accidentally tell me at one of my appointments.

It was worth the wait, and I wish more people felt that way. The moment was even more special than I could have imagined.
Second to the gender question was an interrogation about my cravings. I think people were hoping to be amused by a list of bizarre food hankerings, but my response was sort of a disappointment involving neither pickles nor ice cream.

As boring as it sounds, I pretty much stuck to my normal routine except I bought a pineapple on every grocery run.

I couldn't get enough fruit and pineapple was on the top of my list. (Blackberries weren't far behind.)
I have always been a fan of pineapple, but my consumption was to the point that I invested in a gadget that peeled and cored with a few easy twists. Prep was a total cinch.

My habit has continued since baby arrived last month–a boy. Pineapple is just so sweet and refreshing!

The last pineapple I picked wasn't as ripe as I expected. Picking the right fruit can be so tricky. It takes some luck.

I ended up grilling the rings on my grill pan until they were slightly caramelized at the edges. Then I diced the pineapple and combined it with with red onions, red peppers, red onions, garlic, lime juice, jalapeños and cilantro.

This grilled pineapple salsa is a tropical twist on a favorite chip dip, but it's also good for topping lots of things from tofu to fish.

Update: It amazes me that my now 5-year-old shares my pineapple obsession. I can't help, but wonder if my pregnancy craving had anything to do with it!
SaveSaveSaveSave
SaveSave
Print
Grilled Pineapple Salsa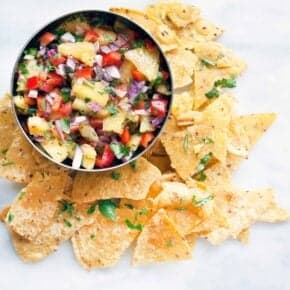 Total Time:

20 minutes

Yield:

2 cups

1

x
Scale
Ingredients
1/2 whole pineapple, peeled, cored and sliced 1/4-inch-thick
1 small red onion, diced
1 red bell pepper, diced
1 jalapeno, seeded and minced
1 garlic clove, minced
Juice of 1 lime
1/4 cup cilantro, roughly chopped
1/4 teaspoon kosher salt
1/4 teaspoon black pepper
Instructions
Heat a grill pan over medium high heat. Grill the pineapple about 2-3 minutes per side until grill marks appear. Allow the pineapple to cool before dicing.
In a medium bowl combine the pineapple, onion, red pepper, jalapeno, garlic, lime juice, cilantro, salt and pepper.
Store in the refrigerator in an airtight container.
SHARE THIS