This roasted tomato toast proves why sometimes things are just better on bread. It's so easy to roast sliced tomatoes in the oven and then make a 2-ingredient spread with soft cheese and pesto. You can use goat cheese, ricotta or cream cheese. Then enjoy this toast as an appetizer or turn it into a light lunch or dinner with just a salad to go with it.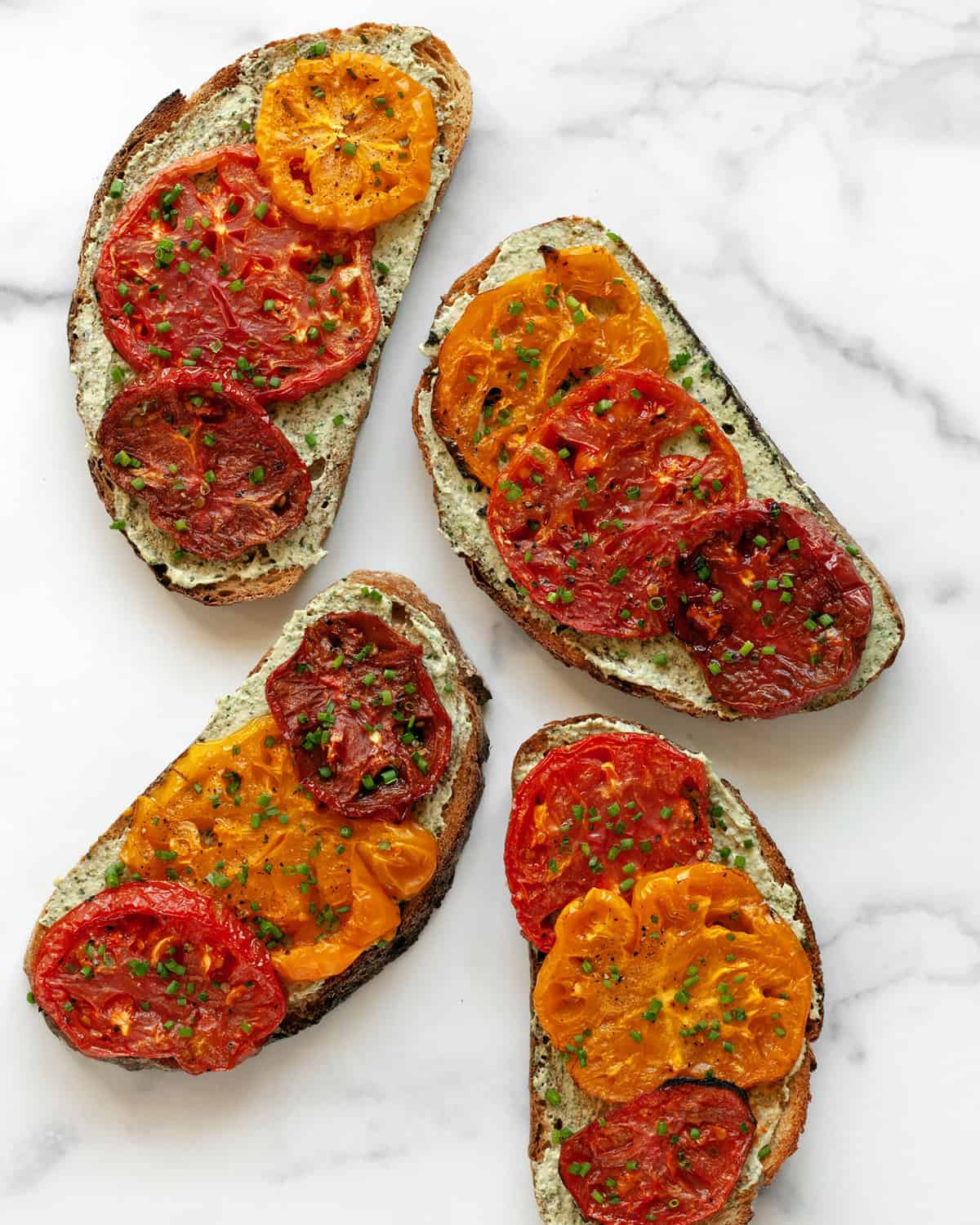 Why You Need This Recipe
What better way to celebrate tomatoes than with better than basic toast. No matter the type, when produce is at its peak, you don't have to do much to enjoy it. With a good loaf of bread and ripe tomatoes, you can make something that captures summer in a bite.
You can roast the tomatoes in advance. These roasted tomatoes last for a week in the fridge. That means you can roast all your tomatoes at once and then assemble the toasts when you want them if you aren't planning to eat them all at once.
They are freezable. If you think about it, they are more or less a different version of pizza with bread as a base and toppings, so they are freezer-friendly.
You will love the pesto spread. It is a combination of soft cheese and basil pesto. That's it. And you have options when it comes to the type of cheese that you use.
This is a farmer's market recipe. If you've ever been overwhelmed at the market, this is a great way to put heirloom tomatoes and a loaf of bread to use (and basil if you're going to make your own pesto).
What Makes Toast Special
You can call it an open-faced sandwich or a tartine if you want to use the French term. It doesn't matter. All I know is that toasted bread can be the starting point for so much more than butter or jam. With the right combination of toppings, you can turn it into a meal.
The Ingredients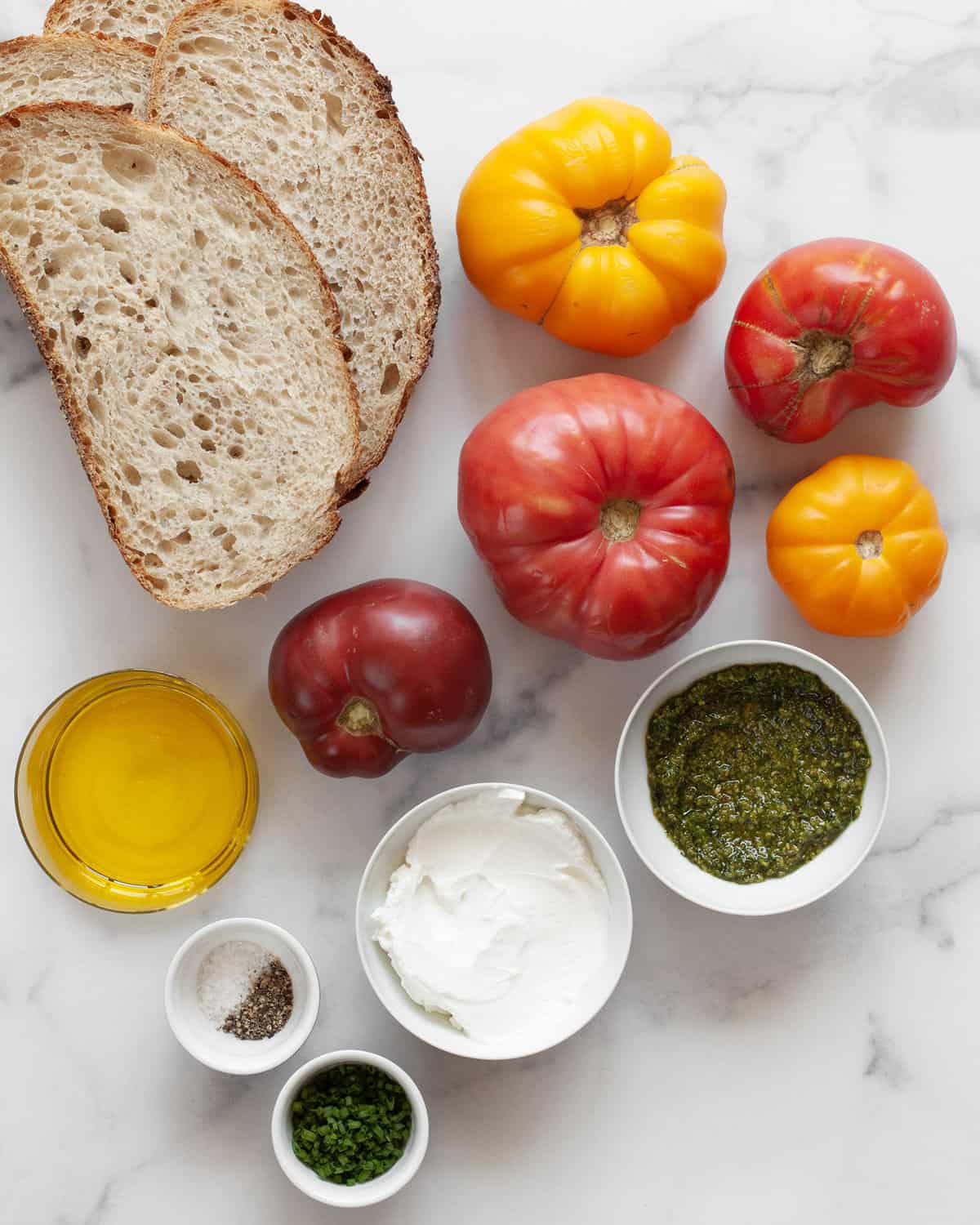 This is what you need:
Tomatoes: I love using heirloom tomatoes for their beautiful colors and their charmingly irregular shapes. This is also a wonderful recipe for those of you fortunate enough to have a vegetable garden or a generous neighbor with one. I use medium to large-sized tomatoes and slice them. When you roast tomatoes, their flavor becomes stronger, concentrated and more intense.
Bread: A nice artisan loaf with a good crust is best. You need that structure to support all the roasted tomatoes. My favorite is sourdough bread, but you can also use multigrain bread as long as it has a sturdy crust.
Cheese: You want the cheese to have a spreadable consistency, so you can slather it on to toast. Ricotta, goat cheese and even cream cheese will work.
Pesto: It's summer, so my fridge is always stocked with homemade basil pesto, but you can use store-bought to give you that garlic flavor with fresh herbs.
Olive oil, salt & pepper are for roasting the tomatoes in the oven.
Optional Additions
Eggs: You can add a fried egg or a sliced hard-boiled egg on top to turn this recipe into savory breakfast toast or brunch.
Avocado: Tuck slices of ripe avocados into between the tomatoes.
Prosciutto: If you don't need to keep it vegetarian and want to lean into more traditional open-faced sandwiches, you can add sliced prosciutto or another cured meat.
How To Make Roasted Tomato Toast
Preheat the oven to 400 degrees F. Line a sheet pan with parchment paper.
1. Slice the tomatoes. You want them all to be about 1/4-inch thick. It won't matter if they are different diameters. Just keep them a consistent thickness.
2. Put the tomatoes on the baking sheet. They should be in a single layer, not overlapping. Then drizzle them with olive oil and sprinkle them with salt and pepper.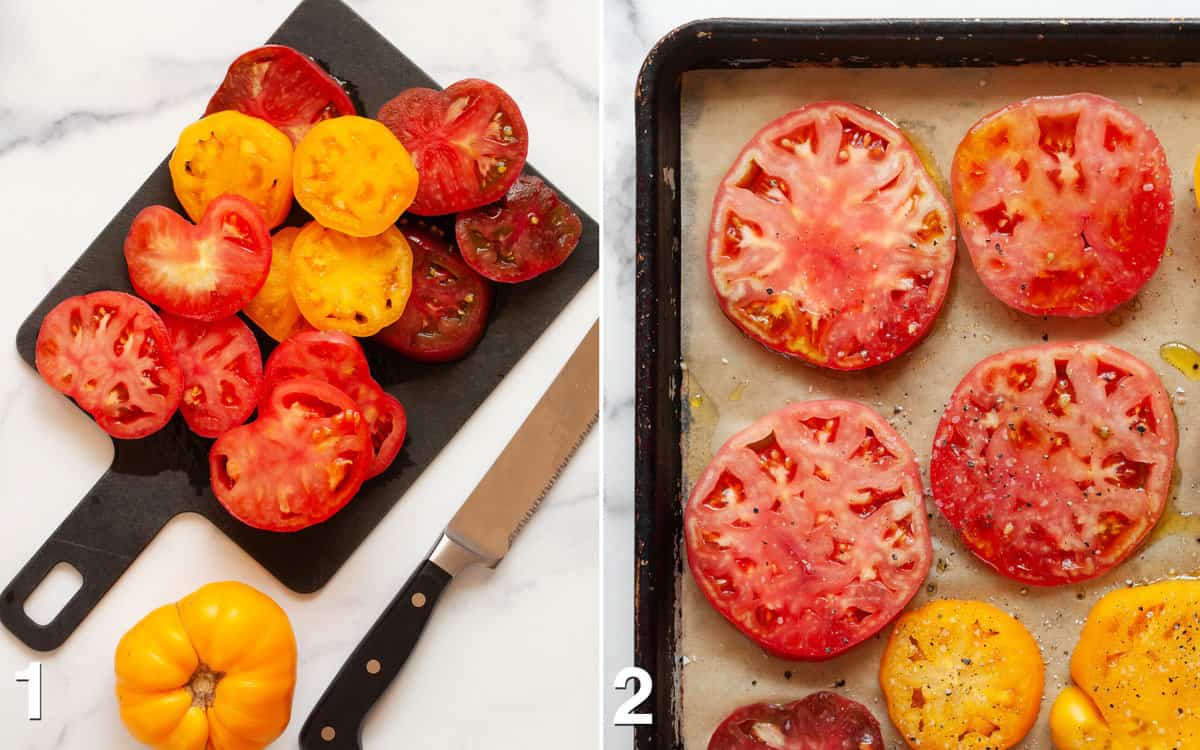 3. Roast the tomatoes. Give them 30 minutes to become wrinkled. They should still be somewhat juicy.
4. Toast the bread while the tomatoes are in the oven. You can just do this in a toaster.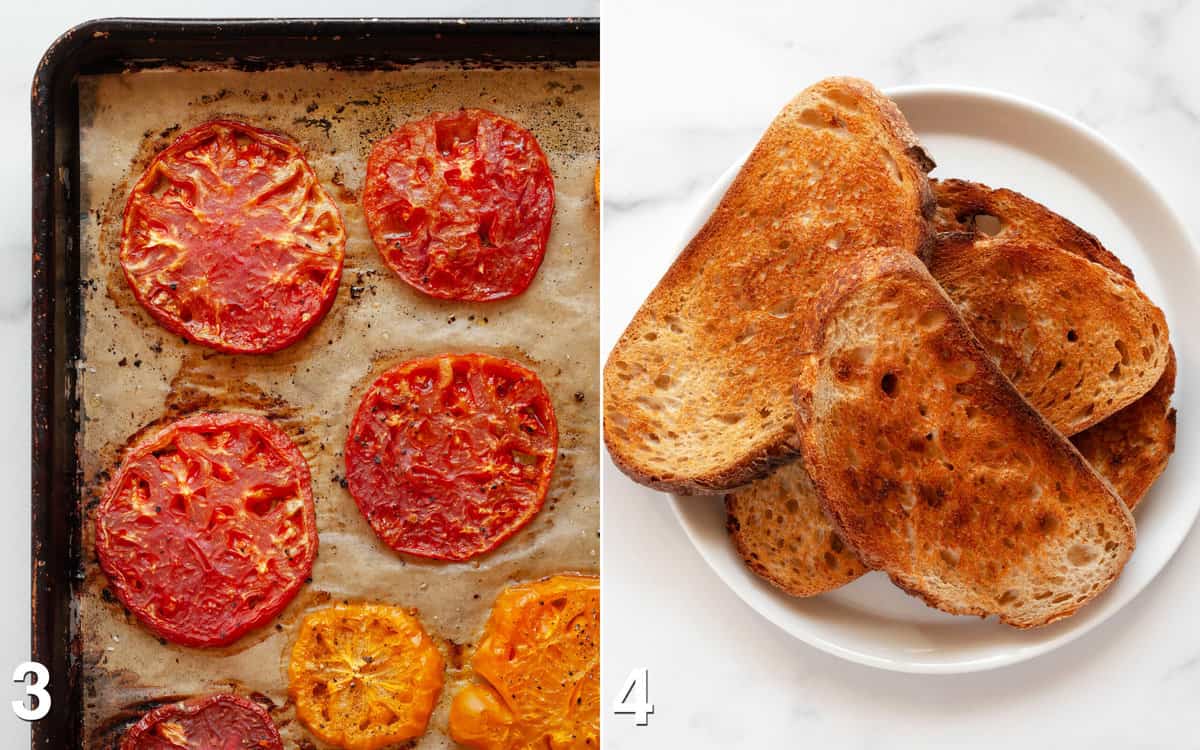 5. Stir the cheese and pesto together to make the spread.
6. Assemble the toasts. Spread the pesto cheese on the toasted bread. Add the roasted tomato slices and garnish with chives.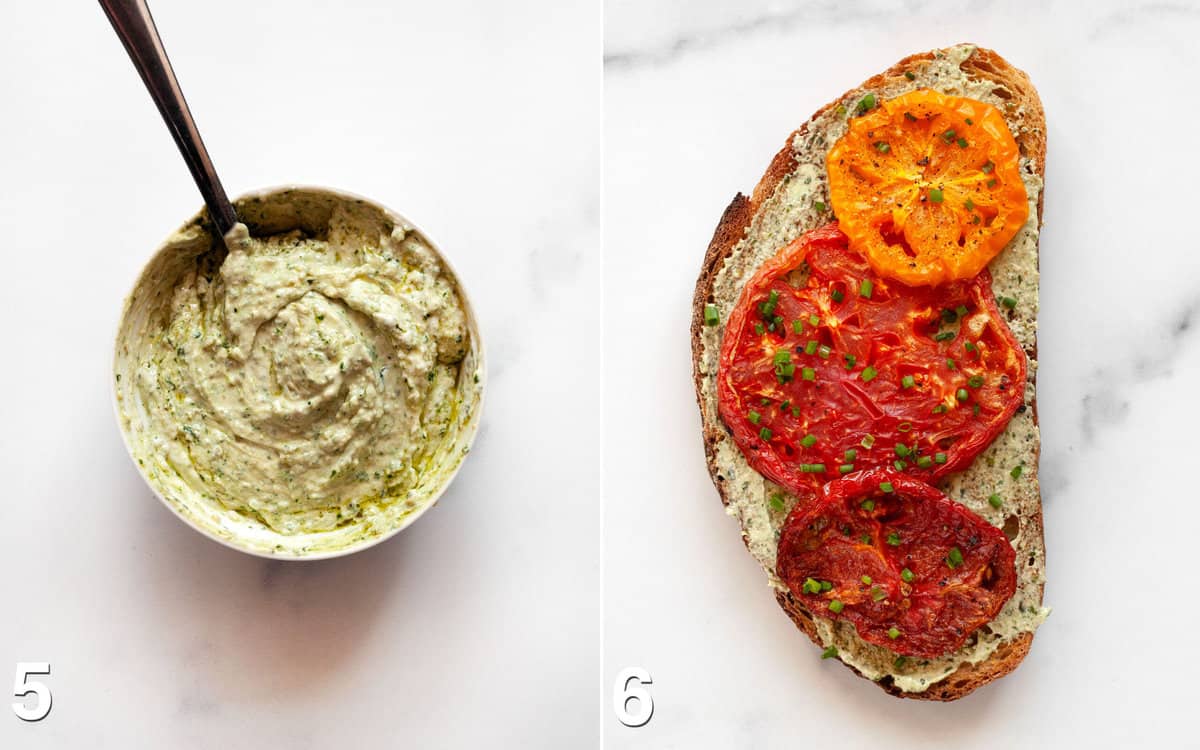 Serving Tomato Toast
Again, toast deserves more credit. You can pair it with this arugula salad with lemon vinaigrette and you have lunch. (I would also eat that for dinner.) Slice the toasts into smaller pieces, and you can serve them as an appetizer.
Make-Ahead Tips, Leftovers & Freezing
As mentioned, you can roast the tomatoes in advance. Store them in an airtight container in the fridge. You can also make the pesto cheese spread ahead too. They both will stay good in the refrigerator up to 1 week. I recommend making individual toast as you are planning to eat them if you are not going to make and serve them all at one time.
To freeze them, assemble the toasts on a sheet pan lined with wax paper or parchment paper. Once they are frozen, you can combine them in a single container. When you are ready to eat them, bake them for 12 minutes in a 375-degree F oven until the tomatoes and bread have thawed and are warm.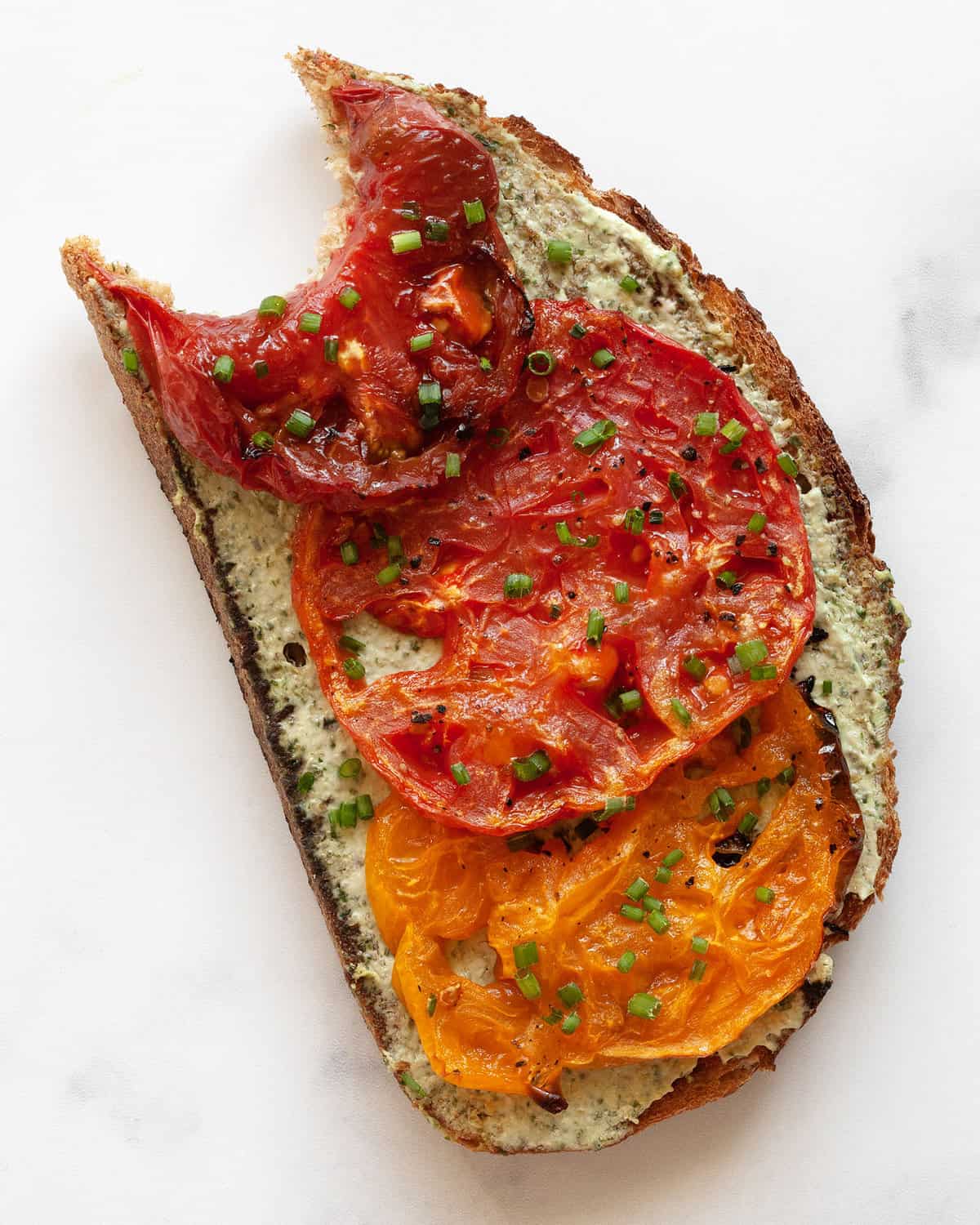 Recipe Tips
Use high-quality ingredients. This is a recipe that is very simple, so it's important to use ripe tomatoes and good artisan bread.
Go to the farmer's market for your tomatoes and bread. If you need a reason to go to the market for ingredients, this recipe is it.
When you are selecting tomatoes, think about the size of the bread. I like to overlap the roasted tomatoes on toast, but it does help to make sure the diameter of the tomatoes and the bread work together.
More Toast Recipes
Roasted Tomato Toast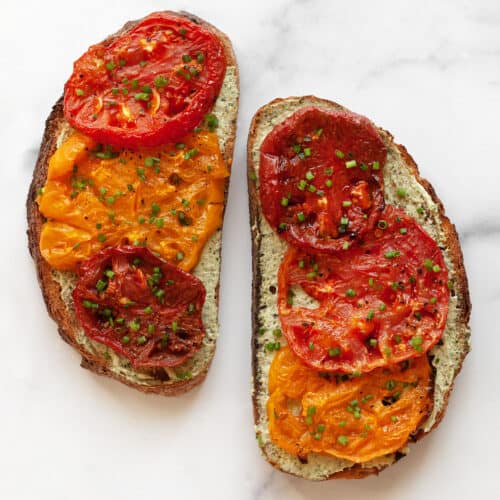 Simple tomato toast gets an upgrade when you roast a sheet pan of tomatoes and make a 2-ingredient pesto cheese spread to put on the bread.
Ingredients
4-5

medium to large tomatoes

(about 1-3/4 to 2 pounds)

2

tablespoons

olive oil

1/2

teaspoon

kosher salt

1/4

teaspoon

black pepper

4

slices

sourdough bread

1/3

cup

ricotta cheese, goat cheese or cream cheese

2

tablespoons

basil pesto

1

tablespoon

minced chives
Instructions
Preheat the oven to 400 degrees F. Line a sheet pan with parchment paper.

Slice the tomatoes about 1/4-inch thick. Then arrange them on the prepared pan. They can be close, but they should not be overlapping. Drizzle the tomatoes with olive oil and season them with salt and pepper.

Roast the tomatoes until they are wrinkled and have deepened in color, about 30 minutes.

While the tomatoes are roasting, toast the bread. You want it to cool down for at least a few minutes before you assemble the toasts.

Stir together the cheese and pesto in a small bowl.

Spread the pesto cheese on the bread. Layer on the tomatoes and garnish with chives.
Notes
You can use any type of artisan bread meaning one with a good crust. That includes sourdough, country bread or multigrain bread. I do not recommend standard sandwich bread because it won't be able to support the tomatoes.
The toasts are best when you eat them right after you make them.
If you want to save assembled toasts, freeze them. Place the toasts on a sheet pan lined with wax paper or parchment paper. After they are frozen, then you can put them in a single container. Bake them for 12 minutes in a 375-degree F oven until the tomatoes and bread have thawed and are warm.
Nutrition
Calories:
356
kcal
|
Carbohydrates:
43
g
|
Protein:
13
g
|
Fat:
16
g
|
Saturated Fat:
5
g
|
Polyunsaturated Fat:
2
g
|
Monounsaturated Fat:
6
g
|
Cholesterol:
9
mg
|
Sodium:
827
mg
|
Potassium:
621
mg
|
Fiber:
4
g
|
Sugar:
9
g
|
Vitamin A:
2269
IU
|
Vitamin C:
32
mg
|
Calcium:
96
mg
|
Iron:
4
mg
Nutrition information is automatically calculated, so should only be used as an approximation.