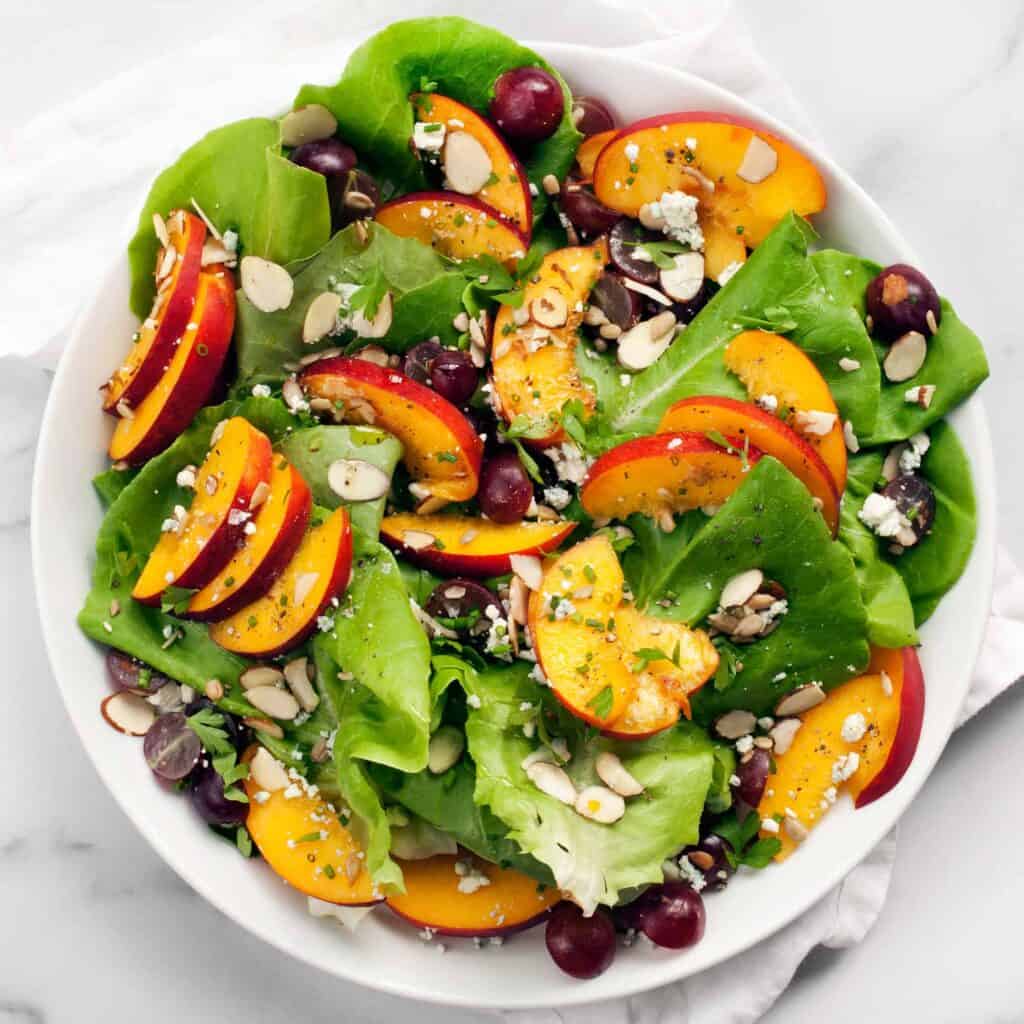 Pretty much every night I trade a full 8 hours of sleep in exchange for time to myself in the morning.

As much as I try, I never manage to go to sleep at a reasonable hour, but I still wake up at the crack of dawn.

There's a certain peace to the start to the day when no one else is awake. It's quiet and calm. I savor those moments even though they don't last long.

Early mornings are when I fit in my workouts. I am very dedicated, borderline obsessed with this routine.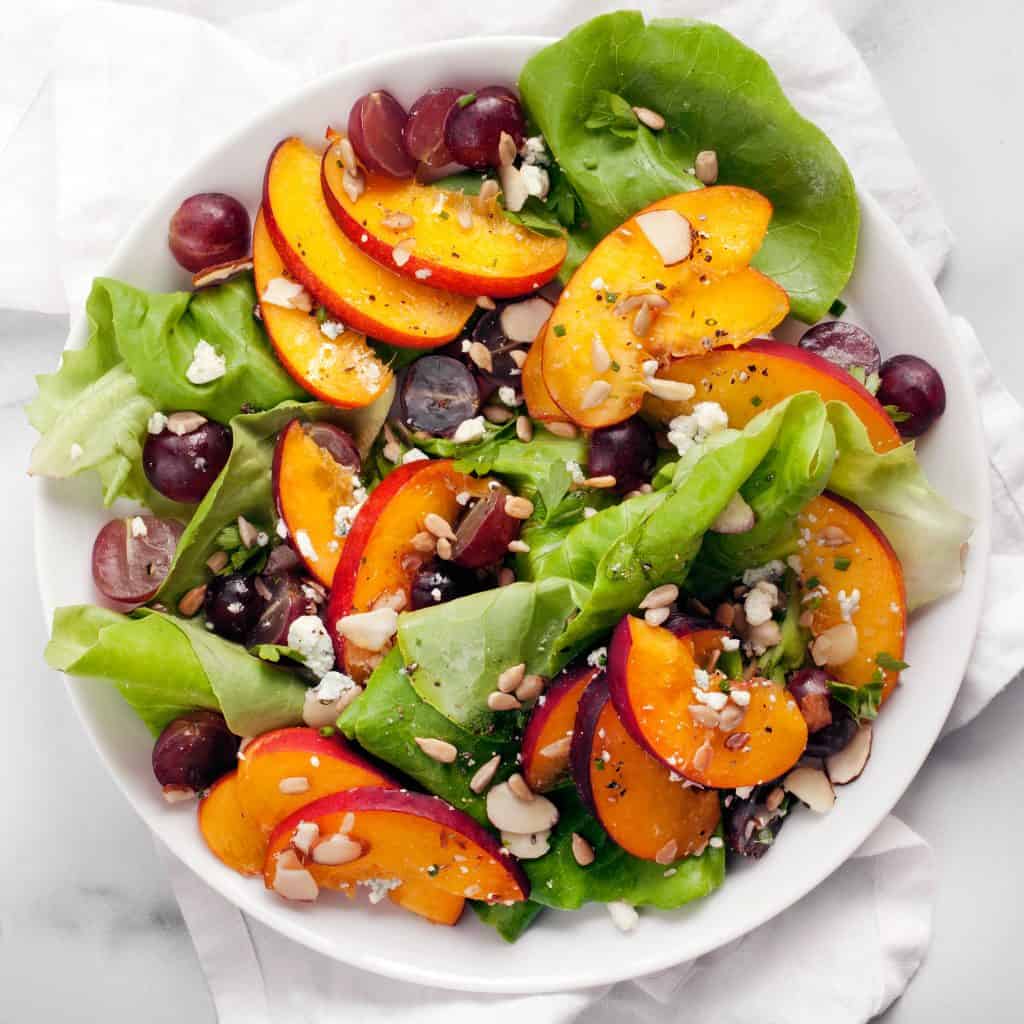 Exercise is my morning coffee. It makes me feel energized.
Am I tired most of the time? To a certain extent, yes! I am human.

It's nothing that a chai latte or iced coffee can't fix even though that buzz doesn't last forever.

Summer mornings are always easier because the sun is up. Winter is a different story. It takes a little more motivation.

Last week I noticed that those bright mornings are beginning to transition hinting at the pitch black a.m. hours ahead.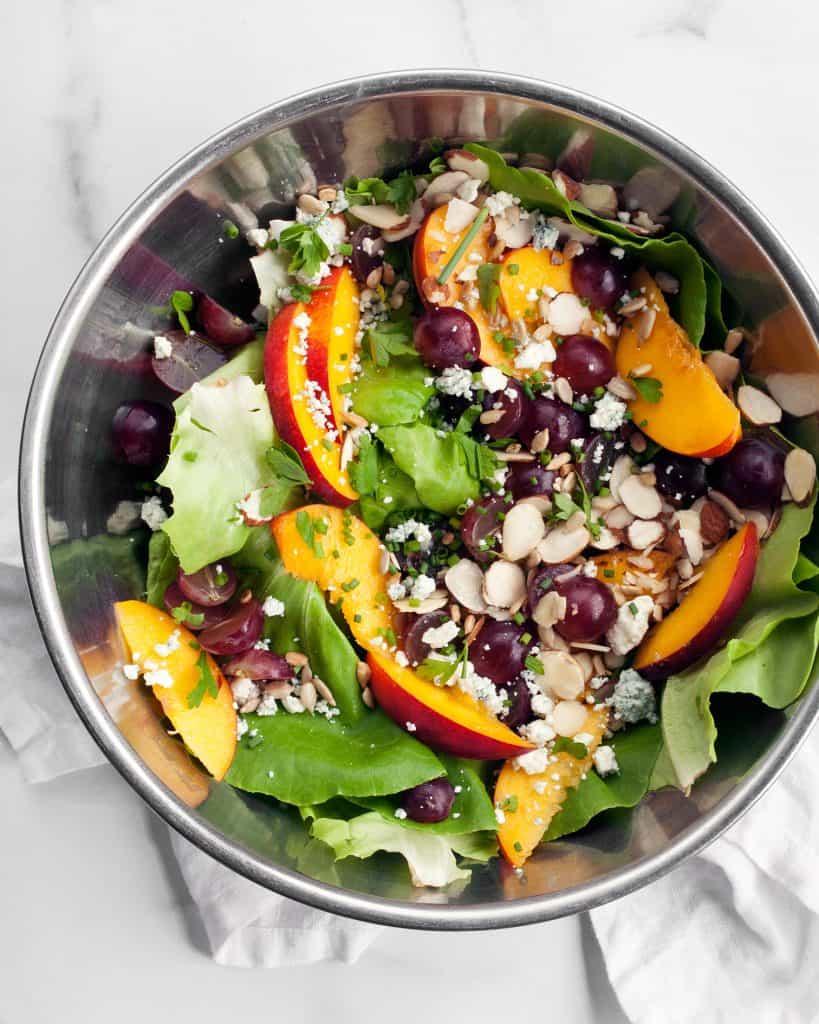 That sent me into panic mode about what I've been eating and taking for granted. The bounty of veggies from corn to tomatoes and fruit from peaches to watermelon will be gone before I know it.
I'm not ready to go back to root vegetables and soup just yet.
That means I need to maximize my stone fruit consumption.
After a trip to the farmer's market, I made a nectarine grape salad.
I debated between peaches and nectarines, but in the end I decided to go fuzz-free.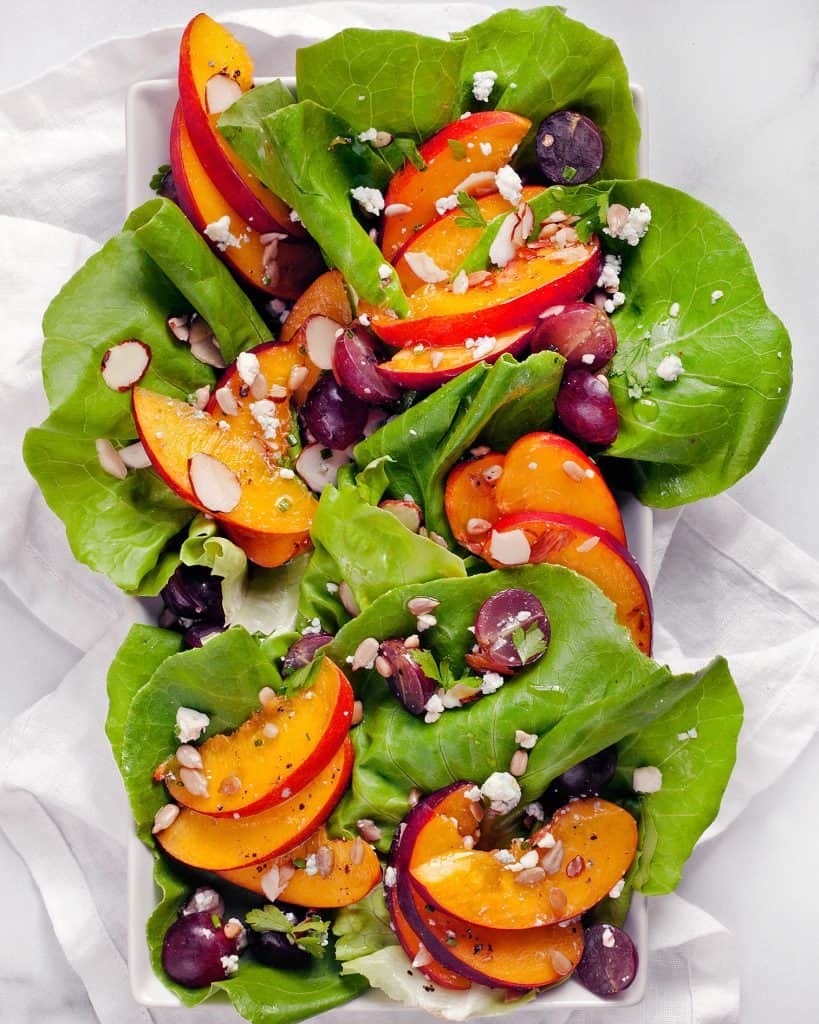 For the salad, I thinly sliced a couple nectarines and halved a bunch of red grapes.
With so much fruit, I knew my nectarine grape salad landed on the sweet side.
To offset that, I tossed in pungent and salty blue cheese. That balanced out the sweet and savory.
I bought a beautiful head of butter lettuce. With those big lush leaves, I didn't have the heart to tear them.
This salad needs to be eaten with a fork and knife!
Butter lettuce is soft, so I added crunch in the form of sliced almonds and sunflower seeds.
I drizzled the salad with champagne vinaigrette.
Print
Nectarine Grape Salad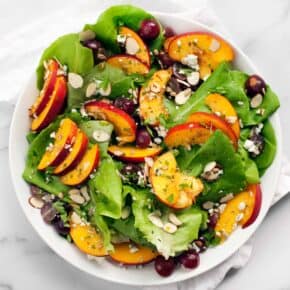 Prep Time:

10 minutes

Total Time:

10 minutes

Yield: Serves

4

1

x
Scale
Ingredients
2 tablespoons champagne vinegar
1/4 teaspoon kosher salt plus more for serving
1/4 teaspoon black pepper plus more for serving
1/4 cup olive oil
1 head butter lettuce, leaves separated
2 nectarines, halved, pitted and sliced 1/4-inch-thick
1 cup halved red grapes
1/4 cup crumbled blue cheese
1/4 cup sliced almonds
1 tablespoon sunflower seeds
1 tablespoon minced chives
1 tablespoon torn parsley leaves
Instructions
For the vinaigrette, combine the champagne vinegar, salt and pepper in a small bowl. Whisk in the olive oil until fully combined.
In a large bowl, combine the lettuce, nectarines, grapes, blue cheese, almonds, sunflower seeds, chives and parsley. Toss everything together.
Arrange the salad in a serving dish. Season to taste with salt and pepper.
Drizzle the vinaigrette over the salad before serving.
SHARE THIS