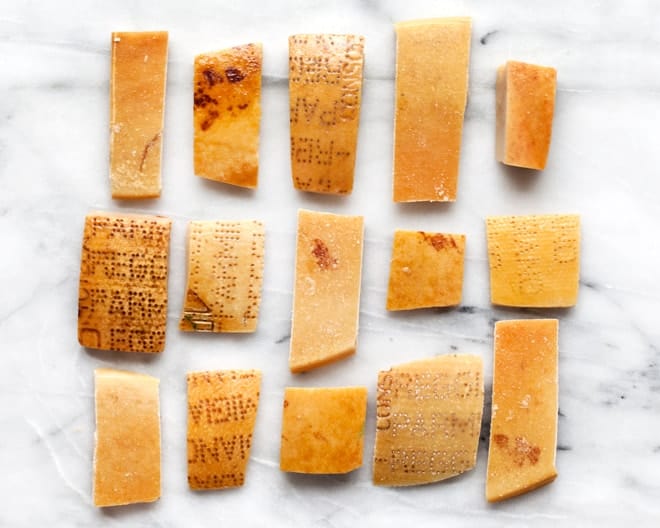 Whenever I ask my 2-year-old what the moon is made of, his answer is "Parmesan." My husband and I didn't understand him the first few times he said it. Parmesan is his favorite cheese, so we shouldn't have been surprised. We go through hunk after hunk. It's an expensive side on my toddler's dinner plate. I've tried giving him other kinds of cheese, but he requests Parmesan. I guess I should be proud of his sophisticated little palette.
I always save Parmesan rinds to throw into pots of tomato sauce and soup as they cook. It didn't take long for me to collect enough to make a batch of Parmesan broth. As the rinds bubbled away along with onions and fresh herbs, the kitchen filled with the most amazing smell. I swapped out the usual stock for this special broth in spring soups and risottos. If you can't save up enough rinds, you can buy them at some grocery store cheese counters.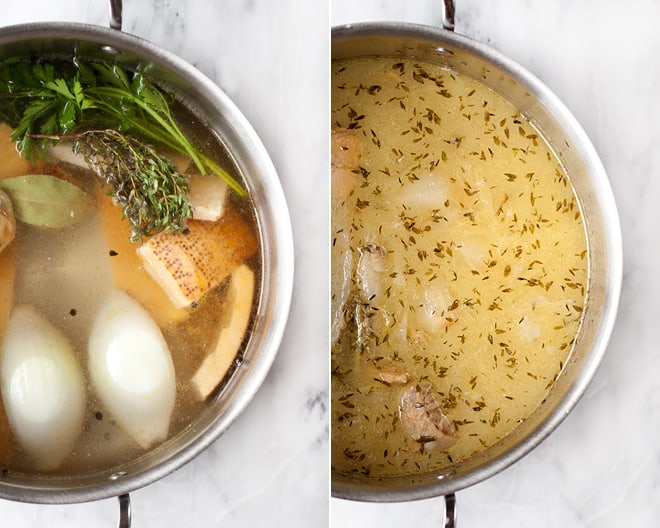 Parmesan Broth
Adapted from Bon Appetit December 2014
Makes about 4 cups
2 tablespoons olive oil
1 onion, peeled and quartered
1 head of garlic, halved crosswise
1 bunch thyme
1 bay leaf
3-4 parsley sprigs
1 teaspoon black peppercorns
1 cup dry white wine
1 pound Parmesan rinds
In a large saucepan over medium-high heat, heat the olive oil and cook the onions, garlic, thyme, bay leaf, parsley and peppercorns for about 5 minutes, until the garlic turns brown. Pour in the wine and simmer until the liquid has reduced by half, using a wooden spoon to scrape up any brown bits.
Add the Parmesan rinds and pour in 8 cups water. Bring to a boil and reduce to a simmer, stirring occasionally to keep the cheese from sticking to the bottom of the saucepan. Simmer for 2 hours until the broth has reduced by half.
Strain the mixture through a fine mesh sieve. If not using immediately, allow the broth to cool before storing it in the fridge up to 4 days or freeze up to 3 months.
SHARE THIS