Parmesan Roasted Zucchini
This summer we've gone all in on our container garden.

We planned ahead getting plants into their boxes from the moment there was no longer a frost risk in Chicago.

And then in early June we pulled out the cooler weather salad greens that had bolted and replaced them with hot weather crops.

That included two zucchini plants.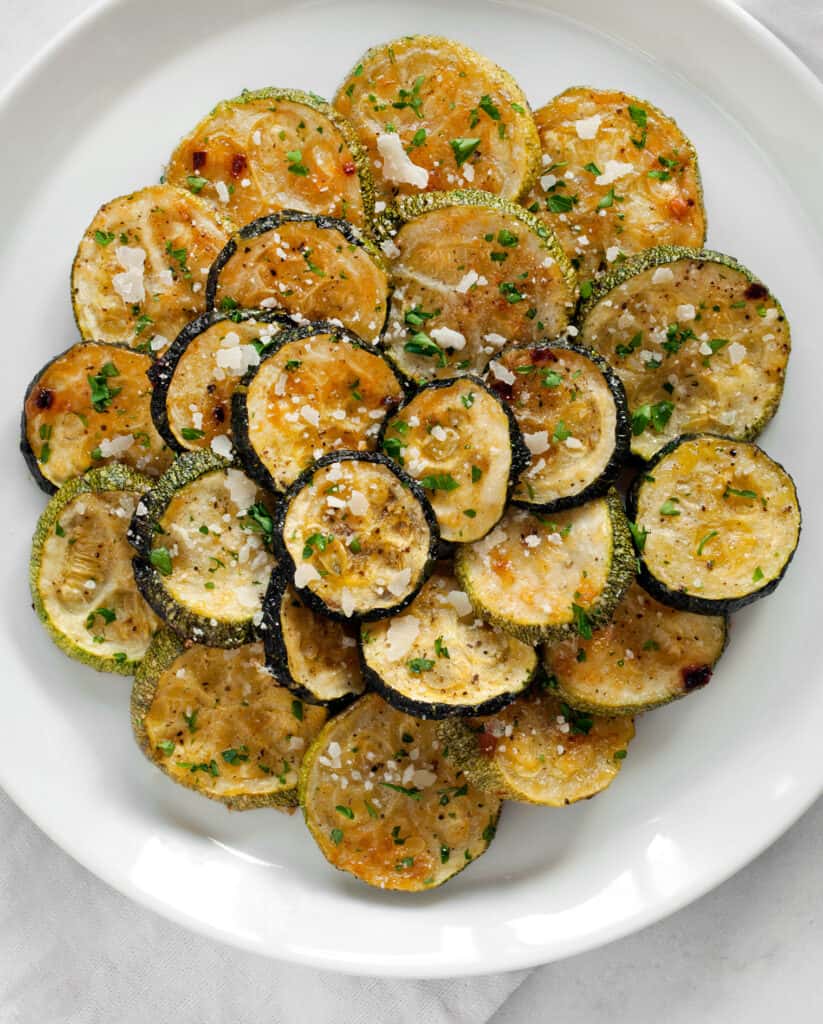 I had high hopes of going into August and September with more zucchini than I knew what to do with.
Unfortunately, that didn't happen.

A massive storm complete with a derecho struck about a month ago.

I'm just grateful our zucchini plants were the only victim of that intense windstorm with lighting and lots of rain.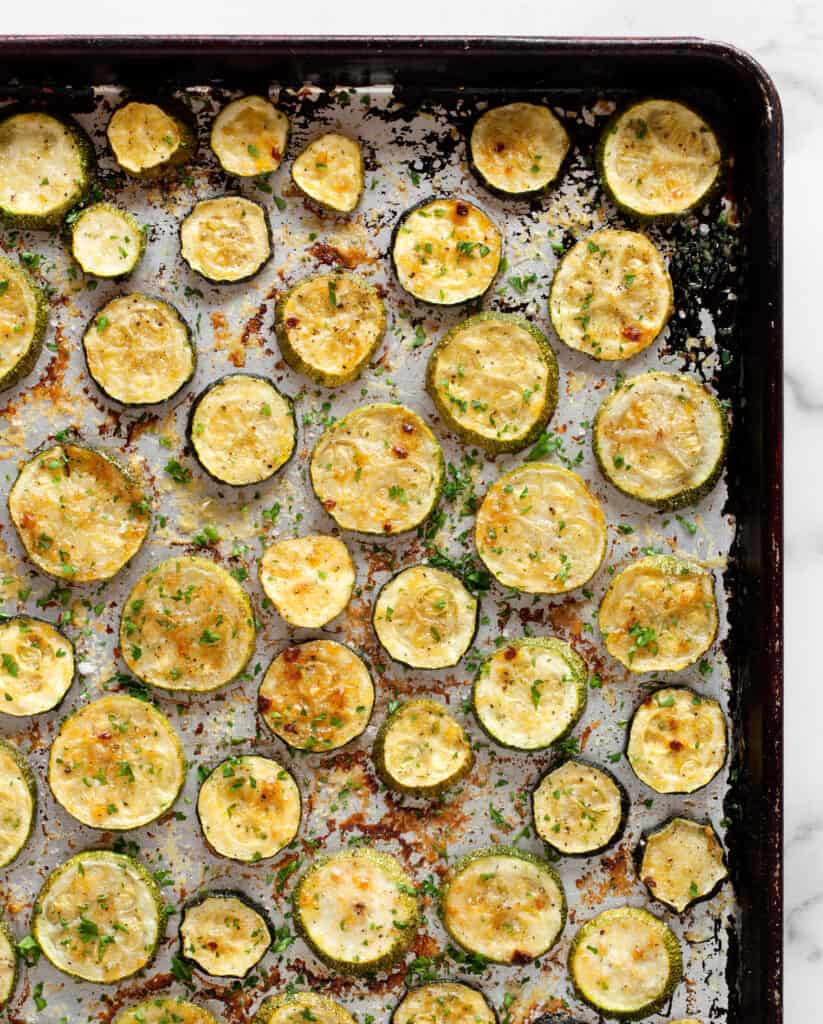 After that bad weather passed the leaves looked very tangled and the plants were partially uprooted. There was no way for them to recover.

I had only harvested two zucchini before this happened.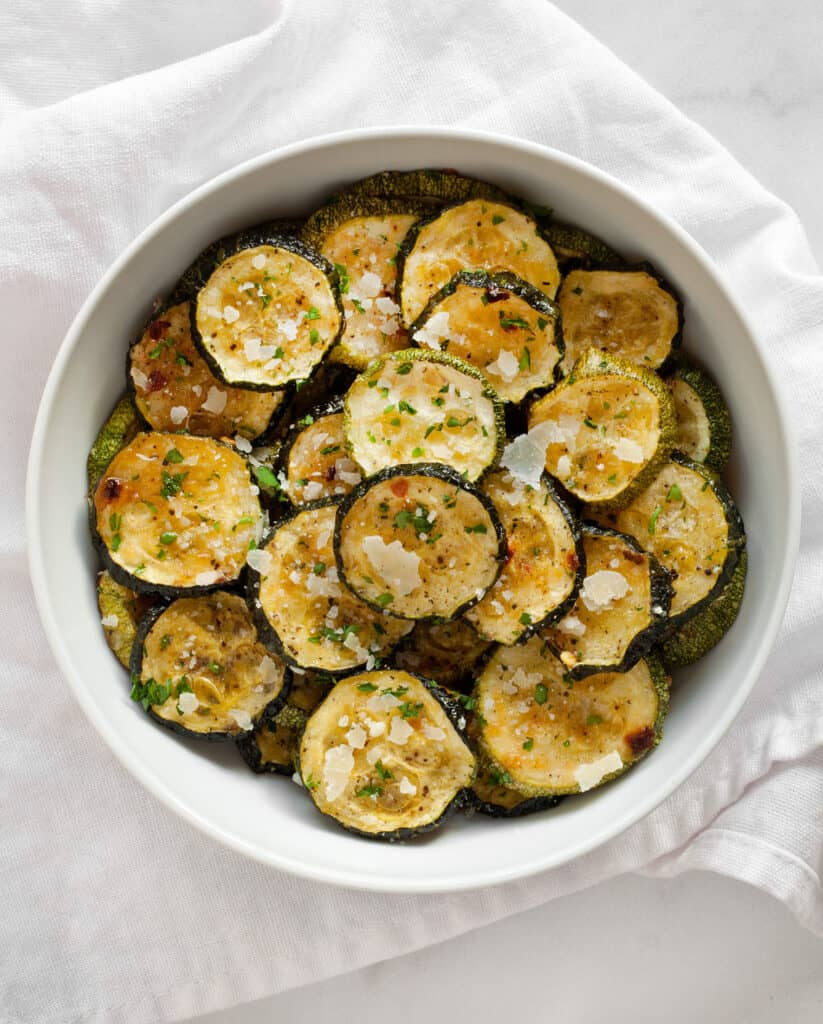 The good news is that I've been getting plenty of zucchini and squash in my weekly farm share.

I've baked muffins and loaves of zucchini bread. On the savory side I roast vegetables in different combinations including zucchini, corn and tomatoes.

But sometimes I stick to one veggie, which is what I do in this Parmesan roasted zucchini.
How To Make Parmesan Roasted Zucchini
I slice a couple pounds of zucchini into rounds.

Instead of just tossing them in olive oil, salt and pepper before loading up the sheet pan, I make a spice mix with garlic powder, onion powder and red pepper flakes plus the obligatory salt and pepper.

I stir olive oil into the dried seasoning, and then toss it into a big bowl using my hands to make sure every slice is coated.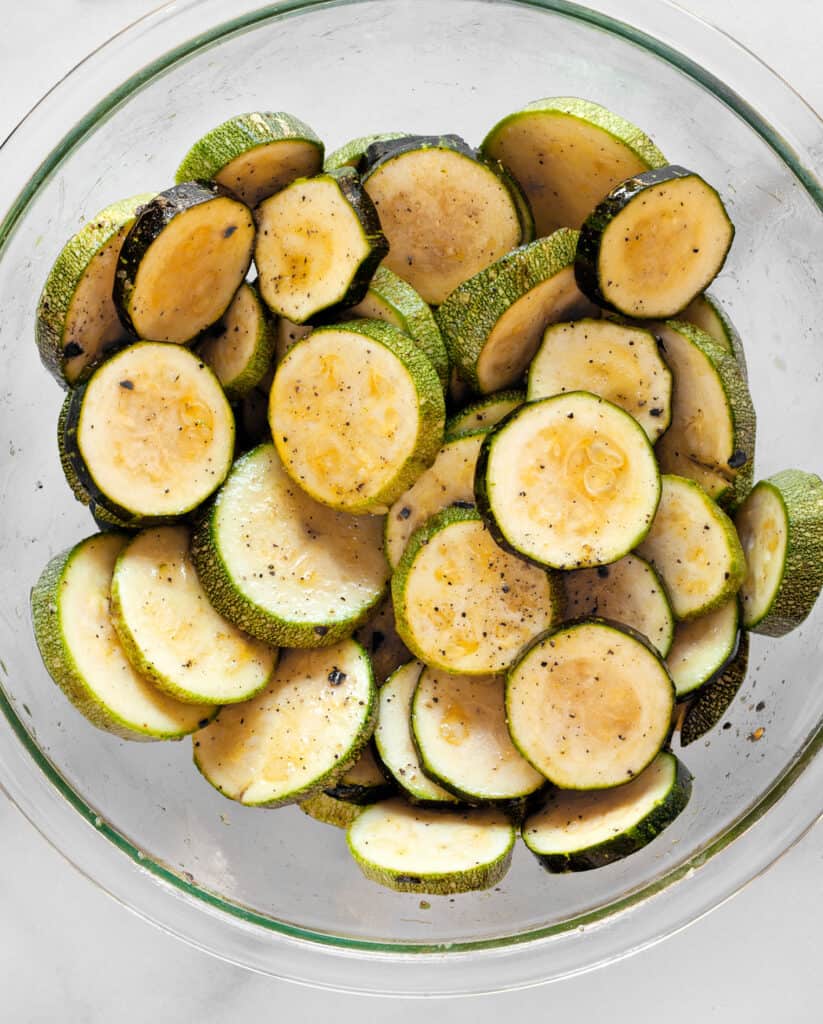 To give the zucchini a head start roasting, I preheat the oven to 425 degrees F with a sheet pan inside.

The pan will hiss when the zucchini makes contact on the hot metal. It's important that the slices are in a single layer with a little space in between the rounds, so none are overlapping.
Then I sprinkle Parmesan over the zucchini and roast it for 30-35 minutes until it turns golden brown.

Parmesan roasted zucchini can be served as a side.

I also eat leftovers chopped in a salad or mixed in a grain bowl.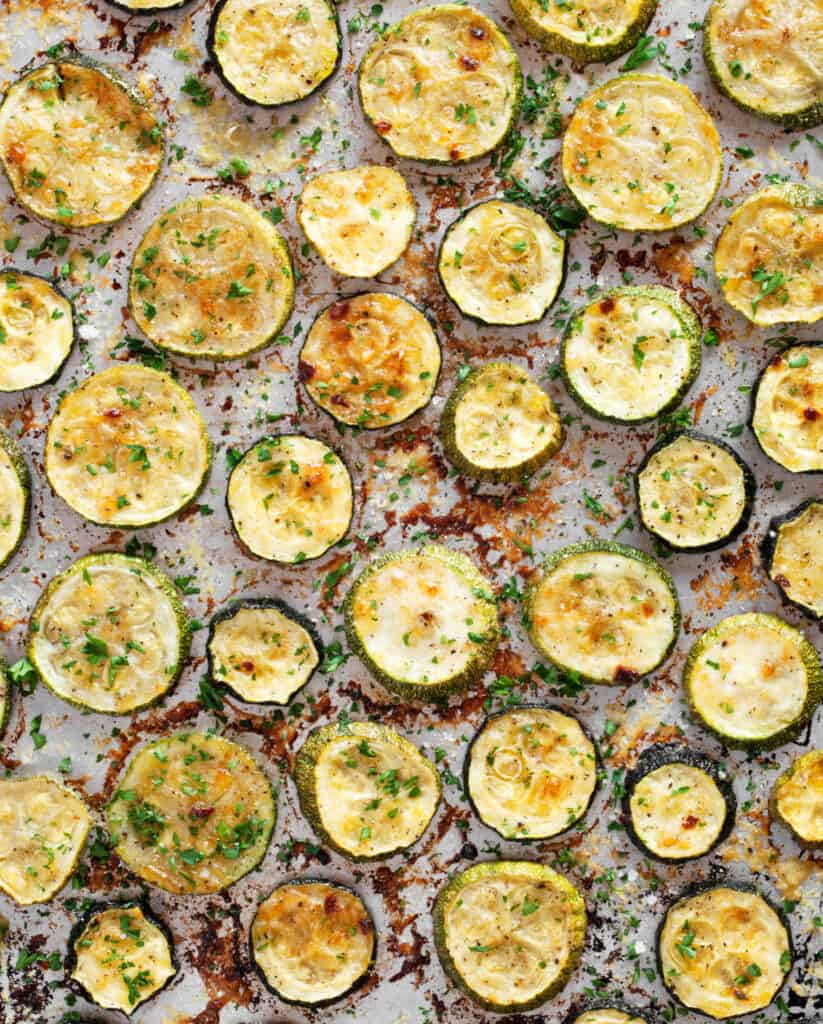 Print
Parmesan Roasted Zucchini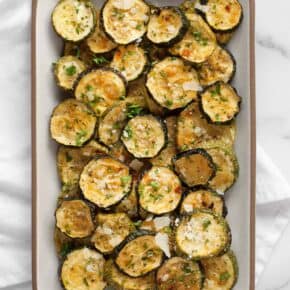 Prep Time:

5 minutes

Cook Time:

30-35 minutes

Total Time:

35-40 minutes

Yield: Serves

4

1

x
Scale
Ingredients
1/4 teaspoon onion powder
1/4 teaspoon garlic powder
1/8 – 1/4 teaspoon red pepper flakes
1 teaspoon kosher salt
1/2 teaspoon black pepper
2 tablespoons olive oil
2 pounds zucchini, trimmed and sliced into 1/4-inch-thick rounds
1/3 cup finely shredded Parmesan
Chopped parsley for serving
Instructions
Preheat the oven to 425 degrees F with a sheet pan inside.
In a small bowl, combine the onion powder, garlic powder, red pepper flakes, salt and pepper. Stir in the olive oil.
Place the zucchini in a large bowl. Pour in the oil mixture tossing to coat all the sliced zucchini.
Carefully remove the sheet pan from the oven. Place the zucchini in a single layer making sure that none of the slices are overlapping. Sprinkle the zucchini with the Parmesan.
Roast for 30-35 minutes until the zucchini is golden brown. Top with chopped parsley before serving.
SHARE THIS