Parmesan Herb Roasted Acorn Squash

Seasoned in a mix of dried thyme, rosemary and oregano, this Parmesan Herb Roasted Acorn Squash is a simple fall side. And you don't have to peel the squash!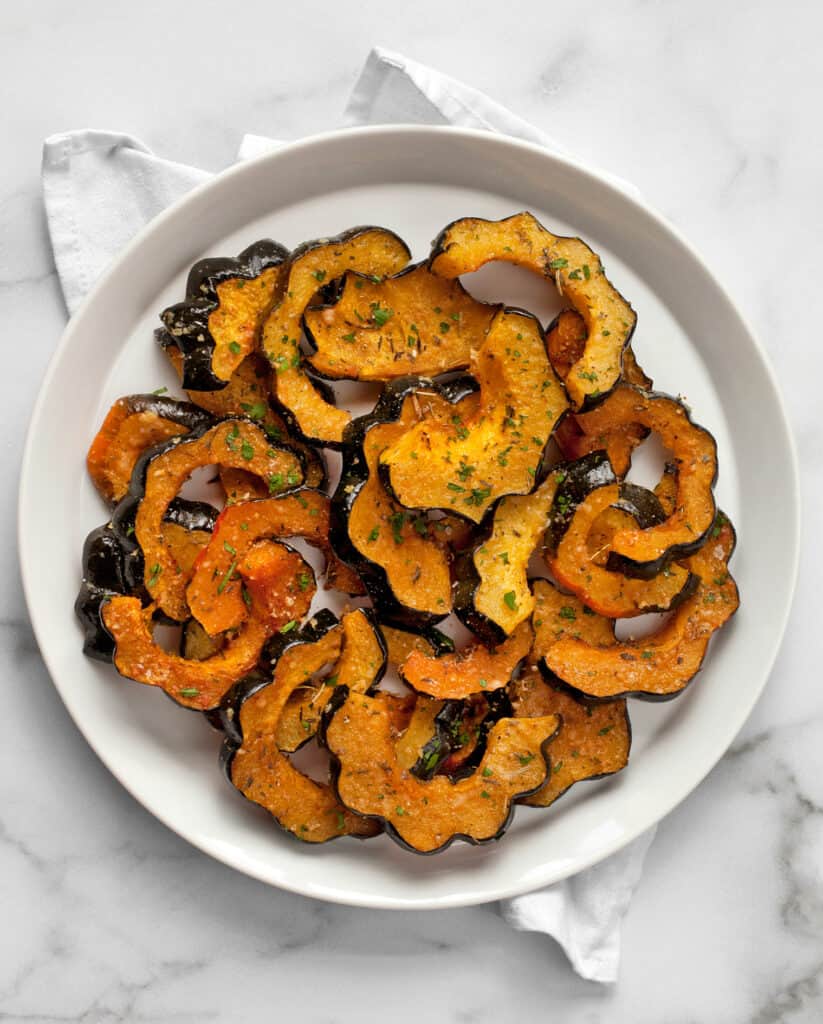 We currently have two pumpkins and a bumpy buttercup squash in the way of fall décor at our house.
However, it's not much or enough considering that I always say fall is my favorite season.

Basically, I am not living up to that self-imposed hype.
Don't worry, I will light a spiced candle, have a chai latte and then work on my autumnal accessories.
This happens every year. There never seems like there's enough of a transition from summer to fall.
Before I know it, we're already at the week of Halloween.

Now the rush is on to collect gourds and squash.

I try to stick to the edible ones, so then I can really put them to use other than for just their looks.
There is something very appealing about an acorn squash that's deep green with an irregular orange splotch or two.

Delicata and carnival squash are covered in a print in shades of green and orange on the outside.

The skin of squash is beautiful, but it's not something that you want to peel when you prep it unless it's a smooth butternut squash.

The more ridges and bumps, the more impossible the task is even with the sharpest peeler.
Roast Squash Skin On
Thank goodness you can cut squash into rings or wedges and roast them skin on.

As these root veggies roast, the skin softens up so much that your fork and knife will go right through it when you're ready to take a bite.
How To Make Parmesan Herb Roasted Acorn Squash
For this parmesan herb roasted acorn squash, I cut 2 acorn squash in half, scoop out the seeds and cut the squash into 1/2-inch thick slices.

I season the squash with a combination of dried thyme, rosemary, oregano, salt and pepper, so it is full of herby flavor.

To make sure I have the squash evenly coated, I whisk the spices into olive oil and toss the mixture into a large bowl with the sliced squash.
Then I arrange the squash on a sheet pan and start roasting in a 375-degree F oven.

After 20 minutes, I flip the squash over and sprinkle on finely grated parmesan.
As the squash continues to roast, the cheese melts and turns golden.

Once the squash is out of the oven, I finish it with chopped fresh parsley.

This parmesan herb roasted acorn squash is a very simple straightforward side, which is just what we need as we head into the holidays, also known as side season.

Print
Parmesan Herb Roasted Acorn Squash
Author:
Prep Time:

10 minutes

Cook Time:

35-40 minutes

Total Time:

45-50 minutes

Yield: Serves

4

1

x
Scale
Ingredients
2 acorn squash
2 tablespoons olive oil
1/4 teaspoon dried thyme
1/4 teaspoon dried rosemary
1/4 teaspoon dried oregano
1 teaspoon kosher salt
1/2 teaspoon black pepper
1/3 cup finely grated Parmesan
1 tablespoon chopped fresh parsley
Instructions
Preheat the oven to 375 degrees F.
Cut off the top and bottom of the acorn squash and half lengthwise. Scoop out the seeds and discard. Cut the squash into 1/2-inch thick slices. Transfer the squash to a large bowl.
In a small bowl, whisk together the olive oil, thyme, rosemary, oregano, salt and pepper. Pour the mixture into the squash tossing to coat.
Arrange the squash on a sheet pan making sure the pieces are not overlapping.
Roast the squash for 20 minutes. Flip the squash to the other side and sprinkle on the Parmesan. Continue roasting for 15-20 minutes until the cheese is golden and melted and the squash is tender.
Sprinkle with parsley before serving.
SHARE THIS