Pasta with Baby Greens, Beans and Walnuts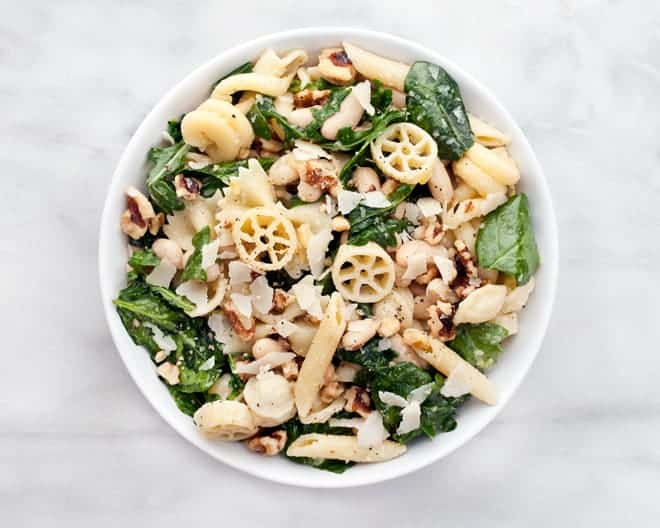 For my usual weeknight pasta, I like to keep things simple with spaghetti, even though, I admit, it can be a bit boring.
When I stick to my routine, I don't add to my random noodle collection. This is an ongoing problem for me because everyone in my family has a different noodle preference. Plus they go in phases.
I have a shelf of partial boxes of pasta—the result of buying specific shapes for single recipes. They include penne, fusilli, rigatoni, farfalle, cavatappi and too many more to name.
Such odd amounts always end up not being enough to feed all of us—two adults and a three-year-old who is convinced pasta is its own food group.
Periodically, I like to spring clean my kitchen and use up my pasta odds and ends. It makes my husband cringe when I cook more than one shape in the same pot, but it just takes a little math.
He's being way too much of a pasta purist when my efforts to avoid food waste are more important.
Even though it breaks every pasta rule, all you have to do when cooking multiple shapes in a single pot is to first start with the noodle that has the longest cook-time. Then work your way to the one that's the quickest. It's very simple.
The last dish I made with multiple shapes was this pasta with baby greens, beans and walnuts.
While the pasta was cooking, I sautéed garlic in olive oil to infuse the flavor.
Once the pasta was finished, I transferred it to a big bowl and stirred in the garlic oil. The heat of the noodles gently wilted the arugula and spinach. Then I folded in cannellini beans, toasted walnuts, Parmesan and lemon zest.
I love the adaptability of this pasta because you can adjust the amounts of greens, beans and noodles depending on your preference. Also, feel free to sub in whole wheat, chickpea or quinoa pasta. Just stick to one type for the recipe.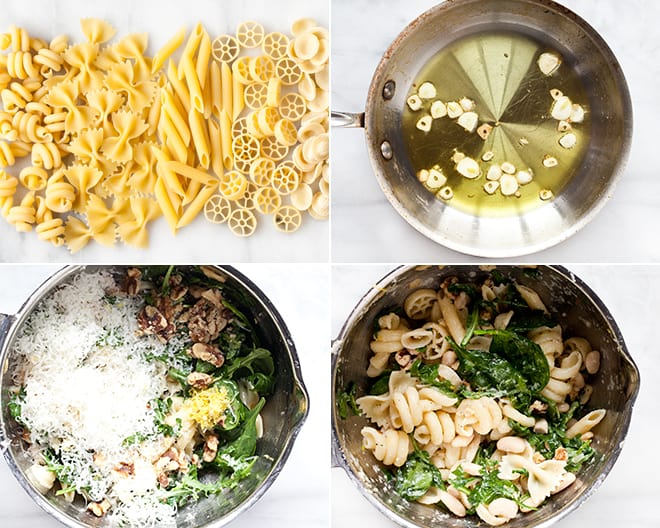 SaveSaveSaveSave
Print
Pasta with Baby Greens, Beans and Walnuts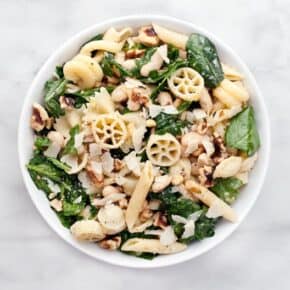 Total Time:

20 minutes

Yield: Serves

4

1

x
Scale
Ingredients
12 ounces short pasta (farfalle, rotelle, fusilli, orecchiette, penne)
1/4 cup olive oil
4 garlic cloves, peeled and thinly sliced
1-15 ounce can cannellini beans, drained and rinsed
1/3 cup roughly chopped toasted walnuts
1 ounce grated Parmesan plus shaved Parmesan for serving
Zest of half a lemon
1 teaspoon kosher salt
1/2 teaspoon black pepper
Instructions
Cook the pasta until al dente according to package instructions. If you are using multiple shapes, cook them in one pot of salted boiling water starting with the pasta that takes the longest and adding shapes per their recommended cook-time, with the quickest being added last. Use a slotted spoon to transfer the pasta to a large bowl.
Heat the olive oil in a small skillet over medium heat. Add the garlic and cook for a few minutes until fragrant and golden brown.
Stir the garlic-infused olive oil, beans, walnuts, Parmesan, lemon zest, salt and pepper into the pasta. Top with shaved Parmesan before serving.
SHARE THIS