Whole Wheat Penne with Sausage, Kale & Tomatoes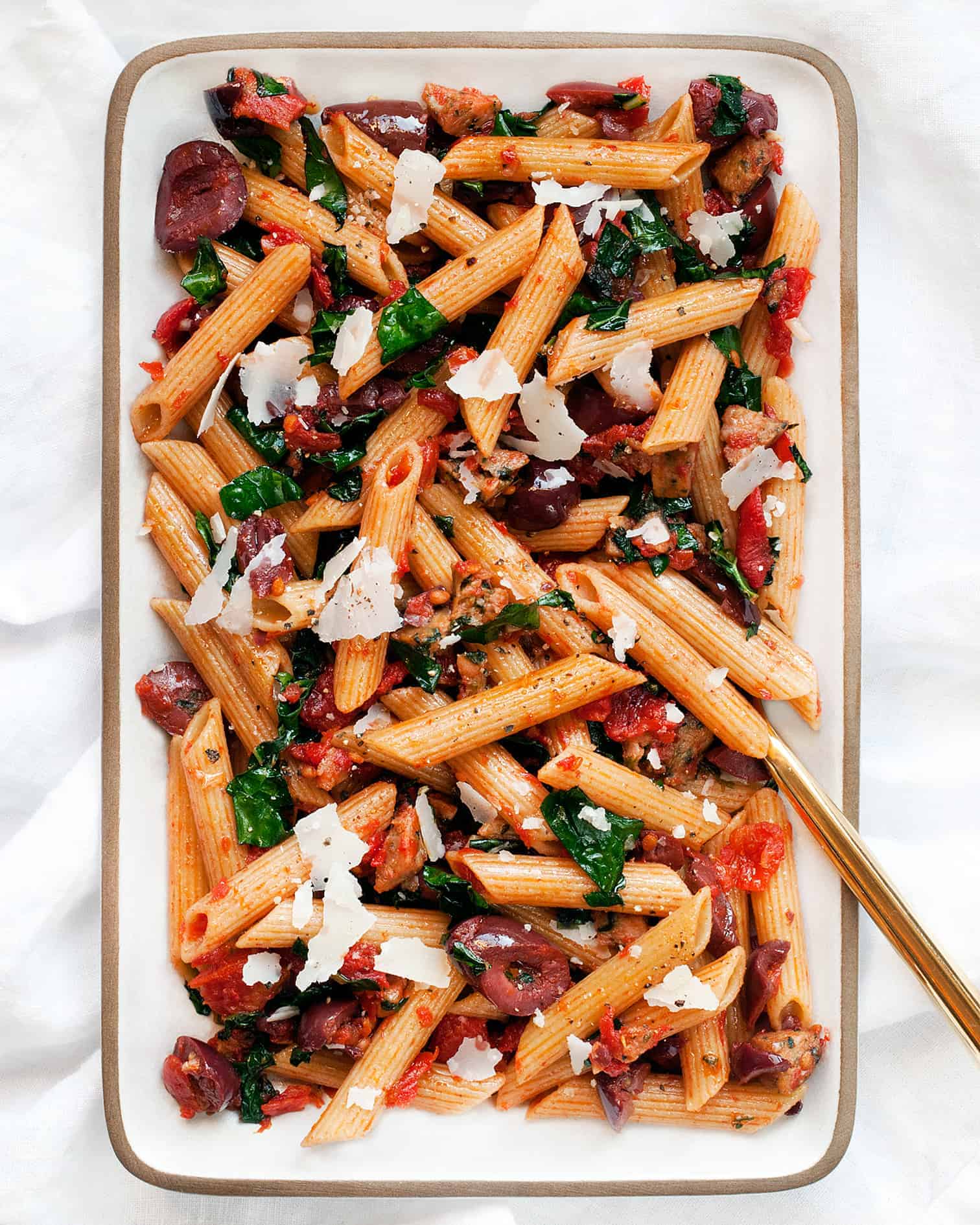 It doesn't feel like I've done all my shopping unless I stop at the olive bar during my weekly grocery trip.

Swimming in those little tubs of oil are some of the most flavorful ingredients. They've already been marinated, roasted and otherwise doctored up, so I don't have to do much more.

They are incredibly helpful on weeknights when I'm attempting to have dinner on the table for the entire family. Getting all that accomplished at the same time is nothing short of a miracle. After a long day when I'm lacking energy, any and all shortcuts are great.

I love keeping a stash of olives and other goodies in the fridge for the desperate moments when I feel like I have nothing to cook. Pasta is one of the best ways to put them to work.

We eat pasta at least 3 times a week. If I offered it as an option everyday, my husband and son would enthusiastically eat it.

I still want to change things up even though they would be happy to just eat spaghetti with olive oil, garlic and Parmesan.

The only way I can get them to eat whole wheat pasta is if it involves sauce or other mix-ins.

I made whole-wheat penne with sausage, kale and roasted tomatoes all from the olive bar except for the kale. Sautéed with some olive oil, those ingredients were enough to act like a sauce.

No surprise, my 4-year-old doesn't want kale, but when I have enough penne, I can customize his. Then we're kind of eating the same thing for dinner without me feeling like a short order cook.

The pasta does not have to be whole wheat. I am a big fan of chickpea and other alternative pastas that are gluten-free and have more protein.
SaveSave
SaveSave
SaveSave
Print
Whole Wheat Penne with Sausage, Kale & Tomatoes
Total Time:

20 minutes

Yield: Serves

4

–

6

1

x
Scale
Ingredients
8 ounces whole-wheat penne pasta
2 tablespoons olive oil
4 3-ounce sweet Italian chicken sausages, casings removed
2 garlic cloves, minced
2 ounces (about 3–4 leaves) lacinato kale, ribs removed, sliced thinly crosswise
1 cup pitted Kalamata olives, roughly chopped
1 cup marinated roasted tomatoes, roughly chopped
1/2 teaspoon kosher salt
1/2 teaspoon black pepper
Grated Parmesan for serving
Instructions
In a large saucepan of salted boiling water, cook the penne until al dente according to package instructions.
In a large skillet over medium high heat, add 1 tablespoon olive oil. Cook the sausage, breaking it up with a wooden spoon, until it is browned and cooked through. Remove the sausage from the skillet and set aside.
Add the remaining oil to the skillet. Sauté the garlic until fragrant, about 1 minute. Add the kale and cook for 2-3 minutes until it just starts to wilt. Stir in the olives and tomatoes and sauté for an additional 2-3 minutes until the kale is completely wilted. Stir in the sausage and pasta coating with olive oil. Season with salt and pepper.
Top with grated Parmesan before serving.
SHARE THIS