With fresh herbs, lemon, walnuts, garlic and olive oil, this parsley pesto is a twist on the usual basil pesto. Toss it with pasta or spread it on pizza, sandwiches or even toast. Pesto is such a simple way to instantly add a garlicky, nutty and herby flavor boost.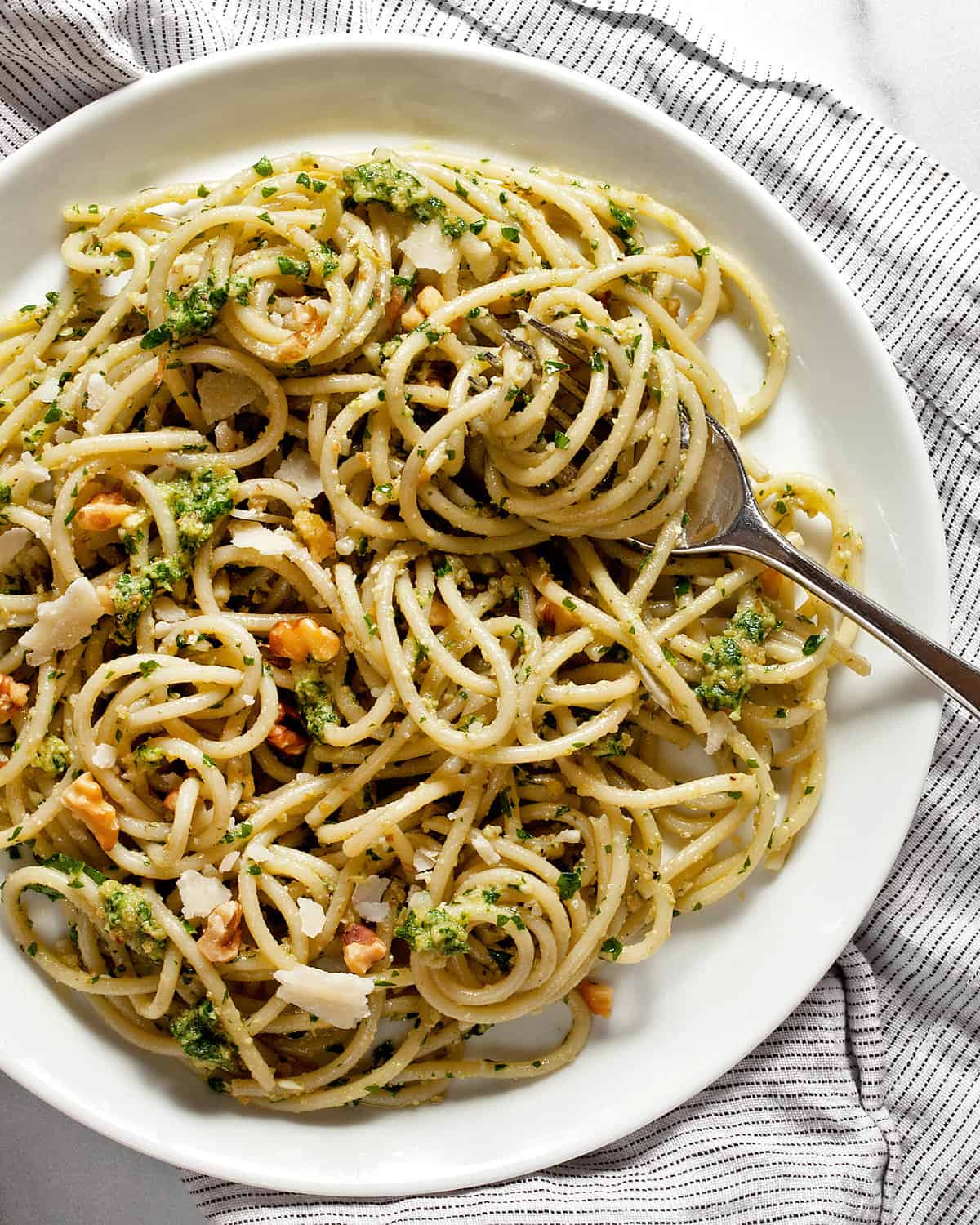 I get it. You think pesto, and automatically you have a vision of basil leaves. But why limit yourself, especially when there are other herbs that are more readily available year round? When you say so long to summer, say hello to this parsley pesto.
It's packed with walnuts, garlic, lemon juice and Parmesan. It will give you everything you expect from a great pesto. Also, it helps that a bunch of parsley is less expensive than basil and lasts longer.
What is Pesto?
The key ingredients in traditional Italian pesto are basil, pine nuts, Parmesan, olive oil, garlic, salt and pepper. So just take a step back and make that definition more broad. Specifically, you can use a different herb, nut and/or cheese, and it's ok to still call it pesto. At its most basic, this is an herby, nutty, olive oil-based, no-cook sauce.
Purists would take a mortar and pestle to make it by hand, but I take advantage of my food processor because it makes it so incredibly quick and easy.
The Ingredients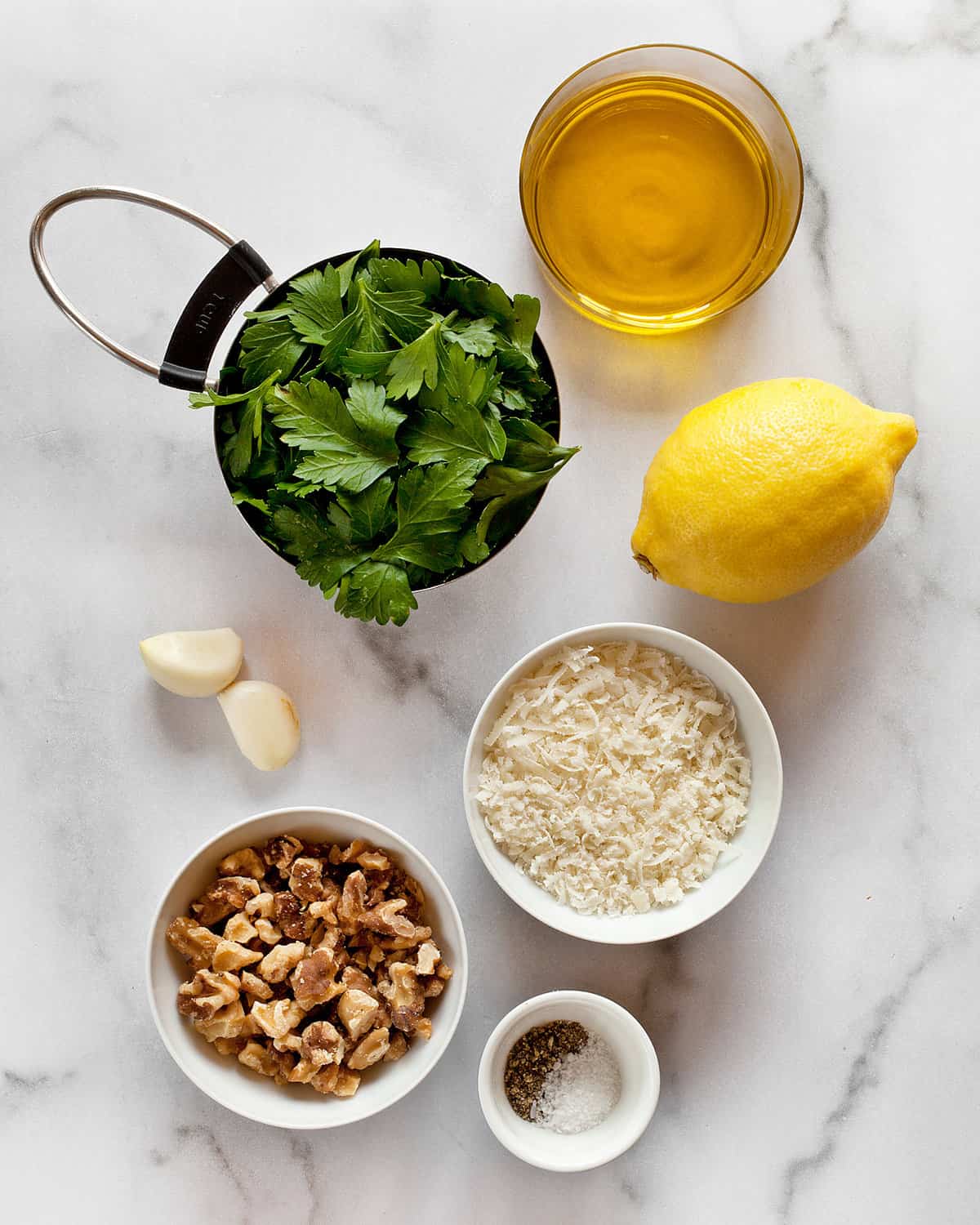 This is what you need:
Parsley: Look for Italian parsley that is deep green with no signs of yellowing or wilting. Try to use it as soon as you can, so it's fresh. To store it, keep it in a jar or vase with water, so only the ends of the stems are submerged. Treat the bunch like flowers! My preference is flat-leaf parsley rather than curly parsley.
Garlic: The recipe calls for 2 cloves, but you can add another one if you like it garlicky.
Walnuts: Even though basil pesto is typically made with pine nuts, for this parsley version, walnuts are my first choice—even better if you toast them. You can also use almonds.
Parmesan is a hard Italian cow's milk cheese. You can also use Pecorino Romano, a hard sheep's milk cheese, or a mix of both. If you want to keep the pesto vegan, swap out the cheese and use a heaping tablespoon of nutritional yeast.
Lemon: Fresh lemon juice adds a nice brightness.
Olive oil: Make sure to use extra virgin olive oil for the best taste.
Salt & pepper are essential seasonings. If you want to a little heat, include a pinch of red pepper flakes.
How To Make Parsley Pesto
You can use a food processor or blender.
1. Mince the garlic. Instead of adding all the ingredients at once, I start with the garlic, so the garlic gets finely chopped. Take advantage of the blade of the food processor to mince the cloves, then you don't have to do it by hand with a knife.
2. Add the parsley, Parmesan, lemon juice, nuts, salt and pepper to the food processor.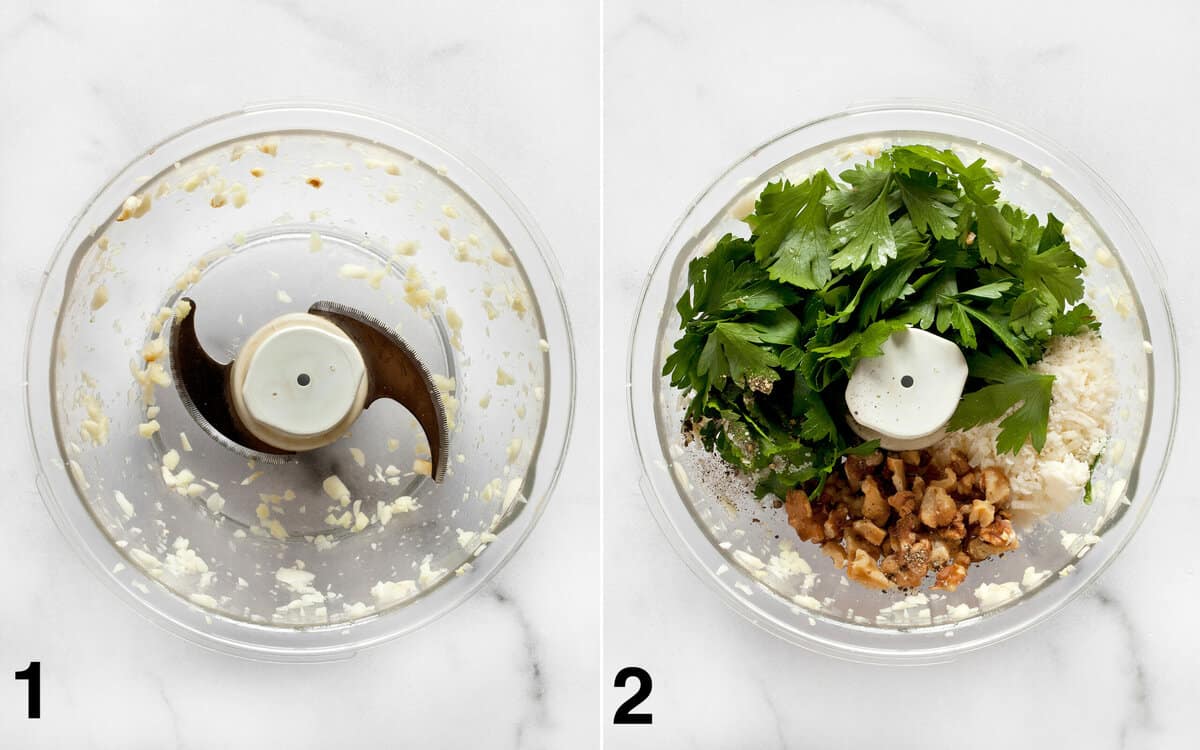 3. Process everything, so the mixture is finely chopped.
4. Drizzle in the olive oil while the motor is running. In a food processor, pour it through the feeder tube. With a blender, remove the cap in the lid and pour in the oil. It will mix in pretty quickly with the rest of the ingredients. Scrape down the sides of the bowl or pitcher as necessary.
Do not puree the pesto too much. You should still be able to see tiny chopped parsley leaves and nuts. You can pulse it if you're concerned about over-mixing.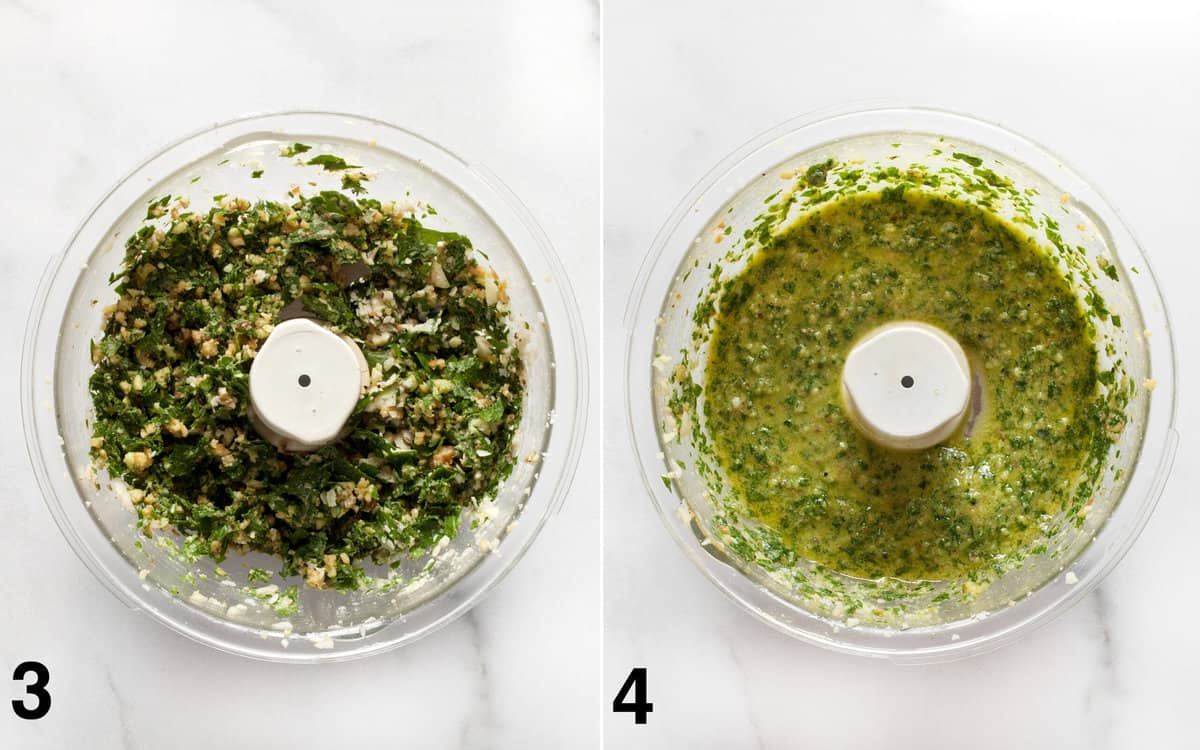 How To Use Pesto
Even though this parsley pesto recipe does not have basil, you can still use it in the same ways:
Pesto pasta is probably my most favorite way to eat it. Cook your pasta shape of choice (i.e. spaghetti, penne, fusilli) in salted boiling water until it's al dente. Save a 1/2 cup of the cooking water before draining the pasta. Put the noodles in a big bowl and stir in the pesto, adding some of the reserved water as needed to coat it. Finish with Parmesan cheese, flaky sea salt and black pepper.
Pizza: Go all pesto on the crust or combine it with tomato sauce. You can also add dollops of pesto all over the top of a cooked pizza.
Eggs: Whisk pesto into raw eggs to add herby and garlic flavors to a frittata or a simple scramble.
Spread/Condiment: Slather pesto onto a slices of bread for sandwiches, crostini or bruschetta.
Dip: Raw vegetables like carrots, bell peppers and cucumbers are so good when you use parsley pesto like an herb dip.
Salad dressing: Add a splash of vinegar and a little extra olive oil, to whisk the pesto into vinaigrette.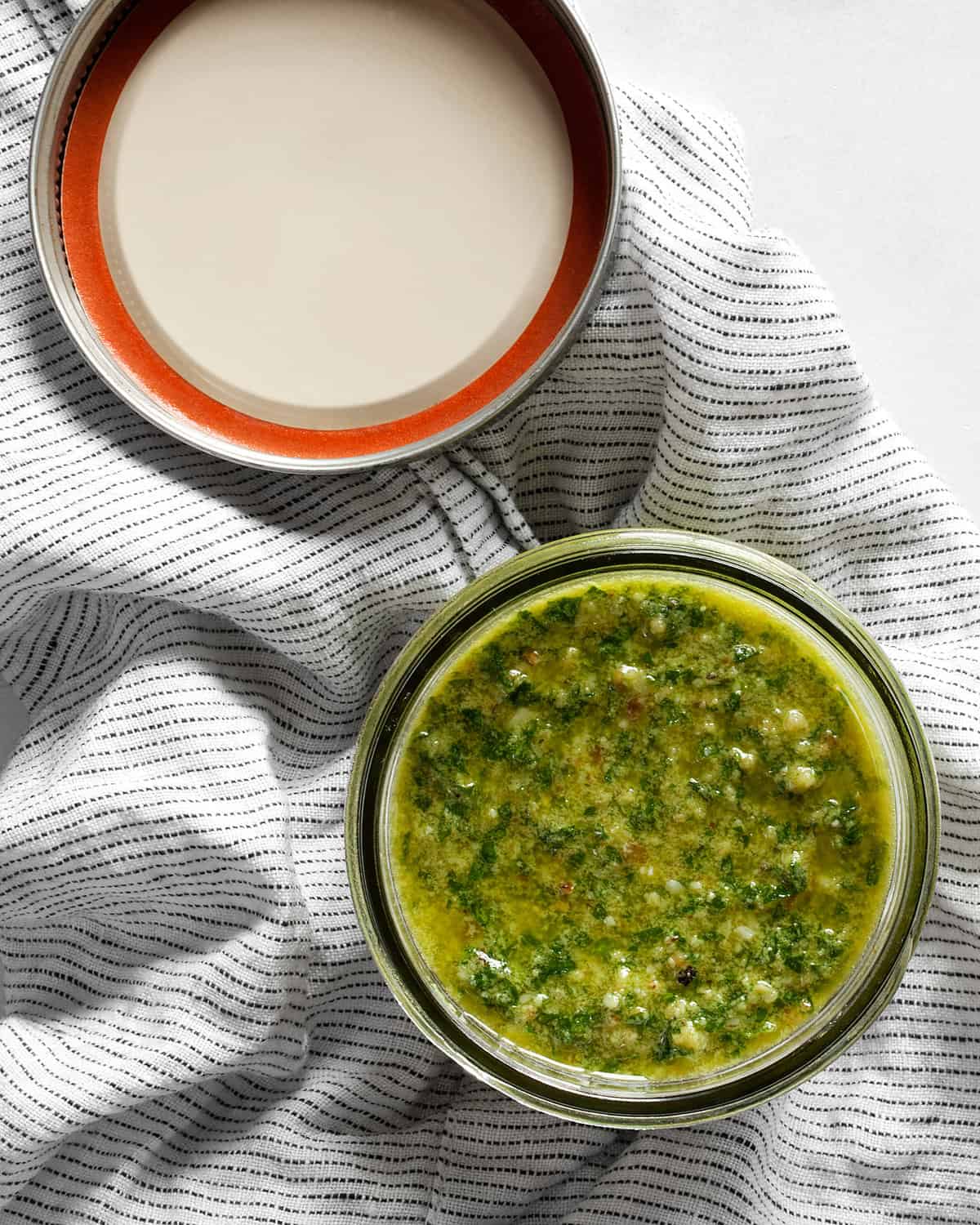 Storing
Store the pesto in the refrigerator up to 2 weeks in an airtight container like a jar. The cold temperature of fridge might cause the olive oil to become solid. Let the pesto sit out at room temperature for it to liquefy again. Or to do this faster, run the jar under warm water and shake it.
To store it longer, up to 3-4 months, freeze it in an airtight container. Then thaw it at room temperature. It will stay good in the fridge for 2 weeks after it has thawed.
Consider freezing it in smaller portions if that makes more sense with how you plan to use it. Spoon the pesto into ice cube trays, ones with lids are even better to keep away any freezer burn. Then you can pop out the cubes and store them in a freezer bag.
FAQs
Can you use parsley instead of basil in pesto?
Yes. Parsley is a great substitute. You can use other fresh herbs such as cilantro or a mix including chives, mint and oregano.
Do basil and parsley go together?
Their flavors pair well and are often found in Italian recipes. You can makes pesto with a combination of both.
How do you store parsley?
Dab off any moisture on the leaves when you get your bunch of parsley home from the grocery or farmers market. Then put it in a vase or another container with just enough cold water so the stems are submerged. Keep it on your kitchen counter. Refresh the water each day. If the stems get soggy, trim them.
More Pesto Recipes
Roasted Broccoli Pesto
Sweet Corn Pesto Pasta
Roasted Cauliflower Spinach Pesto Pasta
Grilled Corn and Avocado with Cilantro Pesto
Tomato Kale Pesto Frittata
Roasted Tomato Pesto Pasta Salad
Kale Arugula Vegan Pesto
Ramp Pesto
Let me know if you made this herby pesto recipe. Please leave a rating and comment below. Thanks!
Parsley Pesto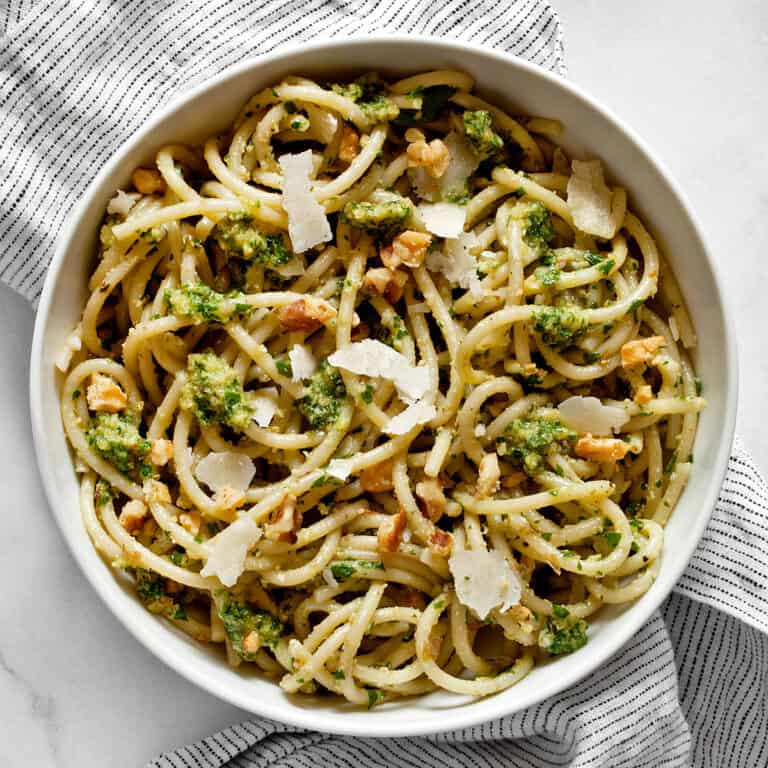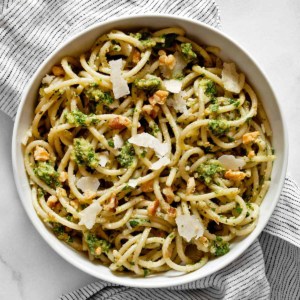 This parsley pesto will make you think twice before always reaching for basil leaves. It's bright and citrusy with lemon, garlic and walnuts.
Ingredients
2

garlic cloves

1

cup

packed parsley leaves

1/4

cup

walnuts

1/2

ounce

grated Parmesan

about 1/4 cup

Juice of 1 lemon

1/4

teaspoon

kosher salt

1/4

teaspoon

black pepper

1/4-1/3

cup

olive oil
Instructions
Mince the garlic in a food processor or blender.

Add the parsley leaves, walnuts, Parmesan, lemon juice, salt and pepper. Process until finely chopped.

With the motor running, drizzle in the olive oil through the feeder tube until the pesto is pureed and combined.
Notes
Recipe makes about 1 cup pesto.
Toss the pesto with cooked pasta. You can also add a splash of the pasta cooking water and stir it all together.
You can double this recipe.
Store the pesto in an airtight container in the refrigerator up to 2 weeks.
To keep the pesto longer, you can freeze it up to 4 months in a single container or portion it out into ice cube trays. Thaw it at room temperature.
Nutrition
Calories:
194
kcal
|
Carbohydrates:
4
g
|
Protein:
3
g
|
Fat:
19
g
|
Saturated Fat:
3
g
|
Polyunsaturated Fat:
5
g
|
Monounsaturated Fat:
11
g
|
Cholesterol:
3
mg
|
Sodium:
217
mg
|
Potassium:
148
mg
|
Fiber:
1
g
|
Sugar:
1
g
|
Vitamin A:
1299
IU
|
Vitamin C:
28
mg
|
Calcium:
66
mg
|
Iron:
1
mg
Nutrition information is automatically calculated, so should only be used as an approximation.