Pesto doesn't require basil. Instead try another fresh herb. Toss this versatile Parsley Walnut Pesto in pasta or in grains like barley or quinoa.

Having sprung forward an hour last weekend, all the delights of spring and summer produce are on the horizon.
Unfortunately, my optimism has suffered with the cold temperatures and snowflakes. Will the days of no coats and short sleeves ever get here?
Even though we are making slow progress to more day lit evenings, I have to comfort myself that those first few weeks of farmers market season in Chicago in May will arrive despite the couple months left to go.
The selection of veggies at the market is pretty sparse until June, but I'm not complaining. it's definitely better than nothing.
Last summer we had two pots of basil growing on our sun-filled deck, and we ate pesto by the jar.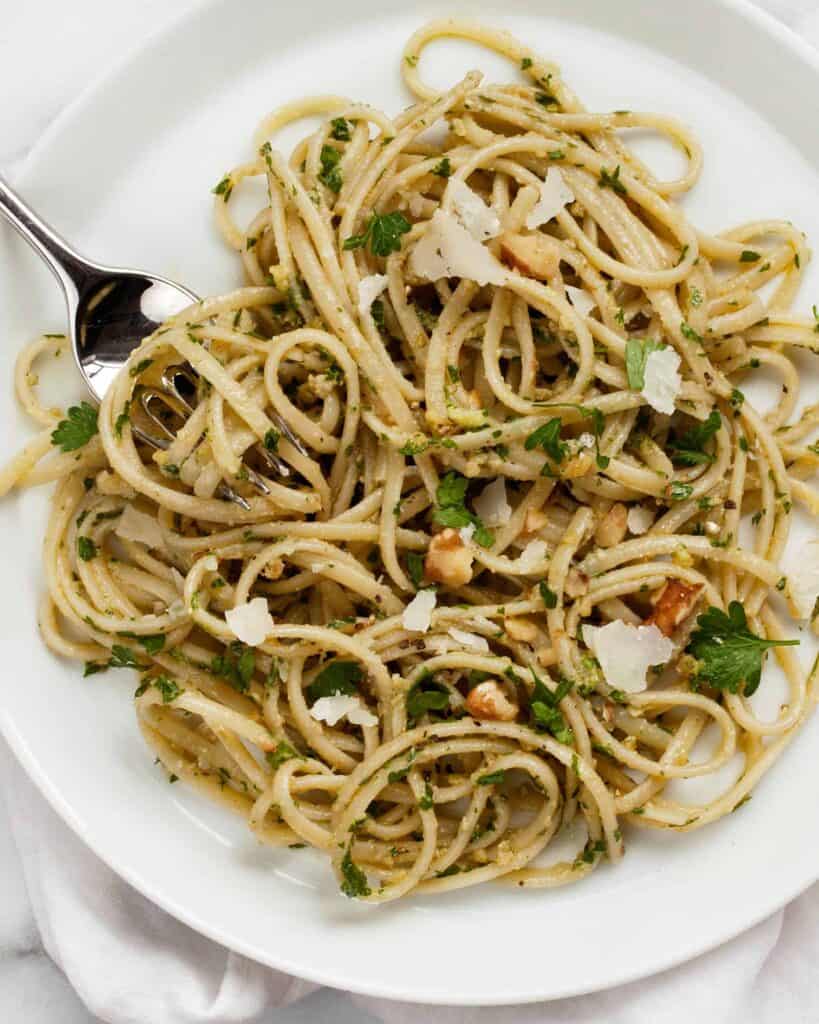 I can't tell you how amazing it was to just go out back and pinch off leaves. I found myself acting like the surplus would last forever.

Of course, I knew better than that. Please excuse my serious case of denial!
Parsley Walnut Pesto: The Ingredients
Longing for the days of endless herby pasta, I substituted parsley and walnuts for basil and pine nuts in my pesto.

You really can't go wrong with combinations of herbs, garlic, olive oil and cheese.

A generous squeeze of lemon juice gave a much-needed bright zip to this parsley walnut pesto.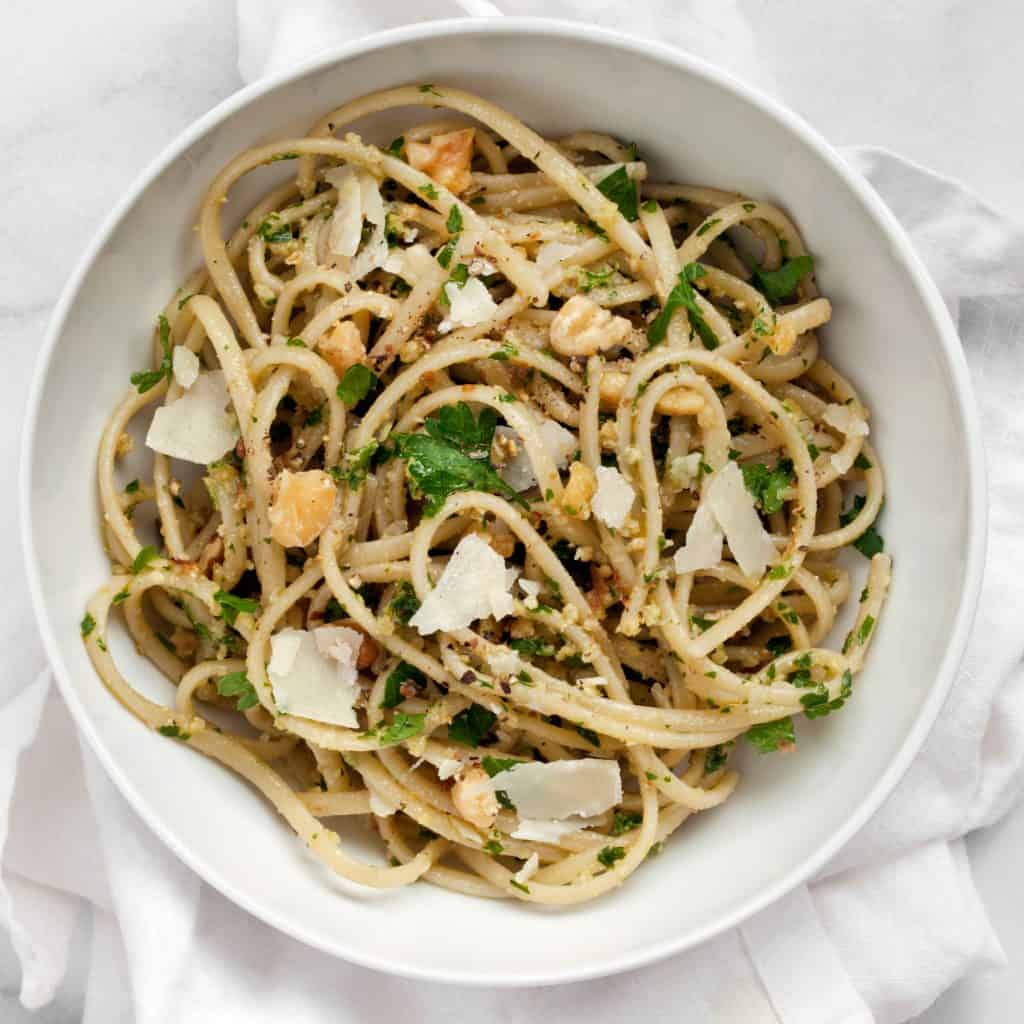 I love adding hits of citrus to winter foods because they give good acidity and punch.
Another reason to reach for parsley is price. Parsley is a fraction of the cost of basil considering the size of the bunch you can buy for a dollar and change.
It's also a heartier herb that lasts longer. With basil I always feel like it's a race against the clock before the leaves start to wilt and go limp.
Parsley walnut pesto is an obvious choice for pasta, but it's a great topping for roasted vegetables like carrots or to stir into grains.
Print
Parsley Walnut Pesto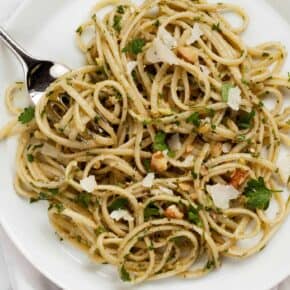 Prep Time:

5 minutes

Total Time:

5 minutes

Yield:

1 cup

1

x
Scale
Ingredients
2 garlic cloves, peeled
2 cups fresh parsley
1/4 cup walnuts
1/4 cup grated Parmesan
1 tablespoon fresh lemon juice
1/4 teaspoon salt
1/4 teaspoon black pepper
1/3 cup olive oil
Instructions
Finely chop the garlic in a food processor. Add the parsley, walnuts, Parmesan, lemon juice, salt and pepper, and process into a paste. While the food processor is running, pour the olive oil in a fine stream until the pesto is smooth.
Store in an airtight container in the refrigerator.
SHARE THIS