Roasted Spicy Purple Cauliflower Soup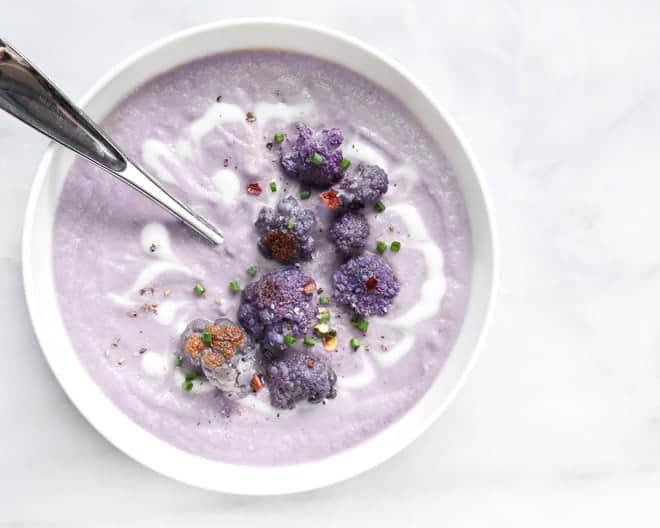 It can take me a couple days to finalize my grocery list, and when I get to the store usually all that time didn't even matter because what I have my heart set on is out of stock. Or I find something that I never planned on buying that day, but it immediately becomes the must-have item I absolutely can't live without.
That happened to me on my last trip. Across the produce department I spied cauliflower in every color—white, orange, green and purple. I put two heads into my cart, and when I got home, I made roasted spicy purple cauliflower soup. No matter the hue, this simple vegan soup will turn out hearty and filling.


Roasted Spicy Purple Cauliflower Soup
Serves 4
1-1/2 pounds purple cauliflower, trimmed and broken into florets*
1/2 pound purple fingerling potatoes or purple sweet potatoes, diced
2 tablespoons olive oil
1/4 teaspoon crushed red pepper flakes plus more for serving
1-1/2 teaspoon kosher salt
1/2 teaspoon black pepper
1 small red onion, roughly chopped*
1 garlic clove, crushed
3 cups water
Fresh chives for serving
Preheat the oven to 375 degrees F. Toss the cauliflower and potatoes with 1 tablespoon olive oil, 1/8 teaspoon red pepper flakes, 1/2 teaspoon salt and 1/4 teaspoon black pepper. Roast the cauliflower until it is tender and the florets are starting to brown at the edges, about 25 to 30 minutes.
Heat the remaining olive oil in a large saucepan over medium heat. Add the onions and sauté for 5 minutes until they start to soften. Stir in the garlic and remaining red pepper flakes, salt and pepper and continue cooking for an additional 3 minutes. Add the water cauliflower and potatoes, reserving 1/2 cup cauliflower for garnish. Simmer the soup for 10 minutes.
Carefully transfer the soup in batches to a blender to puree. Return the soup to the saucepan to reheat before serving, Divide into bowls and top with cauliflower, fresh chives and red pepper flakes.
*Note: If you have white, orange or green cauliflower, use a white onion instead of red.
SaveSave
SaveSave
SHARE THIS