Lemon Roasted Fingerling Potatoes

With plenty of citrusy flavor and fresh rosemary, these golden brown lemon roasted fingerling potatoes make a simple side to pair with any main dish.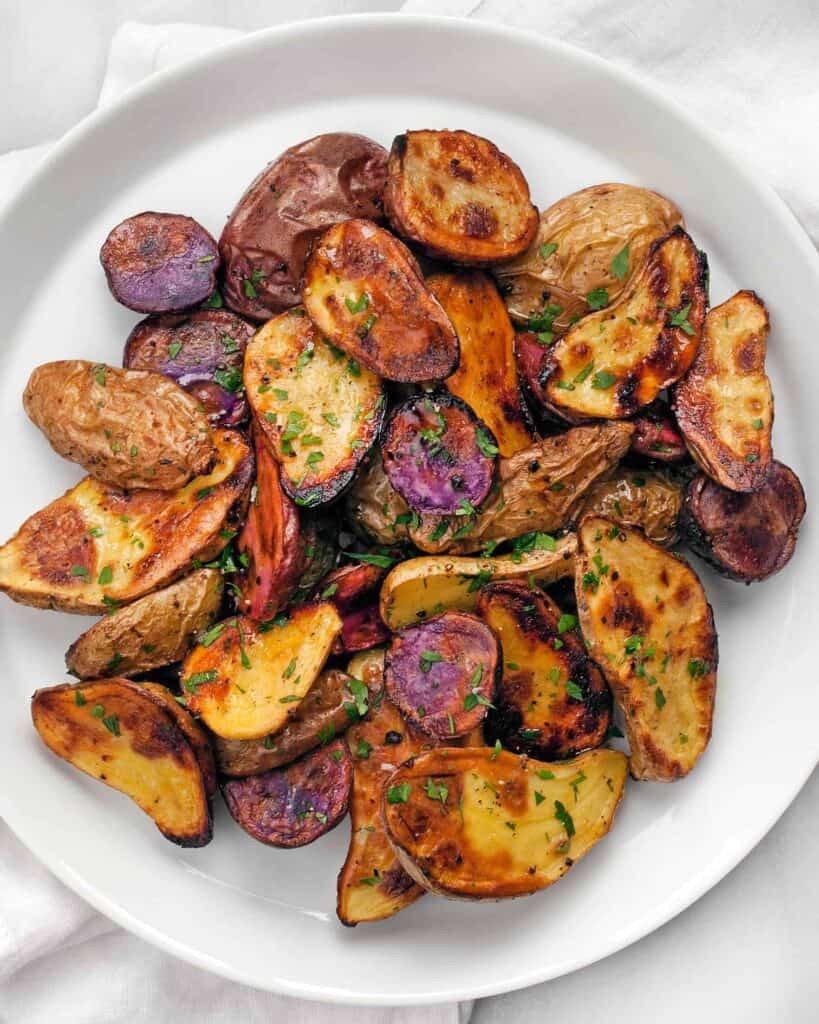 French fries are the automatic side when it comes to kids menus.
As parents it takes an unimaginable amount of willpower not to snag a few fries or even more than that.
This is a big challenge with our five-year-old who doesn't like French fries or any potato besides the occasional bag of chips. That means there can be a lot on this plate!

It's probably a good thing that he would order fruit before fries if that's a side option.
But I was still curious why he's not into fries. We had a conversation about it, and he told me it's because fries are made of cheese.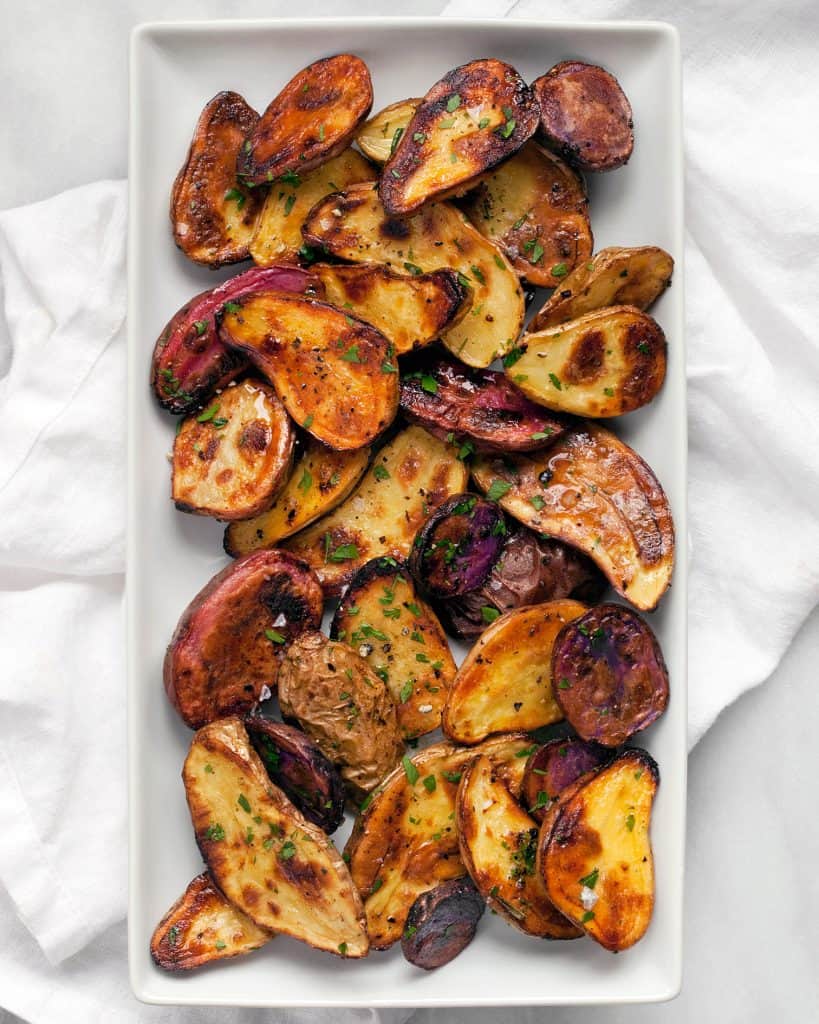 Huh?
Cheese???
Where would he come up with that?
I explained that they're actually potatoes, and we had a good laugh about the whole thing. It's become one of our inside jokes.

I'm still working on getting him to try oven-roasted potatoes in any form because I think he would really like them if he gave spuds a change.

He's said no to my oven-fries and roasted sliced potatoes.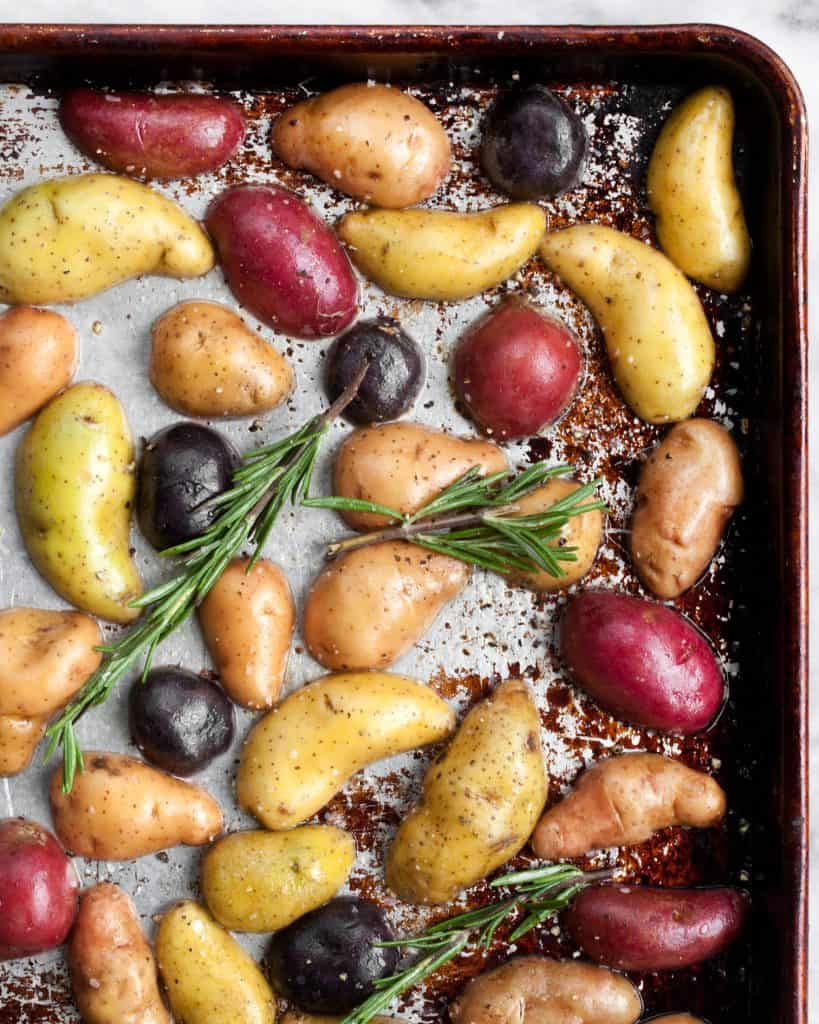 One day he will come around and take after his mom and dad, eating potatoes straight off the sheet pan. Then I will remind him he once thought they were actually cheese.
For now, I will save the potatoes for us adults.
I love all the different shapes, sizes and varieties of potatoes at the farmers market right now.

After my Sunday morning shopping spree, I made lemon roasted fingerling potatoes.

I halved the potatoes and tossed them in lemon juice, olive oil, salt and pepper.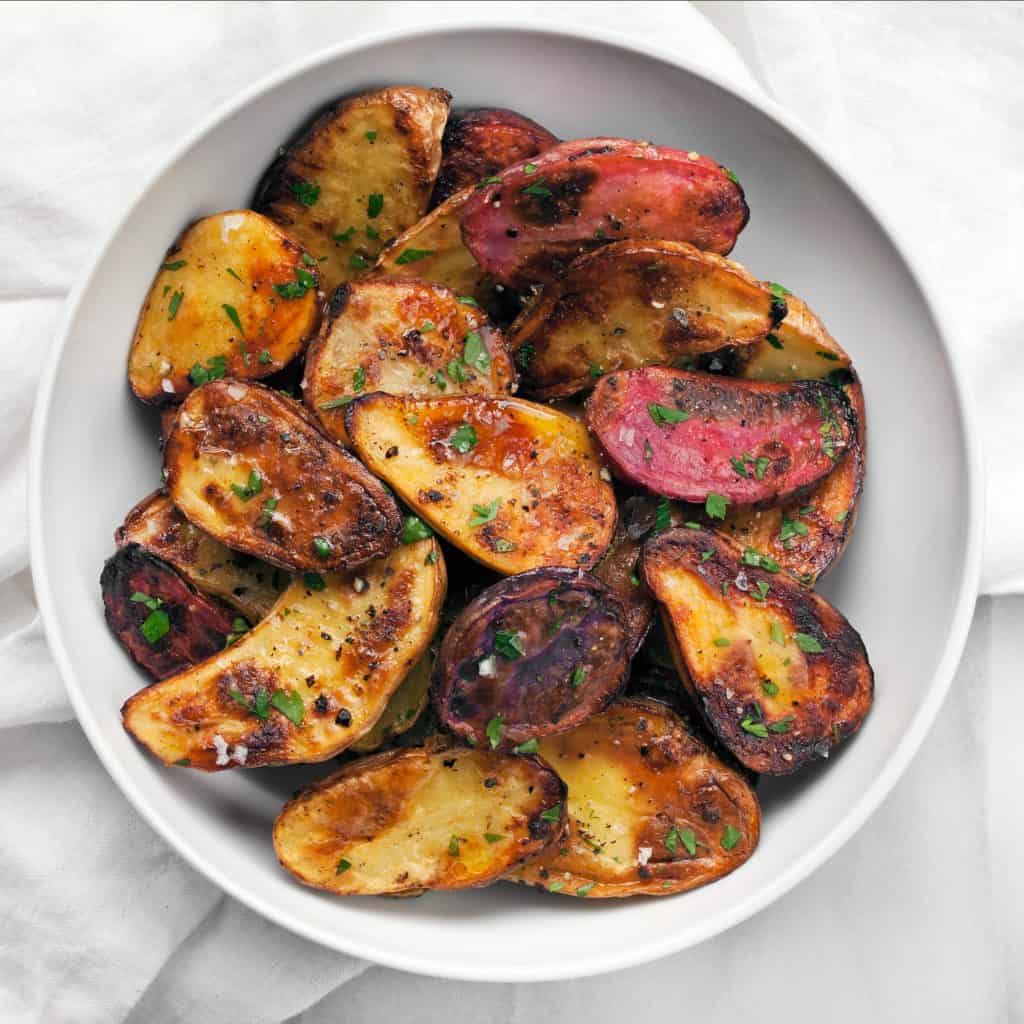 How to Get Lemon Roasted Fingerling Potatoes Perfectly Golden Brown
Then I put them cut-side down on the sheet pan. This is the same technique I use for my tomato pesto potato salad because they turn out deep golden brown.
For good measure, I scattered sprigs of fresh rosemary over the potatoes.
Once they finished roasting, I added more fresh lemon juice and sprinkled on chopped parsley and more salt and pepper.

I love the citrusy flavor of these lemon roasted fingerling potatoes!
Print
Lemon Roasted Fingerling Potatoes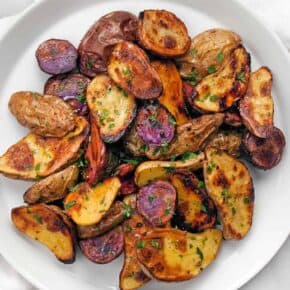 Author:
Prep Time:

5 minutes

Cook Time:

40-45 minutes

Total Time:

45-50 minutes
Scale
Ingredients
2 pounds fingerling potatoes, halved lengthwise
Juice of 1 lemon
1 tablespoon olive oil
1 teaspoon kosher salt plus more for serving
1/2 teaspoon black pepper plus more for serving
5 sprigs fresh rosemary
1 tablespoon chopped parsley
Instructions
Preheat the oven to 400 degrees F. Line a sheet pan with parchment paper.
Toss the potatoes with half the lemon juice, olive oil, salt and pepper. Arrange cut-side down on the sheet pan. Scatter the rosemary sprigs on top.
Roast the potatoes until golden brown and tender when pierced with a knife, about 40-45 minutes.
Toss the potatoes in the remaining lemon juice and parsley. Season with salt and pepper to taste before serving.
SHARE THIS