Spicy Grilled Veggie Hummus Sandwich

This first version of this spicy grilled veggie hummus sandwich happened by accident.
It was a hectic Monday, and I was attempting to get everything ready before I dashed out the door on my morning commute.
Yes, I realize that I should be making lunch the night before instead procrastinating until the next day when I am scrambling to get going.
I prefer bringing lunch to save time during busy workdays. Most of the time when midday hits, I am eating in a meeting. Always multi-tasking!
But really the best part of bringing a homemade lunch is that it's the healthiest option. And it's a great way to save money! Dining out everyday is expensive.
Just as I was about to give up and make a PBJ because I was running out of time to get to the train, I spotted a leftover vegetable salad in the fridge.
I toasted 2 slices of whole-wheat bread and slathered them both with hummus.

Spicy Grilled Veggie Hummus Sandwich: The Ingredients
Hummus is my absolute favorite sandwich spread. I'm not a fan of mayo or mustard. It's amazing how many different flavors hummus comes in.
Then I stacked grilled vegetables on the hummus. The sandwich couldn't have been any simpler.
It kept me full the rest of the afternoon.
When I recreated this spicy grilled veggie hummus sandwich, I sprinkled the veggies with a mix of cumin and chili powder before they hit the grill.
I loved the extra kick so much that the next time I brought it to work, I couldn't last till noon before I took a few bites of my sandwich.
Grilled vegetables are fantastic leftovers to have around. They come in handy for more than just sandwiches.
I consider them a pantry staple. In the colder months, I always keep roasted vegetables on hand.

They can become the feature ingredients in a grain bowl or mixed into a bowl of salad greens.
Print
Spicy Grilled Veggie Hummus Sandwich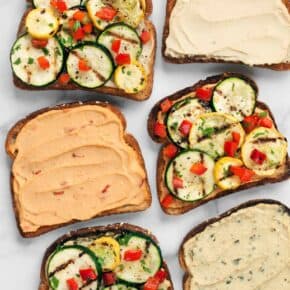 Prep Time:

10 minutes

Cook Time:

5-7 minutes

Total Time:

15-17 minutes

Yield:

6

–

8

sandwiches

1

x
Scale
Ingredients
1 teaspoon cumin
1/4 teaspoon chili powder
1 teaspoon salt
1/2 teaspoon black pepper
1 tablespoon olive oil
2 medium zucchini, sliced into 1/4-inch-thick-rounds
2 medium yellow squash, sliced into 1/4-inch-thick-rounds
3 bell peppers, cut lengthwise into strips
12-16 whole-wheat bread slices
3/4 cup hummus
Chopped fresh parsley
Instructions
Preheat a gas or charcoal grill on medium high heat.
Combine the cumin, chili powder, salt and pepper. Toss the vegetables in olive oil and sprinkle with the spice mixture. Grill the vegetables until they are tender and have grill marks, about 5-7 minutes. Allow the vegetables to cool.
Dice the bell peppers.
Toast the bread. Spread with hummus and top with grilled vegetables.
SHARE THIS