Roasted Vegetable Lemon Tahini Couscous

There are so many things you can do with a sheet pan of roasted veggies including using them in this roasted vegetable lemon tahini couscous. The possibilities are endless!
It takes snow to stop me from going outside to our back deck to grill. Being forced to put on boots is where I draw the line, but I have no problem bundling up in a coat.
I have standards.
Begrudgingly, I admit it's starting to be time for the oven to get more attention than the grill. I'm fully in transition mode.
One of the best things to do in the oven is to cover a sheet pan with vegetables, drizzle them with olive oil, sprinkle them with salt and pepper and let the heat do the work.
It doesn't take long for the veggies to get tender and for them to brown a little at the edges.
Also, the oven is way more hands off than the grill. There's no babysitting or helicopter parent style hovering.
Roasted vegetables are really a blank canvas.
You can either give them their own personality with dry seasonings before they go into the oven or do it afterward with some sort of sauce and fresh herbs.

Roasted Vegetable Lemon Tahini Couscous: The Ingredients
There are so many ways to use roasted veggies.
I eat them on their own, throw them into an omelet or stir them into grains like I did with this roasted vegetable lemon tahini couscous.
While the veggies were in the oven, I made pearl couscous. I love the plump round grains, and if you can find whole wheat pearl couscous, even better.
I carefully folded the vegetables into the couscous with lots of chopped chives and scallions.
In addition, the vinaigrette was very important. I knew I wanted the bright flavor of lemon, but it needed something more.
Tahini is really having a moment right now, so I joined the club and whisked it into the dressing.
Now I think I'm ok giving the grill a break and embracing my oven again.
Print
Roasted Vegetable Lemon Tahini Couscous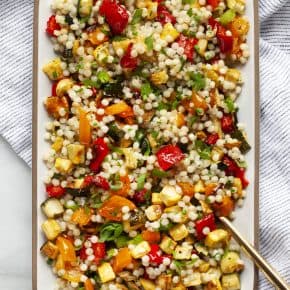 Total Time:

30 minutes

Yield: Serves

4

1

x
Scale
Ingredients
For vegetables
2 medium zucchini, cubed
1 medium yellow summer squash, cubed
1 orange bell pepper, deseeded and diced
1 red bell pepper, deseeded and diced
1 tablespoon olive oil
1/2 teaspoon kosher salt
1/2 teaspoon black pepper
For couscous
1 tablespoon olive oil
1 cup pearl (Israeli) couscous
1 cup plus 2 tablespoons water
For vinaigrette
Juice of 1 lemon
1 teaspoon tahini
1 garlic clove, minced
1/4 teaspoon kosher salt
1/4 teaspoon black pepper
1/4 cup olive oil
1 scallion, sliced thinly
1 tablespoon minced chives
Instructions
Preheat the oven to 375 degrees F.
Toss the zucchini, squash and peppers with the olive oil, salt and pepper. Place the vegetables on 2 parchment-lined sheet pans and roast for 25-30 minutes until slightly browned at the edges.
While the vegetables are roasting, make the couscous. Heat 1 tablespoon olive oil in a large saucepan over medium heat. Toast the couscous until it is golden, about 5 minutes. Add the water and bring to a boil. Reduce heat to low, cover and simmer until the water is absorbed and the couscous is tender, about 10 minutes.
For the vinaigrette, combine the lemon juice, tahini, garlic, salt and pepper. Slowly whisk in the olive oil until fully combined.
In a large bowl, gently stir together the roasted vegetables, couscous, scallions and chives. Fold in about half the vinaigrette and add more to taste.
SHARE THIS