Over the weekend my brother spent 12 hours smoking a brisket. It was quite a big accomplishment considering it was only a week ago that he tried smoking something on his grill for the first time—a whole chicken that I tasted right after it finished cooking and then used the leftovers in salads for lunch the entire week. I don't know what he's going to tackle next, but I can't wait!
With all that brisket, we decided to partner up on dinner. Since my brother took care of the main dish, I was in charge of the side. I made a roasted tomato, zucchini & squash pasta salad that was more about the veggies than the penne. I tossed in a couple generous handfuls of arugula, green beans and red onions. To finish it off, I added a little white balsamic vinegar, chives and Parmesan.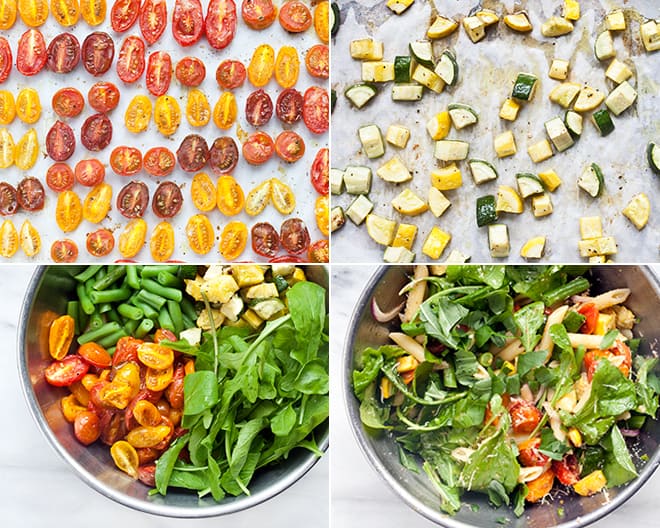 Roasted Tomato Zucchini Squash Pasta Salad
Serves 6
2 pints cherry tomatoes, halved lengthwise
3 tablespoons olive oil
2-1/2 teaspoons kosher salt
1 teaspoon black pepper
1 medium zucchini, cubed
1 medium yellow squash, cubed
8 ounces penne pasta
4 ounces green beans, trimmed and cut into 1-inch pieces
2 generous handfuls of arugula
1/4 small red onion, thinly sliced
1 tablespoon minced chives
1 ounce grated Parmesan
2 teaspoons white balsamic vinegar
Preheat the oven to 400 degrees F. Line two sheet pans with parchment paper. Arrange the cherry tomatoes on one sheet pan cut side up, drizzle with 1 tablespoon olive oil and sprinkle with 1 teaspoon salt and 1/2 teaspoon pepper. On the other sheet pan, toss the zucchini and squash with 1 tablespoon olive oil, 1/2 teaspoon salt and 1/4 teaspoon black pepper. Roast for 20-25 minutes until the tomatoes are slightly wrinkled, and the zucchini & squash are lightly browned at the edges.
Bring a large saucepan of salted water to a boil. Cook the penne according to package instructions. Use a slotted spoon to transfer the pasta to a colander and rinse with cold water.
Cook the green beans in the same pot of boiling water until bright green and still crisp, about 3 minutes. Transfer the green beans to the colander and rinse with cold water.
Combine the tomatoes, zucchini, squash, pasta, green beans, arugula, red onions, chives and Parmesan in a large bowl. Toss in the white balsamic vinegar and the remaining olive oil. Season with the remaining salt and pepper.